Sylvan Esso interview: 'We're gonna make you guys like our band'
To mark the launch of their second album, the indie electro-pop duo from North Carolina share their thoughts on everything from their sound, to internet trolls and Donald Trump
Roisin Oconnor
Thursday 27 April 2017 15:50 Comments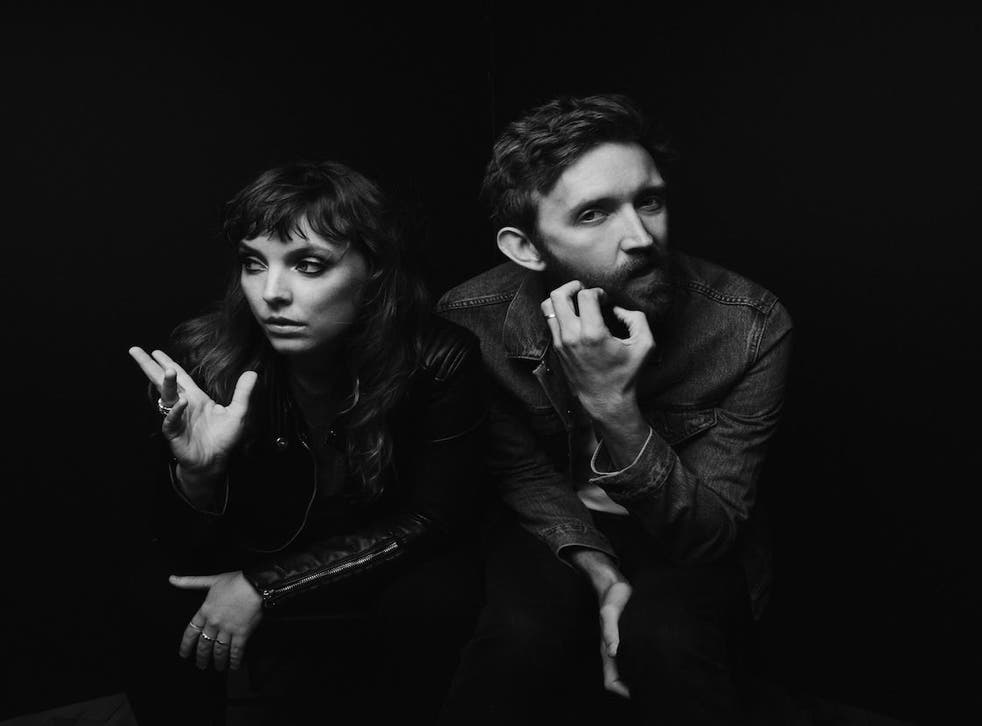 "Help yourself to grapes," says Sylvan Esso's vocalist Amelia Meath, curling up into one of the armchairs in the pop duo's hotel suite in London. She gestures towards a giant, extravagant bowl of fruit. It's so perfect it almost doesn't look real. Producer Nick Sanborn takes a seat on the edge of the bed.
They're in the UK to promote their new album What Now – the night before we meet in March they've played a secret show, airing out tracks they hadn't performed for around six months.
Meath and Sanborn are open and hilarious – the hotel room fills with bursts of laughter as the pair recount what it's like return to live shows.
"It was like remembering how to ride a bike a little bit, while playing a bunch of new stuff at the same time, but we were so ready to change gears and feel a chapter-change happen," says Sanborn. "Every song in every band both of us have ever been in, the songs slowly evolve as you play them. When they stop doing that, they become… not fun to play."
Sylvan Esso's self-titled debut album was released just three years ago, but they were answering questions about its follow-up almost as soon as it came out – to the point where they both felt compelled to pretend that they had begun working on one.
"Oh my God," Sanborn says, burying his head in his hands laughing. "It's like they started a timer after we released that album."
"People always liked to ask us about us, so for a while we pretended that we were working on something," says Meath, sheepishly. "But even now the first interview we did for this record, someone asked when the third one is coming out."
"It's hard to write anything when you're on tour all the time, you don't live that much. And the only emotion you feel is elation. Or exhaustion. And you need emotional subtlety to make an album."
As with their first album, What Now has 10 tracks. But it's a steelier sound. Right? Meath whoops: "Yeah, I've always been steely". The band headed into it with much more intent and more of an idea of how they wanted the entire work to sound, rather than individual songs.
Enjoy unlimited access to 70 million ad-free songs and podcasts with Amazon Music Sign up now for a 30-day free trial
Sign up
'Radio', the first single off What Now, is arguably the most direct the pair have ever been in their lyrics. It's an "on the nose" song that takes aim at the music industry – the pop machine in particular – and is unapologetically brutal in its cynicism.
Meath belts out the lyrics: Do you got the moves to make it stick, yeah? / To get the clicks, yeah? / Technicolor our every move...
It's very Madonna on 'Hollywood', to the point where Meath seems to emulate her chorus – she whoops again at that observation.
"I'm so glad you used the word 'intent'," Sanborn adds. "We want people to feel that."
"There's a funny thing that happens when you write pop music," says Meath. "It's really funny because the genre is so formulaic and you have to really think about everything you do in order to get that pop feeling that lifts you into the stratosphere.
"But because of that with the first record a lot of people would do this thing where they'd ask, 'I've noticed that this thing happens on this song… did you mean to do that?'" They both guffaw before Meath says: "Like, what the f*** do you think?"
"We knew so much more what we wanted the band to sound like this time," says Sanborn. "On this one it was like, I'm a very different person."
Meath was keen for Sylvan Esso to avoid what "so many" of the bands she loves do, to follow a successful debut with a carbon copy as the second album.
"We really grappled with that at the beginning," she says. "Sometimes it was so paralysing that I would just stop."
"The experience of putting that first record out and touring it had just made us very different people," says Sanborn. "And the moment we figured that out everything just opened up… we were letting a sound be what it is, instead of trying to polish it. Make it clearer, instead of trying to perfect it."
It's a rare thing to hear an artist say about pop music but perhaps not so much about hip hop, of which both are huge fans: "A lot of that late-Nineties stuff, Anticon, Clouddead, those old Cannibal Ox records.""
"It's way more cymbal-based but it's really gritty and you can feel the seams in a really cool way, almost like the track is about to fall apart," says Sanborn . "Like Four Tet – his records feel more like sound diaries."
Glastonbury 2016 - in pictures

Show all 10
'Sound', the opening track on the record, does something similar – its opening noise is Meath's voice controlling the pitch of a broken old Korg MS-20.
"And the minute we did that everything was opening up and felt like a statement of purpose," says Sanborn. "She was controlling the machine rather than it controlling her. We never use Auto-Tune so it was nice to use what I guess was the reverse of it."
"I love recordings where the place that it was made is almost like an instrument," says Meath – a reference to the duo's home in Durham, North Carolina. "I can really hear the house that we made both these records in. And it feels different on this record, because we know it so much better now."
Durham for Sylvan Esso is a community full to bursting with creative talent: there are the Merge Records bands like Hiss Golden Messenger, for whose album Lateness of Dancers Meath wrote harmonies, and The Mountain Goats. There is also the blossoming electronic scene that Sanborn has immersed himself into via a monthly party called Roundhouse where younger artists can flex their muscles and get tips on the industry (it's all about "sweet, dorky electronic babies," says Meath).
"We try to help them do stuff that we didn't know how to do when we were their age," says Sanborn. "Organising, helping them figure out how to get a lawyer for their record label, that kind of thing."
"There's a club called the Pinhook, in downtown Durham, it's like the arbiter of every scene," says Meath. "It houses everybody, so the beat battles are there, the queer nights are there, Hiss [Golden Messenger] play, our first release show was there… it's the dreamiest, queerest bar you've ever seen. There's a huge owl on the wall."
In a live show, Sylvan Esso are something special: the crowd will start dancing from the first track and are unlikely to stop before the very last note of the set. And Meath's voice as clear and controlled as it is on the record – even as she dances herself, Kate Bush-style, across the stage.
"If you dance like a loon, most people will also dance like a loon," she says.
"I get made fun for it a lot, which is reasonable," Sanborn says, humbly.
"I do too!" adds Meath. "People say mean things on the internet."
She's only ever read two comments about herself – one about their first performance on Jimmy Fallon, and another in the comments section below a feature interview they did in the US.
"It still f***ing haunts me," says Meath, bursting into a huge peal of laughter. "I'm so sensitive I might cry when I say it." It wasn't a string of expletives, she says, lowering her voice to impersonate the troll. It was: "When she starts dancing, don't you feel kind of embarrassed for her?" She bursts out laughing again.
The second was one of their first major interviews. "There was a huge photo of me and Nick, the interview, and then the very the first comment which was: 'I wonder what her asshole looks like'," Meath says giggling. "Isn't it f***ing genius?! It cuts through everything! Troll genius. King troll." She pauses. "I forgot what we were talking about."
'Song' is the track Meath feels most proud of on the record, "largely because it was so simple". But 'Kick Jump Twist' is her favourite to play.
Fans will have seen it performed live for some time but it "didn't make sense recorded". So the band worked out a different arc at the end, creating a build, and more movement.
"We added these stacks of backing singers and there's this crazy thing that happens where we play live where I sometimes get... emotional, during that song," says Meath. "I'm just so excited by it that I shed a tiny tear."
Recorded a few days after the US election result, the video for 'Kick Jump Twist' features a dancer leap in a frenzy across a dusty concrete floor, as though he's trying to shake something out of himself.
"We just said 'thumbs up' to [Mimi Cave] the director's idea, which was to have our friend Gary dancing,' says Sanborn. "He's such a beautiful dancer and you really feel that he's trying to exorcise something."
I ask if they feel artists have been spurred on to be more critical of what's been going on in the US. "I think the election of Donald Trump has made everyone get off their asses and try to start figuring out where their personal responsibility lies," says Sanborn.
"It's caused a lot of people on the left to examine how they can help in a meaningful way. To be clear, it is the thinnest of silver linings to a storm cloud but if everyone can start talking, that will maybe be something that can help us move in the right direction."
What Now manages to address certain concerns about the goings-on in the world while still delivering wonderful, uplifting pop music – this is how Sylvan Esso think the best of the genre should sound: personal, complex songs that don't just try and pack emotions into a neat little bundle.
And in much of the album and their earlier music you can simultaneously find a sensuality but also a frankness. Take 'Hey Mami' off their debut or 'Rewind', the closing track on What Now – the former is a song about catcalling and the impulse behind the action, and one of the best indicators for just how eloquent the pair are on sexual politics, both in and out of the studio.
"I'm pro-objectification of everybody," Meath grins. "It's something that happens. People are beautiful, they're wonderful to look at."
"It's always consent and intent, those two things that change whether or not it's OK," says Sanborn. "Let everyone be who they're gonna be – because whether you're punishing someone for dressing a way you don't like them to dress, or making them dress a way you want them to – both are equally bad."
Meath, who has spoken previously about her experience as a woman in the music industry, says she's been "working on [her] personal hate a lot".
"The things we're taught to do, like the competition s***," she explains. "When there's another woman, sometimes my first impulse is to be like 'I'm so much better than her'.
"And then I'm like, it's my own misogyny that I'm constantly dealing with. It's a really embarrassing and vulnerable thing to admit, to recognise in yourself, 'You're so f***ing backwards, you just feel intimidated by this woman… because she's a woman.' It's so counterproductive, we should be lifting each other up."
"One of the main things that I'm working on is to not be sexist, in general," adds Meath. "I think it would solve a problem. Because the patriarchy's f***ing real, you know? It's f***ed up. But also we oppress men in so many other ways, by imagining what their gender should be. It causes a lot of anger. We all need to chill out and stop telling people how they should be."
Sylvan Esso are coming back to the UK in July for London's Citadel festival, then again in autumn for the album tour "and many more times after that", says Sanborn, smiling. "We played London eight times on our last record."
"We're fully committed," Amelia says with another grin. "We're gonna make you guys like our band."
'What Now' is out on 28 April, pre-order here.
Register for free to continue reading
Registration is a free and easy way to support our truly independent journalism
By registering, you will also enjoy limited access to Premium articles, exclusive newsletters, commenting, and virtual events with our leading journalists
Already have an account? sign in
Join our new commenting forum
Join thought-provoking conversations, follow other Independent readers and see their replies