Synaesthesia: How people with the condition can taste colours, feel sounds and overwhelmingly make music
People with synaesthesia have an extra layer of sensory perception – and some are pop superstars
Emily Jupp
Friday 13 February 2015 12:03 Comments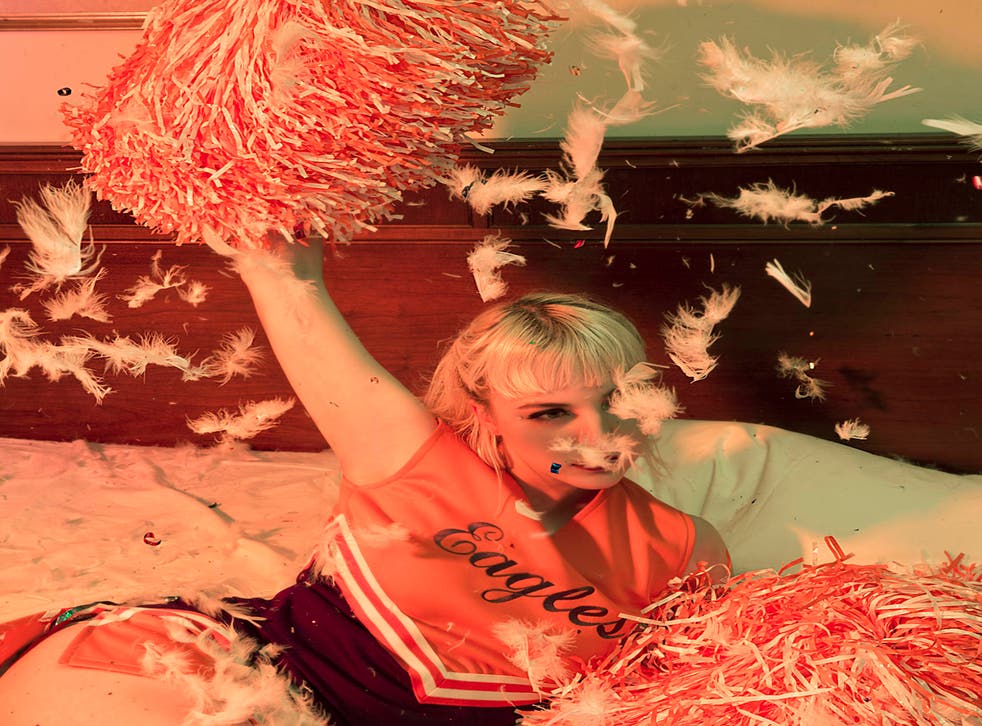 When Lowell, a Canadian electro-pop musician, listens to "Ain't No Sunshine" by Bill Withers, she sees a wave of blue water crashing over her.
When she hears the experimental group Animal Collective, the layered synths, clicks and vocals in the music create multiple textures and colours, so listening becomes like looking through a kaleidoscope. The video for the new song "Cloud 69" taken from her debut album, We Loved Her Dearly, is a disturbing montage of twirling burlesque dancers, overlaid with leopard prints, staring female eyes and mottled Aztec patterns. It isn't the vision of some avant-garde director, but a direct representation of what Lowell saw when she was composing the music.
Lowell is one of many musicians with synaesthesia, which occurs in around 4 per cent of the population. It causes an extra layer of perception to be experienced that most people don't have. A synaesthete might be able to taste colours, or feel sounds. Lowell's form of synaesthesia means she sees colours and shapes when she hears music.
New research into synaesthesia shows that synaesthetes are eight times more likely to work in an artistic profession, and musicians with synaesthesia are particularly common. Mary J Blige, Frank Ocean, Charli XCX and Marina Diamandis (aka Marina and the Diamonds) all have the neurological condition. Synaesthetes often also have perfect pitch, which might explain why many musicians have it, but Lowell has a more common-sense theory. "I'm sure music would be more appealing to someone who can see what they're playing," she says.
Synaesthesia expert Maureen Seaberg, who runs a blog for Psychology Today on the topic, has interviewed hundreds of synaesthete musicians about how synaesthesia informs their music and is always discovering more musicians who have it. "When I interviewed Pharrell, he said 'by the way, Kanye has it too'," she says.
More musicians are "coming out" about being synaesthetes now the condition is more widely understood but Lowell, who has a classical music background, recalls struggling to explain it as a child: "I never thought about it until recently because more people have realised it exists. But when I was five I was confused and having trouble communicating with my piano teacher. I explored the idea of it more when I got older and said to my teacher, 'I see this as red, do you see that?'"
The current theory is that all babies have synaesthesia until about four months of age and then "A pruning process goes on in the normal population" says Seaberg, "but synaesthetes stay hyper interconnected."
The self-described cyborg artist Neil Harbisson was born with a rare visual condition that meant he couldn't see colours and saw only in shades of grey. The 32-year-old had an implant made to help him hear colour in 2004 and later upgraded it again to perceive the full colour spectrum, so that he became a synaesthete. He now performs concerts by playing what he sees in the audience's faces. "No face sounds the same," he says. "I have even tried it on twins and even people's eyes sound different, the left sounds different from the right."
He upgraded his headset in 2009 to incorporate UV and infrared light into his aural spectrum and then in 2014 he upgraded so that he could beam in images across an internet connection. He is currently working on a series of "space concerts" where he plays the sound of outer space to an audience: "Space is much more noisy than here. There is ultraviolet, so it is very high-pitched," he says. "UV is very noisy. It is too overwhelming and intense."
Enjoy unlimited access to 70 million ad-free songs and podcasts with Amazon Music Sign up now for a 30-day free trial
Sign up
Harbisson is also working on a musical restaurant project where diners will be able to hear their food. It's based on combinations of food that "sound" good together. "Tomato with pesto and blueberry will sound like F major, so that's a good combination," he explains.
Rather than a substitution of senses, synaesthetes get an extra layer of information; the taste of the food will not be diminished but Harbisson will also hear it simultaneously. That extra layer can be very useful in helping with their work as musicians. "We all know that's how mnemonics work," says Seaberg. "If you need to remember a list of groceries then you remember them in a particular place, and so because synaesthetes see beautiful colours and shapes, it helps their memory."
In an interview with the US composer Billy Joel, Seaberg discovered that although Joel keeps a notepad by his bed to jot down the notes if he comes up with a bolt of inspiration, he is also able to recall the sound of the music simply by remembering the colours and shapes.
Lowell also finds her synaesthesia helps with the process of composition. "It's kind of complex because it's a way that everything is connected," she says. "So I see notes as being connected, like G and E are always red to me. E and A for sure go well. So when it comes to colour theory the warmer colours all sound good together. I'm not very good with structure; in songs it's my Kryptonite, but synaesthesia keeps it together because my brain won't allow certain colours to wander."
While it's obvious that their multi-layered experience of the world is helping these musicians to be more creative, Seaberg notes another quality that synaesthetes tend to share. "Synaesthesia gives people great empathy with others," she says, "and empathy is probably the basis of all great art."
Lowell's We Loved her Dearly is out 9 March
Register for free to continue reading
Registration is a free and easy way to support our truly independent journalism
By registering, you will also enjoy limited access to Premium articles, exclusive newsletters, commenting, and virtual events with our leading journalists
Already have an account? sign in
Join our new commenting forum
Join thought-provoking conversations, follow other Independent readers and see their replies