Tame Impala interview: Why everyone from Mark Ronson to Rhianna loves the Australian star
Hit records and Brit and Grammy nominations mean that Kevin Parker is finally taking the credit for Tame Impala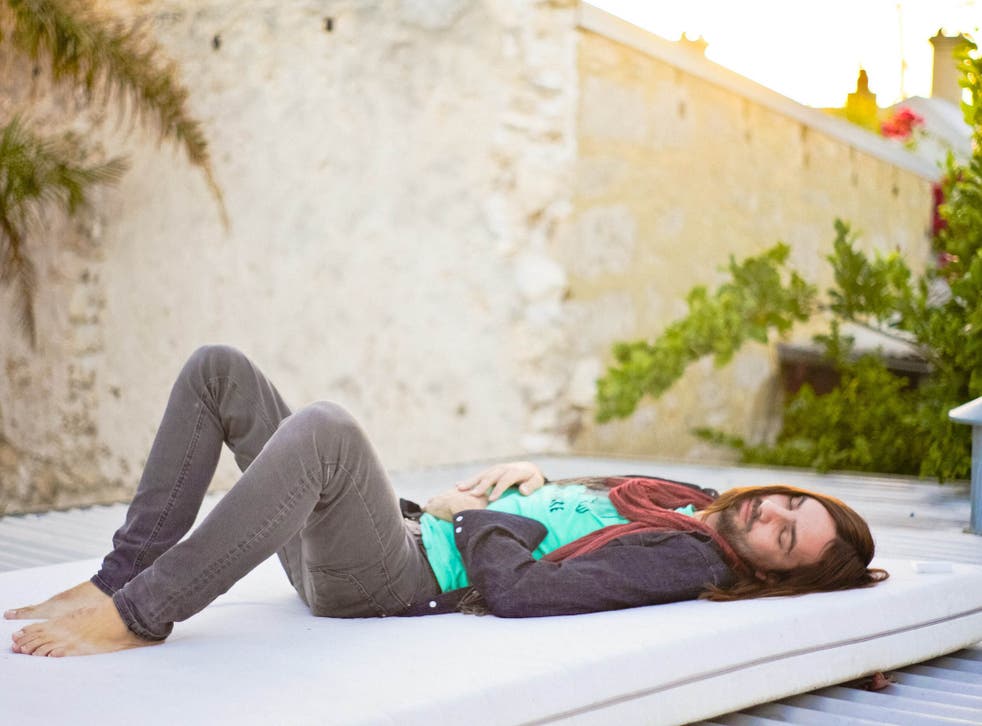 Halfway through our meeting, Kevin Parker, the creative master of psych-rock band Tame Impala, and I have to find a new location for our interview.
We are at the cavernous Alexandra Palace, north London, where the Perth band had played to a 10,000-strong crowd the previous night, and we burrow through warrens of dressing rooms and VIP areas.
It's no surprise that tickets for the first show sold out in a couple of hours, prompting the addition of a second night; Tame Impala's latest album, the July-released Currents, reached No 3 in the UK chart and sold hundreds of thousands of copies around the world.
And then there are the Grammy and Brit nominations. Tame Impala have risen to become one of the hottest alt-rock bands of the moment.
So it is somewhat ironic when a member of security demands Parker's pass as we relocate for our interview. "They wouldn't let me onstage last night," says Parker with a laid-back smile. "I wanted to watch Jagwar Ma. I hate saying, you know, 'I'm the lead singer', but… I'm the lead singer!"
It's not that, with his long hair and facial hair, Parker is not distinctive-looking, but he's not the type to court the limelight.
His first dreams of being a rock star came aged 11, as an avid listener of fellow Australian band Silverchair, but it's only recently, several years after forming Tame Impala, that he has acknowledged the music all comes from him. All three of the albums Parker wrote and recorded himself, from drums to guitar.
Crowds have queued at the doors long before the 6.30pm opening, and, hours before the band are due on stage, the venue is already swarming with young lookalikes, many of whose faces are painted in glitter. When Tame Impala later hit the stage, they are received as rock celebrities.
You wonder how many of these fans are aware that Tame Impala is essentially a one-man entity, playing live with a band of close friends with whom Parker grew up, listening to the psychedelic rock and prog rock of the 1960s and 70s.
"I've always made music on my own, but I didn't think there was a platform for that so I thought I had to pretend it was a band," Parker explains. "It's not a band at all, but I was too shy to say, 'this is mine, I did it myself'. I felt like I had to hide behind the band. I kind of conned myself into thinking I was in a band. I'd even lie and say that we recorded them sometimes because I thought that people would notice me if we were in a band. I thought if I said it was just me they wouldn't pay attention. It's only recently that I actually called them my albums," he laughs.
What sparked the change? "Just having the confidence to stand behind what I do and realising that, if I don't start taking credit for my own work now, then I might never," he states. And maybe, Parker suggests, it has something to do with "growing up" – he turned 30 last month.
Music festivals guide 2016

Show all 20
In the past year, stars from Mark Ronson to Rihanna wanted a piece of Tame Impala. Ronson and Parker collaborated on the tracks "Daffodils" and "Summer Breaking" on Ronson's 2015 album Uptown Special, with Parker providing vocals, lyrics and instrumentation. And Rihanna chose his song "Same Person, Same Old Mistakes" to cover on her January-released Anti album.
"That was pretty surreal," he recalls of the moment his manager messaged him. "I remember reading it a couple of times. It seemed so way out that Rihanna was going to use the song on her album. Funnily enough I kind of imagined the song to be an R&B singer's song in the first place. That's how a lot of Tame Impala songs start out – as ideas for songs I could potentially give to someone else. I think of them with a different persona in mind, it's just a subconscious way of not being bound by what you think you are as an artist."
When he first conjured up the melody, Parker thought it sounded like American R&B girl group TLC. It makes perfect sense when he starts singing a TLC-style "nah-nah-nah" to demonstrate. "Hearing the Rihanna version, it made me realise that the song finally got the treatment it deserved from the beginning. It went full circle."
With the last album, Parker developed Tame Impala's psych-rock sound into dance territory, taking it beyond the sense of isolation in the music. The turning point for Parker was at a wedding disco when someone played a Tame Impala track as a prank.
"The dancefloor just cleared out," sighs Parker. "I guess that's from a wedding dancefloor point of view, because in my opinion Tame Impala's always been super-groovy. But I just imagined, what if I did something where a DJ could play it and keep the dancefloor going but you could also listen to it in your bedroom with headphones? Combining those two environments for music was really important to me – music being danceable but also something you can disappear into. I've always heard a lot of emotion in dance music. Most disco is in a minor key."
The dance element could also be put down to the fact that, with their growing success and second album Lonerism, and the vigorous touring schedule that came with it, parties and disco were increasingly a part of the band's life.
"We get invited to more after-parties than we used to. You just find yourself in those kind of places where there's electronic dance music, just from being out in the world more than I used to which was almost never. We lived a pretty insular and closed off existence when Tame Impala was on the first album."
For Parker, always thoughtful as he gives slow and measured answers, music is still an insular, introspective thing. He needs his own headspace for songwriting.
"Your head just starts a song as though you've flicked on the radio. I've always thought about it as a way of dealing with the silence. If you walked into a room and it's quiet it can be quite jolting, but a way of your head dealing with what's around you is making a song to go along with it."
When Currents was first released he called it "unlistenable". "Every album I've just done sounds like white noise, and sounds like something no one could ever appreciate, fall in love with, dance to, cry to…" He has changed his mind now, as he does when reflecting on every Tame Impala release. If he hasn't listened to songs in a few months, he'll put them on to see how his perceptions have changed.
"It's like staring in a mirror versus looking at an old photo of yourself. The way that you appreciate it and what you pay attention to. When [debut album] Innerspeaker came out, I thought a few songs sounded really electronic and now, when I listen to it, it sounds like a bunch of teenage stoners jamming out in the basement."
On Wednesday night, Tame Impala will find out if they are crowned Best International Group at the Brit Awards. Parker seems nonplussed; he's not sure what to make of industry awards. What means more is the music poll on Australian radio, the Hottest 100, which is voted by listeners. To Parker's delight, two Tame Impala songs made this year's top 10.
"For me that's the craziest thing… when there's a sign that the music's moved people."
The Brit Awards are on Wednesday
Join our new commenting forum
Join thought-provoking conversations, follow other Independent readers and see their replies