How Taylor Swift is using Tumblr to create a safe space with her fans
Though the Taylor Swift Tumblr was originally set up as yet another online marketing vehicle, to be run by staffers, it was Swift's decision to take the reins herself that made it a valuable resource
Joe Coscarelli
New York Times
Thursday 09 November 2017 12:15 Comments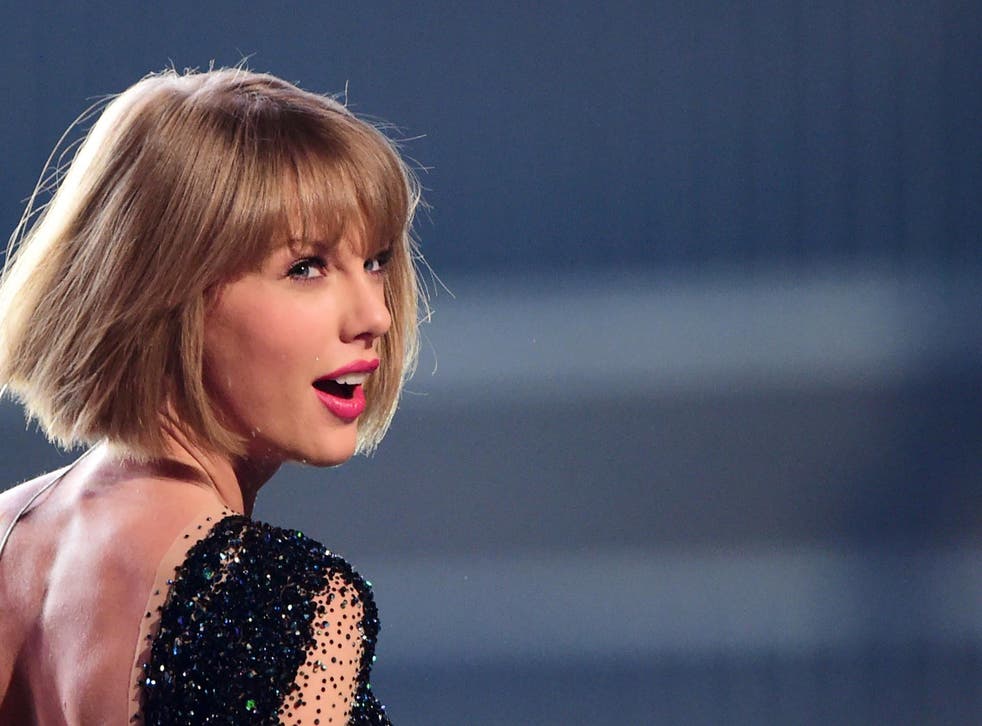 For a megastar approaching the release of her latest blockbuster, Taylor Swift, the human, has been eerily quiet.
Yes, she's put out four songs and two music videos from reputation, her sixth album, out Friday, and her visage currently adorns a race car and a promotional fleet of UPS trucks. But Swift hasn't given an interview in 18 months, and she has performed in public only once this year, at a pre-Super Bowl event for a corporate partner. (She will be the musical guest on Saturday Night Live this weekend.)
Judging by the relatively reserved rollout for reputation, it's easy to assume that Swift is pulling a Beyoncé — communicating only strategically, if at all, and mostly letting the work speak for itself. That is, unless you know where to look.
"The general public has not seen much of Taylor, really, in the last year and a half," said Caitlin Buckvold, 28, who along with her twin sister, Megan, runs a fan blog dedicated to the singer on Tumblr. "But we've seen a lot of Taylor. We interact with her on a daily basis."
At perhaps the most fraught moment in her storied career — after a tense sexual assault trial and amid ceaseless celebrity beefs and internet dramas that threaten to overwhelm the music — Swift, 27, has recommitted to engaging with her most faithful followers, known as Swifties, cocooning herself in the vibrant, supportive community they have built on the social-media platform Tumblr.
The artist is far from just an observer: Since taking personal control of her official Tumblr page in 2014, Swift has "liked" some 27,000 posts, stoking hype for her new songs, registering support for fan theories and lyric interpretations and signalling that she remains an ever-watchful eye to her devoted listeners.
Even in an age of unprecedented connection between stars and their public on social media, Swift goes beyond typical interaction on Tumblr, a niche blogging platform that, with its multimedia flexibility, including images, GIFs and text posts, is conducive to obsessive fandoms. She follows some 5,000 blogs, where users can upload original creations or "re-blog" the work of others with or without adding their own two cents.
While Twitter, Facebook and Instagram have become largely promotional megaphones for the singer (outside of a few sly surprises), she has posted more than 100 times on her Tumblr since October, often re-blogging content from Swifties and adding her own commentary (typically including their first name and a string of excited emojis).
Swift also participates in inside jokes (ask a teenager about "no its becky"), dotes on pet cats and monitors the life events of her devotees, sending flowers and making breakup playlists for those in need. There's even a term for her omnipresence on the platform: #Taylurking.
Enjoy unlimited access to 70 million ad-free songs and podcasts with Amazon Music Sign up now for a 30-day free trial
Sign up
"This is how she knows the pulse of her fan base," said Nate Auerbach, the former head of music strategy and outreach at Tumblr, who helped Swift join the platform ahead of the release of 1989, her previous, Grammy-winning album.
Tatiana Simonian, the current head of entertainment partnerships at Tumblr, said: "She's just not using it like a celebrity uses it," and called Swift "a star who behaves like a fan on the platform — she's a fan of her fans".
By tending to her base with such bespoke dedication — and with the looming possibility of firsthand contact — Swift can breed loyalty in listeners while focusing on positive vibes only. She plucked hundreds of fans from social media to hear "Reputation" early, at Secret Sessions held at her homes in Rhode Island, Los Angeles, London and Nashville.
"Tumblr allows her to focus on the people who matter to her," said Megan Chesney, 17, who blogs as ohtaylorswiift. "She gets to talk directly to her fans and eliminates all of that drama and excess hate on Twitter or Instagram."
Ms. Chesney said she joined Tumblr because Ms. Swift did, and the singer followed her page about two years ago. Like most Swifties, she remembers exactly when and how many times Swift has interacted with her blog.
"It's, like, crazily overwhelming because it's just hard to believe that some iconic superstar celebrity decided to take time out of her day to make someone else's day, even with a single emoji," Ms. Chesney said in an interview during her school lunch.
Though the Taylor Swift Tumblr was originally set up as yet another online marketing vehicle, to be run by staffers, it was Swift's decision to take the reins herself that made it a valuable resource. "Taylor here. I'm locking myself in my room and not leaving until I figure out how to use my Tumblr," she wrote in September 2014, following in the footsteps of artists like Lorde and Frank Ocean, who were Tumblr users before they were famous.
"The impact was immediate and didn't taper off," Mr. Auerbach said, noting that few stars with Ms. Swift's reach have really dived in and sustained such a presence. "She was learning about herself in the eyes of the fans," he added. "No one did it like her. She was incredible at it."
The generous, loose and jocular version of Swift that fans get on Tumblr can be a far cry from a public persona that some see as meticulously calculated and overbearing. On Monday, she was criticiced in some corners after the ACLU of Northern California pushed back against a letter from Swift's attorney demanding the takedown of a small-time blog post that linked the singer's music to the alt-right and white supremacy.
While the ACLU called out Swift's "intimidation tactics," the topic spurred civil discussion on Tumblr. Wrote one fan: "I don't think it's too much to ask that you (not your attorneys) publicly denounce alt-right neo-nazis who take it upon themselves to use you, your lyrics, and the imagery in your music videos to bolster their disgusting beliefs."
But many Swifties ultimately defended the singer. "Have people out there seriously not caught on to how taylor has decided this era to NOT interact with the media?" another user wrote. "She doesn't want to give in and tell them where she stands politically. She's done with them. And if she were to say something, we all know she'd still get torn apart anyway."
Like Beyoncé's BeyHive, Swifties can be rabid in their allegiance, especially in the virtual presence of their hands-on queen. ("Taylor always says that she sees everything and knows everyone and exactly what's going on with her fans," Ms. Chesney said.) This week, ahead of the release of reputation" fans on Tumblr urged one another to be vigilant about reporting leaked music to the singer's label and management team.
"They're doing a lot of work for her in many ways," said Linda Ryan Bengtsson, an assistant professor of media and communication studies at Karlstad University in Sweden. Ms. Bengtsson is currently conducting research on fan behavior across social media, with a focus on Swifties, whom she called "really loyal" and generally "very friendly and positive."
She added: "They really lift each other and share each other," often with the goal of reaching Swift's field of vision.
"Everyone's just helping each other out to get noticed by Taylor," said Ani, 15, a high school student in Hong Kong who blogs as rosegardensthorns and asked that her last name be withheld because of college admissions.
"She followed me back in February and I freaked out," Ani said. Months later, when Swift finally reposted a photo from her page, "I definitely cried in the metro station," she said. "And then I showed my friend and she cried, too."
Such gestures, executed in a public but largely unseen ecosystem, allow Ms. Swift to do good-natured brand maintenance and outreach without oversaturating a more sceptical general audience.
"She was very ubiquitous for a while there," said the man behind the analyzingtaylor Tumblr, who writes under the name Matt to protect his professional prospects. "I just think that she knew it was time to not be as omnipresent as she was with 10 magazine covers and five different interviews."
After all, Swift, at her best, has always been both sweet and savvy. "I think in 2017, you've got to appeal to your most die-hard fans, because they're going to to do the promotion for you," Matt said. "It's a smarter way to go about business."
New York Times
Register for free to continue reading
Registration is a free and easy way to support our truly independent journalism
By registering, you will also enjoy limited access to Premium articles, exclusive newsletters, commenting, and virtual events with our leading journalists
Already have an account? sign in
Join our new commenting forum
Join thought-provoking conversations, follow other Independent readers and see their replies