Interview
The Amazons: 'People probably wonder why we're bothering with rock and roll'
As the British band release the long-awaited follow-up to their debut album, frontman Matt Thomson and drummer Joe Emmett tell Roisin O'Connor why they want people to get excited about rock music again
Thursday 23 May 2019 07:50 Comments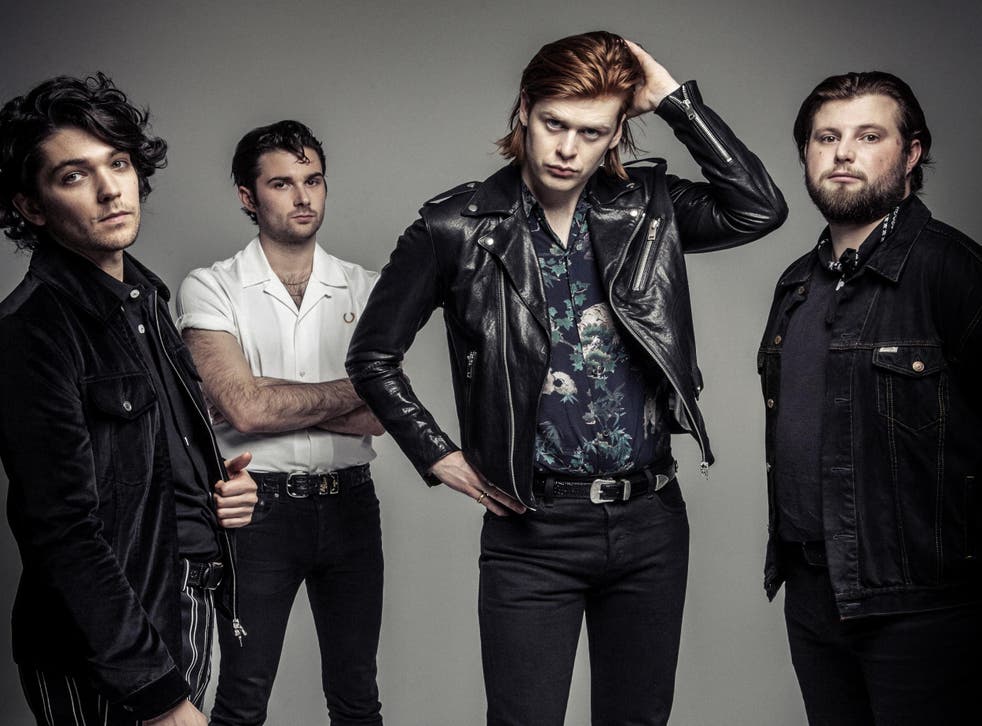 Rock and roll isn't really that relevant anymore," says The Amazons' frontman Matt Thomson, running a hand through his shock of red hair. "People probably wonder why we're bothering."
It's an odd thing for him to admit, given his band trade in a no-frills, Seventies-sounding din, all thunderous drums and anthemic guitars, and Thomson is here to promote their new record, Future Dust. It's the follow-up to their self-titled first album, which unexpectedly shot into the UK top 10 back in 2017 – the highest-charting rock debut since Royal Blood's three years earlier. And it's excellent – built on massive hooks, catchy refrains and Thomson's unique voice, which yo-yos between a howl and a piercing yell.
"It's not about imitation," says Thomson, 25. "It's about trying to tap into the spirit of it. The baseline is we love rock and roll, and when you love something that much, you want to know everything about it."
Thomson and his bandmate Joe Emmett (drums) are the first to admit that they're not exactly reinventing the wheel with their muscular guitar riffs – and indeed their sound is about as "meat and potatoes" as rock gets. But unlike many bands, this four-piece – who formed in Reading in 2014 – are keenly informed about the genesis of the music that inspires their own.
In his search for a heavier sound, Thomson found Howlin' Wolf via Led Zeppelin and became obsessed with delving through the bluesman's back catalogue. Jerry Lee Lewis's biography Hellfire – a nod to the Biblical language used to describe the rock and roll pioneer's "devil music" – served as inspiration for the record's religious references.
The 30 best album covers - ranked

Show all 30
Future Dust is half exploration, he explains, and half "love letter to rock".
"There aren't many exciting bands around at the moment," he says. "The only era that really held the guitar up is the Seventies… I mean when was the last time we had guitar 'heroes'? With guys like Jeff Beck, Jimmy Page... there's a sense of wonder in the musicianship."
I ask how he thinks music fans will respond to something so different to what currently dominates the charts. "We're very prepared to fail," Thomson says with a laugh. "But we'll stand by it. We're making the music we want to hear."
There are classic themes on Future Dust – the disillusionment of youth, anger at the mess society continues to find itself in – but it also touches on weighty issues such as anorexia and depression. Take their song "25". Over a bluesy, swinging guitar groove Thomson sings of narcissism, apathy and ambition – all of which is underlined by a fear that he has nothing meaningful to offer: "Lately, I've been/ I've been dying to ignite the fire/ Deep down, I know it's all in vain/ There's nothing left to light."
"We're being bombarded with conflicting information all the time," Thomson says of that track, which he wrote in response to everyone being "expected to have an opinion on everything". "People say things like 'Theresa May's a d**k'," he explains, "and it's so boring. What are you adding to the conversation?"
Enjoy unlimited access to 70 million ad-free songs and podcasts with Amazon Music Sign up now for a 30-day free trial
Sign up
Towards the end of last year they performed a special gig in Leeds for a young fan, Joe Glew, who died of Leukaemia just two weeks before the show. It was a cause close to the band's hearts – particularly Emmett, who was diagnosed with Non-Hodgkin lymphoma in 2006 and only given the all-clear by doctors a decade later.
"I had to go through chemotherapy during my GSCEs," he says. "It's weird, but being a teenager and getting that was the 'best' timing, in a way. I don't know if I was naive or if my parents sheltered me from the seriousness of it. That said, you do question what you did to deserve it. Unless you're in your eighties or nineties and you've been smoking your whole life, but I was 16 and it was like… what the f**k?
"But it definitely made me more determined to do music," he continues. "I'd always been a bit of a happy-go-lucky dude, and going through cancer inspired me to take more risks. Because you don't know if you're still going to be here the next day."
Recording Future Dust against the backdrop of the dramatic, sweeping vistas of Three Cliffs Bay in Wales gave the band time to figure out their heavier sound. They felt there was "unfinished business" with Catherine Marks (Wolf Alice, Foals, The Big Moon), who mixed their debut. They also worked with producer Alan Moulder who has "done everything", as they put it, from Nine Inch Nails and Foo Fighters to The Killers and Arctic Monkeys.
"Having a top 10 with the first record definitely opened a lot of doors for us," Thomson says. "But I still don't believe people take us seriously. Probably because of the kind of music we make." What does he want fans to glean from this new record? "I want people to get excited about what we love: rock and roll in its rawest form."
Future Dust, the new album by The Amazons, is out on 24 May
Register for free to continue reading
Registration is a free and easy way to support our truly independent journalism
By registering, you will also enjoy limited access to Premium articles, exclusive newsletters, commenting, and virtual events with our leading journalists
Already have an account? sign in
Join our new commenting forum
Join thought-provoking conversations, follow other Independent readers and see their replies