'It was break or bust': Abbey Road, throat lozenges, and the frenetic making of the first Beatles album
On the 60th anniversary of 'Please Please Me', Mark Beaumont takes a deeper look into the 12 hours and £400 spent making the legendary debut that lit the fuse for Beatlemania and ignited rock'n'roll's second phase
Wednesday 22 March 2023 06:33 GMT
Comments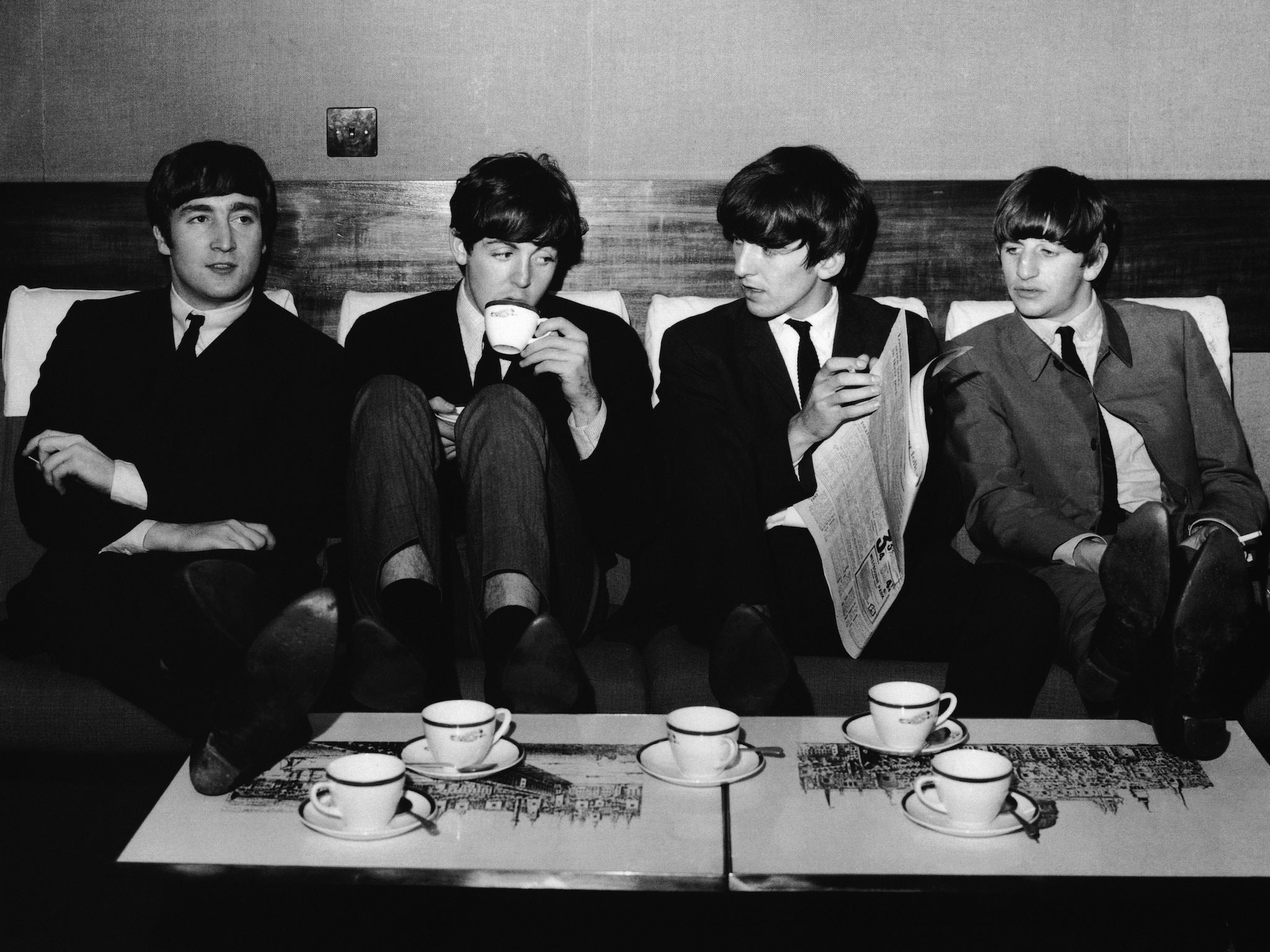 It's 10pm on Monday 11 February 1963, and as the Abbey Road clock ticks down the final minutes of an exhausting 12-hour session, John Lennon strips to the waist, doses up on Zubes throat lozenges and throws himself into one final death-or-glory charge into rock'n'roll history.
"The last song nearly killed me," he'd say later, recalling that last-minute take of "Twist and Shout", which The Beatles managed to squeeze into the closing seconds of the one-day recording session for their debut album Please Please Me. A second take was abandoned as Lennon's voice gave out altogether after a full day of howling and harmonising, powering through on throat sweets, milk and the ferocious Hamburg spirit that had seen them through countless late-night rock'n'roll marathons at the Kaiserkeller. "My voice wasn't the same for a long time after," he said. "Every time I swallowed it was like sandpaper. I was always bitterly ashamed of it, because I could sing it better than that; but now it doesn't bother me. You can hear that I'm just a frantic guy doing his best."
In fact, the crackling rawness of Lennon's delivery would come to encapsulate one of the most electrifying debut albums of all time, released 60 years ago today. In just 32 scintillating minutes, The Beatles' raucous and romantic Merseybeat originals – including "I Saw Her Standing There", "P.S. I Love You", "There's a Place" and the chart-topping title track – jostled excitedly against R&B classics and blue-eyed showtune ballads to historic effect. Please Please Me wouldn't just give the unsuspecting pop fans of 1963 a honey-coated taste of the foursome's wild and far-reaching sets at Liverpool's Cavern and the clubs of Hamburg, but a blueprint for rock's future. A future in which creative, self-contained bands write their own songs and the throwaway pop disc evolves into a revered sonic artform.
Please Please Me would also mark the dawn of a phenomenon. Over its first six weeks, the album wended its way to the top of the UK charts where it set up shop for 30 weeks, eventually only toppled by their second album, With The Beatles. In an age dominated by film soundtracks and easy-listening singers – when pop acts, with their young, unmoneyed fans, were generally limited to singles and hits-and-filler collections – this was an unprecedented achievement, and one that kicked off the most revelatory seven-year recording career the world would ever know. Not bad for a record largely bashed out inside 12 hours for £400.
If Please Please Me was, as Lennon suggested, a frantic endeavour, it was one driven by its own rising momentum. Just a year earlier, The Beatles' career seemed to be an uphill struggle. Their Liverpool fanbase was growing increasingly rabid but the band had tired of Hamburg and their forays into the recording industry were progressing at snail's pace. Having famously been turned down in January 1962 by a Decca Records who'd probably like us to stop mentioning rock's most historic blunder now, The Beatles signed with George Martin's Parlophone records a few months later. Unlike the screaming hordes at The Cavern, though, Martin wasn't instantly blown away by the band's world-conquering talents. Their first recording session on 6 June 1962, with original drummer Pete Best, produced nothing deemed worthy of release. In fact, Martin's dissatisfaction with Best's drumming would soon see him replaced by Ringo Starr. "I decided that Pete Best had to go," Martin later explained, telling the band's manager Brian Epstein: "I don't care what you do with Pete Best but he's not playing on any more recording sessions."
Come the next day, spurred on to give Martin the hit he desired, Lennon sat down in a bedroom at his aunt's house on Menlove Avenue to write a song inspired by Roy Orbison's "Only the Lonely" and Bing Crosby's "Please", which included the line "Please lend a little ear to my pleas". "I was intrigued by the double use of the word 'please'," Lennon told Playboy in 1980. Paul McCartney would later expand on the obvious subtext of what became "Please Please Me" in his 2021 book, The Lyrics. "John liked the double meaning of 'please'," he wrote. "Yeah, 'please' is, you know, pretty please. 'Please have intercourse with me. So, pretty please, have intercourse with me, I beg you to have intercourse with me.' He liked that, and I liked that he liked that."
Originally a somewhat ponderous, bluesy ballad, "Please Please Me" failed to grab Martin when the band presented it as a potential debut single at the next session on 4 September. "It was very slow and rather dreary," Martin recalled in Beatles historian Mark Lewisohn's book Tune In (2013). "I told them if they doubled the speed, it might be interesting." Engineer Geoff Emerick agreed, writing in his 2006 book Here, There and Everywhere that "the song being rehearsed was soulful and was sung with great feeling by John, but it had a very slow tempo and was marred by a clumsy phrase that George Harrison played over and over again." It became, he wrote, "repetitive to the point of annoyance".
Even Starr looks back on the initial performance warily. "While we were recording it, I was playing the bass drum with a maraca in one hand and a tambourine in the other," he recalled in the 1996 Anthology documentary. It may well have been these antics that convinced Martin to hire session drummer Andy White for the next Beatles session a week later; it is White's drums that can be heard on the final album versions of both "Love Me Do" and "P.S. I Love You".
Martin had already earmarked Mitch Murray's "How Do You Do It" (eventually a huge hit for Gerry And The Pacemakers) as The Beatles' first single. But fearing that such a cheesy pop debut would harm their reputation as songwriters and go down badly in Liverpool, the band convinced Martin to release its intended B-side "Love Me Do" instead – a harmonica-heavy blues pop song that McCartney had written pre-Hamburg about his girlfriend Iris Caldwell. "I remember us all being ready to stand up for the principle of, 'We have written these songs and we want to do them,'" said Starr. Having taken Martin's advice to speed up "Please Please Me", The Beatles suggested it as the flip track for "Love Me Do", but Martin felt their arrangement was still too fussy. "We were getting very tired… and we just couldn't seem to get it right," Lennon told NME in March 1963, so the group decided against throwing it away, unfinished, on a B-side. "Imagine that, a number that could get us to the top just tucked away!"

Enjoy unlimited access to 70 million ad-free songs and podcasts with Amazon Music
Sign up now for a 30-day free trial
Sign up

Enjoy unlimited access to 70 million ad-free songs and podcasts with Amazon Music
Sign up now for a 30-day free trial
Sign up
A fortuitous decision, indeed. In the wake of "Love Me Do" hitting No 17 in the UK chart – based in no small part on strong Liverpool sales and the 10,000 copies that Epstein bought himself – Martin was freshly convinced of The Beatles' hitmaking potential. On 26 November, then, the band returned to Abbey Road with a radically reworked "Please Please Me". "We were so happy with the result, we couldn't get it recorded fast enough," Lennon told NME. After two hours of takes, Martin leant into the recording booth microphone at Abbey Road and correctly predicted: "You've just made your first number one."
Ultimately, the fates conspired to spark Beatlemania in January 1963. Seeking a new publishing deal for the band, Epstein visited publisher Dick James, who took one listen to "Please Please Me", phoned a producer on national TV show Thank Your Lucky Stars and secured them a slot by playing the track down the phone. The broadcast then coincided with a huge snowstorm, which kept much of the country inside to watch this thrilling young band whooping and harmonising through this instant, sweetly suggestive hit like mop-topped horndogs. A national tour ensued, the press frothed, and from its 11 January release, "Please Please Me" began a six-week climb to the No 1 spot. Suddenly, time was of the essence.
Martin envisioned the debut Beatles album as a live recording, capturing their exuberant onstage electricity. But visiting The Cavern, he decided it wasn't suitable for recording, so a single day at Abbey Road, split into three sessions, was booked mid-tour to complete the remaining 10 songs needed for a full album. "I asked them what they had which we could record quickly," Martin said, "and the answer was their stage act… It was a straightforward performance of their stage repertoire – a broadcast, more or less."
Tape engineer Richard Langham recalled helping The Beatles load their equipment into Abbey Road on the freezing morning of 11 February for a 10am start. "Because they were rushing around the country all the time and their amplifiers maybe broke down or something like that, there were no backs on the amplifiers," he told prosoundnews.com. "There were bits of paper lying around in there, and I picked them up. They were notes from the girls from the dance floor who threw them up on the stage. They said, 'Please play this, please play that, this is my phone number.' I guess they just read them and then threw them in the back of the amplifier."
Their throats raw from brutal winter colds, the band guzzled throat lozenges and tore straight into 10 takes of "There's a Place" and nine of a riotous rock'n'roller called "Seventeen", soon to be retitled "I Saw Her Standing There". "We didn't rehearse our first album," Starr said later. "In my head it was done live. We did the songs through first so they could get some sort of sound on each one, then we just had to run, run them down."
When the Abbey Road staff paused for lunch at 1pm, The Beatles kept on rocking. "We told them we were having a break, but they said they would like to stay on and rehearse," Langham recalled. "So, while George, Norman [Smith, engineer] and I went round the corner to the Heroes Of Alma for a pie and pint, they stayed, drinking milk. When we came back, they'd been playing right through. We couldn't believe it. We had never seen a group work right through their lunch break before."
Broadway showtune "A Taste of Honey" and the Lennon-McCartney prom ballads "Misery" and "Do You Want to Know a Secret?" went down in the afternoon session, and in the evening, the band overran working on 13 takes of "Hold Me Tight", which ultimately didn't make it onto the record. This left them racing against the clock through five cover tunes, culminating in Lennon's legendarily fraught "Twist and Shout" performance in the final seconds of their studio slot.
"By this time all their throats were tired and sore," Smith told Mark Lewisohn for his 1988 book The Complete Beatles Recording Sessions. "It was 12 hours since we had started working. John's, in particular, was almost completely gone so we really had to get it right first time, The Beatles on the studio floor and us in the control room. John sucked a couple more Zubes [throat sweets], had a bit of a gargle with milk and away we went."
As sessions wrapped 45 minutes over schedule, everyone present knew they'd created something incredible that day. "This album was one of the main ambitions in our lives," McCartney said in Keith Badman's 2009 book The Beatles: Off The Record. "We felt that it would be a showcase for the group, and it was tremendously important for us that it sounded bang on the button. As it happened, we were pleased. If not, sore throats or not, we'd have done it all over again. That was the mood we were in. It was break or bust for us."
Indeed, a moment was captured within the rough and rowdy grooves of Please Please Me – the ignition of rock'n'roll's second phase perhaps, or the first generation of teenage pop music's coming of age – which translated into near overnight success. Within months, they released another chart-topper in "From Me to You", scored their first million-selling single with "She Loves You", and full-throated global Beatlemania was in full swing. Now, 60 years on, the record still personifies the art of catching the lightning of an underground culture-quake in a jar, by means of quick, bare, live-to-tape recording. It's this sort of attitude that would later help the MC5, the Ramones and The Strokes kick off their own rock'n'roll revolutions.
"It seems that whenever you get that kind of economy, things tend to happen in a more creative manner," said Lewisohn, pointing to Please Please Me as rock's most vital example of this in action. "There can scarcely have been 585 more productive minutes in the history of recorded music."
Join our commenting forum
Join thought-provoking conversations, follow other Independent readers and see their replies