Interview
The Big Moon: 'There are billions of people on this planet, and a lot of s*** is happening to a lot of them'
The London four-piece's new album folds in worldly worries with quotidian ones. They talk to Alexandra Pollard about Grenfell, the climate crisis and questioning their role in the world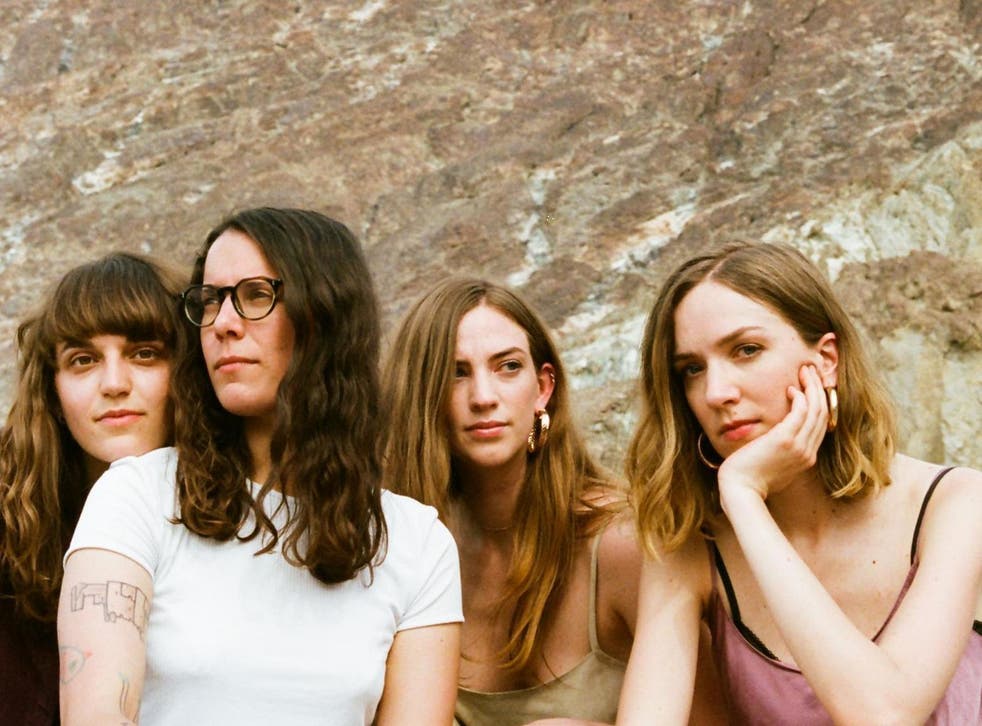 Celia Archer is having an existential crisis. "A lot of my friends are doctors or lawyers or work for refugee charities," says the Big Moon bassist, "and I feel like I'm just being really selfish."
It's funny timing. The day we meet, in an old church that's been turned into an austere working space, the London band's note-perfect new album has just come out. Where their accomplished debut shrouded its pop sensibility in fuzzy guitars and drum fills, Walking Like We Do is less ramshackle. Those wry lyrics and sugar-rush melodies are still there, but the guitars are more muted, the production a little crisper. It's an album to be proud of.
It's not that the band, which also comprises lead singer and songwriter Juliette Jackson, guitarist Soph Nathan and drummer Fern Ford, aren't excited about it. As they arrive, one by one, they hug, kiss and wish each other a happy release day. They just find it hard to forget that the world is on fire.
Jackson has felt what Archer's feeling. "A while ago, I'd just seen loads of bands at a festival," she recalls, "and I was like, 'We're all just posturing! What are we doing? Why are we doing this? Why aren't we helping, and doing something useful?'" It was Archer who talked her out of it. "You just said, 'Well, if there isn't culture, what is the world that we're even trying to save? If all there is is food and shelter, what is it? There has to be the extra stuff, otherwise life just isn't worth living." She strokes her bandmate's arm. "It made me feel a lot better."
Archer seems satisfied. "Well done past Celia," she nods. "This I can do, so I'm doing it. If this is my little groove for now, I'll just... groove it." Crisis over, the four of them collapse into laughter.
The 50 best albums of 2019

Show all 50
The Big Moon clearly have each other's backs. They are chatty and tactile, bickering one moment and heaping praise on each other the next. It's hard to believe they barely knew each other when they first formed. Six years ago, Jackson posted a "bandmates wanted"-style Facebook status. She'd already written a handful of songs – the playfully posturing "Cupid" and the drawling yet sprightly "Sucker" among them – but she needed help to beef them up and make her rowdy guitar-pop dreams a reality. With Archer, Nathan and Ford, she hit the jackpot. The group's debut album, 2017's Love in the 4th Dimension, was a plucky statement of intent, earning them a Mercury nod and an invitation to tour with Pixies.
"Writing the last album, I was head over heels in love with someone for the first time ever," says Jackson, who's wearing the same sharp red suit she wore to the Mercurys, "and my brain was just full of fluff, you know? It's been five years since I wrote some of those songs, and it does feel like the world's got bigger and weirder."
The new record is an attempt to make sense of this bigger, weirder world, folding in worldly worries – about politics, class and the climate crisis – with the quotidian niggles that come with being a person in your late twenties.
The reviews have all been glowing so far, though one particular write-up raised some eyebrows. "Not so long ago," it began, "the fact that The Big Moon are an all-female band might have been considered the most remarkable thing about them. These days, just being a band, seems remarkable in itself."
Enjoy unlimited access to 70 million ad-free songs and podcasts with Amazon Music Sign up now for a 30-day free trial
Sign up
"He's like, 'I'm not gonna say it... but I'm saying it,'" says Archer. "That's really annoying." "It's also, like, really offensive," adds Nathan, "to suggest that the most remarkable thing about this band is that we're all women. What about... the band?"
"But I mean, society is sexist," adds Archer, her voice a mix of resignation and resentment. "We can just all agree on that. All the ways in which you can experience that – personally, professionally, emotionally, physically – we have experienced it, as all women have across the whole world. So it's a difficult thing to talk about in relation to what some guy wrote about an album of Jules's feelings."
The conversation moves onto different subjects – getting home late every night, forgetting lyrics in the middle of a gig, the difficulties of growing out leg hair – but Archer's gone quiet. "Sorry," she says suddenly, "just to go back to the women thing again, and it's the last thing I will say about it. Yes, we're women, but there are also lots of things that we have, that have enabled us to get to where we are. When this becomes the buzz topic, then all those other things, like race and class, get ignored. Our experiences are totally different from so many other women in the industry. So... that's all I wanted to say."
The album contemplates these kinds of inequalities, too. On the minimalist "Dog Eat Dog", Jackson ruminates, between eerie piano trills, "I guess tailored suits don't grow on trees/ And tragedies eventually turn into memes." It was inspired by the Grenfell disaster. "There was just a mood in the air in London," recalls Jackson of the weeks that followed the 2017 fire. "Everyone was grieving, and still is. It was such a tragedy and it feels really unfair and it's so symbolic of a s***** system.
"I read something about how much it would have cost to put the fireproof cladding on the building," she continues, "and it was such a minor amount. The same day, I read an article about Theresa May's wardrobe budget for the election, and it was thousands and thousands. There are such huge divisions between rich and poor and no one's doing anything about it. A lot of people don't care about it. Not enough people cared to make that building safe. Not enough people listened, because they didn't care."
And it's disorienting, says Archer, to see these stories shared alongside friends' holiday photos, showbiz news and funny cat videos. Things that are vitally important share a feed with things that are meaningless, "and eventually it all just feels the same". It can be hard, she says, to fully engage with everything that's happening in the world. "The amount of information we have has grown faster than our empathetic capabilities. There are billions of people on this planet, and a lot of s*** is happening to a lot of them, and we know about all of it. We keep hitting this wall of, 'I can't be sad all the time, and I can't do anything about 99 per cent of what is going on,' and it does feel overwhelming and paralysing. And then you feel guilty for being like, 'Oh I just want to see how my mum's doing. But Australia's on fire and we're about to go to war with Iran.'"
The band try and do their bit where they can – particularly when it comes to the climate crisis. They took part in October's Extinction Rebellion protests, and their tour rider requests no plastics, because "you wouldn't believe the amount of plastic s*** that they just put in your dressing room", says Ford.
But the state of things has Archer considering the moral implications of having children. "That teenager thing of being like, 'I didn't ask to be born!' is actually a real thing now," she says. "My child, if I have one, could say, 'I didn't ask to be born, and you made this choice knowing what's going on.'"
"I guess it depends how hopeful you are," says Jackson. How hopeful is she? She thinks for a moment. "I read a news article about how there's a way to grow all food in a lab. And it's really efficient and uses far less energy than farming. And that did make me feel quite hopeful actually. I never thought I'd feel hopeful about meat grown on collagen, but hey, that could really make a difference."
"Oh great," says Archer, "I'll have three kids."
She's being facetious, but she shares Jackson's cautious optimism. "It's easy to catastrophise things," she says, "and I know things are really bad, but I do believe in people. And I believe in good. I do."
Walking Like We Do is out now
Register for free to continue reading
Registration is a free and easy way to support our truly independent journalism
By registering, you will also enjoy limited access to Premium articles, exclusive newsletters, commenting, and virtual events with our leading journalists
Already have an account? sign in
Register for free to continue reading
Registration is a free and easy way to support our truly independent journalism
By registering, you will also enjoy limited access to Premium articles, exclusive newsletters, commenting, and virtual events with our leading journalists
Already have an account? sign in
Join our new commenting forum
Join thought-provoking conversations, follow other Independent readers and see their replies