The Big Moon discuss being at the forefront of guitar music's exciting new wave
The London four-piece's debut album 'Love in the 4th Dimension' is a big statement from a band who've learnt their trade on the road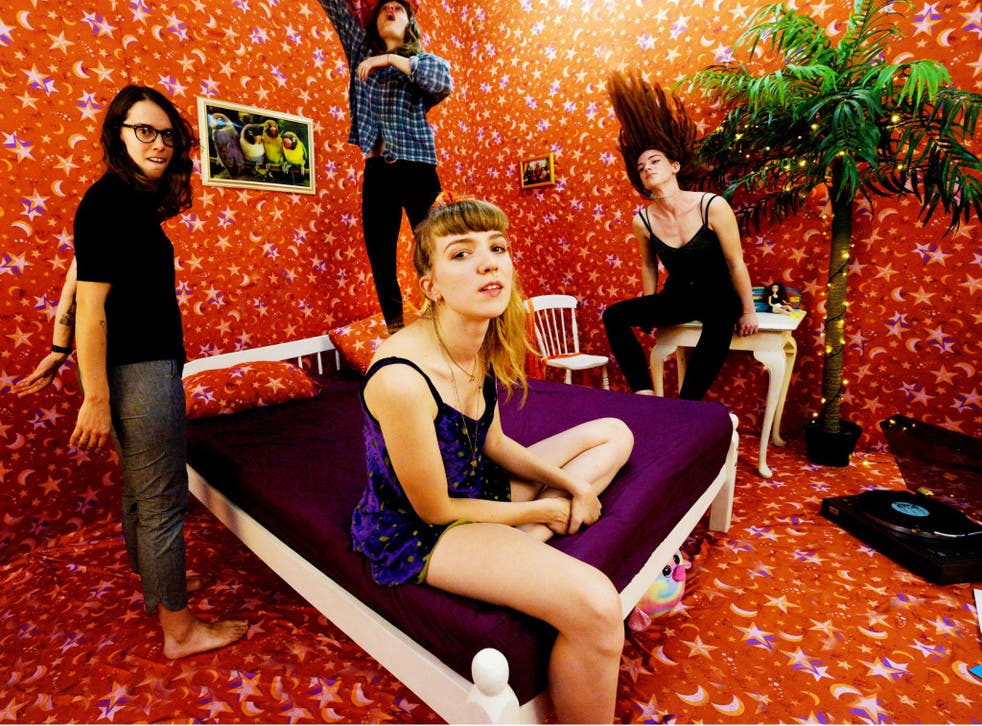 For some unknown reason defying science and logic, The Big Moon aren't exhausted. When I meet them, they've just spent a week playing show after show at SXSW, as well as forming the backing band for fellow Londoner Marika Hackman, who also had several performances of her own. They've essentially been two acts at once, hurtling across Austin, Texas without a second's pause. And speaking just an hour after their final set in the Deep South sun, there aren't major signs of madness. They're not hallucinating tacos, phoning home or booking the next flight back to Heathrow in a panic.
There is the odd hint of delirium, mind you. "I'm at least 20% tequila now," declares vocalist / guitarist Juliette Jackson, who started the band from her bedroom in early 2015. "When you're in another country and you're a bit tequila'd, you can really let go," she declares.
Jackson has reason to let her hair down. Two years after forming, The Big Moon's debut album Love in the 4th Dimension has been released. A bringing together of songs they've finessed on the road – on headline tours and dates with fellow indie hellraisers Mystery Jets and The Maccabees – this is the sound of an ultra-tight live band putting their best skills to tape. It's a raucous, smart, devilish first statement. Jackson's fantastical wordplay links up with jagged guitar lines, spiralling organ sections and Fern Ford's pounding drums.
Alongside groups like the hotly-tipped Goat Girl, Dream Wife and Black Honey, they're part of a pack of guitar bands who dream big. Without strictly breaking the mould, they don't rely on nostalgia either. Accusations of indie being stale or dead and buried seem defunct when handed these bands – all young and dreaming big.
"It's a scene, isn't it?" claims Jackson. The Big Moon played their first gig at Brixton Windmill, back in the day, which has fast become de-facto a hub for wild eyed, weird guitar bands. "Look, we're old hat now? Old misers. We're like a heritage group," she jokes.
SXSW's packed schedule isn't the first test of the four-piece's character, completed by guitarist Soph Nathan and bassist Celia Archer, who remembers recording the debut album in just 12 days. "But in the middle of summer, but it was okay," she insists.
"I mean, it was intense," admits Jackson. "Where I live was an hour and a half away from the studio. I'd wake up in the morning, go to the studio, go home and go to bed. But by the end of those 12 days, I felt like I'd been spat back out into the real world. I felt like I needed to cut off all my hair or something! Something strange had happened. Like being asleep and having a long dream before you wake up covered in dribble and wrinkles on your face." Fortunately, they'd just had a similar experience recording on Marika Hackman's I'm Not Your Man album. Only this time, instead of learning new songs and all their intricacies from scratch, they were recording old favourites that had lived on the road for two years.
In producer Catherine Marks, they found someone who made 12 days holed up in a studio seem like a holiday. "She's a total boss. She smokes cigarettes and stares out the door and drinks Diet Coke. She'll look through you and say some amazing idea of exactly what we need to do," remembers Jackson. "She wasn't trying to project any weird vision onto us." When recording was wrapped up, all four had dinner with Marks to celebrate. Again, tequila was involved. "It was probably 90% tequila at that point."
At the very least, Love in the 4th Dimension should lure a huge flock towards The Big Moon's famed shows. It also lands at exactly the right time, just as the tone's beginning to change about new bands. "I had a friend of mine who came and saw a show of ours recently," Archer begins, "and he was like, 'It's so good that guitar music's coming back! Because it means I don't have to pretend to like house music anymore!'" What was until recently so desperately uncool to enjoy you might as well have expressed interest in Myspace and three-quarter-length shorts, is beginning to go back in vogue. These bands might not smash chart records or come within a mile of Ed Sheeran's throne, but they're creating their own space where it's ok to take risks and build a cult following.
"We're so lucky that we've got a space where we can perform and throw our hair around and shout and sweat on stage, for half an hour," beams Jackson. "We get that release and we can offer that kind of release to the people watching us. When you go to a show, you're having a break from reality. You leap around and listen to really loud noise and shout at your friends and throw drinks everywhere." It's clear they wouldn't want to do anything else in the world.
The Big Moon's debut album 'Love in the 4th Dimension' is out now via Fiction. They play Village Underground on 2 May.
Register for free to continue reading
Registration is a free and easy way to support our truly independent journalism
By registering, you will also enjoy limited access to Premium articles, exclusive newsletters, commenting, and virtual events with our leading journalists
Already have an account? sign in
Register for free to continue reading
Registration is a free and easy way to support our truly independent journalism
By registering, you will also enjoy limited access to Premium articles, exclusive newsletters, commenting, and virtual events with our leading journalists
Already have an account? sign in
Join our new commenting forum
Join thought-provoking conversations, follow other Independent readers and see their replies