Interview
The Cribs: 'Indie bands tried to recreate the groupie scene of the 1970s'
The Wakefield siblings have been lumped in with landfill indie, but they stood apart with their stance on misogyny. Now, after wrangles with majors, they're back with a cracking new album. They talk to Ed Power
Wednesday 11 November 2020 11:29
Comments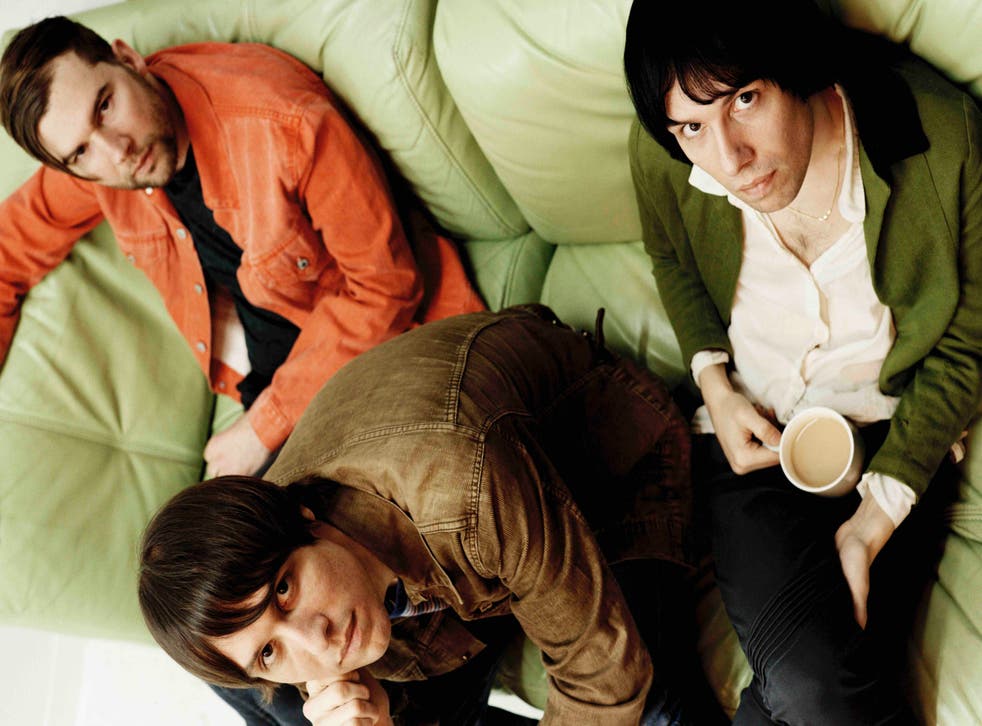 At Glastonbury 2007, The Cribs' Ryan Jarman wasn't holding back. "They want us to speak out about global warming," the floppy-haired frontman declared from the Other Stage. "But the biggest problem is the attitude of some indie bands. Isn't that a bigger problem?"
"It was a ridiculous, off-the-cuff statement," Jarman says today as The Cribs prepare to release their eighth album, Night Network. "It caused a lot of fuss at the time."
In taking aim at the indie rock rank and file, Jarman had set the cat among the Pigeon Detectives. Thirteen years on, the comments still slightly haunt him and The Cribs.
"The first half of the 2000s were really interesting because the bands that were getting popular were with labels like Rough Trade and Domino," he continues. "But as happened with Britpop and grunge – well I don't know what happened with Britpop, I was always more into grunge – the major labels did their time-honoured thing and signed loads and loads of bands that were influenced by what was already going on."
He is talking about "Landfill Indie" – that much-derided onslaught of meat and veg alt.pop that would define British rock roughly from 2004 to 2010. Jarman is unaware, as it happens, of a recent, much tweeted Vice.com article on Landfill Indie that singled out The Cribs, from Wakefield in West Yorkshire, as key members of the movement, alongside the semi-forgotten likes of Maxïmo Park and The Rakes.
"The music industry, upon seeing the meteoric rise of The Strokes, Bloc Party and The Libertines, fanned out across these United Kingdoms in search of white boys with weak jawlines, playing in bands with names like a problematic flavour of Walkers Sensations," goes the piece. "Dozens upon dozens of identikit "The Somethings" bands were plucked from the pavements of regional towns and dropped onto Radio 1 playlists overnight."
"It was the journalists that built up that scene in the first place," says Ryan (40). "They are the ones tearing it down now. That's fine. I don't feel we had anything to do with it."
"Being a musician in that era… I think that everybody felt a clear delineation between the first half of the decade and the second half," adds Gary Jarman, The Cribs' bassist and Ryan's softly spoken twin. "As a band we always tried not to think too much about scenes or movements."
The Cribs continue to forge their own path on Night Network. It's a jangling delight, brimming with melancholy and fortitude, and propelled by Ryan's enthusiastically rasping vocals. Its ennui has always been integral to the band, which consists of Ryan and Gary, plus younger sibling Ross on drums. The underdog spirit is, however, the product of more recent pressures.
Enjoy unlimited access to 70 million ad-free songs and podcasts with Amazon Music Sign up now for a 30-day free trial
Sign up
They had an unpleasant break up with their management team following their 2017 album 24-7 Rock Star S***. That record was produced by uncompromising indie guru Steve Albini, on the insistence of the Jarmans and in the face of some internal opposition.
Alas, attempts to move past the bad blood stalled with the discovery that, since the beginning of The Cribs in 2001, much of their catalogue had been sold to third parties without their knowledge. Some of the rights had ended up with Universal Records, the world's largest music label.
Ryan, Gary and Ross were plunged into limbo. After a first ever stadium gig in June 2018 supporting Foo Fighters at the Etihad in Manchester, they considered calling it quits. Maybe it was best to go out on a high.
"Before you know it, we've got big powerful majors coming after us who've got lawyers on a wage," says Ryan. "And who knew they could wait us out. What they hadn't taken into consideration, what none of them had, was that we'd kept every receipt, every single contract, we'd ever signed – every piece of paperwork."
"It became an all-consuming mission," says Gary of their ultimately successful quest to free themselves from past contracts and sign a new deal that would allow them to continue releasing music. "It was a crash-course in figuring out the way certain things in the industry work. We had signed to an independent label early on. We were always happy about that. We felt really at home.
"But then over the years, in the machinations of the 2000s salad days for indie rock bands and independent labels, deals were done with larger companies that we weren't aware of. It sounds so naive now. I cringe. But we weren't aware. The upshot is we'll be a lot more savvy from now on. "
Ryan and Gary are based in New York and Portland, Oregon respectively. Ross holds the fort back in Wakefield. Smiths icon Johnny Marr was in the group as second guitarist between 2008 and 2011 – the biggest difference, Ryan remembers, is that Marr was keen on more comfortable tour buses.
"Before Johnny was in the band we were still acting in a very DIY way. Even when we got up to arena levels – we did do some arenas, so I'm going to call it arena level. We were still showing up in our van and doing stuff in a way that we'd always done it. When Johnny joined it became a bit more professional. We travelled on buses and stuff. We wanted to do it in a way he felt comfortable doing it."
Contractual headaches necessitated a great deal of shuffling across the Atlantic. And so it was that, at Christmas 2018, all three siblings found themselves back in Wakefield. There, they tried to forget their business woes by writing new songs. With their backs against the wall, perhaps it's no surprise that a spirit of defiance crackles through the material, which was recorded at David Grohl's invitation at the Foo Fighters Studio 606 in Los Angeles.
"Because we were doing all this legal stuff, the writing of the record was the only pleasure we got," says Ryan. "It worked out as uplifting that way. You don't start a band because you want to be poring over contracts. The record has a good vibe, though we'd never want everything to be upbeat. There always has to be an element of melancholy."
Far from running with The Libertines, Kooks, etc, The Cribs always saw themselves as "anti-Landfill". As kids in Wakefield, they worshipped Nirvana and alternative American labels such as Kill Rock Stars and K Records. Along with the music, they absorbed the values of the scenes that had built around those record companies. These were progressive by Nineties standards in that they took a stand against misogyny and homophobia. Those beliefs were not always shared back home.
"We were railing against it constantly at the time," says Ryan of the "groupie" culture they encountered on the UK indie circuit. "It says a lot about what it was like back then. We would talk about it in interviews. Some pretty esteemed journalists would refer to us as 'tiresomely dogmatic', as if we were trying to spoil everyone's fun. I'm glad that everyone has come around to this now."
They weren't the only ones speaking out. Franz Ferdinand made it clear that they had a "no groupie" policy because of the unequal power dynamic between musician and fan. And Kate Nash, whom Ryan dated for several years, frankly discussed the subject in her 2010 track "Mansion Song": "You're a side of stage grasp, a laugh, an after-show party in a bath". Yet these were rare voices in the wilderness.
"I never, ever saw anybody do something to someone against their will. Had they done, I'd have f**king killed them," says Ryan. "There was definitely a power division where the band wanted to feel special. They saw the fans as being… they would refer to them as "groupies" and s**t like that, which I thought was grotesque.
"The younger journalists and the younger bands were trying to live vicariously through rock biographies they'd read – about how it used to be in the 1960s and 1970s. They were trying to recreate and live it for themselves. We were always staunchly against that."
The Cribs were meanwhile acquiring a different sort of reputation. Ryan became notorious for maiming himself on stage. In 2006, NME reported he was "hospitalised twice in a night", as he threw himself onto a table at an awards ceremony, crashing into bottles and glasses (he got stitches, went to the pub, and then, nearly passing out, required an ambulance). It got to the point where the gore was perceived as part of the act.
"I know exactly where it started. It was at T in the Park. The mic hit me straight in the mouth and burst my lip open," he says. "We never had a chance to stop touring and my lip never healed. Every night my mouth would burst open and bleed. Obviously that looks great in photos. Every single time you'd see a photo of me doing a gig , my mouth would be bleeding. And then it becomes what you are known for."
The angst in Night Network doesn't flow entirely from their management woes. Based in America, Ryan and Gary were articulating what it's like to be trapped in a Trumpian nightmare (albeit one that seems to be finally over). They've also been looking back home and processing their disquiet over Brexit – Wakefield voted over 66 per cent Leave in 2016. Worse was to come with the collapse of the historic "Red Wall" in a constituency which went Conservative having been solidly Labour since 1932.
"Growing up in Wakefield, generations of my family have always been working class and it was almost like people felt it was their duty to keep that tradition. So to see it change is really disappointing," says Ryan. "I was over in the UK when the Brexit thing was going on. Politicians were trying to play on people's emotions, trying to scare people. Which is a tried and true political method. A lot of the people that voted for Brexit – they realise now that it's completely bit them in the arse."
Being working class and Northern counted against them early in their career he feels. He could sense the snobbery in his interactions with journalists. And it was certainly there in print, with his speech patterns caricatured and exaggerated.
"The way it would be written out would be the way I speak. They would write it in your 'dialect' which would make you sound stupid. There's this idea of trying to make out that Northern people are not as intelligent and not as aware."
Thirteen years on from Ryan's Glasto rant, The Cribs are glad they are no longer perceived as part of a scene. They had a blast in the 2000s. But the party had to end eventually (there are no plans to follow the examples of The Libertines and open a Cribs-themed boutique hotel).
"There was a glut of bands," says Gary. "The market was totally saturated. I don't blame the bands. They were kids getting offered money by big labels to make an album in LA for £200,000. It must have been very exciting. We were making albums for £900. So our experience was very different."
Night Network is released on Friday 20 November
Register for free to continue reading
Registration is a free and easy way to support our truly independent journalism
By registering, you will also enjoy limited access to Premium articles, exclusive newsletters, commenting, and virtual events with our leading journalists
Already have an account? sign in
Register for free to continue reading
Registration is a free and easy way to support our truly independent journalism
By registering, you will also enjoy limited access to Premium articles, exclusive newsletters, commenting, and virtual events with our leading journalists
Already have an account? sign in
Join our new commenting forum
Join thought-provoking conversations, follow other Independent readers and see their replies