The cult of the celebrity DJs
Celebrities on the decks reached a nadir with Paris Hilton's festival debut. Alison King offers some advice to the VIP wannabes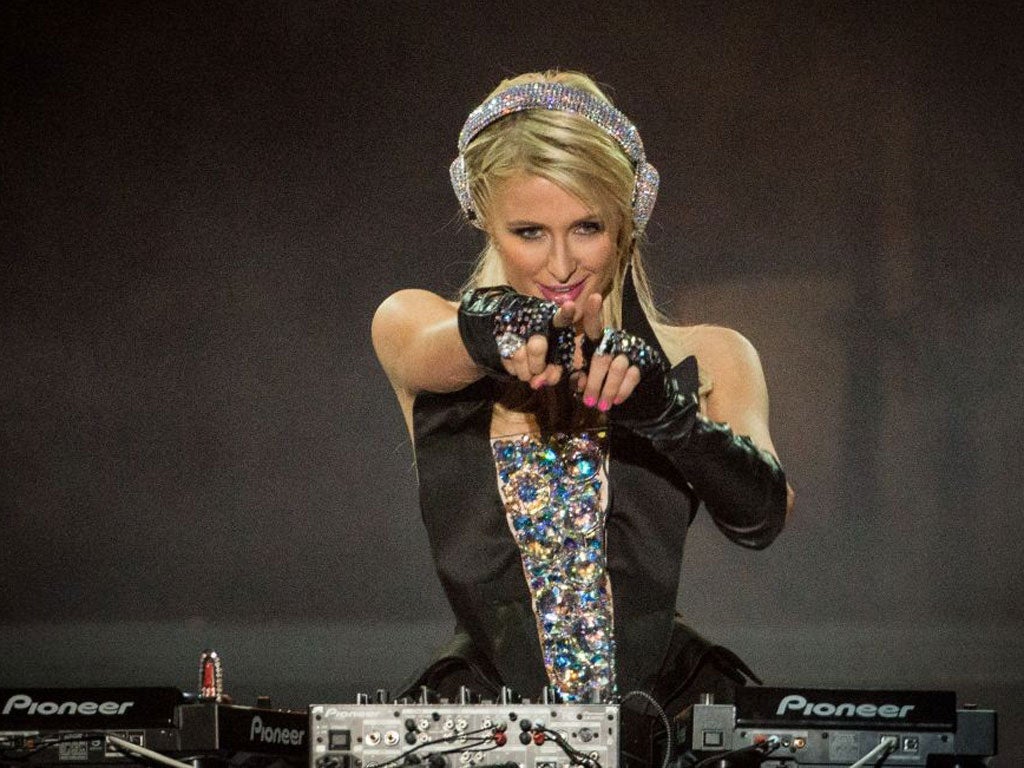 When Paris Hilton made her DJ-ing debut with an hour-long set at a festival in Sao Paolo earlier this summer, it was a disaster. Wearing diamond-studded headphones, waving a flag and pointing her finger in the air, she looked crushingly out of her depth. What began with pitch issues during a mash-up of Avicii's "Levels" and Gotye's "Somebody I Used to Know" continued with her accidentally playing Rihanna's "We Found Love" having introduced a different track. When she finally touch ed the controllers, a sound-man was forced to come on stage to adjust the sound and correct her errors.
Talking about her performance, Hilton told Digital Spy: "Being a DJ you get to create the party and bring happiness to so many people with your music. For me this is something I am very excited about."
She was, predictably, slammed by critics. deadmau5 called her set apocalyptic on Twitter: "To be fair the Mayans saw this sh** coming." Jens Moelle of Digitalism called it "a slap in the face". Even Hilton's ex-boyfriend, the DJ and producer Afrojack, said on SiriusXM radio: "Everyone should do what makes them happy for the right reasons. Being a DJ is hard work. It's not just about pressing 'play'", He added that her set was pre-recorded. It is clear that Hilton's sudden foray into Dj-ing was partly due to Afrojack's influence, but if celebrities can't DJ, why do so many try to wing it?
The celebrity DJ is not a new phenomenon. Promoters want to fill clubs with a better draw than a two-for-one on cocktails, and hiring a celebrity to perform is a reliable way of getting people into a club. It's difficult to escape a party or event without seeing a DJ set from Daisy Lowe, Alexa Chung, Agyness Deyn, Taylor Momsen or Elijah Wood. Whether it is a big name like Ryan Gosling or Mark Wright from Towie, the public is drawn in by celebrity status and, so long as the club is filled, the promoter is happy. It doesn't matter whether the DJ can DJ or not. And for the celebrity in question, it is far less embarrassing to have a valid reason to be there ("I'm DJ-ing"), than to be paid a fee simply for turning up.
In most cases "DJ" is an honorary title. Showing up with a posse of their PR and "it" friends, VIPs sip drinks, sway by the decks and press "play" on one track until it finishes then play the next. It reduces DJ-ing to a paint-by-numbers, celebrity-picked playlist – it's rare to see a celebrity DJ bring more than the minimum requirement to a set. Some celebrity DJs even palm off the skills and production of other DJs as their own. It is a great charade playing the new BBC Radio 1 Essential Mix until the audible watermark "essential mix" voice-over turns up and the game is up.
DJs have nowhere to hide. They are alone with a crowd of people waiting for them to conduct the party. Hilton's haphazard turning of knobs and pressing of effects made her look helpless. Had the millionairess taken a year or two out to practise the basics and get to grips with the technology, she would have realised there was more to it. It is a skill that is reliant on knowledge of music, technology and experience, and it can make or break a party. DJ Samantha Ronson told TMZ website: "If you do the work, your work will speak for itself… If you're just going to be like, 'oh, I'm going to figure out how I can make some money this week', it just insults the people that really work really hard at it."
Solange (sister of Beyoncé) Knowles is on the right track. Introducing a set at Capitale, New York, she said: "I DJ for the love of music, for the love of the joy and the fun side of music... but I gotta see y'all dance. So stop tweeting, stop taking pictures, stop texting, and just dougie." The draw may be her and her sister's celebrity, but she can really DJ.
A a passion for music doesn't mean you have to call yourself a DJ, though, as Macaulay Culkin has proved. At Le Poisson Rouge in New York, Culkin hosts a night aptly named "Macaulay Culkin's iPod Party." Crowds come to watch him press "play" on an iPod. If a celebrity wants to be called a DJ, they should respect the practice by learning the skills before they go into it, otherwise their event is nothing more than an iPod party. Samantha Ronson said of Hilton's DJ-ing "It's like me reading WebMD twice and calling myself a doctor". If you can't DJ, learn. If you can't learn, don't DJ – promoters will still pay you to turn up.
Join our commenting forum
Join thought-provoking conversations, follow other Independent readers and see their replies