The Day the Music Died: 60 years since that fateful plane crash, Buddy Holly's rock'n'roll legacy lives on
Holly has come to be considered a pioneer and one of the most creative forces in rock'n'roll. Alexandra Pollard reflects on the tragic circumstances that took him, Ritchie Valens and JP 'The Big Bopper' Richardson, as well as the crucial influence he had on some of our most celebrated stars
Sunday 03 February 2019 09:23 GMT
Comments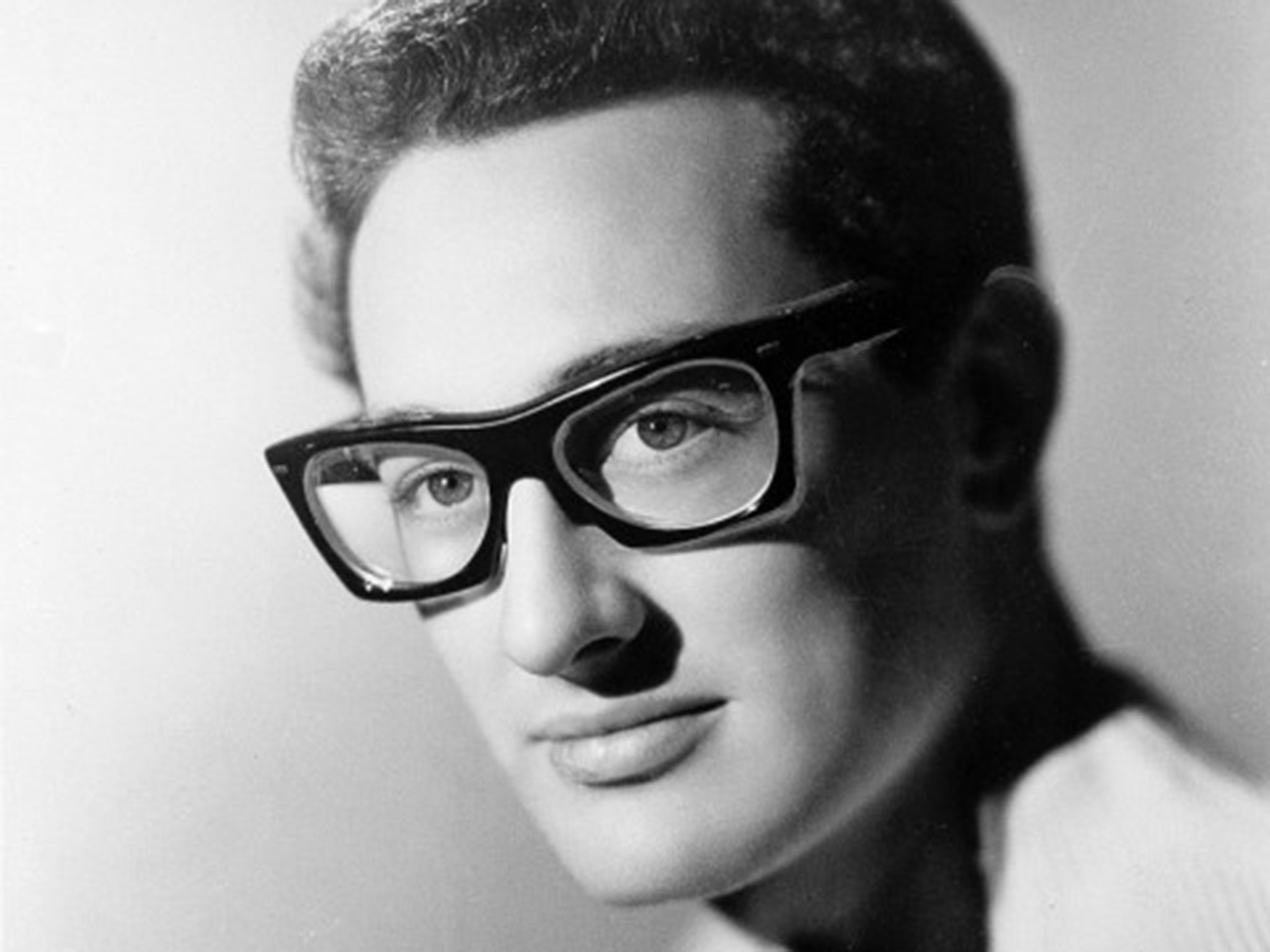 Sixty years ago today, on 3 February 1959, Buddy Holly's bass player Waylon Jennings uttered seven words that would haunt him for the rest of his life. His band, led by rock'n'roll wunderkind Holly, had just played a rollicking show in Iowa as part of their Winter Dance Party tour. "Even though it was a Monday night," Jennings later recalled, "it seemed like half the town's teenagers had turned out."
But Holly was fed up. Tired of the freezing cold, constantly malfunctioning tour bus, and desperate to avoid the 400-mile road trip to their next stop, he booked a private plane to Minnesota instead. Jennings was supposed to join him, but at the last minute gave his seat to "The Big Bopper", who was on the same tour and suffering from a bad case of the flu. When Holly found out, he was teasingly aggrieved. "I hope your damned bus freezes up again," he joked to his friend. "Well," shot back Jennings, "I hope your ol' plane crashes."
That "ol' plane" did crash, just a few minutes after it took off. On board were three renowned musicians – 22-year-old Buddy Holly, 17-year-old Ritchie Valens (who won his seat on a coin toss with Tommy Allsup), and 28-year-old J P "The Big Bopper" Richardson Jr – as well as the pilot, 21-year-old Roger Peterson. Holly and Valens were thrown from the plane's torn fuselage. Richardson was flung into a neighbouring cornfield. Peterson became entangled in the wreckage. None of them survived.
The 40 greatest song lyrics
Show all 40
Twelve years later, on his single "American Pie", Don McLean dubbed the tragedy "the day the music died". It was an apt description; all three singers on board had talent in abundance. The Big Bopper's smash hit, the playful, rockabilly number "Chantilly Lace", had made him a star, and Ritchie Valens was helping pioneer the Mexican American Chicano rock movement. But it was Holly who was changing the landscape of rock'n'roll music.
With his goofy, bespectacled look and frequent falsetto tenor, Holly was a far cry from the rock stars who came before him. At the time, it was virtually unheard of for a singer to write his own songs, arrange them, and orchestrate the instrumentals too – but Holly was a different breed of artist.
Having made a name for himself opening for Elvis Presley, he signed to Decca Records at the age of 19, in 1956. After a handful of disappointing singles, though, he was dropped and instructed not to record with anyone else for five years. Undeterred, he teamed up with producer Norman Petty, formed a new group called The Crickets to get around that five-year clause, and released the honky-tonk anthem "That'll Be the Day". This time around, something about his hiccupping vocals, watertight melodies and simple but decisive rhythm and blues guitars struck a chord with young music fans.
"Buddy was distinctive and unmistakeable, both visually and aurally," said The Searchers' Frank Allen in Spencer Leigh's biography Buddy Holly: Learning the Game. "While we were skiffling away, trying to find a fourth chord, Buddy was giving us the opening bars of "That'll Be The Day" with unbelievable expertise and on an instrument that was the equivalent of a bullet-finned '59 Cadillac. He looked gangly and geeky with those glasses but that guitar made him unbelievably cool. It was the revenge of the nerd. His records are almost without exception terrific."
"That'll Be the Day" topped the charts in the US and the UK, and subsequent singles "Peggy Sue" and "Everyday" proved equally popular. By the time Holly set out on his Winter Dance Party tour, leaving behind his young, pregnant wife María Elena Santiago (the immortalised "widowed bride" of McLean's song), he was a household name.
But his career, and indeed his life, was cut short on a flight that should never have taken off. The young pilot, Roger Peterson, was not qualified to fly in the conditions that were afflicting Minnesota that night – though a weather briefing beforehand had failed to relay the extent of the danger. As soon as the plane took off, snow and low clouds made it impossible to fly using visuals alone, but he had little experience doing otherwise. Nor was he familiar with the plane's old-style gyroscope, whose display format was the exact opposite to what he was used to. Later, an investigation determined that he probably believed he was flying upwards, even as the plane was plummeting towards the ground.

Enjoy unlimited access to 70 million ad-free songs and podcasts with Amazon Music
Sign up now for a 30-day free trial
Sign up

Enjoy unlimited access to 70 million ad-free songs and podcasts with Amazon Music
Sign up now for a 30-day free trial
Sign up
Holly's mother, Ella Holley, didn't hold any anger towards Peterson, though. Just 11 days after the crash, she wrote a letter to his family. "We are crushed by this terrible tragedy and the loss of our son, and we know you are suffering the same," she wrote. "We have never known before the grief and suffering from the death of a loved one but we do know now, and our hearts go out to you because we know what you are going through. We will keep you in our prayers."
Paul McCartney on Buddy Holly
The show, meanwhile, went on. After the crash, the Winter Dance Party tour continued for two more weeks, with Holly's shoes being filled by a handful of up-and-coming artists, Frankie Avalon, Jimmy Clanton and Bobby Vee among them.
But no one could truly replace him. In the six decades that have followed, Holly has come to be considered a pioneer, a revolutionary, and one of the most influential creative forces in early rock'n'roll. Rolling Stone ranked him No 13 on their list of the 100 greatest artists, and he was among the first musicians to be inducted into the Rock & Roll Hall of Fame.
He also influenced just about every rock star that followed him. John Lennon and Paul McCartney studied his records as teenagers, mimicked his persona, and even named their band, The Beatles, in homage to The Crickets. Elton John, despite having 20-20 vision, started wearing horn-rimmed glasses at the age of 13 to imitate Holly. A 17-year-old Bob Dylan attended his Minnesota show two nights before his death. "Something about him seemed permanent and he filled me with conviction," Dylan said in his 2016 Nobel Lecture. "Then out of the blue, the most uncanny thing happened. He looked at me right straight there in the eye and he transmitted something, something I didn't know what. It gave me the chills."
The Rolling Stones's Keith Richards, who modelled his early guitar playing on Holly, put it simply. "Holly passed it on via The Beatles, and via us," he said. "He's in everybody." The music never really died after all.
Join our commenting forum
Join thought-provoking conversations, follow other Independent readers and see their replies