The Independent's journalism is supported by our readers. When you purchase through links on our site, we may earn commission.
The Gift unveil new video for 'Love Without Violins' featuring Brian Eno - exclusive premiere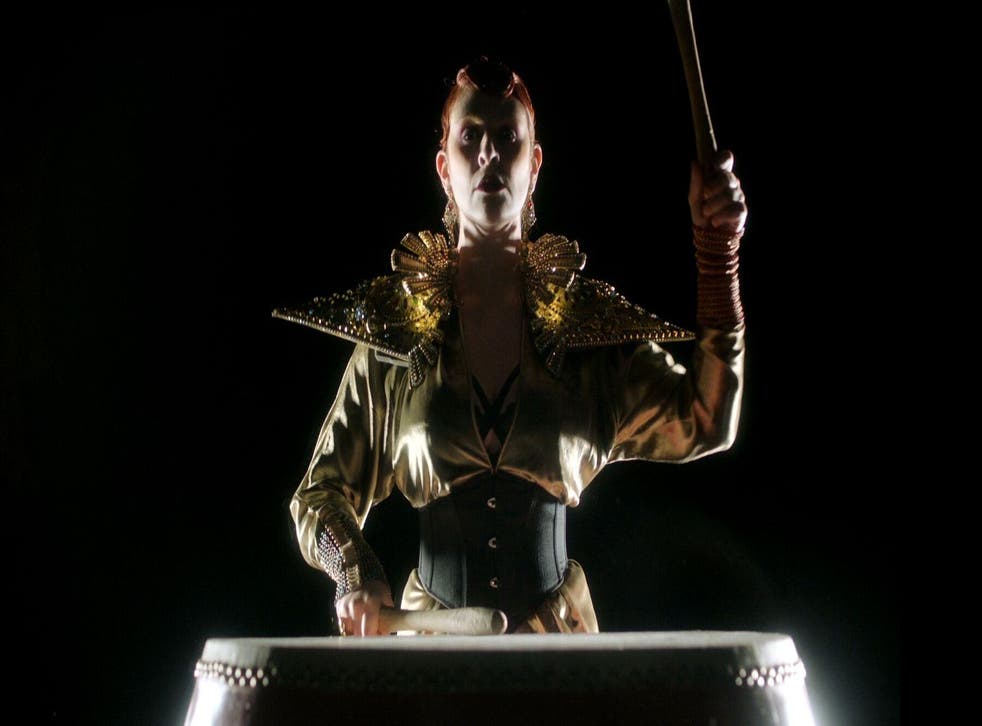 Portuguese band The Gift have revealed their striking new video for 'Love Without Violins' featuring Brian Eno, who co-wrote and produced the track which is set for release on 30 September.
Taken from their upcoming album and mixed by Flood, it's a visually arresting work that has taken the music video format and pushed it to another level.
Watch the video below [contains nudity]:
What are you listening to at the moment?
We have been music consumers since we were very young. Therefore, considering that in our hometown there was only one record store we got used to searching for new music trends at a very early stage. We listened to record cassettes with our favorite songs on and we would wait up until late in the evening to listen to the best radio programs. Today the process is much easier, since its release, the last album of Radiohead is playing non-stop. Love & Hate from Michael Kiwanuka is a song with strong presence on our playlists; we were glued to the chair to listen to him in the last Mercury Prize.
What are your plans for the rest of 2016?
Promote to disclose, we are a band that always wanted this, reach out to people, show our music. We are not an easy band to catalog and this is good for those who want to reach more people.
We are so excited about the new album we just want to see it grow. We are starting with the single 'Love Without Violins' and the video premier with The Independent and other tracks will follow in order to reach as many people as possible with our music and the work we developed with Brian Eno. 2017 will be a year to release our album and play it live all over the world, at least that is our goal.
What was the first gig you played and what's been the best so far?
Step back to 1994, which was the moment of our first show.
There was the boom of Bristol bands and we were in Portugal in a small bar in a city, hungry for new and unconventional music. We were lucky to be born in a city with a history of bands and live music and we decided early on we wanted to make it more than a hobby; it was a very rewarding time. All films and records that we consumed were discussed in the café; it was really a bubble of ideas and art.
We are a live band. Fortunately for our country we are a successful band and tours are always exciting and intense.
With this new moment in our careers we are finally ready to play abroad and show a strong and unforgettable show. The new album will sound very well live and we look forward to present it on stage.
Therefore, we would say the best live show is yet to come but we have some very happy moments like celebrating our 20-year anniversary with a live show at MEO Arena, the biggest venue in Lisbon, which happened recently (December 2015).
What has it been like getting Brian Eno involved on this project?
The best experience of our lives, waking up early knowing that we were with him to share art and work. His commitment to create music in an innovative way is remarkable. The songs have gained a unique timelessness and for the Gift that is very good and important.
When you are working with music and playing live for 20 years, it is important to have unique and really prolific experiences and this new album is that. A once in a lifetime experience, which was lived by The Gift in the best way possible with the best results possible. From one day to the other Brian was writing and composing songs with me, [Nuno Gonçalves] and Sonia. It was a dream coming true, which we want to continue.
How did the idea for the video come about?
We wanted a video where the focus was more technical than narrative. We think the video should allow people to know our work and it is an essential tool to spread our art. In this video we wanted to show the many facets of Sonia, including several vocal facets and therefore the idea of showing various "Sonias" throughout, as it exists in the layers of the voices. We were fortunate to be able to count on a technical dream team that ensured us great styling, impeccable photography and an endless dubious love. Art, Love.
Pre-order 'Love Without Violins' on iTunes now
Register for free to continue reading
Registration is a free and easy way to support our truly independent journalism
By registering, you will also enjoy limited access to Premium articles, exclusive newsletters, commenting, and virtual events with our leading journalists
Already have an account? sign in
Register for free to continue reading
Registration is a free and easy way to support our truly independent journalism
By registering, you will also enjoy limited access to Premium articles, exclusive newsletters, commenting, and virtual events with our leading journalists
Already have an account? sign in
Join our new commenting forum
Join thought-provoking conversations, follow other Independent readers and see their replies