The Hilliard Ensemble, one of the best a cappella groups in the business, are set to sing their last
After 40 years together, the Hilliard Ensemble will recreate their old magic with the Norwegian saxophonist Jan Garbarek in a trio of gigs, and that will be that
Michael Church
Saturday 01 November 2014 13:47 Comments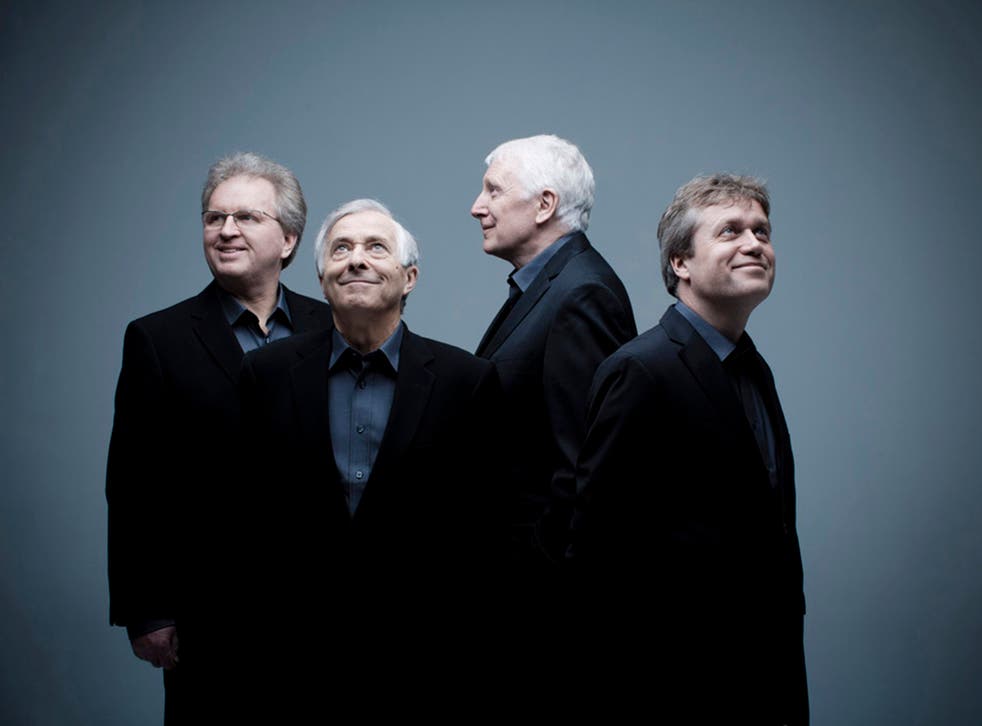 They have been likened to a bunch of used-car salesmen and a posse of undertakers and, certainly, the Hilliard Ensemble don't look much: four middle-aged gents in suits, singing in a row.
But the quartet, long considered one of the best a cappella groups in the business, are stars, and in arenas far removed from the classical world from which they emerged. Routinely clocking up gold discs, they have appeared in the pop charts, been sought-after as a jazz act, and become the performers of choice for avant-garde composers wanting to premiere new vocal works; they have also set the pace, and staked out new musical territory, for generations of young a cappella singers.
Check out the ecstatic comments on their YouTube performance of "Most Holy Mother of God" – a devotional work written expressly for them by Arvo Pärt – and you'll see what dark reservoirs of emotion they tap into, and how the exceptional purity of their sound has come to mean so much to so many.
Yet now, after 40 triumphant years, they're about to disband. They'll recreate their old magic with the Norwegian saxophonist Jan Garbarek in a trio of gigs; serenade audiences in Taunton and Gateshead with percussionist Robyn Schulkowsky, and bid their final adieu at the Wigmore Hall on 20 December. And that will be that.
Pop groups often end up disbanding in acrimony. Classical groups usually last longer, though, more comfortable as they tend to be with changes of personnel. When the Beaux Arts Trio disbanded after 53 years, only their pianist Menachem Pressler remained of the original team; none of the players of the Allegri Quartet in its present form was there in 1953. But classical outfits still have their strains: the violinist who gave the Takacs Quartet its name – Gabor Takacs-Nagy – left it 20 years ago, when the stress of its sudden relocation from Hungary to Colorado put him into an incapacitating depression (he recovered, and is now a successful conductor).
Indeed, no one should be fooled by onstage amity into thinking that the same necessarily holds backstage: the leader of a celebrated American string quartet used to refer provocatively to his colleagues as "staff", and they weren't amused. In pursuit of the Hilliards' backstage dynamics, I catch them after a recording session in a London church, where, perched on stools in the vestry, they rattle off answers to my questions. Are they a democracy? Hoots of laughter ensue: "How do those things work?" "No vote has ever been taken by us." "It's the feeling of the meeting which makes the decision."
So, how did they come to agree on this communal suicide? Given the group's extraordinary continuity – its newest member, tenor Steven Harrold, joined 25 years ago – it can't have been an easy decision. They don't properly answer this, but they point out that the retirement process has had to be a gradual one, as their diary has always been fixed years in advance. Given that their life together has been so intense – 100 concerts a year, 90 per cent of them abroad – will they miss it? At present, they can't say.
Did they have any expectation, back in the beginning, that things would turn out as they have? Not remotely, says countertenor David James, one of the founder-members: "We initially decided it would just be rather fun to sing what we had already been singing in larger groups. But we would do it one-to-a-part without a conductor – and purely for enjoyment. We didn't sit down, saying seriously 'let's start a group'. The way things developed came as a complete shock."
In his view the longevity of the ensemble is largely down to their "eccentricity and bizarre chemistry", plus good health and mutual respect. They named themselves after the Elizabethan miniaturist Nicholas Hilliard, a figure contemporaneous with the music they planned to sing, whose detailed perfection was the visual equivalent of what they wanted to realise vocally.
Enjoy unlimited access to 70 million ad-free songs and podcasts with Amazon Music Sign up now for a 30-day free trial
Sign up
But as they never tire of insisting, they are not just an "early music" group. The big turning-point came one day in 1986 when they were making a recording of Pärt's Passio. Also present were the composer and the record producer Manfred Eicher. Part didn't have much English, but he did say that the way they sang the work was the way he heard it in his head. "We were treating it with minimum vibrato, as early music," recalls tenor Rogers Covey-Crump. "The upshot was that he managed to unbook some performers who had been planning to premiere his Stabat Mater in Vienna and got us on board instead. He'd grown very tired of having his work done by singers with an operatic sound."
Their relationship with Eicher produced 30-plus CDs, and also led to a partnership that took them in a new direction. Eicher persuaded them to meet Jan Garbarek in the remote Austrian monastery where they regularly recorded, and at first, not sure how to proceed, they launched into a slow Spanish funeral motet. Gradually a fifth voice joined in – Garbarek's sax, and for Eicher this was a eureka moment. Out of this collaboration the CD Officium was born; mixing Gregorian chants with ambient jazz, it was a huge hit. They won't know until the night what they'll perform in their forthcoming gigs with Garbarek, because with him things just happen, they say.
On the other hand Transeamus, the valedictory CD they have just released on Eicher's ECM label, represents a return to their roots: a collection of the exquisite medieval English carols and motets that they have long sung, but not recorded. Its title, taken from a Christmas carol, means "We travel on", and now they themselves will do that into an unknown future, though it's a fair bet that singing and teaching will still be at the heart of it. As Covey-Crump puts it: "I'm still up for it – I shall keep singing as long as I've got a voice."
The Hilliard Ensemble is appearing with Jan Garbarek at the EFG London Jazz Festival on 14 and 16 Nov, at Temple Church, London EC4 and at Ely Cathedral on 15 Nov. The Hilliards' final concert is at Wigmore Hall on 20 Dec
Register for free to continue reading
Registration is a free and easy way to support our truly independent journalism
By registering, you will also enjoy limited access to Premium articles, exclusive newsletters, commenting, and virtual events with our leading journalists
Already have an account? sign in
Join our new commenting forum
Join thought-provoking conversations, follow other Independent readers and see their replies