Interview
The Jaded Hearts Club: 'If we're playing Beatles songs and Paul McCartney's singing, are we The Beatles?'
Mark Beaumont talks to the covers band supergroup, including Muse's Matt Bellamy, Blur's Graham Coxon, and Miles Kane, about their debut album and playing with 'a walking legend'
Wednesday 23 September 2020 19:58 Comments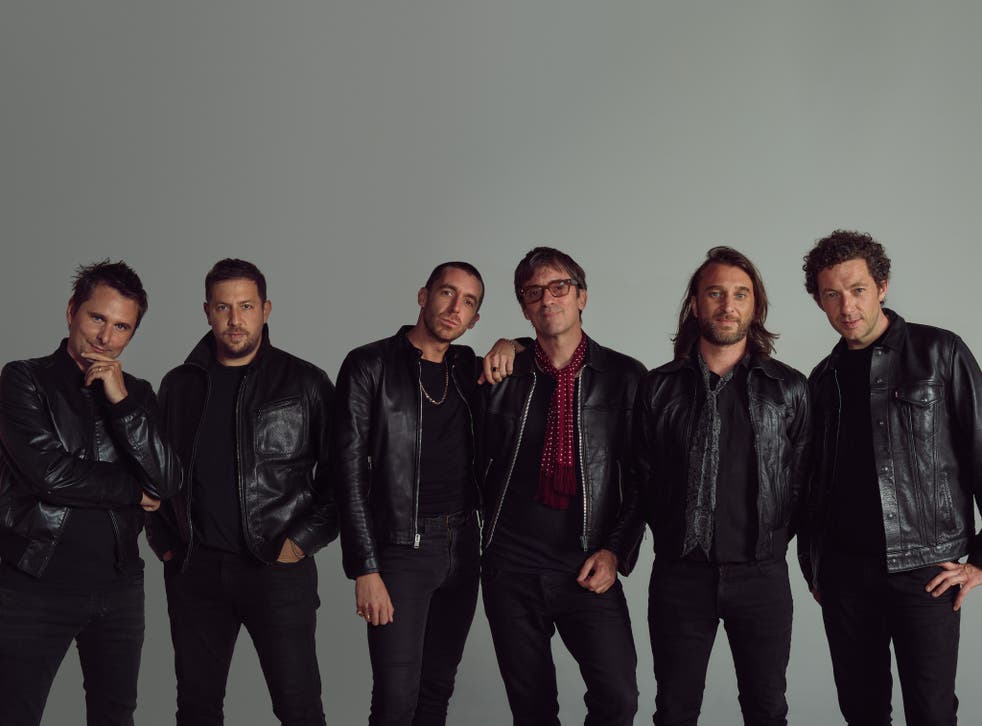 It played out like a million birthday party stage invasions. Thirty seconds into the band playing "I Saw Her Standing There" a seventy-something bloke, who'd probably had a few too many, dad-danced onstage, grabbed the microphone from the singer and started "woooo!"-ing along as though he owned the song. Except, this time, he did.
"It was genuinely, 100 per cent completely unexpected," the bass player recalls of the moment that the actual Sir Paul McCartney wandered onstage to join his Beatles covers band at only their second ever gig. He must have had a minor inkling though. This gig wasn't at some provincial Wheatsheaf; it was a private LA fashion event in January 2018 to launch Stella McCartney's Stellabration range, with a bill including Beck, Grimes and St Vincent, and a guest list boasting Selma Blair, David Lynch, Katy Perry, Amy Poehler and both surviving Beatles. This was no ordinary covers act either. This was occasional supergroup Dr Pepper's Jaded Hearts Club Band, its revolving line-up, that night, featuring members of Nine Inch Nails, Jet and Muse. The bassist in question? None other than sci-fi rock pixie Matt Bellamy.
"That day we were doing a soundcheck," Bellamy giggles, "and [Stella] said, 'by the way, my dad and Ringo are coming tonight.' At that point, the thought was there, but no one thought it was possible. So we got up there with the sweats, realising we were going up to play The Beatles in front of The Beatles. First song, boom, Paul just jumped up and started singing and we all just shat our pants."
"The place erupted," adds The Jaded Hearts Club's guitarist and mastermind Jamie Davis. "I looked around and everyone had a massive grin on their face and the place was going off, it was just one of those once in a lifetime experiences. We immediately became the biggest covers band ever. I did think, 'if we're playing Beatles songs and he's singing, are we The Beatles?'"
"He's a lovely, gregarious chap, a walking legend," Bellamy adds, before a pause interrupts our phone call from the Brentwood, Los Angeles, home where he lives, quite literally, on the edge of disaster. "Some helicopter's about to drop a swimming pool of water on me," he says, understandably wary of Californian wildfires. "In the last year and a half, I've been evacuated twice because of fires. Full evacuation at three o'clock in the morning. It puts in perspective what belongings you care about. You just grab a passport, a picture of something and one guitar. The garden burned down a year and a half ago… it stopped about 10 metres before the house, it was amazing, we were so lucky. Loads of houses on the street burnt down. You just get used to it now, living out here. Every morning it's a different apocalyptic situation. Riots, madness, pandemics, fires, earthquakes…"
Beset by the sort of cataclysms he's been singing about with Muse for over 20 years, and seeking some downtime from fronting the band's monumental futuristic stadium productions, it's no wonder Bellamy leapt at the chance of some light relief. In September 2017, musician and industry mover Davis, balking at the $30,000 price tag for a Beatles covers band to play his 40th birthday party at Melrose cocktail lounge Pour Vous, decided to ask his musician friends to form one instead. "I had this eureka moment where I thought, 'hold on, I'm in LA, I know loads of musicians, surely if I just convince them to play by getting them to play an instrument they don't normally play, like getting Matt Bellamy to play the bass or Ilan Rubin [from Nine Inch Nails] to play guitar, they'll be more interested?'"
"The reason I did that with the guys was I was looking forward to playing some shows, small pubs and clubs with small audiences and just having a bit of a laugh," says Bellamy. "It reminded me of what it felt like back when Muse played [small clubs]. You can see everyone's face. Also, playing on the bass, it's nice being the lukewarm water in the background rather than have to be up the front there. Even back in the day, if Muse would have an afterparty, in my twenties I could have a lot of fun and drink a bit but the next day I couldn't sing. So I realised that the key to having fun in a rock band was to be the bass player or the drummer. This was my chance, I could finally drink a bunch of beers and still play bass the next day and no one would notice. Unfortunately, Covid took away my Jaded Hearts touring dreams of playing a toilet tour across the UK in a dodgy van."
That first show, fired up with rough-edged Cavern spirit and with Miles Kane on vocals, went down a storm with both crowd and band. "It started out as almost a karaoke joke, and at the end of it we were like 'hold on, I think we all had a really good time there,'" says Bellamy. "You realise there's no one really out there playing this kind of music any more. We live in this time where so much music is generated through programming and so on, so going back to that really great songwriting, some of the best historic songwriting ever, and just playing it almost like a jazz band, real instruments, no gizmos, no tech, nothing like that. We thought, 'who else is doing this?' I don't think there's anyone looking back to that era and treating it with that respect."
Over 2018, The Jaded Hearts Club would play occasional gigs – at SXSW, in bars in Chicago and LA and at a Teenage Cancer Trust show at the Royal Albert Hall – with line-ups consisting of whoever was around on the night. Setlists expanded to include songs by non-Beatles acts like Cream, The Who and The Kinks, but it was only at a June 2019 charity show at the 100 Club – "the first time I thought it was recordable, not just a laugh, playing birthdays," Bellamy says – that the current solid line-up cohered, in a uniform of leather jackets and winklepickers, around some true indie royalty.
Enjoy unlimited access to 70 million ad-free songs and podcasts with Amazon Music Sign up now for a 30-day free trial
Sign up
"It seemed to just fit more comfortably by that time," says Blur guitarist Graham Coxon, who'd worked with Davis on his Transcopic label. He came on board for the Royal Albert Hall gig in March 2018 and enjoyed it so much he moved to LA to play with the band. "Everyone seemed to get along and be after the same thing." "Everyone knew that this line-up felt right," says Miles Kane. "Energies were right."
In a north London photo studio, three Jaded Hearts convene: Kane, the swarthy young buck; Coxon, the Britpop guitar god; and Jet's Nic Cester, the hard-bitten rocker. None of them were in the band for the McCartney show, but they chatter away about it like tour-loosened muckers. "I love that footage," says Coxon, "because Paul McCartney comes on and starts to sing along but Chris [Cester, Jet drummer and one-time Jaded Hearts singer] is still singing. It's a bit like you'd go, 'woah, Paul McCartney, think I'll watch that,' and he goes 'who are you? I'm singing this!'"
Before Jaded Hearts, Kane, Coxon and Cester had only previously run into each other in passing at festivals or in award show group photos with Paul Weller (Coxon: "I look like some sort of homeless bloke from the late-Fifties in these photos normally and Paul and Miles look really smart"). Has this strangest of supergroups bonded? "Nic had a bowl of pasta and watched the boxing at mine on Saturday night," says Kane. "Because of restrictions at the moment it's been difficult for us to get to know each other super-well," says Coxon. "We haven't gotten to have a sauna together and stuff like that."
The Jaded Hearts Club who recorded their debut album You've Always Been Here at Bellamy's new studio in Santa Monica shortly before lockdown – Bellamy, Davis, Coxon, Cester, Kane and Zutons drummer Sean Payne – are coming at the project from very different life angles. Kane is happily putting the finishing touches to the "real Motown" fourth album of a burgeoning solo career. Coxon has recently escaped LA, where he was holed up writing soundtrack albums for TV shows The End of the F***ing World and I Am Not Okay With This, for which he was channelling My Bloody Valentine and Talulah Gosh into "pseudo-spiritual folk horror" songs for a fictional Eighties indie band called Bloodwitch.
"I used to enjoy being [in LA]," he says. "It's like a big playground, but I wasn't going out very much and when I did go out I felt a bit awkward. I had to leave really … I packed up and came back to London and I've been here ever since. I've been reconnecting with the musty smell of mossy walls in north London and damp roses and running around the woods instead of just being hot and avoiding mountain lions and pallets on the road and maniac American drivers on the freeways."
He's also finishing off his first solo album since 2012's A+E, begun on the night David Bowie died, and is "in touch" with Blur. "We've talked about stuff, but it's impossible to say, 'let's do something.' You don't know what's going on."
Cester, meanwhile, is fresh from a 2018 solo album and soundtrack work in his adopted homeland of Italy, where he became friends with Bellamy as the only two English-speaking rock stars living in Como during the 2000s. But he's still smarting from the last attempted Jet reunion, kicked off by an offer to play with Bruce Springsteen in 2017 and ending in an all-too familiar downward spiral.
"There was always the boring cliched stuff between me and my brother [Chris], which just never seemed to reconcile itself," he says, stretched out on a sofa as if awaiting psychotherapy. "In fact, it just got worse and span out of control. That's always been the issue whenever we got back together. The last attempt, which we all said was gonna be the last attempt, ended up with him in hospital, so it was time.
"We'd kind of reconciled behind the scenes, a lot of issues. We did a lap around Australia and came to Europe and played the UK, did some festivals. That was when the wheels started getting a little wonky again. I actually quit again, I said, 'I can't do this again, I've seen this movie.' We all went away saying 'let's get this s*** together and come back' and Chris ended up in hospital two days after arriving back in Melbourne … It was that moment where either something breaks or you need to make some serious, fundamental life changes." The situation now? "Rehab. He took it all very seriously because near-death will do that."
For all manner of reasons, then, The Jaded Hearts Club relished kicking back and knocking out some pressure-free classics with new friends. "I always thought cover versions were a fun thing to do," says Coxon, "get your fingers round places where other people have been. It's strictly for fun. It's a mega-crowd-pleasing set every time if you're into that sort of thing … If you imagine a festival band, it's almost perfect, there's a lot of people that like the people in the group and there's a lot of people that are gonna love those songs."
"At the first rehearsals you could definitely feel from Matt and everyone else that there was an energy of excitement for something new," says Kane, "in almost like a bedroom playing really stripped down to the bones." "It's just like in the beginning for everybody," Cester says, "There's no agendas."
"The Beatles, for me that's almost my Bible," says Coxon. "I've been listening to it since I can remember so it's good fun to allow something in your DNA. I had no choice but to be a Beatles fan, my dad used to have Abbey Road parties all the time. It'd be played six times in an evening. Just to play that stuff and sing along with it, like the stuff you sing along to in your bedroom when you're a kid or you're in the car when you're older but actually do it with guitars and other blokes and amplifiers and have people watching it, it's quite magic really." "And you don't need to study the words," Cester grins.
For Bellamy, however, The Jaded Hearts Club became a deep-dive research project. "It was a bit of an unknown," he says of the material he found himself playing. "I'm not that studied when it comes to the history of pop-rock music. Obviously, I know The Beatles, but I couldn't name a lot of their album tracks. It was such a different area of music to explore for me … the development of where the kind of music that ended up becoming Muse over the course of decades in terms of the evolution of rock, going back to where it first started."
Putting his feet up in the back seat isn't in Bellamy's nature. As the idea for a studio album took root, he cast himself as producer, label boss and driving force of The Jaded Hearts Club. "It started to occur to me that Jamie and Matt were f***ing serious," says Coxon. "[Bellamy] does take it seriously and he wants it to be the best we can possibly be. It's not shoddy. He's not a shoddy bloke."
"I love that he's maybe the only one without a real retro background," says Cester, "so the fact that he's the guy producing it gives it an interesting twist." "I guess we've all been coming out of the traditional R&B type of music," Coxon adds, "and Matt does to a certain extent, but in a spaceship."
Deciding that Beatles songs were great for live crowd-pleasing but too writ-in-stone to reimagine on record, Bellamy and Davis went crate-digging through the annals of Motown and Northern Soul for crackly classics they could revitalise with Matt's mothership production, Cester and Kane's retro rock vocals and what Coxon calls the "flipping he-yoowge bottom end" of digital recording. So between glorious, sci-fi fuzz rock takes on rock'n'roll and Motown evergreens like "Have Love, Will Travel", "Money (That's What I Want)" and The Four Tops' "Reach Out (I'll Be There)", they uncover and electrify lost Northern Soul nuggets such as Chris Clark's "Love's Gone Bad" and The Isley Brothers' "Nobody but Me".
"The story of Northern Soul is so interesting," Davis explains. "Motown was huge in America and then as it was turning into disco there were all these artists in Detroit making these seven-inch singles that everyone in the north of England was staying up all night dancing to. There's so much music there that not many people would hear now." "A lot of them have got that old-fashioned beat, you know, the tambourine, and you can cut a rug quite nicely to this sort of thing," adds Coxon in a Sixties pop-picker voice. "They have that beautiful sadness and melancholy to them and yet you're dancing to it. They have everything crammed into a couple of minutes, these songs, and they're built on some pretty massive riffs too. It's all in there, really."
With talk of writing original material together beginning to surface, there's tangible excitement in the ranks. But just how jaded are they at heart? Coxon certainly despairs of Britain's current leadership ("They just look like socially awkward freaks who shouldn't be making any kind of decisions … it confuses me that we don't listen to the people who talk sense and listen to the idiots") and is aghast at Spotify chief Daniel Ek's belief that artists need to keep up a constant engagement with fans to survive in the streaming age. "Does this guy talk sense in any other area of his life? It's typical of that f***ing s***. Does he want it for free as well? Bugger off. You've gotta have a bit of a rest to soak up some s***, haven't you? It's natural. It's like seasonal veg. What's the point of having strawberries all the time? It's bulls***."
And surely Bellamy, rock's most notorious red pill addict, knows what's really going on with the pandemic. Is it Bill Gates or what? "I haven't really dug into that level of conspiracy," Bellamy claims. "What's going on? We're all f***ed, aren't we? I've got endless material for the next Muse album, let's put it that way."
Perhaps we should all agree that the 21st century is a write-off and the Jaded Hearts Club album is where we restart humanity from the early Sixties.
"That'd be nice," says Coxon wistfully. "Sixty-two? Then my motorbike would be brand new."
You've Always Been Here is out on 2 October
Register for free to continue reading
Registration is a free and easy way to support our truly independent journalism
By registering, you will also enjoy limited access to Premium articles, exclusive newsletters, commenting, and virtual events with our leading journalists
Already have an account? sign in
Join our new commenting forum
Join thought-provoking conversations, follow other Independent readers and see their replies