The Lost Brothers partner with Bill Ryder-Jones and Nick Power for 'Wild Mountain Thyme' - premiere
The folk song penned by Francis McPeake has been covered by greats including Bob Dylan and The Byrds
Roisin O'Connor
Thursday 22 December 2016 09:35 Comments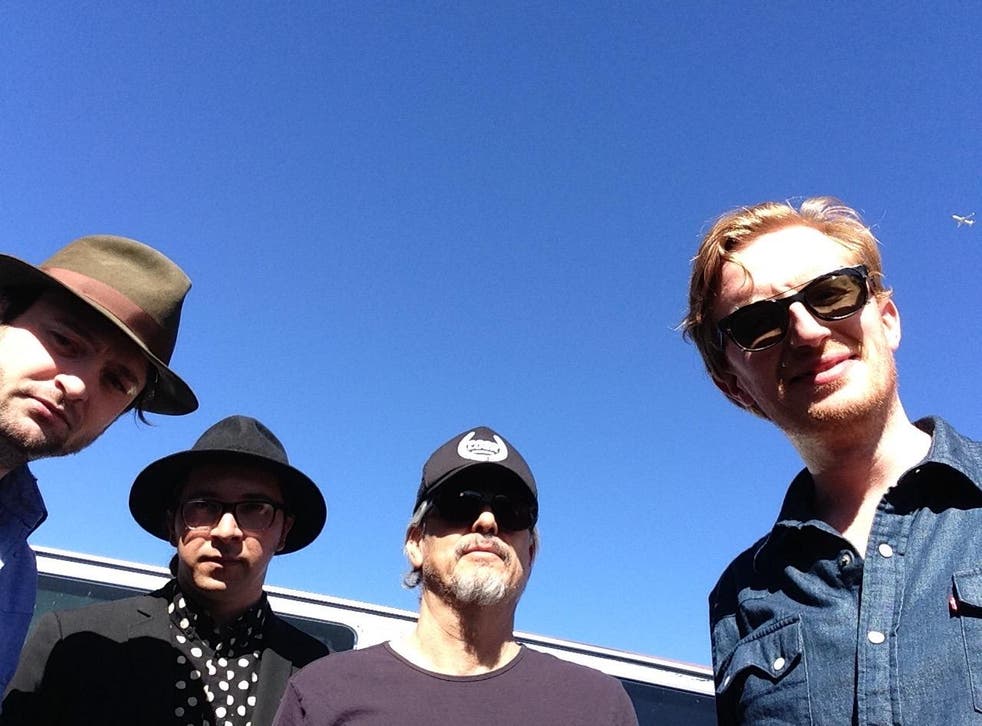 ​​Irish duo The Lost Brothers have teamed up with Bill Ryder-Jones and The Coral's Nick Power for The Bird Dog Tapes Volume 1, comprised of cover versions of their favourite songs along with a few originals.
The project includes a beautiful take on 'Wild Mountain Thyme' - the folk song penned by Francis McPeake that has been covered by greats including Bob Dylan, Joan Baez, The Byrds, Van Morrison, Mark Knopfler and James Taylor.
Oisin Leech of The Lost Brothers says: "It was Bill's suggestion that we try 'Wild Mountain Thyme'. One of the albums we all love is Fifth Dimension by The Byrds and the version on that record is very cool. Van Morrisons's version on Hard Nose The Highway is another beautiful rendition.
"Gavin Wood came in and filmed us just as we set up to record all of the songs and he captured 'Wild Mountain Thyme' live in the first take."
Watch our premiere of the video below:
Q&A with Oisin Leech
What are you listening to at the moment?
This month we've been recording the new Lost Brothers album, our 5th, with Gabriel Sullivan and Howe Gelb from Giant Sand out in the desert of Tucson Arizona.
On the way to the studio we drove through the Sonoran Desert and Gabriel turned on his truck stereo full blast and played us 'Leaving The Table' from Leonard Cohen's new and final album 'You Want It Darker'.
Listening to this while driving through the Arizona desert really blew my mind. I've had it on repeat ever since. What a truly great soul and poet Leonard Cohen was. His songs are a huge inspiration for Mark and myself.
I've also been listening to Tim Rose's first album on Columbia from 1967. I found an original pressing on vinyl in Tucson and had been looking for years for one ! I love the raw vocal.
I'm also loving Steve Gunn's albums and anything by PJ Harvey.
What are your plans for 2017?
We are currently working with Howe Gelb and Giant Sand in Tucson Arizona on the 5th full length Lost Brothers album so that will be released later in 2017. We'll then hit the road touring the new album around the world extensively. I'm also learning to drive. Something I should have done twenty years ago but that's life- I've been too busy writing songs or at least trying to.
Enjoy unlimited access to 70 million ad-free songs and podcasts with Amazon Music Sign up now for a 30-day free trial
Sign up
What was the first gig you ever played and what's been the best so far?
My first gig was in my mum's shed when I was 13. We built a stage and invited our neighbours over. We were a punk band called The Vermin and played UK Subs and Stiff Little Fingers covers and a few originals.
Our guitarist did a stage dive but nobody caught him. I was so busy stopping his knees from bleeding that I forgot all the words. Everyone left and we ended up doing the gig to my mum's dog barking mad at the feedback from the amps. That was the first gig.
One of my favourite Lost Brothers gigs was a homecoming show we did last week in Navan's Solstice Theatre. We had Steve Wickham from The Waterboys join us and my sister Saramai Leech opened.
It was a beautiful night and it ended what's been a great year for Mark and myself with The Lost Brothers. Opening for Elvis Costello this year was also a thrill. We got to see one of our favourite artists do his thing.
Bird Dog Tapes Vol. 1" is now available exclusively from Bird Dog Tapes Vol. 1" is out now and available exclusively here
Register for free to continue reading
Registration is a free and easy way to support our truly independent journalism
By registering, you will also enjoy limited access to Premium articles, exclusive newsletters, commenting, and virtual events with our leading journalists
Already have an account? sign in
Join our new commenting forum
Join thought-provoking conversations, follow other Independent readers and see their replies