The Lumineers interview: 'We feel so mislabelled as folk'
Denver's troubadours on the importance of indie labels, why phones should be banned at gigs and how they'll never be like Justin Bieber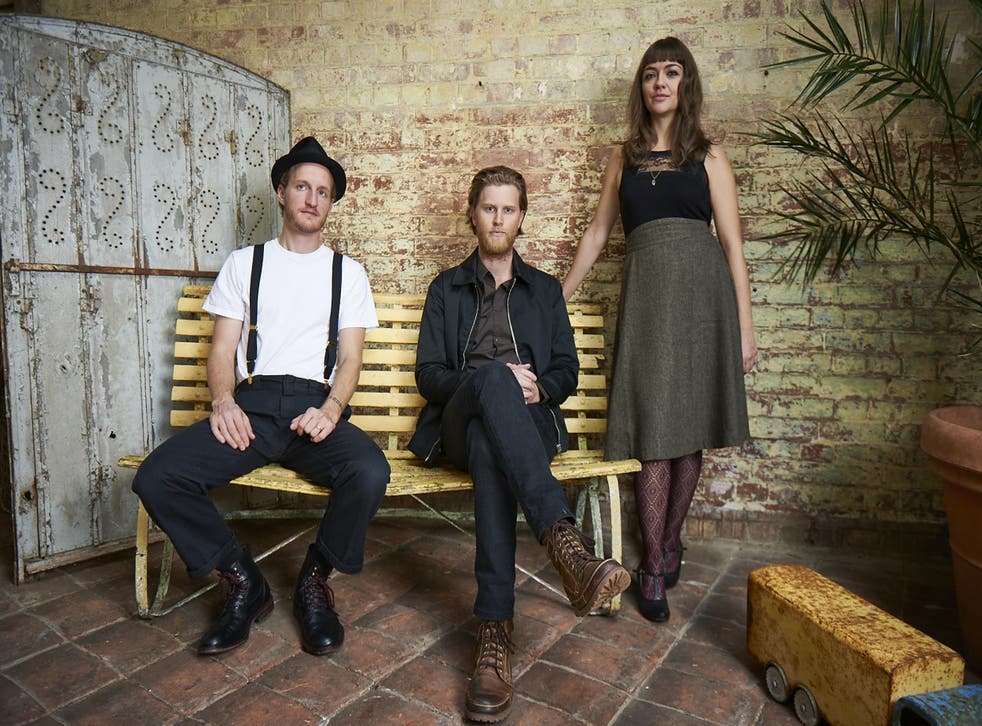 The Lumineers kicked off their UK tour last Sunday, playing a sold-out gig at Manchester's O2 Apollo. On the other side of the city, Justin Bieber was storming off stage at the Arena because his "disrespectful" fans wouldn't stop screaming.
From the moment I meet frontman Wesley Schultz and drummer Jeremiah Fraites, dressed casually and grinning warmly despite being jet-lagged, the contrast between the two acts is stark. These musicians, from Denver, Colorado, put their humble attitudes down to years of hard graft and criticism, having formed the band 11 years ago. "For us, the feedback loop from the world was that we weren't that good, so we had to develop a grit, which sucks at times but makes you enjoy the ride, appreciate everything more and take things with a grain of salt," says Wesley, insisting that every show matters whether he is tired or not, because it could be the first and only time that fans see The Lumineers live.
For these lads, Bieber's level of fame is incomprehensible, and not something they ever want for themselves. "He's King Joffrey!" they laugh, comparing the 22-year-old pop brat to the young, cruel and ultimately ill-fated ruler from hit HBO TV series Game of Thrones. "It's hard to retain a perspective when all you've been told is that God ordained you to be a superstar. For us it was much more about manual labour."
Wesley and Jeremiah might have reached number one around the world with second album Cleopatra, but being in their early thirties means they view their success through more experienced eyes. "If I believed what people thought of me all the time I'd have thought I was the worst musician ever. I didn't believe that, so I don't believe it when people tell me I'm the best thing since sliced bread either," says Wesley. "You can distance yourself a little bit from how people feel because you got used to doing that when they just weren't caring."
The two are clearly close, having grown up together in Ramsay, New Jersey, before moving state and house-sharing while working at the same Japanese restaurant. They keep each other grounded, with Jeremiah joking that they will only be in trouble when one of them buys a pet monkey. "One of the Bee Gee brothers noticed that Robin was getting f**ked up by fame when he started buying really exotic animals that you're not supposed to own domestically," he says. "Bieber bought a monkey he wasn't supposed to have and he was like, 'Yeah, that dude, he's f**ked' because he'd seen it happen to his brother. So far it's just been dogs for us, Frenchies."
The Lumineers have racked up a massive seven million monthly listeners on Spotify, but their real pull comes from their dynamic, foot-stomping live performances. "It's like a secular church," Wesley says of the experience. "We're connecting with people and it's so inspiring." Despite their well-earned reputation as one of the best touring bands on the circuit today, their firm behind-the-scenes work ethic means they never forget their roots. "If our shows are bigger but feel smaller I think it's because we started by busking and learning how to interact and connect with people on a ground level."
Before Cleopatra dropped in April, the band played some secret gigs to showcase their new songs to fans. Security was tight, with phones confiscated in a bid to prevent leaks, meaning audiences were forced to enjoy the moment rather than record videos. For The Lumineers, this made a refreshing change. "We don't want phones at our shows," says Wesley, name-dropping Adele as a huge act who has drawn attention to the issue recently. "It was cool to see her bring that to light. People don't understand how disruptive it is to your live experience when there are hundreds of phones in front of you."
For this group, music has always come before image, despite an increase in fans approaching them for pictures ("the new autograph"). Wesley cut his teeth on classic rock, rarely knowing or caring what his favourite stars looked like because their songs were all he needed.
"That reminds me of us," he says. "It makes me feel that people are interested in us for substantive reasons. We're going to go old and grey, but they like how we sound and we can do that for a long time. We want to have fans for life and grow and change with our audience. The bands we admire have had long careers because they listen to their inner compass." Jeremiah compares The Lumineers albums to JK Rowling's bestselling Harry Potter novels. "There's four years between records but people can age with you. Like those books, they get more mature and dark," he says. "It's been cool to see people understand that our style has shifted because we have grown as people. It's nice not to make records that have to appeal to 16-year-olds."
Enjoy unlimited access to 70 million ad-free songs and podcasts with Amazon Music Sign up now for a 30-day free trial
Sign up
Comparisons with Mumford & Sons have always been rife, but both Wesley and Jeremiah believe The Lumineers have been "mislabelled" as folk at a time when the term seems to encompass "anything with an acoustic guitar". What they do borrow from the genre to bring into the new age, they say, is the drive to tell stories. "I get frustrated listening to music when the singer doesn't have anything on his mind and is just saying things that sound cool," says Wesley. "It reminds me of action films with explosions that are beautiful in some way, but there's no plot. It's been cool to see people pick up on our stories."
While stories featured on the band's first, Grammy-nominated album, they admit that songs like the ultra-catchy "Ho Hey" did not encourage fans to dig deeper because they sounded too "innocent and happy". For Cleopatra, they enlisted filmmaker Isaac Ravishankara to help them make music videos that would bring their narratives to life as part of a uniquely engaging project. "Each verse in the song 'Cleopatra' became it's own music video for different songs," Wesley explains. "'Sleep on the Floor' is about to come out, which is the first verse, the second I believe is 'Angela', the third is the video for 'Cleopatra' and the fourth will be the video for 'My Eyes'."
While Wesley came from a singer-songwriter background, Jeremiah favoured progressive rock over a man and his guitar. "It was the early 2000s and I felt that everything had been written about, so as a defence mechanism I didn't want to work with someone who would sing," he says. "I thought everyone sounded the same. Then I met Wes and I realised it could be awesome."
The pair relocated to Denver after finding New York too expensive and suffocating. "Going towards music is one way to go about it but another way is addition by subtraction," says Wesley. "Get rid of all the s**t and clutter in your life, eliminate those distractions and you have a lot more time to work on stuff you really care about. Misconceptions are being broken down by bands emerging from all sorts of places, not just big cities." Jeremiah agrees that, too often, aspiring musicians head for LA and Nashville, only to emerge sounding exactly the same as everybody else. "They get a stock producer, a stock band and the album sounds stock," he says. "I've seen it happen before where people do everything they think they're supposed to and the end result is just so cookie cutter."
Soon, they set about adding to their pack, with cellist Neyla Pekarek joining the band after responding to an ad on Craigslist. "Cellos seemed cinematic," Wesley explains. "There was one band in Denver with six or seven band members and I liked that they could get really big but also really small. Their dynamic range was cool and I wanted that. It's like a tiny bird, with a big wing span." Playing regularly at an open mic night at the city's Meadowlark basement bar amassed them a following and led to a deal with tiny independent label Dualtone. For The Lumineers, this decision has shaped their path as a band and given them the freedom to explore music on their own terms. "Everyone's saying the music business is hurting and dying but bands have the freedom to sprout up and be sustainable," they say. "Independent labels are relevant and can push you into the mainstream. Most people just assume we're on a major label, which just shows that it can happen, it is possible."
The band are fiercely inspired by artists with integrity, from Damien Rice, who "scrapped a $10,000 record because he didn't like how he sounded" before making his debut with O, to David Gray and Hozier. "We identify with the guys who were hanging around long enough to be discovered and get their break," says Wesley. "We didn't know how big our break was going to be but we believed in what we were doing. The key was accepting failure and rejection as part of it." Fast forward more than a decade and reality for The Lumineers is meeting President Obama after playing on his lawn at the White House. "To think that our music started in a basement somewhere and then that happened. All our families are freaking out about it. You don't go into it expecting this stuff, but we wanted a seat at the table."
Cleopatra may only be six months old, but The Lumineers are constantly thinking of their next step and the silver screen is calling. Wesley credits Jeremiah with bringing a "cinematic quality" to the band's sound and working on soundtracks is something they are eager to explore, having written the music for "The Hanging Tree", sung by Jennifer Lawrence in The Hunger Games: Mockingjay Part 1. "It becomes a challenge to make records in the same outfit over and over," he says. "You don't want to become a caricature of whatever it is that you're doing." The pair plan to experiment with making a soundtrack to an existing movie, to prove themselves to directors and allow them to create without the expectations connected to the band. "We are typecast as folk and Americana but are capable of more," says Jeremiah. "But how would anybody know that? More importantly, it's the question of what we can do to surprise ourselves. That's how we're wired, for better or for worse."
The Lumineers play London's Eventim Apollo on 4 and 5 November
Register for free to continue reading
Registration is a free and easy way to support our truly independent journalism
By registering, you will also enjoy limited access to Premium articles, exclusive newsletters, commenting, and virtual events with our leading journalists
Already have an account? sign in
Register for free to continue reading
Registration is a free and easy way to support our truly independent journalism
By registering, you will also enjoy limited access to Premium articles, exclusive newsletters, commenting, and virtual events with our leading journalists
Already have an account? sign in
Join our new commenting forum
Join thought-provoking conversations, follow other Independent readers and see their replies