The National interview: 'Love songs are more political than anything else'
Singer Matt Berninger talks to Ed Cumming about the band's new album and Mike Mills-directed film, 'I Am Easy to Find', music as a political act, and how they once 'broke up but nobody noticed'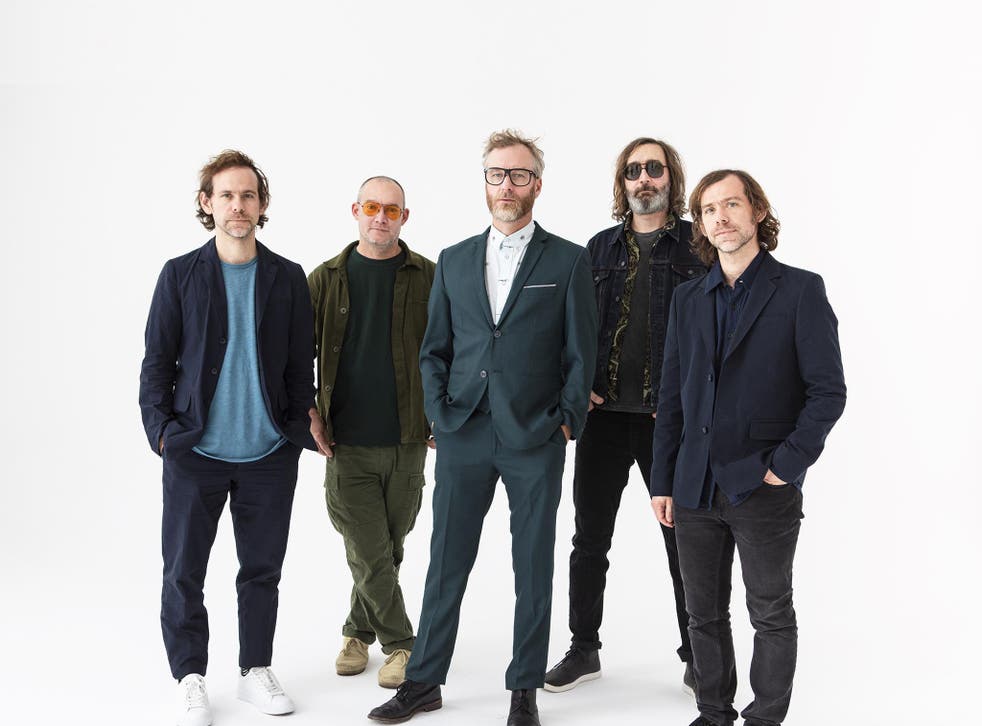 It's hard to find new ways to humiliate yourself," says The National's Matt Berninger. "This album was a way to step out of the centre, and let other people humiliate themselves."
Part of the illusion for fans of The National, or at the very least this white middle-class male fan of The National, has often been the sense that they are just like you. That's what I felt when I discovered the Ohio five piece. It was like stumbling on a secret meeting of shared anxieties. Aside from the melodies, propulsive rhythm section and attention to detail, the lyrics were ostensibly about disaffected western professionals wondering if they were equipped for the vicissitudes of modern life and love.
A sample, from 2007's "Racing Like a Pro": "You're pink, you're young, you're middle-class/ they say it doesn't matter/ 15 blue shirts and womanly hands/ you're shooting up the ladder". I was young! I was pink! I had womanly hands!
Not that the band embraces this attitude: "We have always been acutely self-conscious about being a band of five average-looking white dudes," the 48-year-old tells me. It also does a disservice to the group, which has included female guest musicians for many years, and whose songs are often co-written by Berninger's wife, Carin Besser.
Their new album, I Am Easy to Find, makes their nuances obvious enough for even the most literal-minded fan to appreciate. Where the band's previous work has been constructed around Berninger's purring baritone and the persona of an anxious, anguished, average man with a "medium-sized American heart", I Am Easy to Find – an expansive, often heartbreaking set of songs, unexpected in it breadth and lusciousness – breaks things up. Berninger shares vocal duties with a range of female guest singers, including David Bowie's longtime collaborator Gail Ann Dorsey, Sharon Van Etten and Lisa Hannigan. He says it was a welcome change. "It was a relief to step back, for sure. I felt like being in the corner for a while. Being the voice and the lead singer and the focal point has boxed me in a bit."
The 40 greatest song lyrics

Show all 40
The day we meet, Berninger is surprisingly relaxed. He's about to go on stage at a packed Royal Festival Hall to perform the new record for only the second time. Its first outing, a few nights ago, took place in Paris while Notre-Dame burnt nearby. "It was awful and beautiful at the same time," he says, sitting in a dressing room disconcertingly mirrored on four sides. "We had heard that nobody had died and that it wasn't a hate crime, so there was a kind of resilient energy to the vibe. But it was intense."
But he seems at ease more generally, too, and frankly more energetic than someone who has just finished an exhausting world tour has any right to be. The National's last album, 2017's Sleep Well Beast (which earned them their first UK number one), was followed by more than a year of extensive gigging. He and his band – which also includes the virtuosic multi-instrumentalist Dessner twins, Aaron and Bryce, the musical force of the band, and the rhythm section, brothers Bryan and Scott Devendorf – would have been excused a holiday. Yet here he is, taller and thinner and more tanned than you might expect, ready to answer questions from a nervous fanboy, with patient good humour. Alongside him sits the film director, Mike Mills, best known for the 2017 film 20th Century Women. Mills is friendly, too, and doesn't seem too worried about labouring in the shadow of Berninger's massive charisma.
Mills is the reason they are here. When The National were in the middle of the last tour, with no immediate plans to do another, he emailed Berninger out of the blue. He was a fan, he explained, and asked if they might make a music video together. Berninger's reply took him by surprise. Rather than a video, why didn't they try something bigger? He sent Mills some songs and told him to do what he wanted.
"The National did not have a plan to go into making another record any time soon," Berninger says. "We always have stuff left over that we plan to do something with someday, but sometimes they stay in the freezer and don't come out. When Mike wrote to us, I handed him 10 or 12 songs to see what he could make of it."
Enjoy unlimited access to 70 million ad-free songs and podcasts with Amazon Music Sign up now for a 30-day free trial
Sign up
"From the get-go the band were very inviting," says Mills. "They said, 'Who knows what this will be, but let's go for it.' It was a once in a career opportunity."
The result is the new full-length album and a 30-minute film starring Alicia Vikander, both called I Am Easy to Find. The pieces are cousins rather than siblings, in the sense that the film is not a music video for the album, but it is soundtracked by a collage of songs and excerpts from the record. Mills wrote and directed the film, in which Vikander plays a woman over the course of her whole life, and also oversaw the direction of the album. The National are notorious perfectionists, and often stretched to breaking point by the recording process, so Berninger says it was a relief to hand over the reins to a third party.
"We're so hands-on with the music, we've never really been able to hand over to a 'music person'," says Berninger, "but Mike as a filmmaker felt like a perfect fit. With the records, what we struggle with is – 'What is the overall thought behind this?' We often get stuck in the minutiae and becoming myopic about the whole thing and lose faith in it, so we knew the only way for us to make a record any time soon was to have someone else to diffuse the tension and make some of the creative choices. We didn't always agree [with Mills's choices], but it was the right balance of ideas. There weren't that many fights. The whole album felt like a bonus round [in a game], where you're not worried about getting shot, you're just racking up points."
If Mills's involvement helped the band to be more harmonious, it also helps that they are settled in their personal lives. Berninger lives in California and the other band members are scattered around the US and Europe. It has helped diffuse some of the inevitable tensions that arise from two decades together.
Although at one point, Berninger says the band "broke up but nobody noticed". It isn't until I hear the tape back later that I realise he's said it. He may be referring to the period around 2014 where they went off to pursue solo projects, including Berninger's EL VY, or it may be some earlier, unknown period of tension. Or perhaps he is joking.
"Over the past six years ago everybody has settled roots and that has allowed us to work more privately, at our own pace," Berninger adds. "We give each other a lot of space, and don't pressure each other. I don't go to afterparties anymore, but it takes me at least two hours to slow the gears down after a show, so I'll work then, or if I wake up early jetlagged."
If the process of its construction was calmer, the new album is also less explicitly political than some of their previous work. One of their most famous songs, "Fake Empire" – their "international smash hit" as Berninger sometimes jokingly introduces it on stage – was one of the soundtracks to Barack Obama's presidential campaign. Mills points out that "for a white American man, everything is a political act", but there are no rage songs about Donald Trump's presidency, like "Turtleneck" was on Sleep Well Beast.
"On the last tour I was holding up pictures of senators and telling people to call them, which wasn't at the top of my head this time around," says Berninger, although his rage at the current government hasn't abated. "I'm terrified by how [the Trump administration] has gotten away with it," he says. "They changed the rules. They cheated in front of us, and said 'we can', and did. It's terrifying. They're really good at cheating." He and Mills hope that where rage doesn't work, perhaps empathy will.
"What's more political than trying to understand someone who's not like you?" Berninger says. "Whether it's a woman or someone from another culture, you're just trying to empathise and understand each other better. Love songs are more political than anything else."
I Am Easy to Find is out on Friday 17 May
Join our new commenting forum
Join thought-provoking conversations, follow other Independent readers and see their replies