The Script find a voice
The reviews of his band might be dire – but so long as the fans love them, Danny O'Donoghue says he doesn't care. Elisa Bray meets him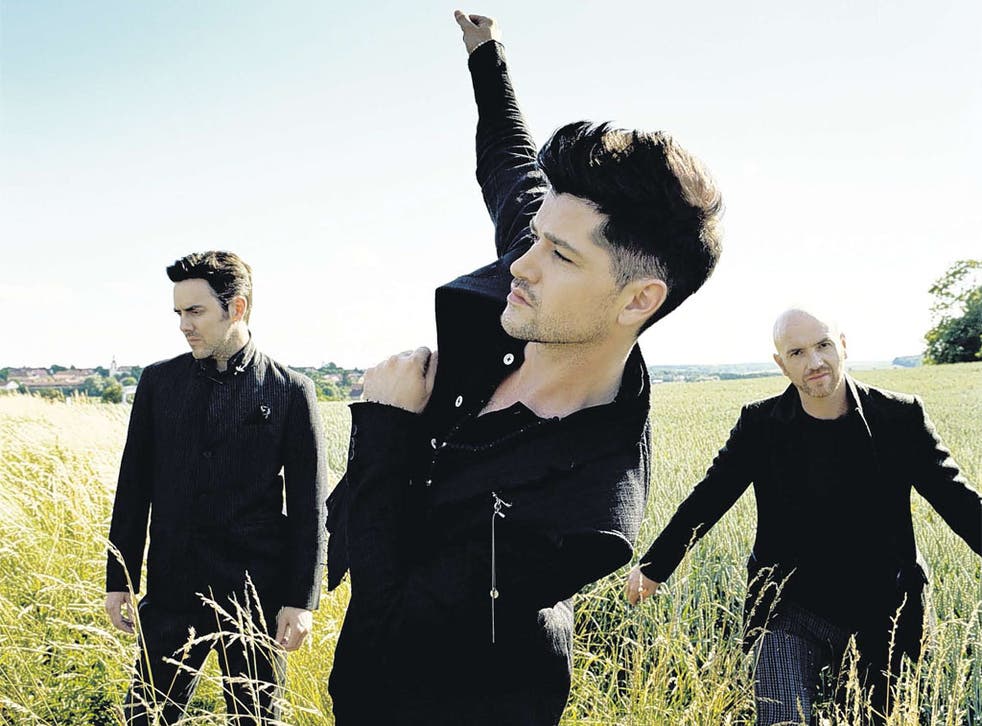 The Script's ebullient frontman Danny O'Donoghue is brandishing a professional camera. He took up photography two years ago, he says, casually flicking through his pictures – arty shots of the view outside his London home, self-portraits, nature. "I love shooting graveyards", he says enthusiastically. "There's so much atmosphere."
The 32-year-old has become used to being the figure in front of the camera as well as the one behind. In the past four years he has gone from little-recognised frontman in pop-rock band The Script to celebrity after a stint as judge on the talent show The Voice, alongside Jessie J, Will.i.Am and Tom Jones. Overnight he watched his Twitter followers rocket to thousands.
"I had to turn off my phone. It was a constant stream of messages, marriage proposals and nonsense", he gushes, Irish-accented words spilling from him. "But I'm being mobbed for the right reasons – right now there's a big outpouring of love for The Script. It could have gone the other way. You never know what way I could have come across on television".
He's brought his band up with him. Now celebrating their No 2 album entitled #3, their first chart-topping single, and preparing for their biggest arena tour to date this March, they can still recall the disappointment of playing to just 26 people in a 250-capacity venue, most of whom were their own family. A few years later, less than two miles down the road, they were playing to 60,000 fans.
"Four years. That's nothing, that's the length of a relationship. Crazy", says O'Donoghue, who this summer ended a four-year relationship with a model, and is now "free and single".
Not that the band have ever struggled for commercial appeal with their speciality blend of crowd-pleasing rap and emotive arena-soft-rock anthems such as their hit "The Man Who Can't Be Moved". Loved by their multitude of fans, critics have been less charmed, but O'Donoghue is far more concerned about his fans' opinions. And wouldn't anyone be, when their band's record sales total more than four million, and both their 2008 debut album and 2010 follow-up were No 1s?
He tells me a sentimental story of a man who, separated from his sister since they were children, gave her their song "The Man Who Can't Be Moved" when they were finally reunited after 30 years apart. "Who cares if you don't get great reviews in newspapers? That's the shit I live for. That's what I'll be telling my kids, not 'Here's a shit review in NME'."
That the band managed until recently to remain fairly unrecognisable while achieving chart-topping albums was intentional. "It was very much our choice", says O'Donoghue. "We didn't have ourselves on the front cover [of our albums] because we didn't want people to get the wrong idea about this band. It's very easy for a record company to package a band as extremely pop, a band that could be really easily confused with a McFly. We didn't want to be perceived in any way other than the music and creativity."
You can see how being anonymous would be preferable to the horror of being perceived as a manufactured boy band. After all, The Script formed organically, three old friends from Dublin – O'Donoghue, guitarist Mark Sheehan, his best mate since the age of 13, and drummer Glen Power. For O'Donoghue, who grew up surrounded by music – his father was a musician who played with Tom Jones and Roy Orbison, his mother a dancer – it was a way of life.
Enjoy unlimited access to 70 million ad-free songs and podcasts with Amazon Music Sign up now for a 30-day free trial
Sign up
"Growing up I used to sleep in a place called the music room and there was a mattress on the ground and a piano in the corner. Friday, Saturday, Sunday it was party house in our house. I remember my dad told me a story about he and my mum waking up and Phil Lynott from Thin Lizzy was in the bath. They didn't know if he was dead. They'd been having a session playing."
His two older brothers play in bands back in Ireland to this day. You might think that music was always going to be the chosen career path of O'Donoghue, the youngest of six children, but he didn't pick up the guitar until he was 14 or 15. "No, I ran the other way," he states. "My Mum always used to miss my brothers when they were away on tour so I'd say, 'I'm never going to leave you Mum'. I wanted to be an artist. I was drawing morning, noon and night."
Family features much on The Script's third album. On Valentine's Day 2009, O'Donoghue's father died suddenly at 63 from an aneurysm. He now has a big rose tattoo on his arm, to remember him. A few months earlier, Mark Sheehan's mother had died from cancer.
It took until this album for the pair to write about their grief, on the song "If You Could See Me Now". Both knocked back some whisky, then Sheehan took one end of the room while O'Donoghue took the other, and the pair wrote alternate verses.
"It was an incredibly hard song to write… As soon as I started writing the lyrics, I started crying. We're men, we're 30 years old, and there's not a lot of people out there that would be open enough to say it in the same way as The Script. That song was more important for Mark than it was for me because I'm very open about my emotions, but he's not at all, so to hear him sum up in one verse what I've been waiting for him to say to me was an incredible moment. That really is the power of music."
Now, of course, being able to blend in with the crowds is no longer an option for The Script. O'Donoghue remembers how when he took on the role in The Voice, his bandmates teased him that he would be harangued by fans – and chuckles at how they, too, are no longer anonymous. "It's gone up a whole other level for them."
Aside from celebrity status, that's about all that's changed for O'Donoghue who is still wearing the quintessential rock star black skinny jeans and still living in the same London bedsit. "The boys have all moved, but I'm still in the shitty bedsit. This isn't going to be forever so why would you say, 'Oh, I've got a bit of money now, let's go live in The Hamptons'? A lot of my friends don't have money, and I would hate to lose touch with all of my friends and family." He surveys the plaques and platinum discs lining the walls of his publicist's office. Is this what his bedsit looks like? "I don't have any plaques on my wall; I'm not into it at all. When you're dead and buried, that's for other people to celebrate your life. I'm living it."
The album '#3' is out now
* This story was amended on 6 October 2012 as follows. It was not Glen Power's mother who died from cancer, but Mark Sheehan's.
Register for free to continue reading
Registration is a free and easy way to support our truly independent journalism
By registering, you will also enjoy limited access to Premium articles, exclusive newsletters, commenting, and virtual events with our leading journalists
Already have an account? sign in
Register for free to continue reading
Registration is a free and easy way to support our truly independent journalism
By registering, you will also enjoy limited access to Premium articles, exclusive newsletters, commenting, and virtual events with our leading journalists
Already have an account? sign in
Join our new commenting forum
Join thought-provoking conversations, follow other Independent readers and see their replies