The Independent's journalism is supported by our readers. When you purchase through links on our site, we may earn commission.
The Script share track-by-track of their new album Freedom Child
Irish pop-rock band go for a new sound on their fifth album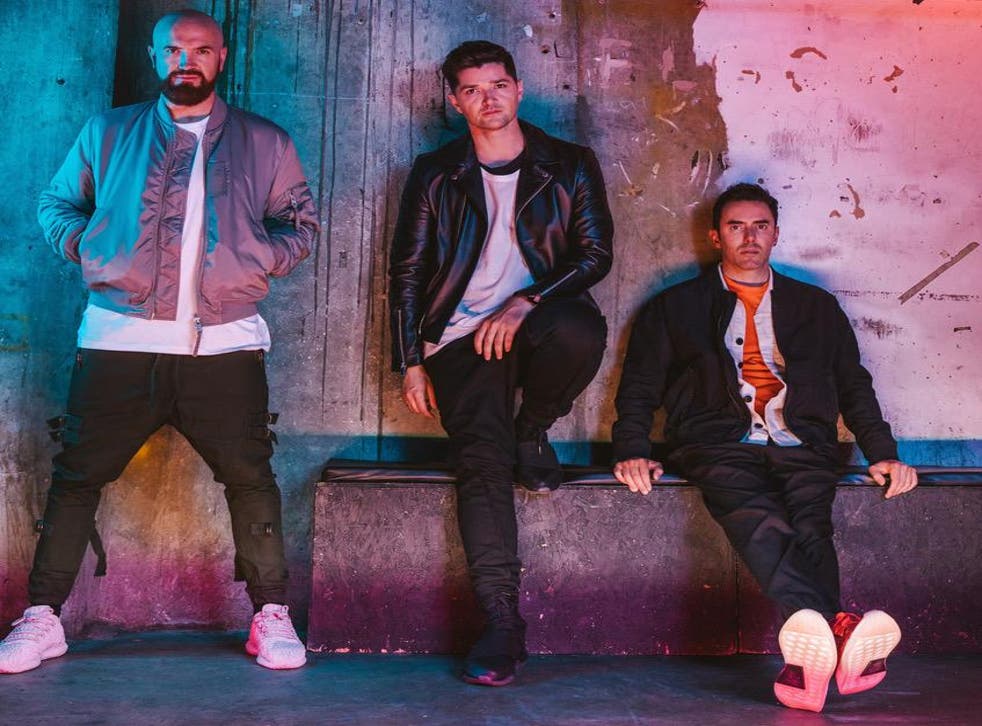 The Script have just released their fifth album Freedom Child and wrote us an in-depth track-by-track so fans can learn a bit more about each song.
They just finished their UK & Ireland tour and are about to head out to the US.
Check out the track-by-track, written by Danny and Mark, below:
"Arms Open" – Danny
The song Arms Open - this is such a beautiful song! I remember when we started to record it the hairs going up on the back of my neck because it was an important message for people who feel like they have nobody to go to, and feels like there is no one there to give them a hug to let them know when times are bad. I love listening to it, I love performing it live and it's fast becoming of my favourite songs on the album as well.
"Deliverance" - Mark
Deliverance is a really fun track, it was really cool song to write and make. I suppose it's that moment when you've been searching for someone all your life that is going to deliver the upmost love to you, and give you that moment. You can also expel that all from yourself because everyone is that little bit frustrated regardless whether they know it or not, sometimes until they find the person to release it all.
Deliverance is one of those songs, and we did it such a dark way; the guitars and stuff we pitched them down so they have a real dark feeling. Again, the beat is awesome - shout out to Oscar Perez for the beat - it's a really cool song, I hope you enjoy it!
"Love Not Lovers" – Danny
Love Not Lovers; we all have someone in our lives that is going from one bed from the other, going from one guy to the next. You just want to shake that person and tell them you don't need to do this – you're worth so much more than that, specific people in our lives, of course we not going to mention them now. But if you have somebody that you want them to move on a little bit - then get them to listen to Love Not Lovers.
"Mad Love" - Danny
The song Mad Love – it couldn't be a Script album if we didn't talk about relationships and the kinda crazy relationships that people have. I tend to go for those ones that have a bit of love and hate in there, there is angst, there is push and pull but even - although you may be in a tumultuous relationship - you do it for the love and sometimes you might fight just to make up.
Sometimes you break up just to get back together again. That's what this song is about, it's when you have a mad mad mad love. It's something that you can't walk away from, something that you know is going to be around for a long long long time. It's a fun song and it's got a really cool beat.
"No Man Is An Island" – Danny
No Man Is An Island - this song was our kinda take on modern EDM music. We had been looking at everything that had been playing in the charts and we were thinking how do we get a band involved in this? How do we get those punk guitars and a beat to go with it, and then also have a heartfelt song about a guy that who thinks he's too cool to fall in love or he wants to spend all time living on this island. What you find from the eternal wisdom of women is that is no man is an island and love will always get in you in end. There is a lot of energy in this track!
"Rain" - Mark
The song 'Rain' is basically a juxtaposition of two feelings.
The track itself feels summery, it feels like you could dance to it and feels upbeat but the lyrical content is when we use the metaphor of the weather to say when the person leaves your life 'they make it rain'. Using those two things combined it was a cool idea for us to make it 'Rain' in summer.
Enjoy unlimited access to 70 million ad-free songs and podcasts with Amazon Music Sign up now for a 30-day free trial
Sign up
"Rock The World" - Mark
Rock The World is an interesting up-tempo song because I think it's quite easy to think it's just one of those motivational songs about externally talking about other people, but actually its talking about that moment in your life when you've achieved something really really great.
And you look to that person that's in your life that has kinda been the backbone, and that helped you through it all. It's always that someone behind you that has just been there for you and Rock The World is looking at that person and kinda saying shit we did it and we got through all the adversity and we made it.
"Written In The Scars" - Mark
We wanted to write 'Written In The Scars' and put it out because we understand what it's like to have imperfections and to have all your scars living on the outside sometimes. As we've gotten more confident in our lives, I suppose music has done that for us and being on stages has done that for us.
You realise that makes you unique and different so 'Written in the Scars' was one of those songs you wanted people to hear because it's almost like sticking your fingers up to the haters and embracing your own imperfections and just wearing them loud and proud.
Freedom Child, the latest album from The Script, is out now via Columbia Records
Follow Independent Culture on Facebook for the latest news, video and features
Register for free to continue reading
Registration is a free and easy way to support our truly independent journalism
By registering, you will also enjoy limited access to Premium articles, exclusive newsletters, commenting, and virtual events with our leading journalists
Already have an account? sign in
Register for free to continue reading
Registration is a free and easy way to support our truly independent journalism
By registering, you will also enjoy limited access to Premium articles, exclusive newsletters, commenting, and virtual events with our leading journalists
Already have an account? sign in
Join our new commenting forum
Join thought-provoking conversations, follow other Independent readers and see their replies