The band who fell to Earth: How The Strokes' third album nearly ruined everything for the coolest kids in rock
As The Strokes prepare to release their first new album in seven years, Ed Power reflects on how 2006's surly, bloated and sharp-elbowed 'First Impressions of Earth' turned a band hailed as 'the future of rock' into The Rolling Stones for millennials
Tuesday 18 February 2020 15:25 Comments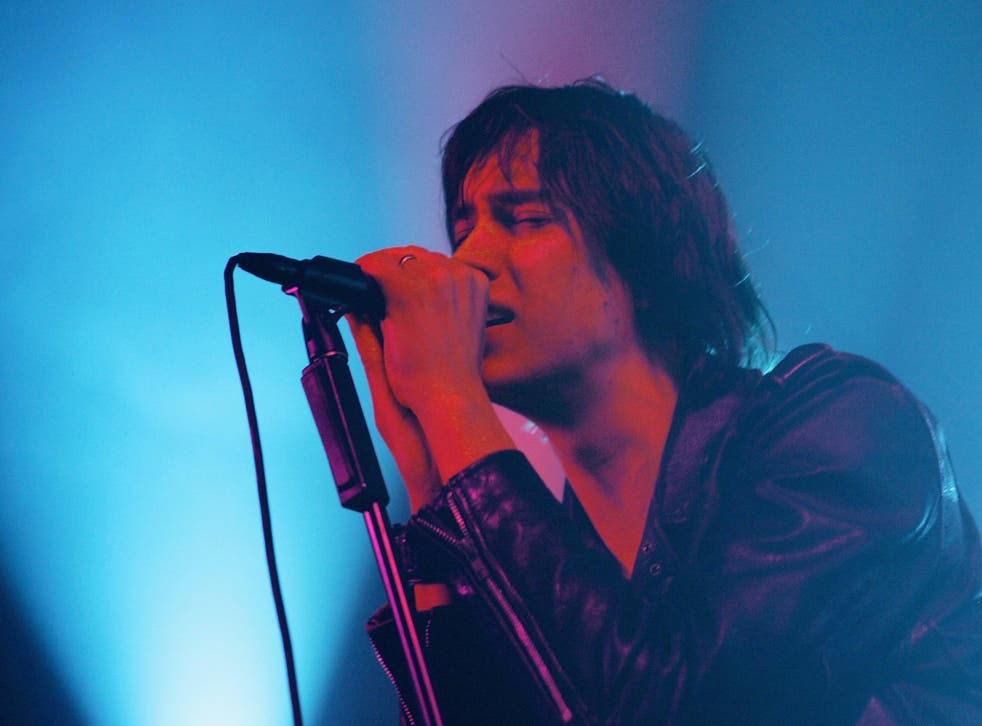 The world is terrible and all hope is lost but then The Strokes announce a new album and suddenly things feel that little bit more bearable. This will have been the response from rock fans of a certain age to news that the New Yorkers will shortly swing back into action with a long-awaited sixth LP, The New Abnormal.
Before that, there will be a smattering of preview gigs, starting tonight with a show at the Roundhouse in north London. The louchest and occasionally coolest band on the planet are about to re-enter the pop wars. Even if you haven't slapped on one of their records in years you will agree this can only be a good thing. Life with The Strokes is better than life without.
Such excitement is largely testament to the hum of nostalgia that has accumulated around Strokes' 2001 debut, Is This It. It is an album that evokes a panoply of feelings, many of them bittersweet. From the vantage point of 2020, an LP supposed to mark the beginning of a beautiful career for The Strokes now feels like the end of something.
Is This It was one of the last albums that documented a place and time: geographically, sonically, and culturally tusoo. It is a capsule from a long-ago era when rock'n'roll mattered. That no record since has arguably captured the imagination in a similar fashion has more to do with shifts in popular culture than with The Strokes themselves. Bedraggled indie rock no longer has the power to commandeer the zeitgeist.
The 35 best debut albums of all time

Show all 35
Nonetheless, when pop historians come to document the rise and fall of The Strokes it is clear that Julian Casablancas and company are not entirely blameless. As fans look forward to The New Abnormal, they will hope that it captures the naive abandon of Is This It. They will also hope that it is as far removed as possible from The Strokes' surly, bloated and sharp-elbowed third LP, First Impressions of Earth.
The Strokes' career is divided down the middle. There is before First Impressions of Earth, released in January 2006. And there is after. It isn't that the album is terrible – though, really, it isn't great. It's just that with it, the dream of The Strokes seemed to die. Afterwards, they would be one of those bands from whom we want only the hits, never the new stuff. They had in five years gone from the future of rock to The Rolling Stones for millennials.
The Strokes were always a soap opera, it is true. It's just that early on it was Hollyoaks: youthful, vivacious, optimistic. By First Impressions Of Earth, it had devolved to an EastEnders double bill on a dreary Tuesday.
Drugs notoriously played their part. One of the most tragically farcical stories related in Meet Me in the Bathroom, Lizzy Goodman's oral history of the early Noughties New York rock scene, concerns Strokes guitarist Albert Hammond Jr, bad-boy rocker Ryan Adams and free-wheeling substance abuse.
As Hammond Jr was sucked into Adams's party monster lifestyle, the rest of The Strokes became understandably and increasingly alarmed. And so they ambushed Adams at a bar and told him to back off. Casablancas, the group's charismatic frontman and the son of fashion mogul John Casablancas, even threatened to beat up Hammond Jr's new bestie.
Enjoy unlimited access to 70 million ad-free songs and podcasts with Amazon Music Sign up now for a 30-day free trial
Sign up
Adams had a different take, feeling he was being scapegoated for instabilities within the band. "It was easy to brand me as the problem," he told Goodman in her 2017 book. "I would suspect that they soon learned that I was not the problem."
Hammond Jr would eventually clean up. But the rot had arguably already set in when, in January 2005, The Strokes retreated to Allaire Studios in upstate New York to start on their third LP. The nagging issue was a perceived lack of commercial success. The Strokes were adored. But, out in the real world, they were only almost famous.
It is slightly deflating to learn that the hippest band on the planet would have happily traded some of that cachet for a little more chart success. Yet The Strokes couldn't help but notice that, in ringing tills if not in kudos, they had been overtaken by a generation of younger artists. Modest sales for their 2003 second album, Room on Fire, had confirmed their status as a big underground act. Commercially, their peers were Interpol and the Yeah Yeah Yeahs.
That, however, isn't where The Strokes wanted to be. In 2005, it seemed you couldn't turn on the radio without hearing "Mr Brightside" by The Killers or something loud and raucous from Kings of Leon. Why were those groups burning it up when The Strokes remained mired in the indie ghetto?
Their conclusion was that it all came down to their sound, which they deemed too lo-fi, too tinny. "It sucks when you're supposedly this almost mainstream band and [influential LA radio station] KROQ is playing you and and you're really excited," guitarist Nick Valensi told Spin magazine in 2006.
"Then Foo Fighters come on and they sound massive. And we sound tiny. There were many conversations along the lines of 'I think our songs are better than 'Mr Brightside'. But how come that's the one everybody's listening to?'"
The focus of their dissatisfaction was long-time-producer Gordon Raphael. He had worked with them on Is This It and Room on Fire. Today, the latter is seen as a classic almost on a par with their debut. At the time, though, it was perceived as a failure. Critics were lukewarm; it didn't do well outside the always-adoring UK with sales 50 per cent down on Is This It.
Were this just another indie band, it wouldn't have mattered. The Strokes, though, had famously signed a five album deal with RCA. The Nineties weren't as far away as all that and "selling out" was a moral choice with which groups were still expected to wrestle (before invariably putting their signatures on the bottom line). So there was a degree of glee in certain quarters that, just two records in, The Strokes were already on a downward trajectory.
Casablancas felt the sting acutely. And so he made what has always been the ultimate fatal error for musicians. He listened to the critics.
"I thought it was bigger and better," he said of Room on Fire. "But everyone was like, 'it's the same thing'. The next album, he vowed, would be different. Radically so.
Their first step was to look around for the biggest producer of the day. They alighted upon Radiohead collaborator Nigel Godrich. He was at that time a bit of a gun for hire, having worked with Travis, The Divine Comedy and Beck. Alas, his clinical technique wasn't a good fit for The Strokes. "Nigel made it sound clean," said Casablancas. "But it was soulless".
15 bands you should listen to in 2020

Show all 15
They decided, for the time being, to stick with what they knew in Raphael. Then Hammond Jr had a suggestion: he'd been put in touch with a guy name David Kahne. He was an old hand with a proven record as a hit maker. The rest of the band were amenable. Now all they had to do was break the news to Raphael. So Hammond told their regular guy that he would produce and Kahne engineer.
"I said to Albert, 'I like the way I engineer," Raphael recalled. "But if this will help some kid's career, I'm not gonna say 'no'. So I was very surprised when this veteran guy showed up in the studio and told me, 'I was head of Columbia and I signed Jeff Buckley' … I worked with Paul McCartney – and that's him on the phone now'."
"David Kahne is a pretty complex person," Casablancas would say. "We heard of him as just some guy who had technical knowledge. Who knew about stuff we didn't know. We wanted to sound bigger and stronger and all of that. For a while it didn't work though. It was weird for a while, man. David and Gordon… they were not the closest of chums."
Raphael begged to be allowed to leave. The Strokes were initially reluctant to let him go. As the producer recounted: "I said, "Julian, I don't really like this scene. I want to go." And he said, "Please stay." "Why? I'm not doing anything." "Well, because if you leave, we're going to fire Dave Kahne because we don't know how to talk to him. But we think he's onto something with our sound, and we need you to stay in case we need you to explain what we mean."
Still, Raphael finally walked away and Kahne took over. However, it turned out that his history as a chart-conquerer was not quite as cast-iron as Hammond Jr had initially believed. One of his biggest selling records was MTV Unplugged: Tony Bennett, which had admittedly won the 1995 Grammy for Album of the Year. So he knew what he was doing. But he wasn't going to be a George Martin to The Strokes' Beatles.
Then what producer could have worked a miracle with The Strokes at that point in their lifespan? Relationships within the ranks were deteriorating rapidly. Not every group, it is true, lives on bonhomie. Radiohead would still probably sound like Radiohead regardless of how chirpy the individual musicians were feeling. The Strokes were different. They were a band but they were also supposed to be a gang. Their early aura – the one that emanates so powerfully from This Is It – had as much to do with their "us against the world" sensibility as with their songs
However, by 2006 they were all in their late twenties. Several were married. There were even children. Things couldn't be liked the used to. And if The Strokes weren't the coolest gang in rock, what was even the point?
"When we first started we went on the road, all we had was each other. Now we're working," lamented Hammond Jr in 2006. "Then when we come home and have our own lives. It's very sad."
Tellingly, not everyone was grieving for what was lost. "I don't want my daughter to think of me as a Stroke," shrugged bassist Nikolai Fraiture. "I want her to think of me as father and eventually raised that that's my job."
When First Impressions of Earth came out, it was widely regarded as the worst thing The Strokes had ever done. Yes, it charted strongly, giving the group their first UK No 1 and entering at four in the US. But second week sales fell of a cliff, as word of mouth got around that they group had dropped a clunker. By the end of the year, it had sold just 271,000 units – less than half of Room on Fire's 591,000. It probably didn't help that the full record had leaked the previous November. Or that the lead single "Juicebox" was widely agreed to be the weakest of the 14 tracks.
"A band futilely grasping in all directions," was the assessment of Pitchfork. The Independent's Andy Gill agreed, declaring the new Strokes the perfect companion piece to a similarly disappointing comeback record by Franz Ferdinand. "Both bands plot their arrangements too methodically, and the resulting coldness, in this case, effectively curdles much of the album's appeal."
"They wanted this record to be really serious and big and professional," Raphael lamented to Spin. "They think that's what held them back in America." Yet what was really holding The Strokes back, it transpired, is that they now longer wanted to sound like The Strokes.
"That's probably the first time I noticed it had stopped being fun, the recording of First Impressions of Earth. That's when things started getting into the gap," Hammond would say. "Friends, girlfriends, strangers would all start coming in, being like, "You should be a bigger band," and I was like, "Yeah, we should be a bigger band.""
"They seemed a lot older. A lot older. And it had only been, like, two years," said the late Spin writer Mark Spitz in 2017. "And they seemed defeated in a weird way. And impatient, like they just wanted it to be over, you know? They were not deluded that maybe it was over, their moment was over."
The New Abnormal is out on 10 April
Register for free to continue reading
Registration is a free and easy way to support our truly independent journalism
By registering, you will also enjoy limited access to Premium articles, exclusive newsletters, commenting, and virtual events with our leading journalists
Already have an account? sign in
Join our new commenting forum
Join thought-provoking conversations, follow other Independent readers and see their replies