The War on Drugs interview: Lost in darkness but saved by the music
Writing his latest album proved therapeutic for The War on Drugs' mainman –and chart success is a bonus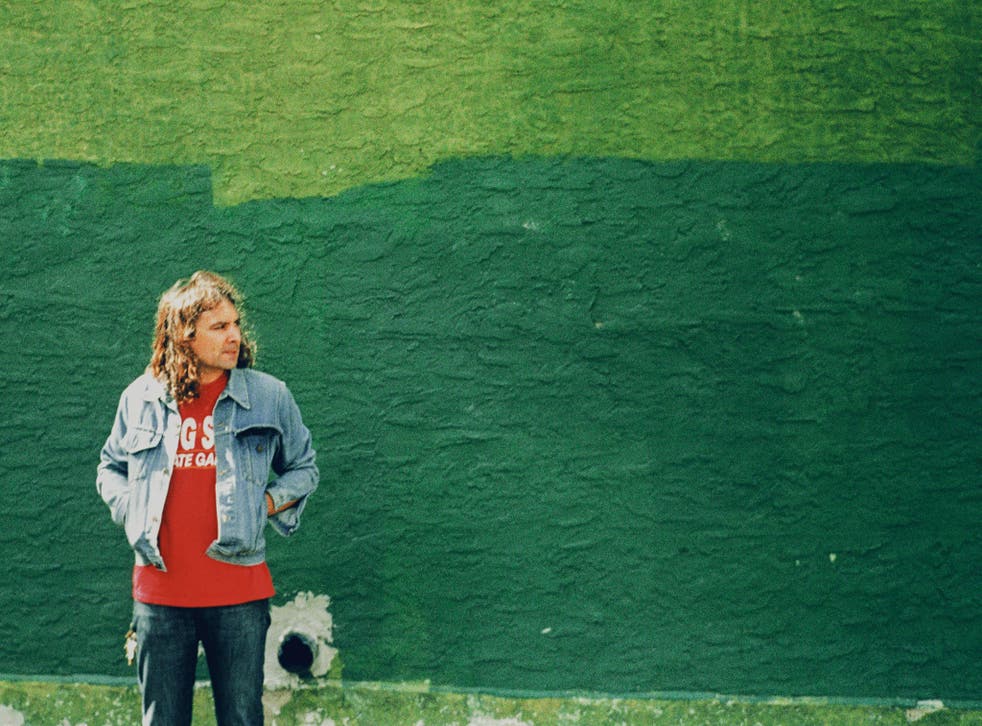 Adam Granduciel pulls out his smartphone to show off brochure-styles snaps of the view from a dressing room at a festival in Tromso, Norway - "north of the Arctic Circle" he explains, pointing at a vista of blue sea and sky.
Granduciel, the figure behind one of the albums of 2014, is describing his current itinerary – and hinting at the disorientation of the fast-moving festival circuit. Just a day after he took the souvenir photos we are meeting in a Portakabin backstage at Britain's own Latitude. The Suffolk festival may have its own bucolic sights, not least multicoloured dyed sheep, but the view of other temporary structures from his green room lacks the same glamour.
Still, invitations to Europe's far north and placings higher up the bill show the Philadelphia-based musician is on the up. Recording as The War on Drugs, Granduciel has developed an expansive alt-rock sound that now comes with a more classic feel. While his second album, 2011's Slave Ambient, was a critical smash, it is this year's follow-up, Lost in the Dream, that broke through commercially, cracking the UK Top 20 – and is likely to feature in many a "best of 2014" list at the end of the year.
Granduciel has admitted Lost in the Dream's melancholic feel came from a mental collapse that led to bouts of depression and paranoia, so questions about how he is coping with the extra workload have extra edge. Leaning back on a sofa in jeans and leather jacket, the solo artist looks composed enough: "I just feel a little more exhausted than normal, a little more fried, just because there's a lot of flying." Granduciel, though, is keen to emphasise he also enjoys his new-found success. "People are really connecting with the record as a whole or certain songs, instead of the idea of a cool band. Everyone has a favourite song and that's a beautiful thing for me. In the past, that wasn't necessarily happening." Something of a late starter, the 34-year-old Massachusetts native's music career began properly once he moved to Philly in 2003 and fell in with fellow Dylanophile Kurt Vile.
As the pair played in each other's groups, Granduciel became known for his fluid guitar playing and intricate studio work, leading to the success of Slave once he and Vile went their separate ways (he, too, has since enjoyed wider acclaim). Touring that album for a year and a half, Granduciel finally returned home at the end of 2012 only to suffer a relationship break-up and face insecurity about his ability to return to the studio. The musician is at pains to point out he was not worried about replicating Slave's success, but after years working on instinct, he began second-guessing himself.
"You get sucked into just doing this thing, fucking around playing guitar, recording in my bedroom, playing with friends, then you realise you're 33 and don't have anything else. What have you been chasing? Everyone else in my circle is, like, 'you've made it', but here I am after a 13-year period back in the same house and no one there with me." Granduciel was back at square one, five years since he had been in his comfort zone – recording songs late at night in his bedroom. "I was overcome by fear. Do I still have what it takes? Do I still have that magic in my fingertips?"
He eventually found himself writing what would become a key album track, "Red Eyes" – one of several that would capture his isolation and misery, along with "Under the Pressure" and "Suffering" – though his insecurities continued to grow. "I started getting obsessed with the idea of, 'what if I don't get to finish [the song] or present this body of work?'" He mentions bouts of depression and paranoia that suggest a medical diagnosis, though, when asked about this, the talkative artist becomes more taciturn. "Well, yeah, and I read a lot about it too. I've lived with it my whole life and I've realised what it is in the past year." This was the bulk of 2013 that Granduciel spent writing and recording Lost in the Dream. As a multi-instrumentalist, he played "80 per cent" of the music himself, another way of adding pressure to proceedings.
In such a situation, knowing when you have finished can be difficult and Granduciel talks about "getting inside" a record, that feeling when you know what is right. On starting the process, he tried to recreate the sound of the live band that had accompanied him around the world over the previous 18 months, which explains the addition of piano and saxophone for a warmer sound. Along with the clean production that gives the feel of eighties FM rock, this balances the darkness of his lyrics, giving the wistful sense of hanging on to summer's lazy days and long evenings.
Granduciel recognises the Eighties feel is one part of his melange of influences, notably Tears for Fears and Roxy Music, alongside Bob Dylan and Neil Young, Nirvana and Sonic Youth. "People say that artists try to revisit the first years of their life through their whole career. I know there are production styles I gravitate towards and maybe they are rooted in certain sounds, but what I've liked over my whole life, it's been all over the place. [Lost] feels more confident and I spent a lot of time in the studio."
Enjoy unlimited access to 70 million ad-free songs and podcasts with Amazon Music Sign up now for a 30-day free trial
Sign up
He also feels positive about returning home after promoting Lost. "It's just about accepting what it all is and being more communicative with people in my life, bandmates and significant others, about what we wanna do together. It's unhealthy to keep wanting to isolate myself. Changing how I make music and letting more people in, I'd be happier with life in general." So rather than create the illusion of his band playing, he might have them perform on the next album? Granduciel's inner perfectionist returns to the surface. "Yeah, but I might have to scrap it." He laughs while saying it, though.
'Lost In The Dream' is out now on Secretly Canadian. They play Liverpool O2 Academy on 4 November, then tour
Join our new commenting forum
Join thought-provoking conversations, follow other Independent readers and see their replies