The weirdest places musicians have played gigs: From The Libertines and Reverend and the Makers to Kanye West and Craig David
Kodaline played the Eurostar while Craig David's playing a warehouse in Hackney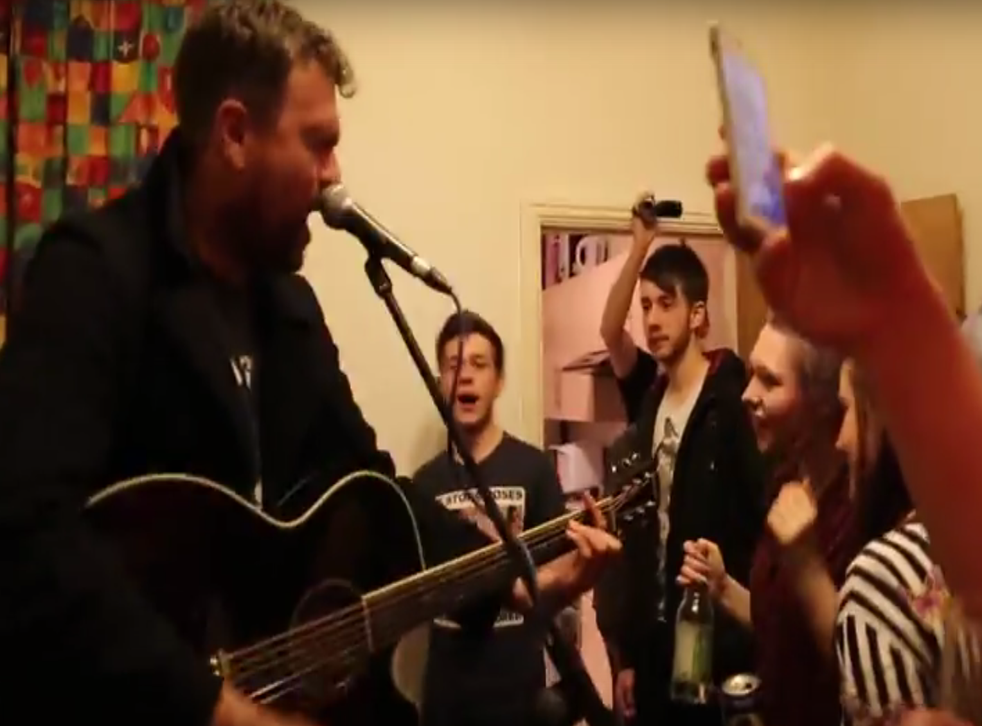 Jon McLure, frontman of Reverend and the Makers, has played gigs in prisons, a garage, a wood, a barn and a bus. One of his favourite gigs was an impromptu performance up a mountain the day after he fractured his collarbone in a skiing accident. Another was Brixton prison with Billy Bragg.
"The evidence shows if you introduce musical instruments into a prison [prisoners are] less likely to reoffend," he says. Now he's touring living rooms. "If you keep going to venues that all look the same and paying a fiver for a pint of piss it gets a bit boring. Also, The Libertines are my mates and they used to play living rooms and old people's homes". He sounds excited. "I thought, 'imagine that', but in Barnsley..."
He says that playing in places like Dudley and Blackburn has attracted a more varied audience. "We played this terraced house in a council estate in Whitehaven. Bear in mind I'm only on an acoustic guitar, but they were crowd-surfing and all sorts. The police turned up in a riot van."
The problem with living-room gigs is that the audience numbers aren't guaranteed. "We'd just done this gig with the Red Hot Chili Peppers and the crowds were amazing, then I turned up in Wales where there was this boy who hugged me and took me to the back room of the pub and there was no one there. I think he thought he could just have a cup of tea with us. He was like, 'I just wanted to meet you'. So we said we were going to the loo and did a runner out the back window."
The Live Music Act changed in 2012 and rules were loosened further this year, allowing bands to play for up to 500 in any venue without a licence, so gigs in unusual places are becoming more common. Social media has also played a part.
"Twitter allows you to turn up at an hour's notice to a guerilla performance at the back of an alley," says Oli Steadman of alt-folk group Stornoway. He is a huge fan of alternative venues; Stornoway just did the first tour of RSPB wetlands centres to promote their Bonxie album. He runs the Oxford chapter of Sofar Sounds, a group that organises unusual spaces for musicians to play in; Gig In Your House has a similar website where people offer up their living rooms. Steadman also runs Tigmus. "It's inspired by the idea you can take any place and with one good band you can make cinemas, tunnels and decommissioned chapels into a gig venue."
Gigs on public transport are also on the rise. It's useful for the brands involved; you're more likely to tweet about your train journey if a famous band suddenly start busking on it. In June this year, Kodaline did a series of gigs on the Eurostar, "just for the craic," says the band's co-founder and lead guitarist Mark Prendergast. "We just want to mix it up a bit, because when the band was starting out we used to play tiny venues and we still go out and surprise the fans who are queuing outside our gigs. We don't think there should be a big divide between us and the fans."
Aeroplanes are also being brought into the equation. In 2010, Kanye West hijacked a Delta Airlines plane's intercom to rap at the passengers, uninvited. On the inaugural Virgin Atlantic flight to Detroit this summer a mob of youngsters with Hollywood smiles descended on the first-class cabin, singing, while standing by passengers sipping on complimentary cocktails, to promote Motown: The Musical. It was fun, if alarming at first. "If I was there and I was trying to get some sleep I might not be too happy about it," says Prendergast.
Mike Taylor, who organises the Forest Live gigs across the UK, says the Forestry Commission benefits because those who attend the gigs often return to see the forests. For music fans, it's win-win: "We are probably closer to a festival in atmosphere, but you get to go home to your own bed at the end of the night" says Taylor.
Enjoy unlimited access to 70 million ad-free songs and podcasts with Amazon Music Sign up now for a 30-day free trial
Sign up
Musicians also use venues to reposition their brand. Craig David is returning to the UK, but rather than playing slick superclubs, he's playing a warehouse in Hackney called Shapes. "I'm recording with new, fresh songwriters and working with people in bedroom studios and the music is more raw, so it makes sense to perform in a warehouse as opposed the glitzy venues I've played before. It's not a publicity stunt," David insists, "it's become about where I'm at".
Such gigs are at their best when the band has a connection to the venue. Tinariwen, the Grammy Award-winning group of Tuareg musicians from the Sahara Desert region of Mali, have played the Pyramid stage at Glastonbury but chose to perform in the woods near Deal in Kent for just 500 people this summer, organised by the small World Music label Smugglers Records. "I think that the spirit of the desert is similar to here," their bassist Eyadou Ag Leche told me at the forest. The group have always recorded their music in the desert because they feel it adds an extra dimension to their music and, more simply, the desert is their home. "This is not the desert but it is very tranquil," he adds. "It is very important for our music to be played outside. It is much richer, you can hear the birds and see the animals around you."
Last year, Public Service Broadcasting played the National Space Centre to promote their Race for Space album, and the audience turned up in spacesuits. "Those gigs cost us a lot to do but it is part of the marketing around the album," explains J Willgoose Esq, one half of the duo. "It sets us apart and it makes it more special."
But McLure insists there is something about the spirit of impromptu or unusual gigs that chimes with every artist. "It's about avoiding the nine-to-five-style routine, which every musician hates. But also the audience don't know I'm definitely going to turn up until I do," he says, "and I think that's the spirit of rock'n'roll; it's not just about the music you play, it's where you do it."
Register for free to continue reading
Registration is a free and easy way to support our truly independent journalism
By registering, you will also enjoy limited access to Premium articles, exclusive newsletters, commenting, and virtual events with our leading journalists
Already have an account? sign in
Register for free to continue reading
Registration is a free and easy way to support our truly independent journalism
By registering, you will also enjoy limited access to Premium articles, exclusive newsletters, commenting, and virtual events with our leading journalists
Already have an account? sign in
Join our new commenting forum
Join thought-provoking conversations, follow other Independent readers and see their replies