The Countdown
The 20 greatest live albums, from Nirvana Unplugged to Johnny Cash at Folsom Prison
A good live album should have a special aura around it, giving the listener the sensation of actually being present at a momentous event. To celebrate the 50th anniversary of The Who's 'Live at Leeds', Graeme Ross picks his favourites
Thursday 21 May 2020 11:29 Comments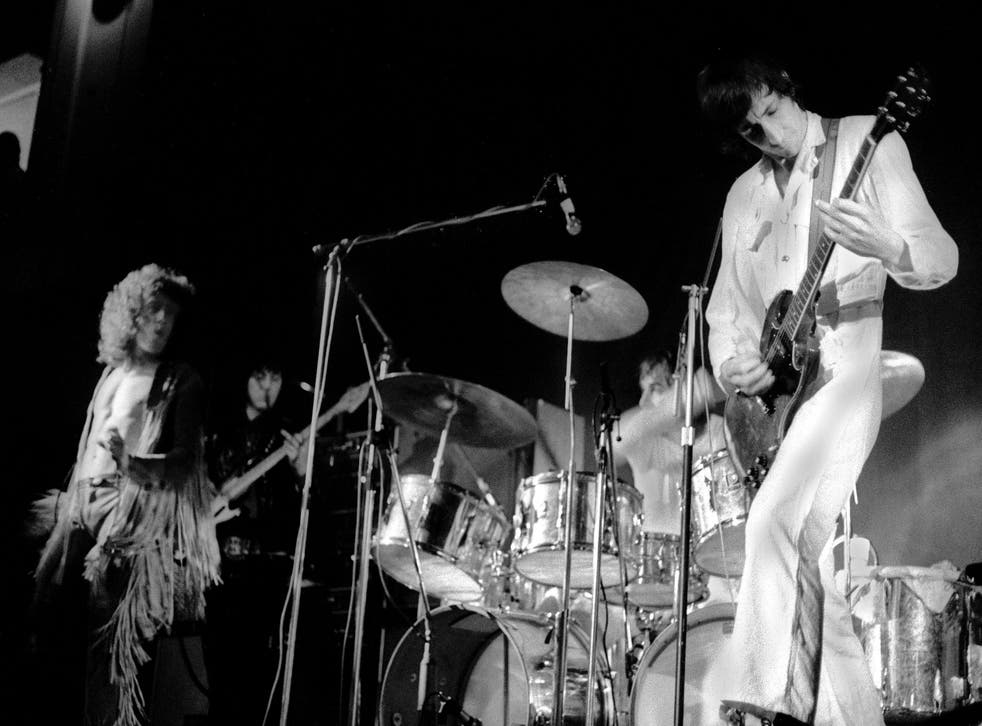 Half a century ago today, The Who's Live at Leeds – often cited as the greatest live album of the rock era – was released. A live album can be many things: a contractual obligation record, an act's defining statement, an intimate glimpse into an artist's world, a cynical cash-in by the record company... or a right good excuse to show off guitar pyrotechnics and a 10-minute drum solo. Many are double albums and some are even triple (Yessongs anyone?), but it remains a given that a good live album should have a special aura around it, giving the listener the sensation of actually being present at a momentous event. To mark the anniversary of Live at Leeds, here are 20 classic live albums that achieve just that.
20) Free – Live!, 1971
A beloved band captured in all of their in-concert glory. The consummate rhythm section of Andy Fraser and Simon Kirke propels a set full of Free favourites including "Fire and Water" and, of course, "All Right Now". Paul Kossoff's guitar weeps and wails, while Paul Rogers makes an impressive bid for the title of Britain's greatest blues shouter.
19) Bob Seger and the Silver Bullet Band – Live Bullet, 1976
After a decade of dues paid, it was fitting that Seger's renowned live act gave him his big break. The king of American blue-collar rock and his fantastic band were in their element in Seger's home city of Detroit, particularly on the ferocious cover of "Nutbush City Limits", and the classic reflection on life on the road, "Turn the Page".
18) Procol Harum – Procol Harum Live: In Concert with the Edmonton Symphony Orchestra, 1972
In a career too often defined by one famous song, this is one of many other highlights from the doyens of symphonic rock. Blistering hit single "Conquistador" kicks off arguably the finest coalition ever of rock and classical music, while the melancholic beauty of the majestic "A Salty Dog" rivals "Whiter Shade of Pale" as their greatest performance.
17) MC5 – Kick Out the Jams, 1969
An explosive mix of proto-punk and feedback-drenched heavy rock powered this politically radical Detroit band's debut album, which deftly conveys the raw energy of their legendary live act. Never far from controversy, the MC5 stoke the fire with the incendiary title track, while "Motor City Burning" marks an era of civil disturbance in America's major inner cities.
16) Rory Gallagher – Irish Tour '74, 1974
With his battered guitars and lumberjack shirts, Ireland's greatest bluesman was the real deal. This album, particularly the astounding "Walk on Hot Coals", perfectly captures Gallagher's passion for the blues and his amazing bond with his audiences. Not for nothing was he known as "The People's Guitarist".
15) BB King – Live at the Regal, 1965
The Chicago Regal, to be precise, with King poised to crossover to a white audience and influence a generation of disciples including Eric Clapton and Mark Knopfler. Live at the Regal still moves and enthrals; King magnificently revisits the songs that made his name, from "Every Day I Have the Blues" to "Sweet Little Angel".
14) Bob Dylan – Live 1966, "The Royal Albert Hall" Concert, 1966
The title is a wonderful in-joke referring to the infamous "Judas" cry erroneously attributed to Dylan's London gig. Manchester Free Trade Hall was of course the venue for Dylan's infamous and pivotal "electric" revolution and where this recording was made, of one of the most iconic cultural events of the Sixties. Now, however, the most striking aspect of this album isn't so much the music as Dylan's venomous delivery.
13) The Band – The Last Waltz, 1978
This superb Canadian- American group sealed their legendary status by having their last show filmed by Martin Scorsese. The resulting soundtrack album featured a hand-picked, diverse array of guests on top form, with special kudos to The Staple Singers for a revelatory performance of "The Weight", Belfast Cowboy Van Morrison, and The Band themselves on arguably their best song, "Acadian Driftwood".
Enjoy unlimited access to 70 million ad-free songs and podcasts with Amazon Music Sign up now for a 30-day free trial
Sign up
12) Thin Lizzy – Live and Dangerous, 1978
Studio overdubs aside, this is Lizzy at their peak as a live act, with charismatic frontman Phil Lynott on top form, and Brian Robertson and Scott Gorham trading scorching riffs like there's no tomorrow. Scintillating versions of "Jailbreak", "Emerald", "The Boys Are Back in Town" and many more Lizzy classics make for one of the most essential live albums.
11) Neil Young and Crazy Horse – Live Rust, 1979
Young bookended his remarkable decade of music with this masterful overview of his finest songs for the Rust Never Sleeps tour. Part-acoustic, part-electric, Live Rust is Young in all his various guises, ranging from the wistful folksiness of "I Am a Child" to ear-shredding rockers "Sedan Delivery" and "Like a Hurricane", via ecology anthem "After the Goldrush".
10) Johnny Cash – At Folsom Prison, 1968
Cash's edgy outlaw persona found the perfect conduit in a literally captive audience at Folsom State Prison, California. The inmates readily identified with Cash's blue-collar, man-of-the-people performance, and the man himself gave memorable performances of his most famous songs, including "I Got Stripes", "25 Minutes to Go", and, of course, "Folsom Prison Blues".
9) The Rolling Stones – Get Yer Ya Yas Out!, 1969
The Stones' first official live release remains the best document of their live show, in this case one that took place in late November 1969 at Madison Square Garden. The Stones are at the height of their Beggars Banquet/Let It Bleed-era pomp here, with a performance that gives much substance to their self-mythologising boast as the greatest rock'n'roll band in the world.
8) Nirvana – Nirvana Unplugged in New York, 1994
Part of the MTV Unplugged series, this posthumous release – recorded five months before Kurt Cobain's death – serves as a fitting tribute to the band's brooding frontman. The raw emotion of the Nirvana originals can't fail to move you, while the covers of David Bowie's "The Man Who Sold the World" and American folk song "Where Did You Sleep Last Night?" resonate most poignantly.
7) Bob Marley and the Wailers – Live!, 1975
Culled from two you-had-to-be-there London Lyceum gigs, Live! is a unique historical document of the coronation of the first bona fide Jamaican superstar. The exuberant reaction of the audience plays a key role in the vibe and Marley's humanity and spirituality shines throughout. "Get Up, Stand Up" and a life affirming "No Woman, No Cry" are absolute wonders.
6) Deep Purple – Made in Japan, 1972
The definitive live hard rock double album. The classic Purple Mark 2 line-up excels on a veritable feast of head-banging favourites. "Space Truckin'", Highway Star", "Child in Time", "Smoke on the Water" – they're all here on an album that established Deep Purple as one of the biggest bands of the Seventies.
5) Van Morrison – It's Too Late to Stop Now, 1974
Morrison came of age as a live performer thanks to these celebrated 1973 gigs with his 11-piece Caledonia Soul Orchestra. The career-spanning double album that followed was remarkable, with string- and horn-laden reinventions of "Gloria" and "Cyprus Avenue", reverential covers of Ray Charles and Sam Cooke, and a show-stopping "Caravan". Morrison refused to overdub a single note, making this one of the most essential and absolutely live of live albums.
4) Jerry Lee Lewis – Live at the Star Club Hamburg, 1964
My sympathy lies with the piano as The Killer tears through a set of classic rock'n'roll so incendiary you feel you should have a fire extinguisher on standby while listening to it. Backing band The Nashville Teens gamely try to keep pace on one of the most thrilling, primal albums ever made, which Rolling Stone memorably called "a crime scene".
The 20 best albums of 1995 ranked

Show all 20
3) James Brown and the Famous Flames – Live at the Apollo Vol 1, 1963
The Godfather of Soul's record label wouldn't fund a live album, but Brown went ahead anyway at his own expense and tore the roof off the Apollo in the process. The result was this historic recording of one of the most exciting performers who ever lived, giving a masterclass in audience manipulation and participation.
2) The Who – Live at Leeds, 1970
Live at Leeds contained just six songs in its original form – three Who originals and three covers of rock and roll standards – but was hugely influential in the development of heavy rock during the Seventies. Marking the beginning of the second great stage of the band's career, this is Exhibit A in the case for The Who's claim as the greatest live band of all time.
1) The Allman Brothers – Live at Fillmore East, 1971
On their definitive live statement, the original line-up of this fabled band reached hitherto unheard-of improvisational peaks. They incorporated blues and jazz influences on covers of "Statesboro Blues" and "Stormy Monday" and their own standards, such as the 23-minute "Whipping Post". That, plus the telepathic guitar interplay of Duane Allman and Dickey Betts, and Gregg Allman's Hammond organ and soulful vocals, means that (for me) this record edges out Live at Leeds as the greatest live album of them all.​
Register for free to continue reading
Registration is a free and easy way to support our truly independent journalism
By registering, you will also enjoy limited access to Premium articles, exclusive newsletters, commenting, and virtual events with our leading journalists
Already have an account? sign in
Register for free to continue reading
Registration is a free and easy way to support our truly independent journalism
By registering, you will also enjoy limited access to Premium articles, exclusive newsletters, commenting, and virtual events with our leading journalists
Already have an account? sign in
Join our new commenting forum
Join thought-provoking conversations, follow other Independent readers and see their replies