This is Girl Power that you don't want to mess with
All-female punk band Savages have a reputation for thrilling live shows and uncompromising standards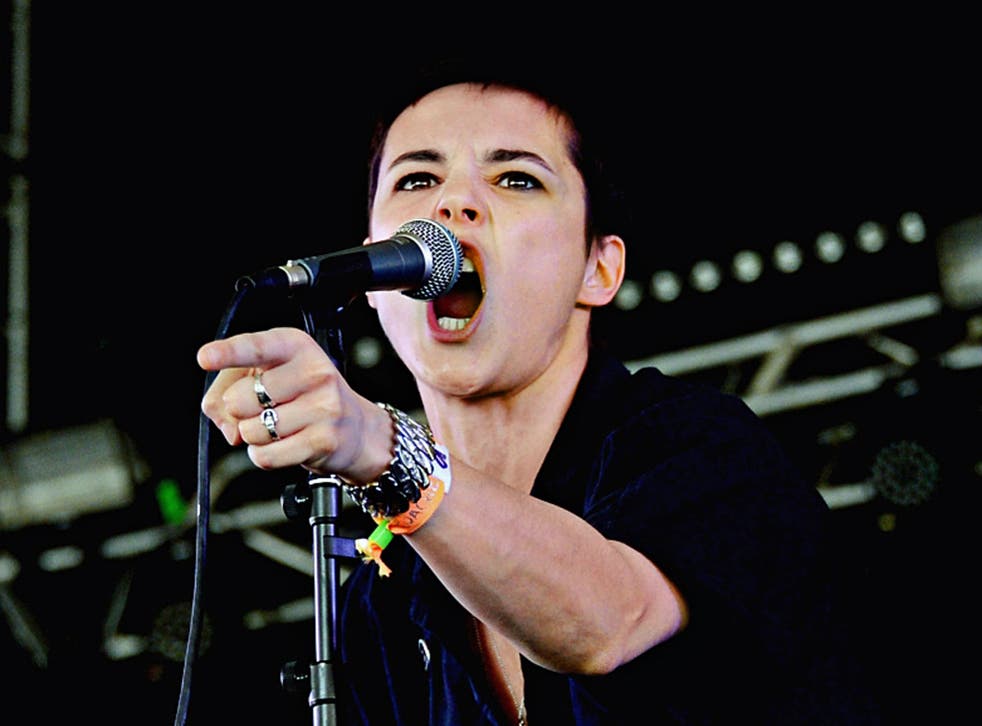 Savages have built their formidable reputation on what might best be described as musical full-frontal assault: incendiary live performances and uncompromising aesthetic values. They play Parklife Weekender on Sunday and you wonder if Manchester is ready for them. At least in an art centre's veggie café, an oasis of calm among Islington's traffic-choked streets, one half of the band exudes a more relaxed air. Jehnny Beth, the singer who left her native France to pursue a music career, offers glimpses of impish humour, while guitarist Gemma Thompson studiously answers questions.
She found the venue while attending life-drawing classes, which partly explains where the London four-piece derives their artistic rigour. On debut album Silence Yourself, released last month, the all-girl group reshape the brittle clang of late seventies post-punk, while also capturing that era's sense of disquiet and spikey aggression. It comes wrapped in a distinct visual identity marked by stark monochrome imagery and uniform black attire.
Thompson herself studied fine art at Goldsmiths, having dropped out of, she admits, a degree in aviation technology with aeronautical engineering. "We couldn't really question much. You have to accept everything you're told," Thompson explains, to a delighted giggle from Beth. They met when Thompson played with the duo John & Jehn that Beth had formed with boyfriend Johnny Hostile. The guitarist had already chosen the name Savages for a putative group she had started with bassist Ayse Hassan and as the Gallic pair found themselves distracted by production duties and running their fledging label Pop Noire, Beth was keen to join. "It was never intended to be all-female," Thompson explains pointedly. Gender is far from an issue for this gang.
Once drummer Faye Milton added her head-down precision in October 2011, Savages became a taut unit that made an immediate impact when they began gigging early the next year. With that has come a reputation for being difficult, within the music industry and among journalists, though clearly the group operate to more exacting standards than most.
On listening to Beth's panicked yelp on debut single "Husbands", you note the obvious similarity to Siouxsie and the Banshees, yet the singer and Thompson have shared more esoteric tastes. The Goldsmiths graduate was into notorious art collective Coum Transmissions, while Beth was inspired by their musical offshoot Psychic TV.
It all leads to a group identity that sees Savages apply the same level of detail to videos, band shots and live performances. "We approach how we write music the same way we face every other thing around the band," Thompson says. "It's not like we write music and everything else is left to chance." From that arises the notice they display at gigs, not banning camera phones but saying: "Let's make the evening special – silence your phones," something Beth believes has made a difference to audience enjoyment.
"Since we put up the signs, there has been an increase in mosh pits," she explains. "It had become a sort of pollution – you look at the crowd and in key moments when it gets really intense there's an army of phones going up. People just had to realise they weren't really enjoying themselves – I don't think they feel they are being told to do something."
"It is a relief for people – they don't have to worry about recording," Thompson adds. "They forgot how to enjoy it, but now it's coming back to them," Beth says.
Further evidence of their fascination with silence comes with the text printed on the album cover. "The world used to be silent/Now it has too many voices," it begins, ending with the command that gives the album its title. Is it a manifesto? A poem? "I like to think of it as a subtitle," Beth replies, "Like you have in journalism, or do you say 'fore words' in a book?" Ah, a foreword, but why the interest in quietude? "Silence is where music comes from originally," she tells me, describing the vital lesson from an inspirational music teacher. "Before you do any sound you have to listen to the silence because the sound is in the silence. Everything is already there before you say it."
Enjoy unlimited access to 70 million ad-free songs and podcasts with Amazon Music Sign up now for a 30-day free trial
Sign up
There is a certain amount of space in their music and respect for contrasting movements, but the idea goes much deeper than that. They rail against the information overload and lack of concentration in 21st-century life. "There are too many distractions," Thompson agrees, "It's the idea that you should focus on something that's there." Intriguingly, Beth meditates to improve her concentration – "It's a great help for anxious people."
Savages, then, are prepared to take on the distractions of the festival circuit. "We have had great experiences," Thompson remembers, "When we've played in a tent really late and it's a sweaty, club vibe," though she reckons the band are ready for anything. "Festivals are a lot harder, but we get a feel for the place, for the audience, then put everything into it."
Savages play The Parklife Weekender, 8-9 June, Heaton Park, Manchester. Day and VIP tickets available from parklife.uk.com
Join our new commenting forum
Join thought-provoking conversations, follow other Independent readers and see their replies