Thundercat interview: Bass prodigy on his album Drunk, jazz, the new Kendrick Lamar record, and meeting Pharrell
'I can't give too much away about the Kendrick record... but I'm just as excited as everybody else'
Roisin O'Connor
Saturday 08 April 2017 06:43 Comments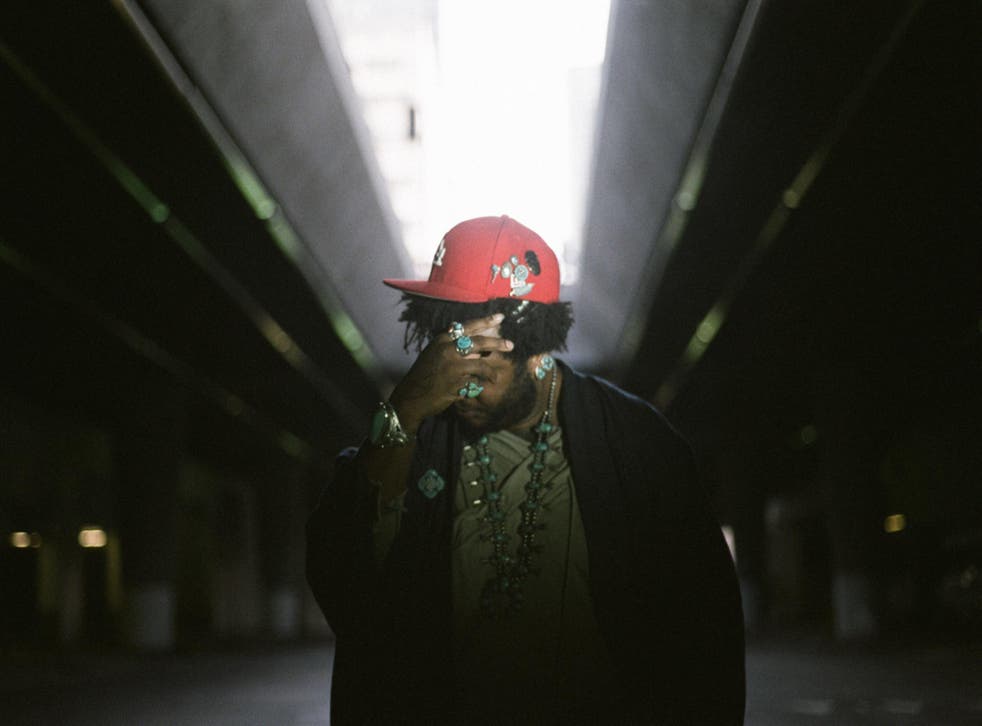 "Everything's happening really quick, I don't know what the hell's going on."
Bassist and songwriter Thundercat is struggling to get his head round the huge response to Drunk, his third album.
"I was kinda… not expecting it," he says after a soundcheck at Heaven in London. He rocked up around 6pm in shades and heavy dark coat, stopping to take pictures with a cluster of fans already waiting outside the venue.
Born Stephen Bruner, Thundercat began his career as a session musician – working with Kendrick Lamar, jazz artist Kamasi Washington, and Erykah Badu – before being encouraged to put out his own solo work.
Drunk is one of those rare albums you can return to again and again and discover new things. Even the vinyl edition is fantastic, featuring sleeves for each side with artwork created by his friend, Atlanta illustrator and comedian Zack Fox.
They shot the artwork, one of the best album covers of the year, in Flying Lotus's pool: "It felt totally natural," Thundercat says. "It felt good. Like… searching for someone."
As he talks someone tries to open the door to the makeshift interview room and he loses track of what he was saying. Then an alarm goes off from somewhere outside.
"Good God," he says, shaking his head at the noise.
So how much of that 'leaked' Kendrick Lamar tracklist is real?
He bursts out laughing at the question, then someone tries to open the door again and he shoots out of his chair, muttering to himself: "I swear to God, you motherf***er… Dumbasses."
Satisfied the door is shut, he comes back and takes a seat again: "I can't give away too much about the Kendrick record, you know..." he begins. "But I'm just as excited as everybody else."
Surely he's on it?
"I don't know," he says, flashing a Cheshire cat grin. "Maybe. Maybe not."
"How about D'Angelo?" I pester. "Is he on it?"
Thundercat won't budge – of course he won't. But he does feel sorry for anyone else dropping a record on the same day.
Enjoy unlimited access to 70 million ad-free songs and podcasts with Amazon Music Sign up now for a 30-day free trial
Sign up
"Ain't nobody talking about sales, nobody talking about nothing but pure skill," he says.
"And you don't want do that with Kendrick [drop an album on the same day]. Y'all already had nothing on him."
He says he doesn't know who Kendrick is talking about in the diss that got everyone talking on his new track "The Heart Part 4", "but whoever it's about, Kendrick meant it".
Talk of a so-called 'revival' of jazz in the mainstream bugs him, but he nods at the suggestion that artists like Kendrick are finding new ways to explore the genre, by bringing musicians into the studio rather than sampling famous records.
"It's a hard line," he says. "The truth is hip hop has always complemented jazz and vice versa but there's always been this communication barrier that exists based on music to lyrics.
"A lot of the time if you don't have cats that are wanting to see something change, see something different – which nobody for the most part has. But we're coming from a generation where things are mixed up a bit and we don't let that be a reason to hold you back."
For Drunk, Thundercat brought in Kenny Loggins and Michael McDonald: artists who have suffered from the media trying to compartmentalise them as 'yacht rock', a term that makes Thundercat grimace.
"The media put them in this thing so they can sell the idea. And when you get older you realise you just like the music you like, and you wish it didn't have a genre because you start looking for things that the artists were into and it sends you down this rabbit hole. It's a blessing and a curse at the same time, the idea of genre."
Thundercat was the one who introduced Kedrick to Miles Davis's incendiary Live-Evil… in particular his track 'Little Church'.
"I remember it stopped him dead in his tracks to hear it. It's something that affected him.
"There are two moments: one where you're looking for inspiration, and one where you're trying to work out how it can translate, a part where it sparks something. And I'll never forget seeing it – Kendrick walks real fast and he just stopped in his tracks, and he stood there for a minute.
"That song got him, he was like 'What is that?' And he asked me to play it again then walked off. I was happy I could play him something that he dug."
While you couldn't really call it a 'scene', there is this fantastic camaraderie between artists like Thundercat, Kamasi Washington, Flying Lotus, Kendrick and Brandon Coleman ("he can play his ass off," Thundercat says of the latter). They pop up on one another's work at random, when it makes sense, or, more importantly, when they feel like it.
Flying Lotus' film Kuso, which features a soundtrack involving many of the aforementioned artists, definitely caused a stir when it premiered at Sundance film festival, after a review claimed there were "mass walkouts" and branded it the "grossest film ever made". (Flying Lotus later confirmed on Twitter that it was actually only around 20 journalists who left the screening.)
Asked if he's seen it Thundercat nods, 'yeah', then bursts out laughing again. "Oh yeah, man, the media couldn't wait to write about it," he says chuckling.
"I'm so happy that he did it, you know? I had to step back in the process, because he can be like 'I wanted you to be there more!' I've heard him talk about it for years… he's always been a film student and I think that affected me.
"Lotus usually has a hand in everything. I run it through the 'Lotus test'. Even if he thinks it sucks, I respect his opinion a lot."
His sense of humour comes across brilliantly on Drunk, but there also quiet moments of intense beauty, like on "The Turn Down", the penultimate track on the record, which features Thundercat's hero Pharrell.
"I was going to work with him on some stuff. We were talking about it, trying to think of ways we could make that work. And then Pharrell heard 'Them Changes' – it was so great to see that."
There's a fantastic episode of the OTHERtone Beats1 show where Anderson .Paak and Pharrell break into an insane acapella rendition of the track.
"That messed me up, because Pharrell is my hero," Thundercat says.
"His contribution to music, to art… it's beyond. You forget how much he contributes. So we were in the studio and I was playing him a bunch of music, and he had a strong reaction to 'Turn it Down'. So I basically laid it out there, that I wanted to write with him. I'm pretty sure everybody tells him that, but for me the worst thing that could happen is that he said no. If it doesn't happen I'm not mad. I was just happy I got to tell the guy who he was to me face-to-face."
"My mom would say 'give me my flowers while I'm still alive'," he adds. "I got to tell him 'thank you', that was more important to me than just the album."
There's a beautiful line on "The Turn Down" where Thundercat wonders "if everything we do is weak". It captures that overwhelming feeling of looking around at the world and wondering, "what the hell is going on?".
"There's another factor to it which I'm not really mentioning," Thundercat says. "I was happy with it, it was a really big song for everybody. But there's this juxtaposition that exists for an artist that sometimes you talk about, sometimes you don't.
"I felt like Pharrell was going through something. It seemed like he was experiencing something that was difficult for him. So on 'The Turn Down', he felt that. It's this bizarro cross-paths thing."
"Them Changes", one of the stand-out tracks on Drunk, was first released on his 2015 EP The Beyond/Where the Giants Roam.
It has that hook that got Pharrell and Anderson .Paak so excited, where Thundercat follows his instinct, rather than trying to stick to a traditional song structure.
It's the same instinct that blows his audience away when he plays live: where his hands seem detached from his body and start to blur on a bass solo as he tilts his head back, eyes closed, just feeling the music.
Then on "Drink Dat" ft. Wiz Khalifa, there's a whole other mood: "See that's the side of Wiz that nobody knows," Thundercat says. "The side that goes to Pablo Escobar's grave and pisses off a whole country."
He stops for a moment, laughing: "That's like the most 'metal' moment I've ever seen! Who pisses a whole country off of Instagram? Columbia was like, 'F*** you, Wiz!'
"But yeah that song was a great meeting point for me and him," he adds. "If there was another title for that song it would be 'The Smoker and the Drinker'.
"The way we would connect was like… separate but together," you know? "This guy is a superstar. And then there's my little weird ass…" as he cracks another grin.
'Drunk' by Thundercat is out now
Register for free to continue reading
Registration is a free and easy way to support our truly independent journalism
By registering, you will also enjoy limited access to Premium articles, exclusive newsletters, commenting, and virtual events with our leading journalists
Already have an account? sign in
Join our new commenting forum
Join thought-provoking conversations, follow other Independent readers and see their replies