Thurston Moore interview: On living in London, Patti Smith, Viv Albertine, Sonic Youth and musical memoirs
'There's always going to be scrutiny and judgement'
Roisin O'Connor
Tuesday 02 June 2015 01:29 Comments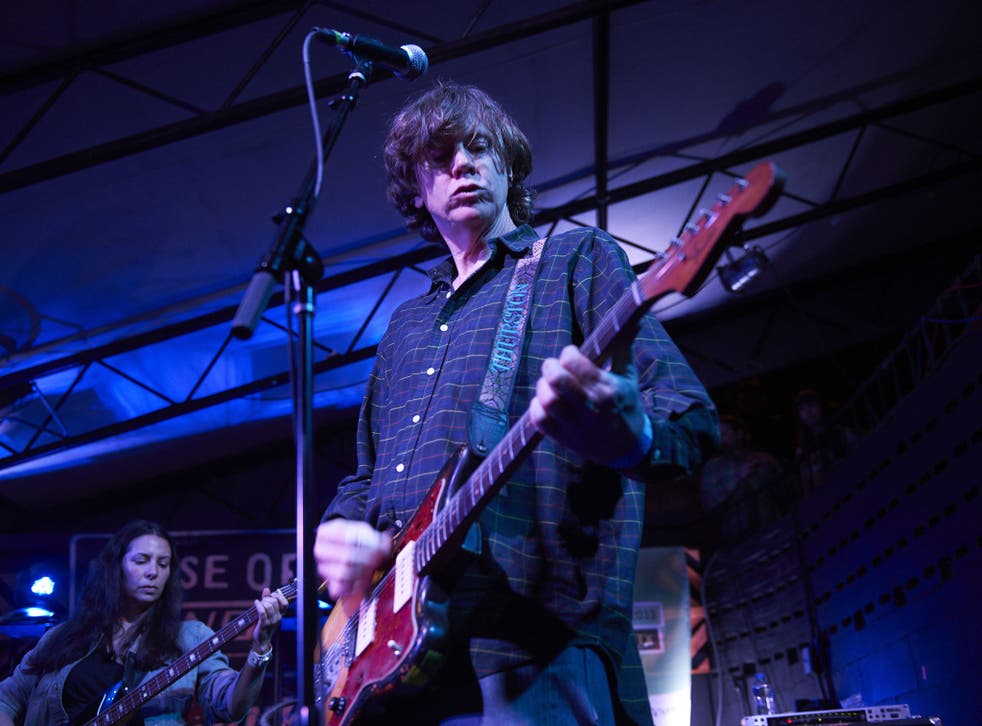 Thurston Moore is someone who always appears to be thinking about a new project – perhaps another collaboration or his next gig – so it's unsurprising when he shrugs at talk of his last album, saying he and his band are "kind of over it already".
We meet during Sound City Festival in Liverpool, where Moore is performing, in a rowdy downstairs area of the Titanic Hotel which is bursting at the seams with musicians ("I ran into Wayne Coyne five minutes ago," he tells me, beaming. "I haven't seen Wayne in 10 years").
He's been recording The Thurston Moore Band's next LP at Paul Epworth's studio The Church in Crouch End, north London. When I mention that he said in a few interviews that his last record - 2014's The Best Day – was "safe", he blinks.
"Safe?" he repeats, chuckling. "Yeah I guess it was kind of safe. It's different this time around because I was able to write songs and know who they [his bandmates] were. It's also a difficult record because I wrote all these songs that are like 11 minutes long and so to do an album… I can maybe fit three songs on there."
He converses easily, knows a lot about a lot – meandering in and out of some superb anecdotes about poets and musicians – and enjoys talking about the historical background of his home in Stoke Newington, north London.
Within walking distance of Café Oto, where he performs frequently with other artists, Moore says that there has always been some sense of a radical community but "you wouldn't know it now".
"It's certainly a gentrified area of London," he says. "I used to hang out there a little bit in the 80s a little bit, and I remember feeling like it was the end of the earth, all I wanted to do was jump on a bus and go into record stores in Soho."
"Now, to be next door to Finsbury Park where Johnny Rotten grew up… I completely like that. And Viv [Albertine] lives in London Fields now so that's close. But Stoke Newington is a bit of an upscale boutique area right now."
Despite having lived there since 2013, he doesn't feel drawn into British politics and observed May's general election as something of an outsider. "I'm very alien," he says, without resentment. "I'm like a lollygagger. In America I felt very threatened by the government, but now I feel more nomadic than I've ever been.
Enjoy unlimited access to 70 million ad-free songs and podcasts with Amazon Music Sign up now for a 30-day free trial
Sign up
He's hoping to be around for Field Day in Hackney on 6 and 7 June, where The Thurston Moore Band (featuring My Bloody Valentine's Debbie Googe on bass, Sonic Youth's drummer Steve Shelley, and James Edwards on guitar) performed their first gig together last year.
"I'd like to see Patti [Smith]. I saw her do Horses when I was 19 years old, I'd like to see it again. She was one of the first people I went out of my way to see, in 1976. It was very life-changing: in '76 she was like a wildcat, walking out with this jacket slung across her shoulder."
With Sean Lennon performing at Sound City (later I spot him hanging around backstage to see Moore's slot) and talk of a previous collaboration with Yoko Ono, I ask Moore whether he thinks The Beatles have cast something of a dark shadow over artists struggling to carve out their own stake in the Liverpool music scene.
"Completely," he nods. "Nobody ever will be as big as the Beatles. Even when Nirvana became really huge, they didn't touch every demographic. The Beatles did. In time a band could create some kind of zeitgeist thing but I don't think you should wait for it. It's up to you to choose what you like. And a lot of the most important bands are the ones you first see."
Moore saw Viv Albertine's band The Slits when they first came to New York, and met her at a few of the clubs he frequented during their visit ("she doesn't remember me. I remember her").
"I think it's really important for women in music and art to have stories," he says of Albertine's memoir, Clothes Clothes Clothes, Music Music Music, Boys Boys Boys. "Because there's an imbalance of power in the industry, there always has been; even though I think punk rock was about levelling that.
"In New York when we had no-wave, it was mostly women who were the leading figures – Lydia Lunch and Pat Place – but we never really thought of it as political. So in punk rock until the Sham 69 bands came in and it became boys jumping on top of each other – I'd disregard that – to me punk rock was all about a shared gender thing."
It sounds a world apart from how women artists were treated in the 70s and 80s. Albertine's memoir certainly makes it sound tough, "with Steve Jones and Paul Weller saying these really sexist things to her", Moore notes.
"In New York it wasn't like that. Patti was really central, she was kind of ambisexual in a way, and even Blondie was just really glamorous. It wasn't men versus women. When I met Kim she was coming out of this whole thing of being a female artist. It was no struggle or question, it was just like 'this is what we do'."
He sounds frustrated at the idea that people would assume his choice of bassist for The Thurston Moore Band was based on gender.
"For me it was how she [Googe] played bass, it had nothing to do with that. In fact at first I felt a little weird… people would go 'oh great another female bass player' and I was just like 'it's not my fault, I don't care if she's a zebra. Deb's just really cool and she plays bass."
He knows I'm leading up to the Sonic Youth split and his former bandmate/wife Gordon, and decides to get there before me.
"There's always going to be scrutiny and judgement," he says matter-of-factly. "I think I'm old enough where I can deal with that, and I get it, it doesn't really define what I do. I just want to make music and art, and not have my personal politics shade it so much but it has to, because you're in the public eye."
Admitting a strong curiosity of the lives of other artists and their work, he also expresses an intense wariness of exposing them, of lifting away the veil between public and private.
As an example he mentions a chapter where Albertine discusses an encounter with the actor Vincent Gallo: "I thought it was perverse and funny… But that must be really uncool for Vincent."
Would he ever write something similar?
"No," he says. "But I like the idea of writing about the experience of being a musician. And I do like to write about other artists as we've crossed paths, like Patti or Iggy or Nick Cave…
"Sonic Youth is so personal to me. That was my name, I have it tattooed on my arm… It came out of a situation where we were young when we got together, and the band developed over 30 years.
"That's not something that can be repeated. I'd actually like to write a book about Sonic Youth where it talks about that more than anything, less about the peccadilloes of people's personalities." He pauses and gives me a wry smile. "As juicy as that is."
Register for free to continue reading
Registration is a free and easy way to support our truly independent journalism
By registering, you will also enjoy limited access to Premium articles, exclusive newsletters, commenting, and virtual events with our leading journalists
Already have an account? sign in
Join our new commenting forum
Join thought-provoking conversations, follow other Independent readers and see their replies