Tilda Swinton: 'I need to work with people that I can trust'
The 'We Need To Talk About Kevin' star, who is behind the voice of a dog who might be able to see into the future in 'Isle of Dogs', discusses her third collaboration with Wes Anderson and her philosophy towards life and art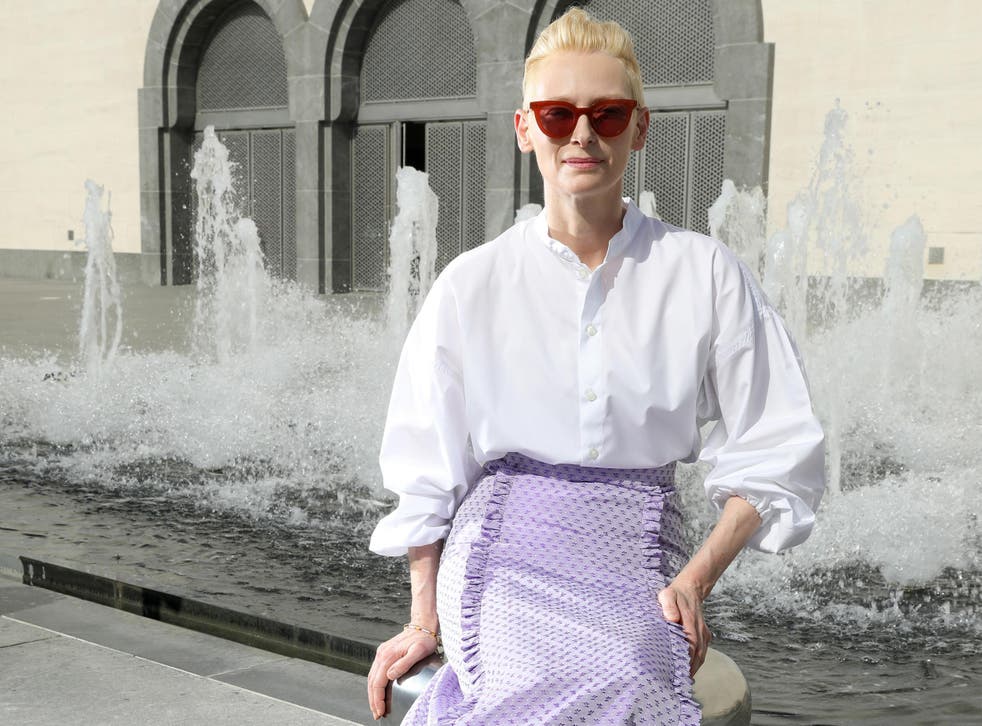 Even God seems happy channelling the ethereal quality that has made Tilda Swinton so unique among the stars of cinema. The actor is being feted with a tribute to her classy oeuvre at the Cartagena Film Festival, the oldest festival in South America, and moments after she starts to talk a Catholic sermon begins and the noise from it threatens to drown out her voice, but even the congregation seems differential and the singing is done at a level where it only manages to serve as a perfect otherworldly backing track to Swinton.
It's Swinton's first visit to Latin America. The trip to this beautiful port town on the Caribbean coast is also allowing the actor to acclimatise and get to know the country where next year she will be returning to star in Thai Palme d'Or winner Apichatpong Weerasethakul's Memoria, which he has said will explore colonial history and how collective memory can lead to fear.
Swinton says that she and Weerasethakul have been talking about making this film for over a decade. Fast friends, they curated the 2012 film festival Films on the Rocks Yao Noi together. Yet Swinton admits she was slightly thrown when a Colombian citizen had asked if the Academy Award winner was really going to act in a film made in the country. "I was struck by the fact that this person assumed that I was maybe going to drop this film for another project or another job," Swinton says. "But I learned something from this comment about what we are used to, we are used to actors moving from project to project in a slightly detached way, or that they are looking over their shoulder for a more interesting project, or more money, but that is not how I approach projects, I need to work with people that I can trust."
She needs to know that when she's travelling at 6am on a bus to the airport with a director promoting a film over several months that she likes to spend time in their company. It's why her CV is full of repeat visits to directors. She put herself in front of the late Derek Jarman's camera seven times in nine years after she burst onto the cinematic scene playing Lena in 1986's Caravaggio.
Later this month, she lends her voice to play the Oracle, a dog who might be able to see into the future in Wes Anderson's Isle of Dogs, her third outing with the unique director. Call Me By Your Name director Luca Guadagnino has called her up again to collaborate for a fourth time on his upcoming reinterpretation of Dario Argento's surreal horror classic Suspira. There have been revisits to the Coen Brothers, Jim Jarmusch and Bong Jooh-ho.
"I always choose the people first," she says of the choices she has made. "I knew from the beginning that out of fellowship comes conversation and then comes the project."
Guadagnino used the personal touch when he first tried to persuade Swinton to collaborate with him. "I approached her in 1995 through her agent, and so the agent gets a letter from an unknown Italian, who is not even writing in proper English, to ask for one of your most brilliant performers that you represent, what do you expect him to say," says Guadagnino. "Then I read in a newspaper that she was in Rome, at the time, presenting a collection of independent British films and I went there, to talk to her. She was so open that we started a conversation that is still in the making."
Born Katherine Matilda Swinton in 1960, the androgynous actor comes from aristocracy. Her family can chase their family tree back to the Middle Ages and she was a classmate of Diana, Princess of Wales, at West Heath Girls' School . But from her time in boarding school, she knew she wanted another life. "I grew up in a happy environment but I knew that I would need to find a different world, and I knew that I would not live my life in their world."
She wanted the collective experience and to tell stories. She joined the Communist Party when at Cambridge University. After graduating she joined the Royal Shakespeare Company appearing in Measure for Measure. Her early successes were on stage, although she always imagined herself in film. The transition happened first on the small screen appearing in Gothic mini-series Zastrozzi: A Romance before landing a role in Derek Jarman's Caravaggio in 1986. She was now living in London and had entered the world of artists; Nick Cave and John Maybury were among her peers. It was an era lived in the shadow of David Bowie, whose gender fluidity and performances were as challenging as they were spectacular. Swinton was inspired; "Bowie was the leader of the tribe. Even if he wasn't there at the time, he was around."
Enjoy unlimited access to 70 million ad-free songs and podcasts with Amazon Music Sign up now for a 30-day free trial
Sign up
Her philosophy towards life and art is captured in her comment that, "I don't have much use of the word normal. I don't know what it means. I only see the problems it causes people and to the same extent I think the word beauty is also problematic as it's difficult to imagine anything not being beautiful."
She is critical of the human instinct to reject new foreign things, that fear overcomes curiosity. She has also challenged gender norms throughout her career, following her work with Derek Jarman by exploring gender in Sally Potter's adaptation of Orlando. Swinton plays the immortal nobleman who one day wakes up to discover that she was a woman. For Swinton it's not the androgynous change that is most interesting but the way that artists are viewed according to their gender: "I know Virginia Woolf's interest in her working life and in particular in the book she wrote was not in the nature of androgyny, she talked about the nature of genius being beyond gender."
She won the Academy Award for Best Supporting actor and the BAFTA Award for Best actor in a Supporting Role for her performance as ruthless lawyer Karen Crowder in the 2007 film Michael Clayton. Swinton's other memorable hits include her performance in The Deep End (2001), as a mum protecting her son from being found guilty in a murder investigation, and the psychological thriller We Need to Talk About Kevin (2011), playing the mother of a teenager who commits a massacre at his high school. She is also known for her performance as the White Witch in The Chronicles of Narnia series (2005-10), based on CS Lewis's books. And of course, Only Lovers Left Alive (2013), in which she plays a vampire opposite Tom Hiddleston.
Isle of Dogs is set in the near future in Japan where dogs have been banished by humans to an island in Japan. The film won praise at the Berlin Film Festival for its comment on the rise of fascism and the animal nature of humanity. The connection of humans with the animal kingdom is one that interests Swinton in her every day and her approach to her craft. "I think, and I can't remember the Latin term, I think we are storytelling apes rather than wise apes," she says of our ancestral past. "We need to tell stories and tell stories about our day and our lives, we need structure and to fit in the world we live in every day."
And the older she has become, the more her views are being cemented. "I feel more and more that nature is all we have. We are animals and freaks and monsters and the better and sooner we acknowledge that the happier we will be."
Swinton also revealed that she's been secretly reprising another collaboration she's had with a director that started more than three decades ago. In 1986 an unknown Swinton starred in British director Joanna Hogg's graduation film Caprice and said that she worked on Hogg's upcoming film The Souvenir, which stars Robert Pattinson, Ariane Labed and Richard Ayode.
The Souvenir is the first of a proposed two-part project and Swinton saw similarities in the way that Jarman used to improvise and Hogg's approach. "She is an interesting director who lets you improvise and I loved working on it. There are some directors who love to do 1000 takes and I love that too. I'm really lazy in that respect, I like everything."
Tilda Swinton spoke at the Cartagena Film Festival (www.ficcifestival.com) this month; 'Isle of Dogs' is out 30 March, 'Suspiria' and 'The Souvenir' are out later this year
Register for free to continue reading
Registration is a free and easy way to support our truly independent journalism
By registering, you will also enjoy limited access to Premium articles, exclusive newsletters, commenting, and virtual events with our leading journalists
Already have an account? sign in
Register for free to continue reading
Registration is a free and easy way to support our truly independent journalism
By registering, you will also enjoy limited access to Premium articles, exclusive newsletters, commenting, and virtual events with our leading journalists
Already have an account? sign in
Join our new commenting forum
Join thought-provoking conversations, follow other Independent readers and see their replies