Tom Petty: Remembering the singer who picked up the baton for American rock
However much hurt was at its core, his music never neared despair, but instead had a rueful optimism that was all his own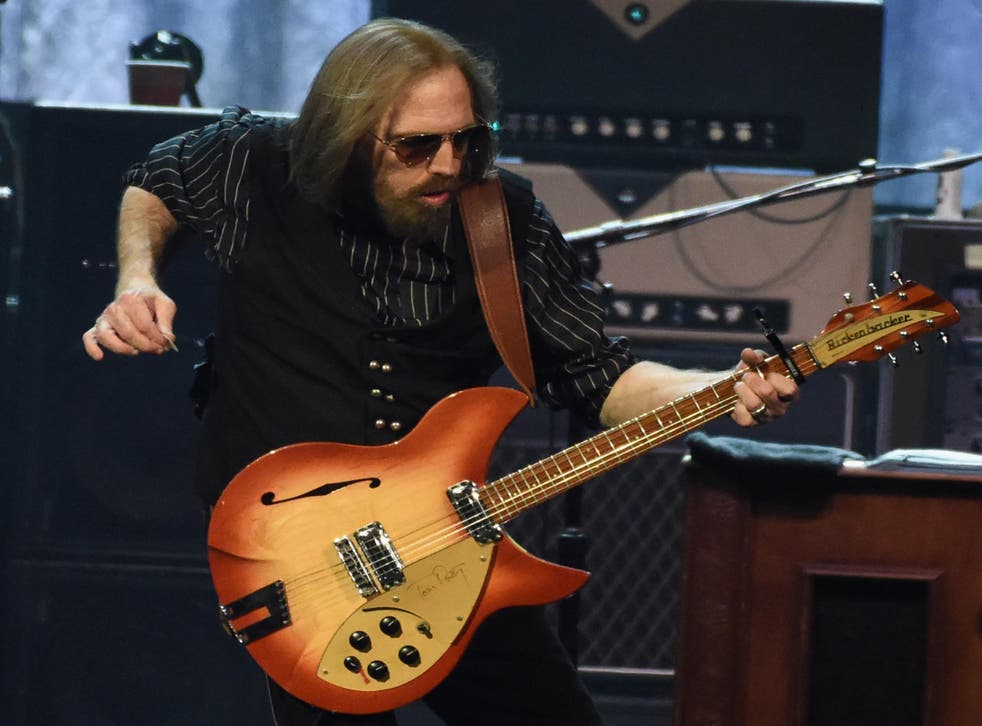 Though his heart was forged as a boy in the Sixties, Tom Petty was one of the few rockers who were actually enhanced by the Eighties. It was his steadiness of purpose which bridged those eras and earned his fans' loyalty. You can see it in the simple black waistcoat just like Dylan's in 1965 with which he greeted the New Romantics, and his eternally centre-parted long hair. Fashions blew past him, but Tom Petty stuck to his guns. His biggest UK hit, "I Won't Back Down", summed up the qualities that people loved.
Though he was just a few years younger than the Sixties icons among his Traveling Wilburys bandmates, Dylan and George Harrison, he also offered the sense that you were getting a leaner, keener version of all the bands Petty and his Heartbreakers irresistibly recalled. The era of the Byrds and Creedence Clearwater Revival had filtered down into him, and a Petty show offered a more reliable version of those bands' essence than would be likely from their real members. Musically and personally, he was like a kid brother to the actual baby-boomer stars. No one ever mistook Petty for their equal. But he could speak their language, and honoured and continued their spirit.
Also like Creedence, he stripped American rock back to first thrilling principles when he and the Heartbreakers broke through in the Seventies. They picked up the baton for that kind of American band.
Tom Petty: A Life in Pictures

Show all 8
Bruce Springsteen was born a year earlier and similarly took American rock back to its roots at a time when it was too often airbrushed. The differences between the pair suggest Petty's special qualities. In contrast to the Boss's epic national statements and gruff roar, Petty had the reedy, light voice of a regular guy, straining to put himself over. His vocal similarity to Roger McGuinn was often remarked upon early on, not least by McGuinn himself. In the Wilburys later, Petty's singing was easiest to mistake for Dylan's. Really, though, it was the voice of a man steeped in the inflections of his heroes.
Then there was his personality. My only encounter with him was on the telephone from his Malibu home, in the middle of the English night maybe a decade ago. Typically, he was talking about the songs of another musician, Neil Young. I don't remember what he said, but how he said it. He was quiet, he was modest and he was generous. Listening to his soft Southern drawl was comfortable almost to the point of being meditative, and you felt the lights were low where he was too. Afterwards, I thought: what a gentleman.
The hit albums of his Eighties and early Nineties pomp were produced by two then-fashionable English producers, Dave Stewart on Southern Accents and fellow Wilbury Jeff Lynne for Full Moon Fever and Into the Great Wide Open. When you listen to them now, the beats slam harder, and the production style has been subtly burnished for that proto-digital age. But the albums' artistic success lies not in their punchy, clean though not antiseptic sound, but Petty's more searching look at himself.
His Gainesville, Florida hometown and the narrow redneck thinking of his dad Earl – a man of charisma, rough rectitude, and petrifying unstable moods – had been a culture Petty was desperate to leave far behind. And when his initially cagey lyrics became more expressive in the Eighties, they articulated these feelings of flight and freedom.
"After all it was a great big world, with lots of places to run to," he'd sung as far back as 1977's "American Girl". "Runnin' Down A Dream" (1989) restated that runaway spirit, while "Into the Great Wide Open" updated The Byrds' "So You Wanna Be a Rock'n'Roll Star" (which Petty had already covered) to both debunk and yearn for the rock'n'roll life he lived till the end. "The sky was the limit," he sighed. "The future was wide open..."
However, much hurt was at its core, his music never neared despair. Instead, it had a rueful optimism that was all his own. Tom Petty and the Heartbreakers were made for sunny days and big skies. The pop sensibilities of Stewart and Lynne just brought out what was always there.
At the time of his death, Petty had long ago achieved his own dreams of success. More even than his songs, their vehicle had been the Heartbreakers. Watching them on his penultimate trip to the UK in 2012, when they joined Springsteen and his E Street Band and Pearl Jam as headliners at the Isle of Wight Festival, their joint achievement was clear. That weekend, those three fine American bands were passing a sacred trust between them. Tom Petty never believed he was doing anymore, or less, than that.
Join our new commenting forum
Join thought-provoking conversations, follow other Independent readers and see their replies