Van Morrison: Seeking the man inside
The famously secretive and irascible Van Morrison is - grudgingly - prepared to have a conversation. So, has he mellowed? Maybe a little, reckons Paul Sexton
Friday 07 April 2006 00:00 Comments
Van Morrison: Seeking the man inside

Show all 2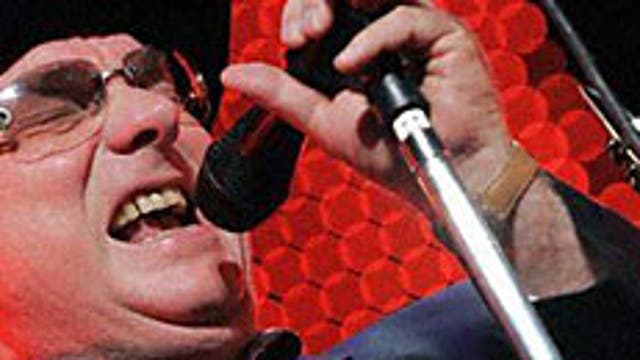 The lobby of the Grand Hotel in Brighton may not match the bustling splendour of its 1930s celluloid namesake, but the human traffic is constant as I sit waiting for Van Morrison - or at least a summons from his manager. Idly observing passers-by, I notice a short, balding man in a cardigan passing unnoticed into the lift, and muse for a moment on the mild coincidence of seeing someone who vaguely resembles Van Morrison's slightly shifty-looking brother. When the realisation dawns of who it really is, it comes with a kind of respect that one of the most revered and significant songwriters of the rock era has still not blown his cover after more than 40 years of fame.
Morrison's ability to maintain oil-and-water separation between his creative persona and his reluctant public self is almost as fabled as his prodigious recorded oeuvre. It's all the more singular in an era in which a star could be constructed and forgotten again almost before the Belfast bard had got out of the lift.
Private to the point of clandestine about his personal affairs, Morrison has rarely allowed even a chink of light to shine into that domain. For all his known dislike of commentators reading anything into his album covers, one rare glimpse came on the cover of 1995's Days Like This. It pictured him behind customary dark glasses, walking the dogs with his longtime partner and a former Miss Ireland, Michelle Rocca. By the standards of a professional recluse, it was almost a Hello! magazine moment.
More often, he has issued "keep off my land" warnings to would-be sensationalists, his acerbic disposition in stark contrast to the often elegiac grace of his body of work. "If they didn't really know me way back, how can they know me now, in any respect?" he wrote scathingly in "New Biography" from 1999's Back On Top.
The Irishman's appetite for isolation is matched only by his undimmed motivation to keep on working. Since emerging as the teenage engine of the tempestuously short-lived beat band Them in 1963, he has averaged close to an album a year, and at 60, continues to play live with disciplined regularity.
Journalists' war stories about failed attempts to get something meaningful on tape with Morrison have peppered his career, and his celebrated wilfulness has been experienced not just by the media but by fellow musicians. One tale has him in a long, late-night, post-gig barroom exchange of views with a member of his band, who argued his ground on a particular point until weariness got the better of him and he told his employer at last that he agreed with him. Momentarily taken aback, Morrison is said to have paused for a second before snapping: "Well, in that case... you're wrong!"
Salman Rushdie once wrote of meeting Morrison late one night in Bono's living room, after which he was "treated to the rough edge of the great man's tongue". With admirable understatement, he further observed that Van "has been known to get a little grumpy towards the end of a long evening".
Morrison's unambiguous disdain for the trappings of his profession gave him particular notoriety in 1993, when he became the first living inductee into the Rock and Roll Hall of Fame not to show up for his award. But, for all his continuing reluctance to take part in anything as crassly commercial and downright meddlesome as an interview, I sense in his demeanour that Morrison has mellowed at least somewhat.
I last met him 20 years ago, during a grudging promotional round for No Guru, No Method, No Teacher. That album, its title inspired by his campaign to discourage writers from intellectualising his work, signalled an artistic renaissance and a reconnection with the wider world after years of perceived introspection - even if that was the judgement of critics.
Enjoy unlimited access to 70 million ad-free songs and podcasts with Amazon Music Sign up now for a 30-day free trial
Sign up
Then, Morrison was at pains to tell me, almost in self-justification, that he was "jaded". When I asked, like some cheap shrink, how long he had felt this way, he said: "Since I was 18." That was the age at which the son of a Belfast shipyard worker, born two weeks after VJ Day in 1945, had formed Them.
The media, it seemed, were largely held to account for such mental fatigue, with their relentless overinterpretation of his output and insistence on prying into personal circumstances that he deemed irrelevant to the work. He gave me the impression of pining for the innocence of his teenage years in Northern Ireland, when "there was nobody saying that [the work] was anything," and he had left school at 15 to chase dreams dangled in front of him by the mystical blues of Leadbelly and Sonny Boy Williamson.
"I'm basically an introvert, and that's OK," he continued in that 1986 meeting. "For a long time, people used to tell me what they thought Van Morrison should be like, and all this nonsense. At the time I used to listen to practically everybody. Now I don't listen to anybody."
In the intervening years, the tireless nosiness of the fourth estate has not exactly endeared us to him. The date and location for this meeting changed five times in as many weeks. But now, with a recording and concert turnover that would embarrass many musicians half his age, the self-confessed workaholic has arrived at an easier accommodation with the expectations of his profession.
The reason, it seems, is a sheaf of reviews for Morrison's new country-themed album Pay the Devil more consistently positive than any since the expressive outpourings that produced No Guru, Avalon Sunset and other albums in the second half of the 1980s. Even the title of the new album registers his acceptance of the obligations of his job, and the need to "keep on rolling from town to town," as the song says. "It's the old folklore saying about 'the devil to pay'," he tells me.
He's settled gingerly on a hotel sofa, still in his cardigan and seeming more vulnerable without his dark glasses. "The reality of doing this is, it's not free," he goes on. "There's a price to pay for doing it, same as everything's got a price."
Nevertheless, once again Morrison has dug deep to make the emotional investment, and once again it has its reward in the music itself. Devil gathers a dozen covers of venerable country tunes recorded by the aforementioned Williamson, George Jones and the lesser-celebrated Nashville mainstay Webb Pierce, and mixes in three of his new compositions of sympathetic hue.
It's a successful marriage. The country mantle fits as snugly as those he has assumed on albums of jazz, skiffle and blues in the past decade or so; so comfortably as to make a nonsense of the fact that Morrison recorded the album in Ireland with his regular band and that, until a launch concert at the Ryman Auditorium last month, he'd never even been to Nashville, never mind played there.
"I've done some country stuff before in the Seventies, it just didn't come out," he says. "On Tupelo Honey, a couple of songs on there were straight country - 'When That Evening Sun Goes Down,' 'Starting a New Life' - and 'Tupelo Honey' itself is very country. So it's nothing new, writing in this way."
That "new life" was the one he had started with his American wife of that time, Janet Minto, then known as Janet Planet and the mother of their daughter Shana, who has recorded with him. Morrison met Janet when he was just 21 and set up home with her in Massachusetts, and then Woodstock. Tupelo Honey was released in 1971, by which time Morrison was a true transatlantic darling of the burgeoning album-rock scene.
More widely appreciated in America at that time, he had already scored not just hit albums but two Top 10 US hits, with "Brown Eyed Girl" in 1967 (absurdly overlooked in the UK then) and 1970's "Domino". But Astral Weeks, which went on to become his defining work for many, was cold-shouldered on its 1969 release. No less a journalistic eminence than Nick Kent derided Morrison's vocal performance on the record as sounding like "José Feliciano's stand-in".
Musing further on the sonic ingredients of his later work that were consumed by George and Violet Morrison's boy as a 1950s youngster, he adds: "We tend to forget that when I started, there wasn't a lot of electric music going on. If someone had an electric guitar, that was a major event. And that was a bit later on. So it was country/skiffle, folk music; but it was all under the same umbrella, it was all acoustic music.
"Then there were people like Louis Prima, which was a different take on rock'n'roll, rhythm and blues. Johnnie Ray was like the backdrop for everything I can remember, hearing his music on the radio and people playing it on 78s during that period. And a lot of people were playing country then too."
Warming to the safe subject of his favourite records, he is informed and informative. Touching on his cover of "More and More", Pierce's 1954 country chart-topper penned with the prolific writer Merle Kilgore, he confides that it was "probably the second song I ever learnt. It goes that far back." He has also revisited Hank Williams's much-covered "Your Cheatin' Heart", and other songs closely associated with the ill-starred legend, such as "My Bucket's Got a Hole In It" and "Half As Much".
George Ivan Morrison's Belfast education into the mysterious allure of country and western was fully rounded, even if it didn't manifest itself until later. That was after his parents had bought Morrison his first acoustic guitar and he'd corralled a bunch of fellow 12-year-olds to form the skiffle outfit The Sputniks, and then played with Deannie Sands and The Javelins. Tentative steps into soul, rhythm and blues came next with an Irish showband called The Monarchs. Now also wielding a saxophone, he left school, qualification-free, to tour with them, choosing day jobs that would fit snugly around their rehearsals.
That led to the formation of Them, now regarded as one of the most authentic R&B-injected beat combos of the era. Apart from their hits "Baby Please Don't Go" and "Here Comes the Night", * * Morrison's imagining of the hugely influential "Gloria" while still a teenager - a new wave classic before there was such a phrase, and manna to thousands of garage bands - showed a precociousness built on an exhaustive musical upbringing. "I was lucky. The music was in my household, my father [an avid collector] had the records. He also had jazz records and blues and gospel, so I was born into this situation. I call it being brainwashed in the right way.
"There was a guy who lived in my street that played all Hank Williams stuff, but I seemed to zone in more on Webb Pierce, Ray Price, Faron Young, these kind of people. Also Tennessee Ernie Ford, his earlier stuff, which was a mixture of boogie-woogie and country."
It seems that a lot of the narrators from this phase of Nashville's history are heroic, politically incorrect failures, I point out - particularly the benign drunk in another Pierce hit, "There Stands the Glass" and the comically abject loser in George Jones's 1965 single "Things Have Gone To Pieces", written by Leon Payne.
"There's a lot of that heroic failure in country music. These are things that are common to a lot of people, because it's working man's music. It's very similar to blues, and they probably have the same source, actually. Like John Lee Hooker said, 'Blues is the truth,' and that can apply to most of the lyrics of country music. It's addressing the truth, it's very straightforward.
"But country songs are tongue-in-cheek, and they're meant to be. Something like 'Things Have Gone To Pieces'; there's a bit of comedy in there, so even when you have George Jones singing it, there's always that twist."
Unsurprisingly, Morrison has no truck with modern, cookie-cutter country, churned out as if from some central factory and paranoiacally conservative in every sense. Indeed, he readily admits to being entirely out of step with all modern trends. "I was never a great fan of rock music, even from the very beginning when the word originated. And even before that I wasn't a big fan of pop music. Actually, most pop music today I hate, I can't stand it. My tolerance for rock music, the way it's being interpreted, the instrumentation, the loudness... it doesn't get through to me.
"So I'm going back to a time before all that. My musical sources come from way, way before any of this stuff existed. I'm coming from a more archaic, atavistic kind of source. It's almost pagan, almost folk-music tradition before rock'n'roll, before electric. Like Ewan MacColl singing with a finger in the ear. I'm like anybody; I just do what I do and I like what I like.
"I still collect records. I'm always finding more stuff. A lot of it, luckily, is coming out on CD. Also, when I was a kid I couldn't afford it. It was a big thing for me to get a Bo Diddley EP or something."
Watching Morrison in concert at the Brighton Dome later, his body shape in his uniform of hat, shades and suit reveals someone more comfortable with his public self than the figure who used to stand with his back to the audience. We've come some way from the early solo gigs of the late 1960s, when he would reportedly stop singing if he heard the audience talking, and make up riffs on the spot that even the band hadn't heard before.
Here, half a dozen of the country songs integrate well with a selection of mainly recent catalogue material. He offers a fresh, imaginative arrangement of his inescapable theme song "Moondance" and a pleasingly jaunty "Cleaning Windows", his affectionate 1982 appreciation of those days of odd-job innocence in Belfast. The song makes it clear just how much he missed that pre-"jaded" era of low expectations, as he carried his ladders down the street past the bakery and went home to listen to Jimmie Rodgers in his lunch break.
How, now, does he choose set lists from such an immense repertoire? "The band have to know a lot of songs," he says. "It's just what I feel is right at the time that I'm going to call, and the band know enough that I can call any one of 50 songs. That doesn't always happen, because of the flow on stage. You've got to keep it moving, so it's hit and miss, really. I only know the first couple of songs, and from then I just call them out."
Morrison feels more of a sense of obligation towards his best-known songs than you might imagine. "Of course you do in certain situations, especially with bigger gigs, but I'm not really a 'big gig' act. Some of the larger places outdoors in summer, I feel obligated to play [the hits]. I feel like they want more of the known stuff, so I just do it, or more of it.
"If you get into introspective blues stuff, or something where you're stretching out a bit, large audiences don't respond to this, so you have to give them what they want, basically. It's why I don't do bigger gigs, actually."
His itinerary seems to be an endless tour to match Dylan's, but he begs to differ. "I don't really tour. This is another misconception. I stopped touring in the true sense of the word in the late 1970s, early 1980s possibly. I just do gigs now. I average two gigs a week. Only in America do I do more, because you can't really do a couple of gigs there, so I do more, maybe 10 gigs or something there."
Off the road, he's an anonymous everyman, listening to his record collection, walking and watching television. In 1992, Morrison was awarded an honorary Doctor of Letters degree from the University of Ulster, and said later that if he was offered a position there, he would take it up immediately.
Even if he has had more than his fill of being overanalysed by the media, Morrison clearly has a strong sense of his own place. "There's people who work on songs, and craft songs," he says, "and they're thinking about every line.
"There's poets who do that, and there's the other kind of poetry they call the romantics, which comes from a different place of being in touch with nature, so that's kind of where I'm coming from. If there's any sort of lineage in this, it's people like that. Or in Ireland - Patrick Kavanagh, or Joseph Campbell, these kind of lyricists.
"It's more like an instinctual thing; that's where the song's from, rather than sitting down and thinking more intellectually, like Seamus Heaney. He's a very intellectual poet. I'm coming from the other place."
If he can't stand media scrutiny, I wonder how on earth Morrison deals with the presumably sycophantic inquisitiveness of his diehard fans. "I think fans just take it as what it is," he says. "There's an interview with Ray Charles where somebody said, 'Why did you pick these songs, how do you do it?' and he said, 'Well, I listen to the words and if I like the words, I do the song. It's as simple as that.'
"If you write a song, you feel, 'I'm going with this lyric'; there's no hidden things. I mean, maybe there were people who [did] write these mystery things; to me, a lot of that is the Sixties mythology. There was a period where everything, no matter what it was, was mythologised. But I think most people just take it as what it is, and - more importantly - how does it affect you? What emotion do you feel, at the end of the day?"
'Pay the Devil' is out on Exile/Polydor. Van Morrison plays UK shows in May and June, including Hampton Court Palace on 15 and 23 June
Register for free to continue reading
Registration is a free and easy way to support our truly independent journalism
By registering, you will also enjoy limited access to Premium articles, exclusive newsletters, commenting, and virtual events with our leading journalists
Already have an account? sign in
Join our new commenting forum
Join thought-provoking conversations, follow other Independent readers and see their replies