The Independent's journalism is supported by our readers. When you purchase through links on our site, we may earn commission.
How the secondary ticketing market is bleeding fans dry and the bands trying to stop them
Industrial-scale touting has grown into a market worth billions of dollars worldwide thanks to secondary ticketing websites – but an industry-wide campaign and some of the biggest acts in music are beginning to fight back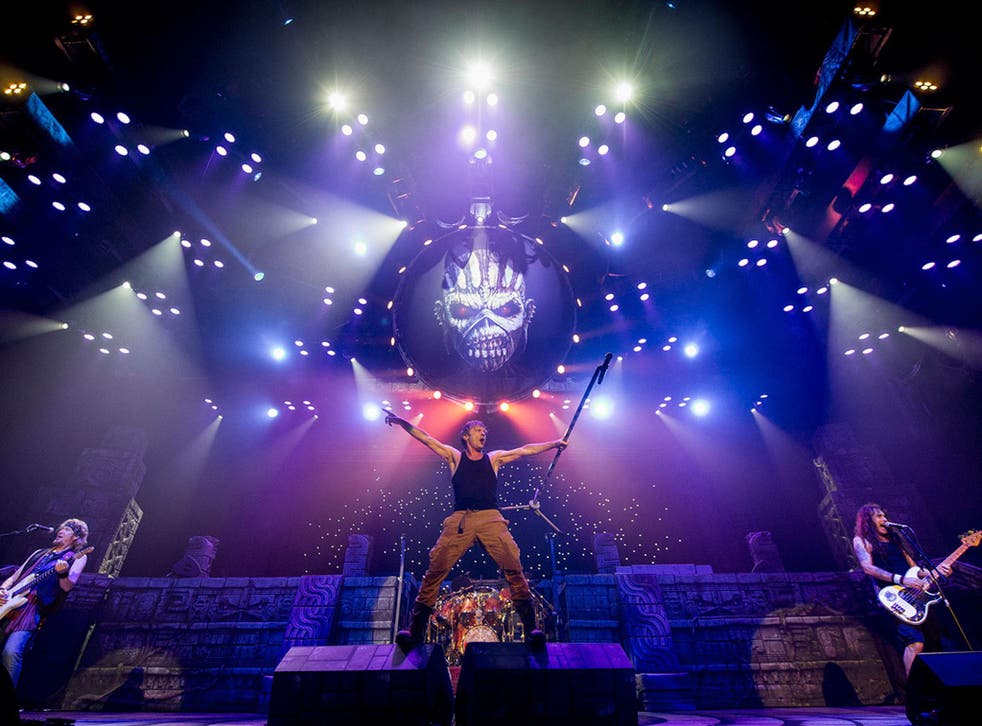 As manager of one of the most beloved heavy metal bands of all time, Rod Smallwood is a man you do not want to mess with.
Since 1979, the West-Yorkshire born music mogul has taken Iron Maiden from the dingy, dilapidated back rooms of east London boozers to the gargantuan stages of the world's largest arenas, stadiums and festivals.
Over the course of 42 years, Iron Maiden have sold an estimated 90 million albums worldwide and continue to gain momentum and fans, bucking the trend of almost every band on the planet who are playing well into their fifth decade.
In 1985, Maiden played to 350,000 attendees at Rock in Rio (sub-headlining the first night of the 10-day festival to Queen) and they remain a huge draw today, with over 100,000 tickets sold in one day for their 2017 UK tour.
Bands don't get to that size and stay relevant this long without hardline management and Smallwood, alongside his business partner Andy Taylor and their company Phantom Music Management, is one of the most respected managers in the music industry.
In recent years however, a scourge has blighted Smallwood's life which has had a damaging effect not just on live music, but theatre, comedy and sports as well: the secondary ticketing market.
In November 2010, Iron Maiden announced a 10-date UK tour in support of their 15th studio album The Final Frontier.
Tickets went on sale on 20 November and by the time Smallwood returned to his office two days later, a whole swathe had appeared on secondary ticketing websites. These tickets had been marked up dramatically, sometimes five or six times the £40 face value that had been set by the band and management.
Smallwood was incensed that faceless touts were profiteering off fans who'd missed out by charging extortionate amounts in a bid to line their own pockets.
Enjoy unlimited access to 70 million ad-free songs and podcasts with Amazon Music Sign up now for a 30-day free trial
Sign up
In order to get a precise barometer of the problem, he asked an associate to take screenshots of every page selling Iron Maiden tickets across three secondary sites. In just 48 hours, 6,294 tickets had been made available on those websites alone, all at widely inflated prices.
As he relates this story over the phone, a sudden steely determination affects his thick Huddlesfieldian brogue, and with a seething intensity, he remarks: "That's when I started to do something about it."
And do something about it he did. Cut to five years later and Iron Maiden announced the UK leg of their The Book of Souls tour in September 2016.
Smallwood was determined to do everything in his power to prevent tickets making their way on to the secondary market again. General sale began on 30 September, and three days later the team at Phantom repeated the sweep of secondary sites alongside the painstaking screenshot taking process.
Except this time, it wasn't so painstaking – over the weekend just 207 tickets cropped up, all of them on ViaGoGo.
Of those 207, most of them were identified as bogus (sometimes referred to as false inventory) and were put in the hands of the relevant authorities investigating criminal activity.
The few genuine tickets which had made their way onto ViaGoGo were immediately made null & void. Smallwood had made his stance abundantly clear; any attempts made by touts to profit from Iron Maiden's fanbase would not be tolerated.
How did Smallwood and his team at Phantom decrease the number of tickets appearing on secondary sites by over 95 per cent between the two UK tours? The biggest factor was adopting paperless ticketing, an approach that's already been embraced by a wealth of big acts, including Red Hot Chili Peppers, Muse, AC/DC, Metallica, Bruce Springsteen and Nine Inch Nails to name but a few.
Rather than present a physical ticket, fans attending paperless shows simply present the debit or credit card they used when booking and a form of photographic ID at the point of entry.
Paperless ticketing has come under criticism in the past but almost exclusively from those who stand to make gains from secondary ticketing. In accordance with Ticketmaster and Live Nation, Iron Maiden managed to implement either 100 per cent or partial paperless ticketing on all 13 dates of their 2017 UK & Ireland tour.
Such efforts need to be more prevalent across the industry among big artists and their management; the secondary ticketing market is widely estimated to be worth $8bn a year world-wide (around £1bn in the UK) although there is so little transparency when it comes to the accounts of the key players that in reality, it's likely to be much more.
The secondary market is dominated by the big four, namely Seatwave, Stubhub, GetMeIn and ViaGoGo. All four describe themselves as online marketplaces or platforms where fans can buy and sell tickets to one another. The purported purpose is to give fans no longer able to attend a concert, show or sporting event the opportunity to resell their ticket(s) and recoup their money.
Some transactions on these sites no doubt are genuine fan-to-fan exchanges but there's overwhelming evidence that suggests a huge proportion of tickets are sold on secondary sites by professional ticket touts (sometimes referred to as power brokers or power sellers).
The overwhelming number of tickets that appeared across the platforms in 2010 for Iron Maiden is a case in point. "Look at the number of tickets that were made available on those sites practically overnight," Smallwood says.
"The implication is that 6,294 people decided within two days of buying a ticket for a concert taking place in 9 months' time, all of a sudden they can't go. I mean it's sheer nonsense, it was just profiteering to the worst degree. The secondary platforms give the real heavy duty touts the ability to sell tickets on an industrial scale."
The power brokers buy up vast quantities of tickets by enlisting the use of state-of-the-art bot technology. Adam Webb of FanFair Alliance, an industry-wide campaign set up to galvanise voices opposed to industrial ticket touting, explains how touts can use this technology to their advantage.
"Bots are essentially a piece of software that is designed to carry out a repetitive job very quickly. There are lots of legitimate uses for bots; if you have a very repetitive monotonous task, they're fantastic.
"But obviously in this case, touts are using quite sophisticated software to bulk-buy tickets and make multiple transactions at the same time, thereby harvesting large volumes of tickets to sell through secondary websites at wildly inflated prices."
In March 2017 the Government enacted measures to curb the growing power of the secondary ticketing industry by introducing unlimited fines for those who use bots to buy tickets in bulk.
While these sanctions are undoubtedly a welcome move, there are other methods with which touts can harvest large quantities of tickets, so these fines will by no means solve the problem of touting through secondaries overnight. Not only that, but enforcing the law has proved difficult in some cases.
The 2015 Consumer Rights Act specifically states that consumers must be made aware of the original face value of tickets sold on secondary websites, any restrictions on the ticket and standing or seating information, such as block, row and seat numbers.
Consumer rights group Which? has published findings that state the secondary market is failing to comply with these new laws and a cursory glance at ViaGoGo shows no such information displayed on the vast majority of their tickets.
In fact, ViaGoGo are quickly garnering a reputation as the most unscrupulous member of the big four.
Its website employs scare tactics when attempting to buy tickets; potential customers are notified of the number of people currently viewing tickets they're trying to buy (usually very high) and pop-ups inform you of the percentage of tickets currently left (usually very low). Scroll through the tickets and they will literally appear to sell before your very eyes, flashing in a bright primary red colour as 'just sold!'.
ViaGoGo have been accused of displaying "false inventory", tickets that aren't actually in their possession, with the insinuation being that these "just sold" tickets are fake and used as a way to pressure buyers.
Whilst this can't be proved due to the company's current lack of transparency, The Independent regularly found tickets available days later for shows that the website was insisting were about to sell out momentarily. We contacted ViaGoGo to ask how this could be happening but failed to get a response. It seems the moment you try to buy tickets from ViaGoGo, the entire website is designed to make you react quickly and think as little as possible.
Damningly, ViaGoGo failed to appear for a ticket abuse hearing at the House of Commons on 21 March 2017. Of the big four, they are the only one who have so far failed to send a representative to the hearing, which was setup in response to to Professor Michael Waterson's independent report into secondary ticketing.
As well as recommending the enforcement of the Consumer Rights Act, the 227-page Waterson report, published in May 2016, advocated a series of proposals including more transparency in identifying sellers and ensuring their details are made available to buyers. Webb is convinced that clarity between buyers and sellers is the key to cleaning up the secondary market.
"Ticket resale is a curious and unique market in lots of ways because any other peer-to-peer online marketplace is usually based around some semblance of transparency and trust between buyers and sellers. But the big four anonymise the sellers; that's a massive issue.
"If people buying tickets don't know the identity of sellers, it prevents consumers seeing who's selling in bulk. That in turn prevents us from seeing who's buying in bulk and makes it so much more difficult to work out how those power brokers are getting a hold of tickets."
But there is evidence to suggest that the secondary websites make sellers purposefully anonymous so that promoters, in cahoots with artists and management, can put aside an allocation of the most sought-after tickets for sale exclusively through the secondary market.
Consequently, fans never get the opportunity to buy these tickets at face value through authorised primary ticket sellers.
Smallwood is aware of the practise through seeing it first-hand and, in one instance, even had a representative from a secondary ticketing site approach him seeking to make a back-room deal. 'He explained that if we were to give him 500 or 1,000 tickets per venue, they could mark them up at an agreed level and a percentage of the differential could go to charity, the artist or me. It was the 'me' part that really pissed me off – I mean, it's just outrageous, it's almost bribery!" Smallwood slung the representative out of his office with his tail tucked firmly between his legs.
Sadly, not all management are as principled as Smallwood and these sorts of back-room deals are becoming more common place within the music industry.
"A number of artists we know of give huge amounts of tickets to the secondaries," Smallwood confirms. "It creates a situation where promoters that are unscrupulous enough to set aside secondary allocations can offer the artist more money for their tour, which puts pressure on every promoter to do it. Essentially, they've got to be in the secondary business, otherwise they're out of the music business altogether."
There is a worrying interconnected nature to the music industry that allows such dodgy back-room deals to be conducted with relative ease.
Live Nation, the UK's largest promoter, own Ticketmaster, the UKs largest primary ticket outlet. In turn, Ticketmaster own both Seatwave and GetMeIn, two of the big four. While there's no direct evidence that implicates these companies specifically, it's pretty easy to see how such incestuous ownership could lead to allocations being put aside for exclusive sale on the secondary market.
Certainly, the speed with which tickets appear on certain secondary sites (usually seconds after general onsale, in some cases, before tickets have even officially been put on sale) suggests there's something fishy going on behind the scenes; until there's more transparency, primary outlets and promoters can't be above suspicion.
That said, there is a paradox to Ticketmaster owning two secondaries; Ticketmaster are credited with pioneering and developing the paperless ticketing system adopted by Iron Maiden, Muse, Bruce Springsteen et al that is being used to help combat touts (something Ticketmaster are at pains to point out as often as humanely possible).
Smallwood is adamant that many of his friends who work for Live Nation worldwide can't abide the practise of marking up tickets for the secondary market and maintains that both Live Nation and Ticketmaster were immensely helpful when setting up the paperless ticketing system for Iron Maiden's 2017 tour.
Ticketmaster also agreed not to list any Maiden tickets on either of their secondary ticketing sites at Smallwood's request, as did Stubhub; another key factor in their successful campaign.
However, Ticketmaster's ownership of Seatwave and GetMeIn is, for the moment, undeniably a worrying conflict of their public position on secondary ticketing.
Neither of the big four specify a limit on how much sellers can charge for tickets – and why would they?
After all, profits in the secondary market are taken through commission on tickets sold; the more they sell for, the higher their profits. The big four rely on the professional touts for their highest revenues and give incentives and preferential treatment to those selling a high volume of tickets. The secondaries take their cut from the booking fee.
Historically, these fees have been controversial even in the primary market, with authorised outlets (or primary sellers if you will) taking flack for charging £5, £10, sometimes £15 as a "processing fee". But the secondaries make those fees seem like loose change by comparison.
The formula to work out such fees isn't transparent by any means but depending on the site, they seem to range from 18 per cent to 35 per cent per ticket.
Below is a table of four tickets, taken at random to see Ed Sheeran at The O2 in London on 1 May 2017. The face value of each ticket is £75 but all tickets in this table are priced between £249 and £399 each (although as of 7 April 2017, you can pay anything between £142.54 and £900 per ticket on the big four, before processing fees). All prices below are before adding a charge for delivery.
Ed Sheeran tickets prices between £249-£399 on secondary sites and their relevant booking fees (7 April 2017)

Website

Ticket Cost (each)

Booking Fee (per ticket)

Percentage

GetMeIn

£330.00

£59.59

18.06%

Seatwave

£335.00

£60.99

18.21%

Stubhub

£249.00

£52.79

21.20%

ViaGoGo

£232.32

£79.20

34.09%
The big four use clever algorithms to ensure their websites are the first results to appear when using search engines, no doubt in the hope that most consumers won't ever get onto an authorised primary website and realise that tickets can be purchased for much less.
Using Ed Sheeran as an example, the first four Google results all lead you to secondary sites. You have to scroll down to the fifth entry before getting to an authorised ticket seller (in this case, Ticketmaster) and 7 out of the first 10 entries are secondary outlets as opposed to primary.
ViaGoGo and GetMeIn describe themselves as "official" outlets, a deliberately misleading term that's designed to fool the public into thinking they're buying from the safest, cheapest, reliable source.
So what should you do if you miss out on tickets to something you're desperate to go to? Well, there are other options – a number of ethical secondary websites are beginning to crop up that only allow transactions to take place at the face value of the ticket.
Twickets, Resident Advisor and Swap My Ticket may not have the backing or money that the big four have, but they're focus is on fan-to-fan exchange rather than lining their own pockets. Some ticket agents, such as Dice, are pioneering the idea of locking tickets to a user account and using your phone as your ticket.
SeeTickets have just announced their own ethical fan-to-fan marketplace – it's in its early stages, but if a company as big as SeeTickets can operate an ethical ticket exchange, there's no reason any of the other primaries can't. Additionally, FanFair Alliance have recently published a guide with tips on how to prevent getting stung by secondary sites.
The fact is there are only a limited number of tickets available for every concert, theatrical production or sporting event and every ticket placed on secondary sites above face value is another chance that you'll be unable to attend without paying an extortionate amount.
You receive nothing in return for the extra monies paid; there is no benefit to purchasing from the secondary market, as a matter of fact, considering the false inventory that appears on these sites and the artists seeking to revoke sales made over them, you're paying more money for more risk, a transaction that no economist would ever recommend. Some call secondary ticketing free enterprise, but Smallwood dismisses that notion eloquently.
"If I go down to Brighton station and buy every ticket on the train to London and then set up a table outside and sell those tickets at twice the price, am I going to get lynched? If you control the supply, you control the price and secondary ticketing gives control to those looking to profit while adding absolutely no value whatsoever.
"At the end of the day, people want to see their sports team or go to the theatre or see a band; they don't really want to line the pockets of the dodgy bastards selling tickets outside. But they are, time and time again."
Join our new commenting forum
Join thought-provoking conversations, follow other Independent readers and see their replies