Wild Beasts - The art rockers with a touch of animal magic
Literary references abound in the lyrics of the Lake District band Wild Beasts, but the 'country kids' are passionate, not pretentious, they tell Elisa Bray
Elisa Bray
Friday 18 November 2011 01:00 Comments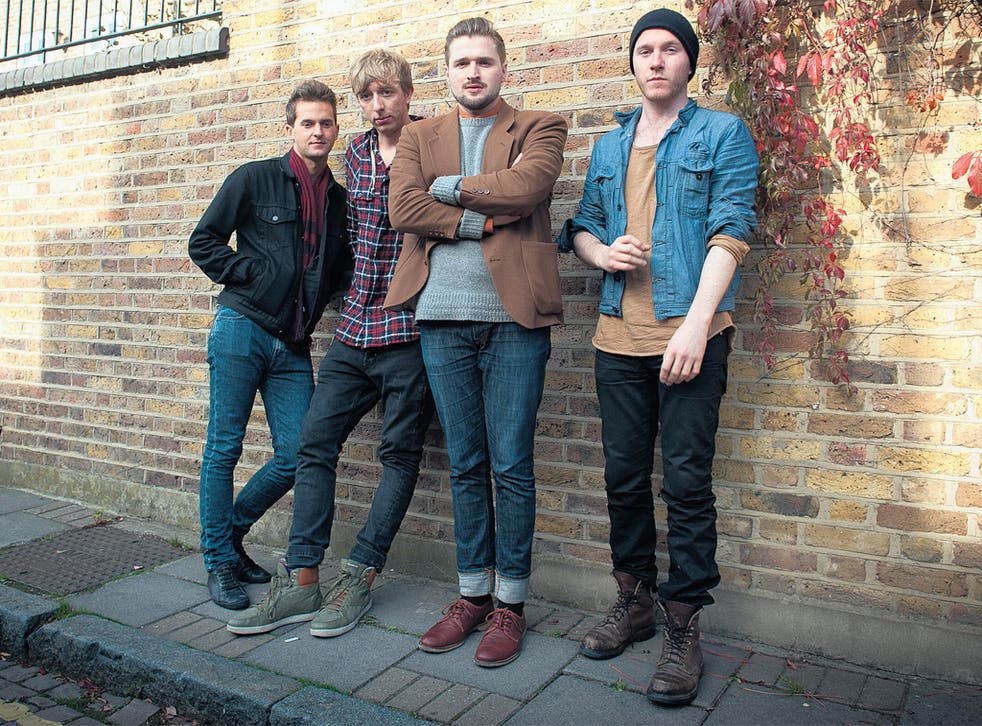 In a backstage dressing room at the beginning of their UK tour, Wild Beasts are recalling the moment at which it occurred to them that the falsetto of their counter-tenor singer Hayden Thorpe might divide opinion.
"Not until it was too late," Thorpe says. "Not until we had a record out and suddenly it was 'oh man, this is Marmite!' And that decided it – this is the way it's got to be. It was really liberating to get a bit of a bashing at the beginning from a certain set of people; it gives you the fire to go for it."
That fire has seen them release three ambitious albums since 2008, the second of which, Two Dancers, was nominated for a Mercury Prize, gaining them a huge extension of their cult following and the third, this year's Smother, bringing them a Top 20 chart placing. This is also the first UK tour that they have almost sold out. Not bad for a band creating baroque-styled art-rock with lyrics exploring lust and violence delivered via idiosyncratic, operatic vocals, and who count Talk Talk as an influence. Not that Wild Beasts are eager to acknowledge their success.
"I think if we wanted to feel like a great success then we could, but we don't want to," 25-year-old Thorpe says. "It's probably the fear that it'll dry up if we acknowledge where we're at. There are always younger people snapping at your heels doing fresher, more in-vogue things".
That they are concerned by young bands snapping at their heels isn't helped by their move to Stoke Newington, north London, where numerous young bands including Yuck reside. The pace and density is a world apart from their beginnings in Kendal, in the Lake District, where isolation informed their music from the day they formed a band after meeting at school. Being friends since they were teenagers keeps them grounded. "You can't be a rock star with someone you've known since you were 13 or 14 – it's not possible," states forthright bassist and co-singer Tom Fleming, 26. From Kendal, they moved to Leeds where three of the four members enrolled at University. When they had clocked up 16,000 miles on the M1 to London, they decided that it was time to move south.
"I knew how close we were to being just another pub band from Leeds," says Fleming. "I was terrified of London, what it represented and the influence it would have," says Thorpe. "I don't think things would have worked out the same if we'd have done things differently. Leeds was an incredible nursery bed." As for London, he says. "I feel embarrassed being in a band in London. You have to have something to say otherwise you are just guys pretending."
There's the strong sense that "just pretending" is the antithesis to everything the band stands for – these are wild beasts with a deep sense of personal morals and ethos. It's why they react so furiously to people labelling them pretentious, for their literary references (including Hamlet, Frankenstein and authors Henry Miller and Anaïs Nin), and for elaborate song titles such as "Brave Bulging Buoyant Clairvoyants". "The wielders of that word need to take a good hard look in the mirror, it's a killer word," states Fleming, his eyes burning. "It destroys creativity and it creates cowardice. I'd say we can be over serious, but we're authentic, which is the exact opposite of pretension." Anyway, he adds, they're "country kids". "There was this huge assumption with our first record that we had to be publicly schooled," says Thorpe. "Obviously we were, because we were literate! But it was the complete opposite, we went to comprehensive schools." Fleming adds dryly: "And we read some books!"
A sense of ethos is also why they no longer play the songs that Thorpe sings on the first album. "Right now, the general rule is if you can't remember why you wrote it, don't play it," says Fleming. "I would feel like an impostor," adds Thorpe. "I don't actually want to channel those feelings. We've been touring so much and played these songs so many times, you can feel them leaving your body and I know by the end of the year it's going to take a while to make them OK again."
They recount a story of their earlier unfurling success. Back in September 2009, after the release of Two Dancers, their label Domino wined and dined them on their first big trip to New York. With no money yet to their name, they slept on a hotel room floor after a gig, only to wake up to having the main review in The New York Times. "That sort of thing starts to pull the dimensions of your world apart a bit," says Thorpe. Did they wonder what they were doing on the floor? "No!" Fleming exclaims, "but what are we doing in The New York Times?" Thorpe adds: "We felt more comfortable on the floor."
Enjoy unlimited access to 70 million ad-free songs and podcasts with Amazon Music Sign up now for a 30-day free trial
Sign up
In a way, their modest reluctance to acknowledge success only serves to feed their ambition, a trait that the band are no strangers to, having replaced the dance elements and instant melodies of Two Dancers with the subtler layers of the more avant-garde Smother. Their thoughts are already turned to album number four, but, fans may be disappointed to hear, the next release is unlikely to emerge any time soon. "I think to create a bit of head space certainly will benefit us in an artistic sense," explains Fleming. "It takes years to digest and filter out what memories are worth keeping."
Having reached a level of stability and the captive audience of their solid fanbase, for the first time in their career they can afford themselves the luxury of time before making their next album. It doesn't make things easier, though; they feel the pressure more than ever.
"It sounds stupid – we've got more time and a lot more space to do it, but that actually feels like a bigger burden now," says Thorpe. "There's a sense of, by four albums in, if you don't really have something to say then you're not going to at all. We've earned the right for people to listen to us, which is really special." A "but" visibly forms on his lips. "There's more to lose than to gain."
What they will continue to explore is the themes that they have become known for. "Any good artist writes about the same thing and just filters it in different ways," says Fleming of their predilection to write about sex. Thorpe adds: "There's still this huge murky area with what is tasteful and what is distasteful, it really cuts to the heart psychologically."
It is quite possible to listen to their songs without paying attention to such brazen lyrics as "I take you in my mouth like a lion takes his game" on "Lion's Share". The final song on Smother, "End Come Too Soon", is so beautifully rendered on piano that you can altogether miss its subject of lust. Contradictions that pose a challenge to the listener are an essential part of what they do. "Absolutely," says a delighted Thorpe. "That was one of the biggest revelations ever, especially when I realised the freakish nature of how I was singing. It became a way of saying ugly things. Beautifying the ugly is a real mission impossible – it drives you."
It sounds an unlikely chart match, but then Wild Beasts set their ambitions high. They want nothing more than to bring their unlikely pop further into the mainstream, without compromising. "I shouldn't say this on tape, but I think we're good enough musicians to write a good hit," states Fleming. "It cuts us up so much to even consider such a thing."
"I can't drop the romance about us rubbing shoulders with people we shouldn't be rubbing shoulders with, being in places we shouldn't be," says Thorpe proffers, his eyes lit up. "I want us to be on Radio 1. There is that self-righteousness of being in a band since we were teenagers, that idealism and belief that you can achieve the unachievable. There's a feeling of wanting to reach people who deserve something deeper than the superficial level that most mainstream art works at. Connection with people is absolutely pivotal because if there isn't a connection, there isn't anything."
Wild Beasts are touring now until 2 December (www.wild-beasts.co.uk)
Register for free to continue reading
Registration is a free and easy way to support our truly independent journalism
By registering, you will also enjoy limited access to Premium articles, exclusive newsletters, commenting, and virtual events with our leading journalists
Already have an account? sign in
Register for free to continue reading
Registration is a free and easy way to support our truly independent journalism
By registering, you will also enjoy limited access to Premium articles, exclusive newsletters, commenting, and virtual events with our leading journalists
Already have an account? sign in
Join our new commenting forum
Join thought-provoking conversations, follow other Independent readers and see their replies