Wombats' frontman Matthew Murphy on depression, growing up and the band's new album Glitterbug
After a sugary debut and a dark follow-up about depression, the Liverpool band are back with their third, most mature album yet
Emily Jupp
Friday 10 April 2015 14:27 Comments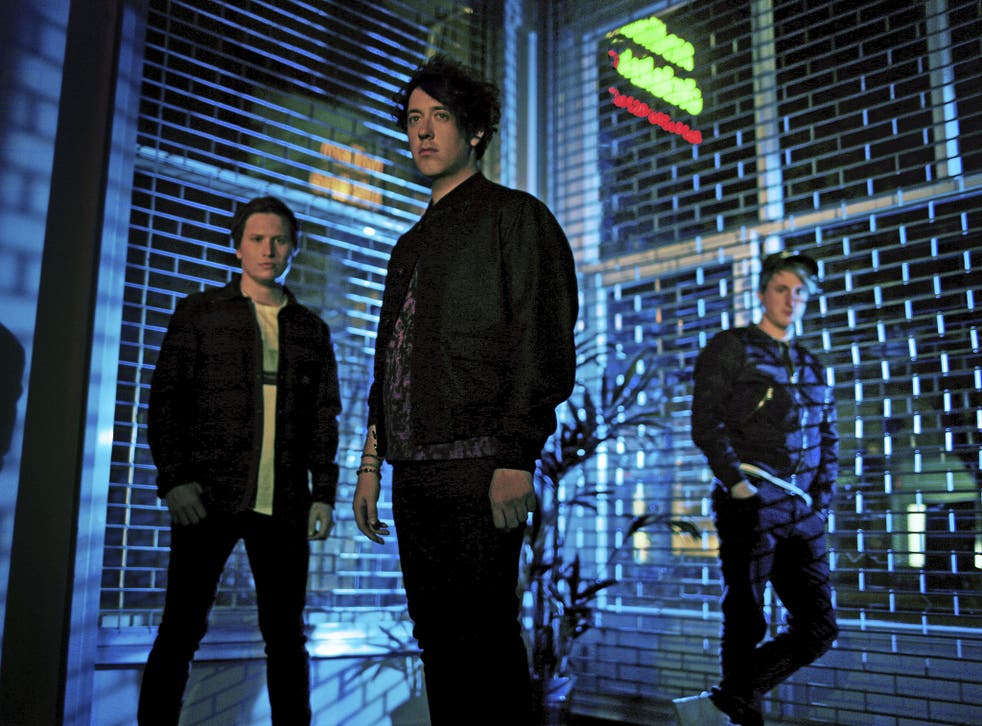 The wombats' lead singer and songwriter Matthew Murphy is explaining one of his aspirations for the future. It's not a platinum album or a millionaire's mansion (although he probably wouldn't say no to either), it's a desire to visit the world's largest rabbit.
He leans over the table, squishing forward on the comfy chair in the Berlin hotel where we've met, his eyes peer through his unruly mess of hair as he slides a picture on his phone over to me, gleefully waiting for a response. The photo is of a monstrous bunny; the size of a St Bernard, with lolloping great legs and the steely eyes of a killer. "I'd like to go see it," he deadpans in a Liverpudlian drawl. "It's on the bucket list."
"Murph", as his bandmates call him, learnt about the mutant from the band's new producer, Mark Crew, who has previously worked with Bastille. Murphy had instant chemistry with Crew, whom he counts as a friend.
"He's young and intelligent and made fun of us and picked out various neuroses," he says, which apparently qualifies the 28-year-old Crew for mate status. The third album's new sound is in part down to Crew and also to Manny Marroquin, who has received nine Grammy awards for his mixing expertise.
"We definitely wanted to sound a bit less produced," nods Murphy, who was nervous about the group's second album This Modern Glitch. "There was a little bit of fear in there. I don't think it stinks of fear, it's just psychologically I wanted this one to be relaxed. I agree [with critics] the first album was saccharine and I think with the second album we did try to counteract that too much. I would definitely say on this album we've found what we should be doing."
Early releases from the new album Glitterbug, such as "Give Me A Try", "Emoticons" and "Greek Tragedy"give a taste of the new sound: zesty and upbeat, with some dark lyrics and a sparser, crisper rhythm plucked out with restrained synths and springy electric guitars. It's still danceable, but with more grown-up themes than in the past.
Another thing that changed was the band's A&R representative, Alex Gilbert, who had worked with the band from the very beginning. In the week we spoke Gilbert had been released from his contract with the band's label, Warner.
"We certainly wouldn't be here without him," admits Murphy. "We had a fight once, it was after the second album and we were in Notting Hill. It was our release party and we were drunk and we were having an argument about something and I was like, 'just punch me, come on'."
He takes a sip of Coke (alcohol is off the cards because Murphy's on medication for a sinus infection). "And punch me he did. We laughed about it about half an hour later. I'm very close friends with him but we also have had this working relationship, so the lines are extremely blurred."
Enjoy unlimited access to 70 million ad-free songs and podcasts with Amazon Music Sign up now for a 30-day free trial
Sign up
Now 30, Murphy clearly still has the student sensibility that contributed to early fun-loving hits like 2007's "Let's Dance to Joy Division", that had students around the country bouncing up and down to its sugary vibes. Murphy, with band-mates Dan Haggis and Tord Øverland Knudsen, soon went from gigs at the Liverpool Institute of Performing Arts, where they met, to selling out 5,000-capacity venues but the band's name remained.
"We'd be in student halls listening to like the Smashing Pumpkins and probably we were, you know, high and we'd just say 'You stupid wombat' to each other. It's idiotic and we did say we wanted to change it but you just never get round to those things," he says.
The cute, furry name hasn't completely prevented them from being taken seriously. In 2011, Murphy spoke out about having depression. The anti-depressants he was on stunted his creativity and the single "Anti-D" was about his experience of being on citalopram.
"I think my dosage was pointlessly high," he reflects now. "Using them I was feeling great and I was eating whatever I wanted to eat, I was drinking tons, I was partying and then I just can't remember any of it!" he laughs. "I look back at pictures where I look like the Michelin man in a bright pink checked shirt but in my head I was thinking, 'yeah I'm just smashing it! I'm like Christian Bale! It was fun and it was a good life experience to have. I'm certainly glad they're over. I still have my moments as everyone else does but I'm trying to harness it and use it in a positive way."
Murphy's moods have also been better since finding a new girlfriend. "Emoticons", a slinky tune featuring the line: "It's tough to stay objective baby, with your tongue abseiling down my neck/ It's a bulletproof offer and I can't accept," is all about "having something offered to you on a plate and trying to do the right thing," he explains. It was written after he had begun working on the new album in LA and his long-distance relationship with his old girlfriend was failing. When I press for specific details he squirms and says it's about "adulterous things" but insists, "the song is about not acting upon them."
Rock and pop highlights of 2015

Show all 5
Ultimately the long-distance thing didn't work out. "It was kind of a no-brainer is an awful thing to say but, yeah," he says, looking at the table. His new girlfriend is from Chicago but they met in LA. "She's kind of clean-living and dreadful all at once, I think that's the best way to be," says Murphy. She's now moving to London with their dog Daisy, who regularly breaks into their fridge to eat microgreens and burrata cheese. Murphy also fell in love with LA, which inspired the album's name, Glitterbug.
"I think I'll move there but I don't know when," he says. "It seems like a lot of the entertainment industry has flocked there and they're all operating at these different levels of success but they're all together in it as one. I've heard stories about A-list celebrities housing up-and-coming actors they've bumped into in a bar. One of my friends ended up in a hotel room there with Steve Buscemi – it's just like these weird things that seem to happen to you and I guess weird is inspiring. As songwriters, you're always looking for that in some way."
One of the most interesting videos they've done is for new track "Greek Tragedy", which tells the story of a stalker fan who ends up murdering each of the band members. It's interesting because they've always had a close relationship with their fans and not too many bad experiences. Later on backstage, after a tremendous gig in a warehouse-type venue where the fans threw themselves at the stage, the band are chatting about one of the girls on this tour who threw her bra at the stage then waited at the stage door to collect it again. The boys kindly obliged.
"I'm always trying to gauge what is the right amount of closeness or separation to have," says Murphy, who once was once nearly pounced on by a middle-aged fan who took his friendliness the wrong way. Unfazed, the band's style is still to "just steam in and be quite, you know, friendly."
In 2008 during an NME tour in Edinburgh, they even took some fans up on the offer of having roast dinner at their house. "I was having a cigarette by the bus and there were these guys there and they were like, 'next time you're in Glasgow you'll have to come round to my parents for roast dinner'... So we turned up the next time we were there. We all sat round a big table and it was pretty weird but they were so open and friendly. We just cracked open some red wine. I don't really even like roast dinners but that one was good, or maybe it was the wine that was good," he looks wistfully at his Cola.
The band's sound might be more grown-up now, but Murphy is still a student at heart.
'Glitterbug' is released 13 April
Register for free to continue reading
Registration is a free and easy way to support our truly independent journalism
By registering, you will also enjoy limited access to Premium articles, exclusive newsletters, commenting, and virtual events with our leading journalists
Already have an account? sign in
Join our new commenting forum
Join thought-provoking conversations, follow other Independent readers and see their replies