Why New Order's football song 'World in Motion' was a game-changer
In 1990, English football wasn't cool – and English football songs certainly weren't. New Order's shambolic, ecstasy-tinged World Cup hit was the first sign everything was about to change
Nick Hasted
Wednesday 13 June 2018 15:20 Comments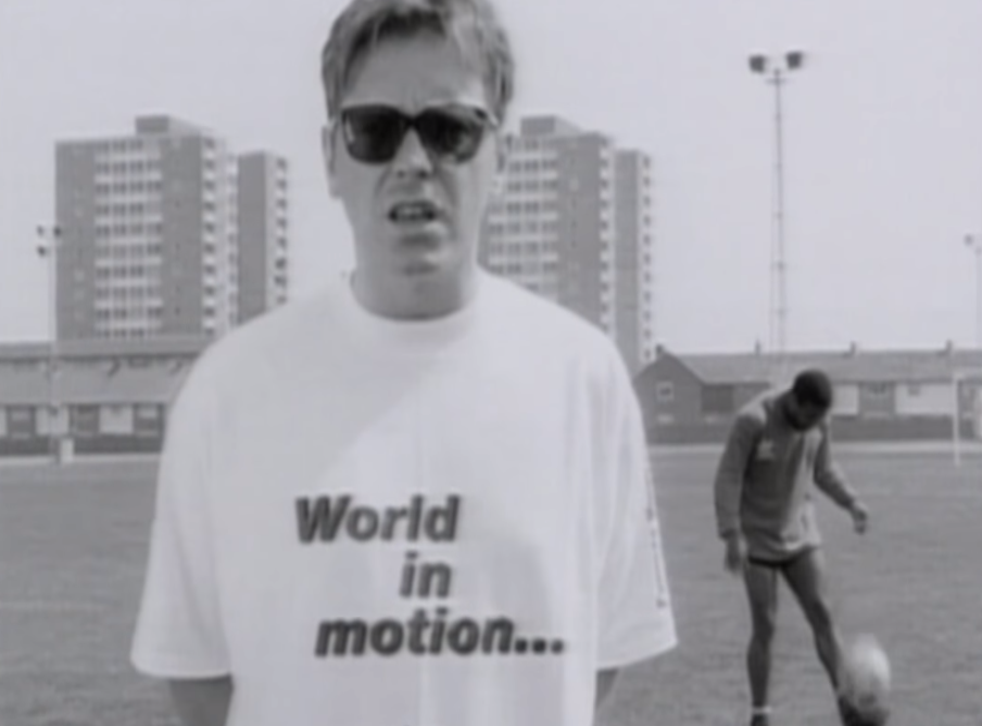 England was another sporting country in 1990. English football wasn't hip. It wasn't a cultural monolith that swallowed whole newspaper sports sections, leaving other games gasping for air.
Its fans were considered hooligans, and the previous decade had been marked by disasters which made stadia the sites of mass death: Heysel 1985, Bradford 1985 and Hillsborough 1989. Far from parading in the yet to be created Champions League, English clubs were banned from European competition till the winter of 1990, due to Liverpool fans' actions at Heysel. With Nick Faldo more famous than most footballers, the Daily Mail suggested hopefully that golf might become the national sport.
Football certainly wasn't anything to do with rock'n'roll, except in the most embarrassing ways. Though George Best had once been considered Beatle-like, and The Kinks would cancel gigs to watch Arsenal, those associations were ancient history.
New Order's "World In Motion" single was the first indication that everything was about to change.
As England's official theme for Italia '90, "World In Motion" linked the team to a great band at their musical height. New Order combined the post-industrial, post-punk bleakness of the 1970s Manchester scene where they'd begun as Joy Division, and Madchester's ecstasy-fuelled Second Summer of Love, still cresting as "World In Motion" was recorded.
Their 1989 album Technique had glisteningly merged rock with dance rhythms. Musically sleek and melancholy, they were privately brakes-off hedonists.
New Order were, therefore, hardly the most obvious choice to contribute to a genre previously best known for Liverpool's 1988 FA Cup single "Anfield Rap" and West Ham's "I'm Forever Blowing Bubbles", peaking with Hoddle and Waddle's 1987 synth-pop power ballad "Diamond Lights".
This background was apparent in the haphazard manner of "World In Motion"'s recording. It was instigated by the FA's imaginative PR David Bloomfield, and pressed on New Order by their manager Tony Wilson, with one eye as usual on servicing the spiralling debts at his band-subsidised Hacienda club.
The England team expected a fiasco similar to the forgotten album of execrable covers John Barnes recalled recording for Mexico '86, and only six of the squad bothered to detour from training to the studio on the designated Sunday morning.
New Order's hopes weren't much higher. Sick of the sight of each other by this stage in their careers (they would split up in 1993), they were determined to keep a comic element to proceedings.
Enjoy unlimited access to 70 million ad-free songs and podcasts with Amazon Music Sign up now for a 30-day free trial
Sign up
"If it all went pear-shaped, at least we could pretend it was a joke," Stephen Morris told FourFourTwo. With an old rhythm track by Morris and Gillian Gilbert swiftly recycled as the song's chassis, Keith Allen was drafted in to help with the baffling task of writing coherent lyrics for a football song.
Allen's autobiography recalls copious lines of cocaine before the musicians reached the studio, where the footballers arrived to be plied with still more industrial quantities of champagne. Thus refreshed, the team competed to perform the rap section Allen had decided the track required.
With Paul Gascoigne disqualified by the alcohol-enhanced strength of his Geordie accent, John Barnes, who had no clue who New Order were, got the gig.
The result is inseparable from the time of its release. The bright synths and drum machine are in a basic Balearic style capable of functioning in 1990's clubs, but are little more than New Order by numbers. Kenneth Wolstenholme's "They think it's all over..." commentary from the conclusion of England's 1966 World Cup win (re-recorded due to copyright entanglements) adds a reminder of faded glories which might yet come again that summer.
Some lyrics were vague enough to apply equally to the euphoria of acid house clubland, or an ecstasy-enhanced fantasy of footballers' passing style ("Love's got the world in motion, and I can't believe it's true... express yourself, don't give it away").
The chorus then roused while remaining breezier than the hooligan chants the FA specified must be avoided. "Three lions on my chest, I know I can't go wrong" was far more amiable than any actual terrace roar, but encouraged support by a more general audience. And then there is John Barnes' rap, serviceable at best, and inextricably linked to Keith Allen's lairy antics behind him in the video.
That video's cheapo splicing of football footage with New Order and the team arsing about sums up the spirit of the whole affair. The initially injured Barnes apart, the rest of England were allowed 30 minutes for the shoot by manager Bobby Robson as their Italian day job neared, while Bernard Sumner found himself jeered by Liverpool schoolchildren when he got lost en route wearing an Elvis suit.
After the horror and ignominy of football in the 1980s, the song and video put a contemporary, ecstasy-influenced smile on the sport's face. Credited to England New Order, it became the band's first No. 1 single.
"World In Motion" stayed at the top of the charts for a sequence of events even less likely than the makers of "Blue Monday" having their biggest hit with a football song. Bobby Robson and his team, routinely savaged by the press before the tournament, somehow bluffed and stumbled their way into the semi-final against the arch-enemies of 1966, West Germany, with the much weakened foes of 1986's "Hand of God" quarter-final, Argentina, there for the taking in the final.
Suddenly, England played with the beauty "World In Motion" had prophesied. And Paul Gascoigne was booked, and cried, humanising football for a national viewership far beyond its usual, tribal audience.
England lost the penalty shootout. But, with "World In Motion" as the anthem which began its resurgence, the English football industry was already moving into an unrecognisable new future.
New Order would probably be the first to sigh at the law of unintended consequences. English clubs rejoined Europe that winter. Sky-provided riches for a sport revived by that semi-final encouraged English football's biggest clubs to dump the FA to form the Premier League in 1992. Attracting global talent, the League sidelined English players and the very England team whose unique nation-bonding powers had allowed it, and completed the game's march towards a more money-minded, middle-class future.
Euro '96 was the Britpop sequel, with an eerily similar (anti-)climax between England and a now unified Germany, wonderful cameos from a Gascoigne already in decline, and a far more assertively passionate and patriotic if also movingly bittersweet anthem, Baddiel, Skinner & Lightning Seeds' "Three Lions (Football's Coming Home)".
That second great English football song actually thought about what it meant to be an England fan, and perfectly captured a cultural moment. New Order and 1990's football team had no such expectations, treating the whole thing as a laugh, and completing it amidst careless chaos.
It's the communal football element to "World In Motion" which gives it residual power, allied to just enough residual New Order magic. It was a sign that the football world was in motion. Though the FA have given up on anthems for the 2018 World Cup, the tournament's colonisation of English life for as long as England last during the next three weeks is part of the change which New Order casually soundtracked.
Register for free to continue reading
Registration is a free and easy way to support our truly independent journalism
By registering, you will also enjoy limited access to Premium articles, exclusive newsletters, commenting, and virtual events with our leading journalists
Already have an account? sign in
Join our new commenting forum
Join thought-provoking conversations, follow other Independent readers and see their replies