You Me At Six: 'The music industry has no ambition when it comes to rock bands'
Exclusive: Frontman Josh Franceschi and guitarist Max Helyer on what went wrong with last year's album 'Night People', ambition in the music industry, and how they turned things around for their upcoming record 'VI'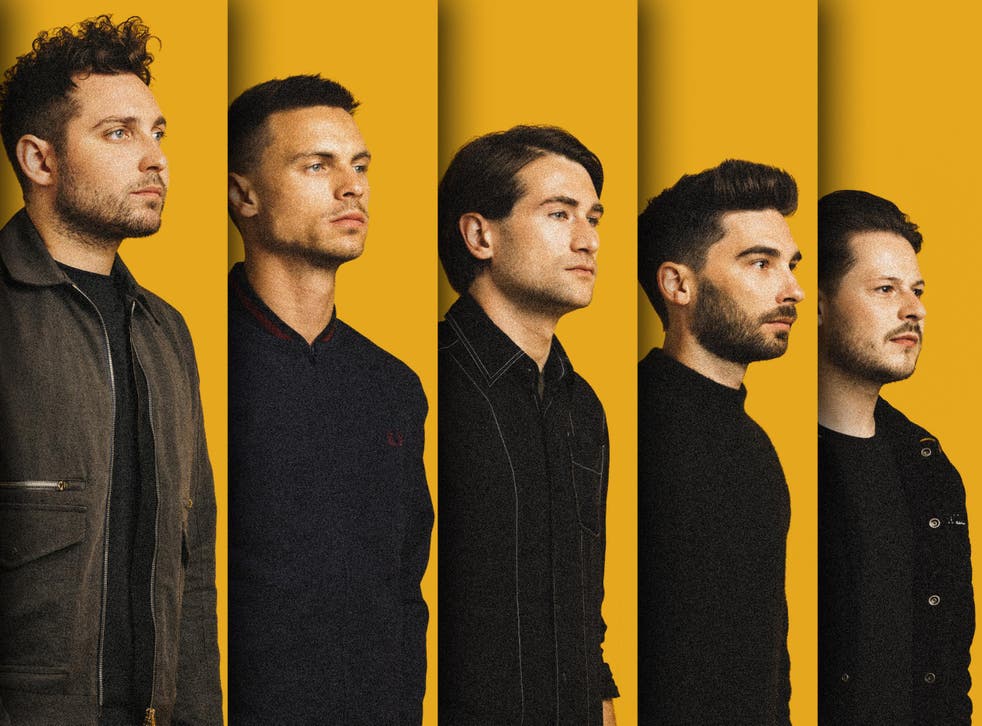 You Me At Six are something of a rarity, in that they're one of the few British rock bands – or any rock band – who have consistently performed well in the UK charts through a time when mainstream radio has always prioritised pop.
They have achieved a top five album every time since their second record Hold Me Down, and hit number one with their fantastic 2014 record Cavalier Youth. Even their most recent album Night People, which received a mixed reception from fans and critics, achieved number three in 2017. Regardless of whether or not you're a fan, that's impressive.
Over lunch and a few cocktails (frontman Josh Franceschi is gearing up for a mate's stag do in Ibiza), he and guitarist Max Helyer are going over the recording process for their shiny new record VI, which was finished recently at a studio in Ulster with producer Dan Austin (Arcane Roots, Twin Atlantic, Biffy Clyro, Pixies).
While the band sounded confident about Night People in interviews ahead of its release, Franceschi and Helyer both agree now that various factors led to it being arguably the weakest in their canon – and although they never say they regret making it, there is a determination and focus about VI that suggests they're much happier with the result of this new project.
"I think the main thing about Dan was that we spoke with a lot of producers, looked at LA, New York, Nashville... one guy said, 'Let's make it in the south of France'," Franceschi says. "We did some test tracks with a couple of guys, and then we tried something with Dan... he owned it.
"It was like he was another member of You Me At Six," he continues. "I don't think I've ever met someone who worked that tirelessly, and with a level of enthusiasm that really made us raise our game. He'd be the first one in the studio, last one out, never dismissed anything."
"We all got on really well," Helyer agrees. "He [Austin] matched us for the passion and the energy we were putting into the music, and that's such an important thing when you're looking to finish this body of work that you've spend a long time making."
Ahead of the album, You Me At Six have released not one but two singles: each very different from the other. "Fast Forward" is arguably more what fans might expect: a thrilling, dynamic rock track with electronic elements that will sound epic live, featuring a rousing chorus that uses Franceschi's strong voice to full effect.
"3AM", by comparison, is more pop – there are still heavy rock elements in the drums and the infectious guitar hook, but is far lighter, less aggressive, than its counterpart.
Enjoy unlimited access to 70 million ad-free songs and podcasts with Amazon Music Sign up now for a 30-day free trial
Sign up
"A lot of producers would have taken us down a route that we've already been down," Franceschi says, "but Dan had this vision for the record which was to never have a song played the whole way through, he wanted to build it up.
"At times with Night People, there was a bit of complacency within our camp when it came to being creative and motivating ourselves. We were also around people who weren't necessarily stimulating us creatively," he suggests. "I wouldn't consider Night People a 'setback', but it was something like that, and so for this one we've been more focused and had the hunger we needed to come back with something better.
"On that last album, I remember emailing my lyrics to four or five different people, almost for approval, because that was the position I'd found myself in. Even when we were making the record, I don't think there was a time where we were really enjoying making Night People, and that comes across. Whereas on this album you can hear we're having fun, and it's the right thing for us to be doing."
Conversations were had about whether the band should return to the sound of their most successful album, Cavalier Youth, but reached a point where some members of the band were ready to call it a day if they weren't able to move forward. And once they had a few songs in the bag, Franceschi says, things started to come together.
"Fast Forward was the song that really shaped the record," Helyer says. "Me and Josh came back with it to show the guys… We'd done it with Eg White [Adele, Florence and the Machine, Linkin Park], who said it was one of the best experiences he'd had writing with a band, which was obviously incredible – he's one of the best UK writers out there so it was a massive compliment."
The way the album was recorded also seems to have had a huge impact on the final result, he adds, with the band approaching it less like a nine-to-five job – as they did on Night People – instead setting out on two residential trips where they were removed from distractions of day-to-day life and were able to bury themselves in the music.
"You Me At Six have always been in our element when we're f**ked up, having fun," Franceschi shrugs. "I would never have done one take and spitballed over a song like 'Predictable' if it hadn't been 3am after a few drinks. That was when it shifted from a jam into a song."
"You're not getting one taste of something," Helyer says, "it's a classic You Me At Six album where you don't know where it's gonna go – there are light and dark elements on the same record."
"That was the problem with Night People," Franceschi states. "It was linear, it was like background noise. Life dictates to you as an artist what you're gonna put out, and I had nothing to say on that album apart from one or two moments.
"There's nothing crazy on this record, but there are things that I buried quite deep, in a good and bad way. I want this to be the best one. You know how every band has that 'one' record where they figured it out? That's what I want for VI."
BBC's Biggest Weekend

Show all 13
Both admit that Jacquire King, who produced Night People, was something of a bucket list producer; one they felt compelled to work with given the success they were enjoying after Cavalier Youth, which included sold-out shows at the O2 Arena in London.
"I've got a lot of time and respect for him," Franceschi says slowly, "but you can't treat every record on the basis of what you've done before. I think we got the Kings of Leon treatment: record it live – and that was at a point where we wanted to bring more onto the record."
He's not convinced about what many have dubbed a resurgence in the popularity of guitar bands: "Yeah… it's a shame most of them aren't very good." He ticks a few of his favourite bands off: "Amazons, Catfish and the Bottlemen, Wolf Alice, Royal Blood… who else?"
"You've missed a couple off there," Helyer tells him. But Franceschi shrugs: "Rock music still isn't endorsed by major labels in the way it could and should be. The music industry just went through the last 12-18 months with everyone putting their name on grime music – and rightfully so, because it deserved that recognition – but it was like the media didn't want to talk about anything else."
They're aware of how the demand has changed when it comes to music consumption, and understand artists who have moved away from traditional album releases. But Helyer still reserves praise for a band like Arctic Monkeys, who just released Tranquility Base Hotel and Casino, five years after their previous record AM.
"That's one of the beautiful things about Arctic Monkeys, they've clearly written a record they're really proud of," he says. "There are a few glimpses of their old stuff, but the beauty is the experience of listening to something completely different. Their music was always about that. That's maybe been lost a little bit with other artists, because of how we consume music. And then you have that cross-blending of genres."
"Rock isn't doing that, though, and that's part of the problem," Franceschi interjects. "We approached artists from other genres and they said no, because they don't wanna f**k with a rock band, and other rock bands don't wanna team up. Everyone's got their own patch.
"With hip hop, rap culture, everyone lifts each other up, drop in and out of each other's track, so if one person's winning, they're all winning. Rock is a minefield."
"I haven't heard a record that gets me excited – a rock album – in f**king ages," Helyer admits. "I'm still listening to our record now, enjoying it, and I would never listen to our other records once they were finished."
"Let's hope everyone else agrees with you," Franceschi grins. "Otherwise we're gonna look a bit silly."
In past interviews Franceschi's evident ambition – something he is happy to own up to – has been presented as arrogance, which seems to have been borne out of the music industry's uncertainty, and the media's scepticism, about the trajectory of a band's career.
"There was a time when being transparent about your ambition was sort of sexy," he suggests. "There's a big difference between having a drive and being ambitious versus being arrogant and thinking you should be there.
"None of it happens by chance, bands like Circa Waves have worked their f**king arses off to get where they are, and so have we. And the thing is, we have to be ambitious for ourselves because the industry has zero ambition when it comes to rock bands. It's a powerful tool if you use it in the right way... And that's how you find out what you're made of."
VI, the new album from You Me At Six, is released October 2018 via AWAL Recordings
Register for free to continue reading
Registration is a free and easy way to support our truly independent journalism
By registering, you will also enjoy limited access to Premium articles, exclusive newsletters, commenting, and virtual events with our leading journalists
Already have an account? sign in
Register for free to continue reading
Registration is a free and easy way to support our truly independent journalism
By registering, you will also enjoy limited access to Premium articles, exclusive newsletters, commenting, and virtual events with our leading journalists
Already have an account? sign in
Join our new commenting forum
Join thought-provoking conversations, follow other Independent readers and see their replies