Young Knives: how to make a pop album for £12,000
That's what Mercury-nominated Young Knives managed – once they'd learned how to solder and weld
Adam Sherwin
Sunday 03 November 2013 19:18 Comments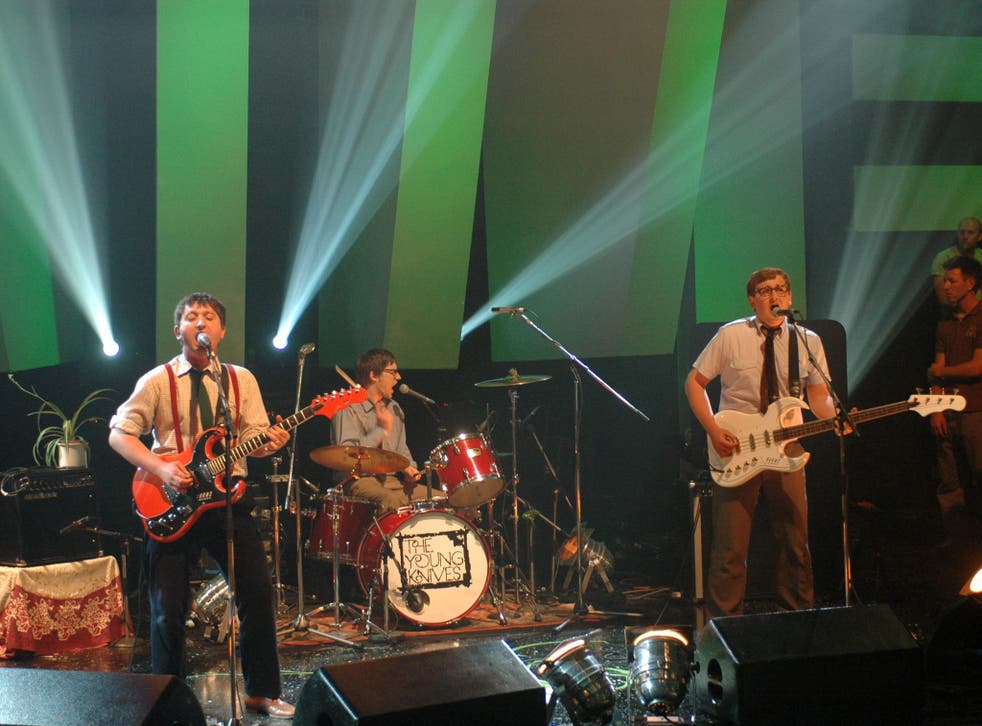 It's five years since Guns N' Roses delivered Chinese Democracy, the most expensive album ever produced, costing in excess of $13m (£8m). But the ravages suffered by the music industry since then have caused artists to cut their cloth. Now one acclaimed British band has produced their latest album for just £12,000 after mastering soldering and welding to build their own instruments.
Young Knives, the former Mercury Prize nominees with a string of top 40 singles to their name, have taken the DIY principle to extremes.
Today they release Sick Octave, a record created from found objects, second-hand kit bought from eBay and instrumentation built from scratch using a Maplin soldering set.
As the music industry moves to download and streaming services, which pay artists pennies instead of pounds, the days of record companies shovelling huge recording advances to bands are over. After blowing £60,000 on Los Angeles recording sessions for their last album, Ornaments From The Silver Arcade, Young Knives have downsized, building a home studio in an Oxfordshire garage to create Sick Octave, which is released on the trio's own label and pledge-funded by fans through an appeal on the crowd-funding website Kickstarter.
"The old funding model is unsustainable," said Henry Dartnall, Young Knives' singer and guitarist. "We spent £60,000 recording our last album but we didn't make £60,000. You pay £500 a day to hire a studio then find that the demos you made at home actually sounded better."
Going DIY gave the band creative freedom. "We built our own synth from a 'how to make a circuit board' manual," Dartnall said. "I did GCSE electronics and I only got a C, but it was possible to do the soldering. We wanted a bass sound which would have cost £350, so we asked: 'How can we replicate it?' We got a big project box from Maplin for £25 and learnt how to connect resistors to a circuit board. We made our own theremin, too."
The band bought old Casio synths on eBay for £20 and built their own pedals to manipulate the sounds. They produced additional hand-painted Sick Octave synths and sold them for £75 as part of the Kickstarter appeal.
Instead of splashing out on expensive percussion, the band rooted around for sheet metal and junk. Dartnall said: "I live next door to a farm, so I borrowed lots of stuff I found in the barn. We found an old pulley system that sounded awesome when you hit it and gas canisters which you got different tunings from when you hit them with scaffold poles. We used that as the percussion basis for a track." A free iPad app provided the toy piano sound for one song.
The band exceeded its £10,000 pledge target, with 413 backers raising £12,135, earning rewards that included a role in the band's next video. The group spent £1,000 on a recording desk used by Right Said Fred for their novelty hit I'm Too Sexy. "There was a button called 'hit' in the middle but we didn't press it," said Dartnall.
Enjoy unlimited access to 70 million ad-free songs and podcasts with Amazon Music Sign up now for a 30-day free trial
Sign up
Young Knives will take their customised synths, circuit boards and sheet metal on tour this week to reproduce the album in full. Dartnall, who spent the weekend packaging albums and spare equipment to post to pledgers with his bandmates, believes other groups will follow in their footsteps.
"You have to be a cottage industry these days," he said. "It was daunting because the industry tells you that you have to spend money on an expensive studio to sound good. But once you've got some mics for £9 and a few bits and bobs off eBay, it's much more fun and creatively inspiring to do it yourself."
Register for free to continue reading
Registration is a free and easy way to support our truly independent journalism
By registering, you will also enjoy limited access to Premium articles, exclusive newsletters, commenting, and virtual events with our leading journalists
Already have an account? sign in
Join our new commenting forum
Join thought-provoking conversations, follow other Independent readers and see their replies