Interview
Meet Zuzu, the grungy guitar-pop singer who doesn't give a f*** if you don't like her accent
The artist takes a walk around London's Cartoon Museum with Alexandra Pollard to talk self-expression, the UK's north-south divide, and being bored of planet Earth
Thursday 10 October 2019 07:45 Comments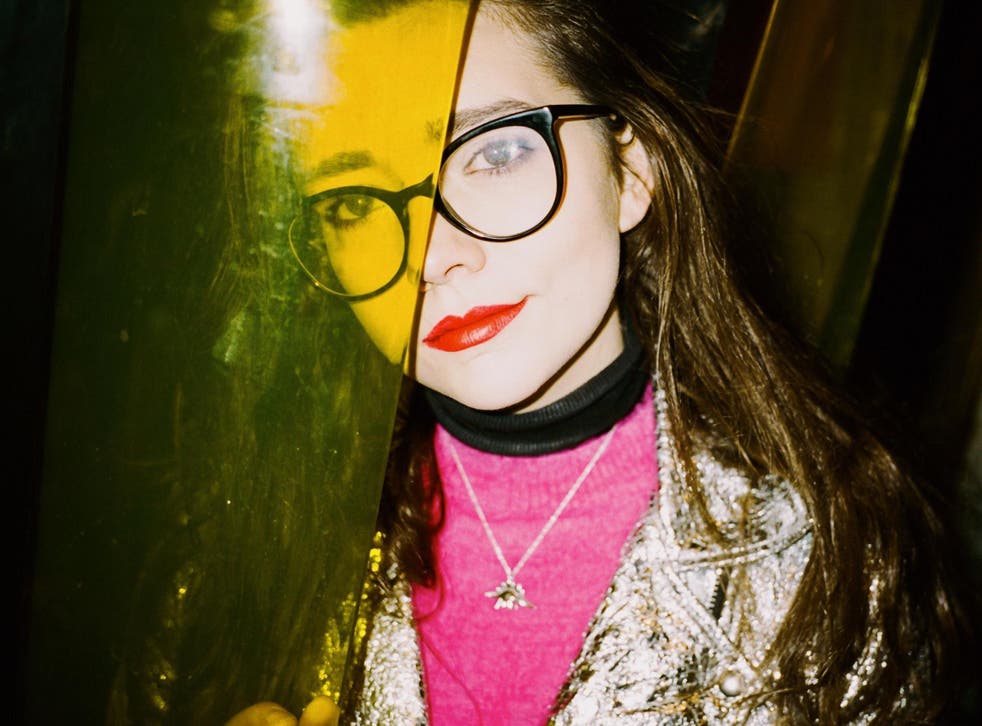 A few years ago, a music industry expert came to watch one of Zuzu's rehearsals and offered just one piece of advice. "He said I shouldn't sing in my accent," says the Liverpool singer-songwriter, with a scoff. "Maybe he thought it sounded naff or something. Which is fine, if he wants to think that, but I'm not gonna stop. Some people don't dig it. F*** them."
Instead, Zuzu decided to "fly the flag" for Liverpool, making scrungey guitar-pop with infallible hooks, her Scouse burr loud and proud in every line. "Beauty Queen", a song about "the fear of the world eating you up", is cheeky and charming: Courtney Barnett meets Vampire Weekend. "All Good", a break-up anthem lacquered with sarcasm, is psychy and languid. She doesn't have an album yet, but there's been a buzz around her ever since she signed to Virgin EMI last year and released her debut EP, Made On Earth By Humans. This week, she's supporting Ten Tonnes at London's Electric Brixton, but it seems only a matter of time before she'll be headlining those kinds of venues herself.
"I think now more than ever, people wanna know who you actually are," says the 25-year-old, who goes by Zuzu, even to her parents. We're walking around London's Cartoon Museum – Zuzu's a fan, having hoarded her boyfriend's dad's DC and Marvel collection from the Seventies. "You've got to be yourself," she continues. "I'm trying anyway. I've only just got there in the past few years. In my early twenties, I just wanted to wear jeans and black T-shirts and blend into the background."
She tried to do that on stage, too, at first. "I felt like if anybody's gonna take me seriously, I can't wear sparkly dresses onstage, and I can't wear make-up. God forbid someone sexualises you. But you just can't live your life like that. For who? For what? Some random fella who might decide he doesn't think you're a good songwriter because you're wearing a dress? Well, f*** him. I don't care. Go watch some other lad band. I'll take the one less record sale." These days, she performs in polka-dot dresses and gold jackets, with winged eyeliner under wide-rimmed spectacles, part Sixties siren, part Nineties grunge star.
We round a corner to a framed wall of science fiction cartoons, and Zuzu makes a beeline for it. She's always been into aliens and sci-fi, she says. She whips her phone out, and shows me a drawing she did of Katy Perry, reimagined as a glamorous alien. It's impressive. "I'm heavily inspired visually and musically by sci-fi. It's kind of tongue in cheek, but it's also a metaphor for feeling like an alien, and the feeling of wanting to get the f*** out of here. Get off the planet, check out some new scopes. I'm bored, do you know what I mean? I'm bored of this."
The 35 best debut albums of all time

Show all 35
In the video for "Dark Blue", a woozy ballad full of jarring pace changes, Zuzu plays a doomsday prepper making arrangements for the apocalypse. The idea came from binge-watching a reality series about people who believe the end of the world is coming. It's understandable that they're afraid, says Zuzu. "Isn't everyone?" Take the climate crisis. "A lot of the time it's easy to just feel helpless, because it's such a huge issue to tackle, and where do we even start? I don't know anything about anything, but I do know that it keeps me up at night. It makes you question, 'Should I have kids?' It makes you question what the future's gonna be like for everybody if we're living on a hot rock."
We finish our circuit of the museum, and settle down in a fancy bar nearby. "Swanky ladies," she says when the Coca-Cola arrives in a glass bottle. "We're down south now, girl! Drinking coke out the bottle."
The ways of the south have always felt a little alien to Zuzu. When she was 13 years old, her family moved from Liverpool to Oxfordshire. "I went to school in Chipping Norton, and David Cameron was the local MP there, just to give you a little idea of the political setting," she says, rolling her eyes. "And we were Scouse kids from the north. My accent was so much stronger than it is now."
She was furious with her parents, writing in her teenage diary about how her life had been ruined. "It's so melodramatic, but that's how I felt at the time," she says. "A lot of people were really welcoming, but it was just weird. Honestly, I'd never really hung out with anyone southern. I thought everyone who spoke in a southern accent was rich, automatically. I remember my dad having to say to me, 'Not everyone's rich, that's just how they speak!'" Being a newfound teenager in an unfamiliar place wasn't easy. "I had like, no friends, so I just played a lot of Sims, watched a lot of Hannah Montana, and played a lot of guitar."
Enjoy unlimited access to 70 million ad-free songs and podcasts with Amazon Music Sign up now for a 30-day free trial
Sign up
That's how she got into music – and with a little help from her older brother. "He was really into Arctic Monkeys, The Libertines, Blink-182," she recalls. "I just wanted to be him. And he joined a band and started playing bass, and I was like, 'I'm gonna play guitar too.' He left his band after a few weeks, but I was like, 'Nah, I'm digging this!'"
A recent, glowing write-up of Zuzu declared that "Beauty Queen" had "that electrifying Taylor Swift thing". It might seem a surprising comparison on the surface, given that Zuzu's music is scuzzier and more rambunctious than Swift's, but it makes perfect sense. "I don't know if I've ever said this out loud, because for a while there, I just denied that part had ever happened, but I adored her and I still do," says Zuzu. "I was like, 'I wanna play guitar like Taylor Swift.' Her songwriting has had a massive effect on my songwriting. She's the queen."
She doesn't quite know why she spent her early twenties denying her "undying love for pop music". "When I was a kid, it was like, 'Oh we're emo,' or 'We listen to indie bands'," she says. "There's less of that now. People listen to trap, rock and pop in the same playlist. Those days are kind of done, and I'm glad about it. Does it drop hard? That's what people really want. Like whatever you want. There's no rules." She takes a final swig from her bottle. "What a world. What a time to be alive."
Zuzu plays Electric Brixton tonight, supporting Ten Tonnes
Register for free to continue reading
Registration is a free and easy way to support our truly independent journalism
By registering, you will also enjoy limited access to Premium articles, exclusive newsletters, commenting, and virtual events with our leading journalists
Already have an account? sign in
Join our new commenting forum
Join thought-provoking conversations, follow other Independent readers and see their replies