How crowdfunded music festivals are offering an alternative to increasingly corporate ones
With the mainstream options becoming ever more bloated and corporate, it's no surprise that a new wave of group financed festivals are having a field day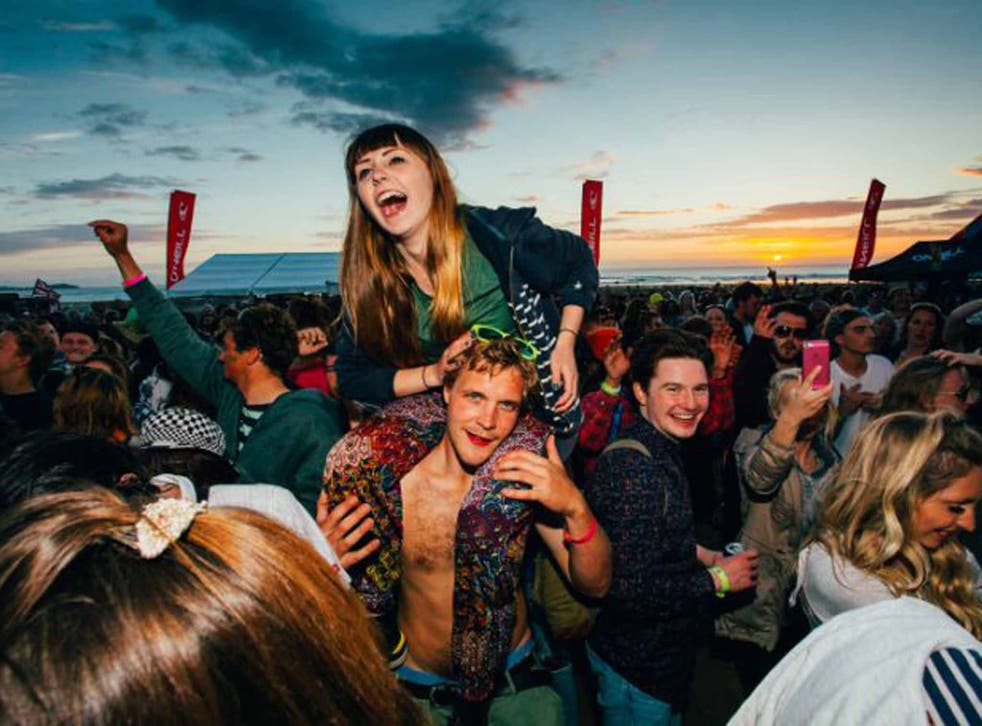 Bestival, Latitude, Wilderness, End of the Road, Secret Garden Party, Glastonbury – it's safe to say we've reached peak festival. In fact, we've been at saturation point for some time. But while rising costs and slow ticket sales mean many festivals have shut their gates in recent years, smaller festivals appear to be gaining in popularity. Indeed, neither the surfeit nor the failure of some to survive has deterred others from trying their hand at starting their own.
Last week, Samphire became the fastest-ever successfully funded music festival on Crowdfunder. Founders Flora Blathwayt and her brother Josh Beauchamp met their £20,000 target in just three weeks. Clearly, there's still an appetite for watching bands in muddy fields. But what the success of Samphire's campaign really shows is how our tastes our changing.
With just a 1,000-person capacity, a family- friendly feel and a focus on disconnecting from the digital world, Samphire promises "all the perks of a small festival in a beautiful, tranquil setting". Reading, this is not.
"I think the boutique festivals are the ones that are going to do well," says Blathwayt. "They have all the character, and none of the stress, huge queues and rammed stages of the large ones."
A 2014 YouGov study on festival habits seems to support Blathwayt's thinking. A third of respondents thought festivals had become too expensive and over-crowded, while 28 per cent thought they had become too corporate. (A now ubiquitous Android advert, which relives the sunny weekend when Lee Denny set up a crowdfunded festival in Kent – LeeFest, now in its tenth year – is an intriguing aside on this last point.)
But not all mainstream festivals are in decline – tickets for Glastonbury this year sold out in 30 minutes flat. "A large proportion of our young audience still wants to go to major events like Reading and Leeds," says Neil Wyatt, head of live events and popular music at BBC Radio. "For them, they're still a rite of passage."
Wyatt adds: "What we have seen, though, is a maturing of the festival market. But whether it's a big festival or a small festival, if you can't offer something exciting and unique then you may struggle as there are other people doing a great job at offering a very compelling alternative."
For a festival such as Samphire, its uniqueness undoubtedly lies in its location. Situated in the village of Porlock in Somerset, when you unzip your tent, it is beautiful coastal views you'll be greeted by and not (hopefully) burnt-out fires and empty bottles of tequila.
Its other USP? Enabling punters to get involved from the beginning. Platforms such as Kickstarter and Crowdfunder have long been used to unite people (and their bank accounts) around films, albums and exhibitions so it makes sense that such thinking should stretch to live events, too. Arguably, it's this feeling of ownership that could set crowdfunded festivals apart and allow them to thrive.
Enjoy unlimited access to 70 million ad-free songs and podcasts with Amazon Music Sign up now for a 30-day free trial
Sign up
"All the way through, we communicate with our backers," says Blathwayt. "So by the time the festival comes, they'll feel like this is a party we've all put on."
Ben Hall, the director of the Electric Beach Festival in Cornwall, agrees: "The fact that you're able to help a small event get on its feet is something that I'm sure appeals to the public." EBF used Crowdfunder to grow the festival a couple of years ago. It too reached its target and, after selling out in 2015, is now going into its fifth year.
Of course, there are cash perks and business incentives for backers, too – whether that's cheaper tickets or the chance for a local company to get involved. But this isn't a model without its flaws. In 2013, Alt-Fest was cancelled days before its debut, despite successfully crowdfunding its proposed target.
"Sometimes people think, 'We can get crowdfunding' – but can they build a sustainable event?" asks Anton Lockwood, the promotional director for festival promoters DHP Family. "For boutique festivals in the coming years, it's going to be about a battle of creativity. What I think crowdfunding can offer is that sense of ownership and engagement."
"You have to listen to your customers," Wyatt says. "I think the crowdfunding model is interesting because it gives the customer a real say in the event. It allows them to be curators."
Join our new commenting forum
Join thought-provoking conversations, follow other Independent readers and see their replies