Isle of Wight Festival 2015 review: Reunited Fleetwood Mac prove Dreams can come true
The band's secret, only recently returned weapon, Christine McVie dominates the early, Anglo-Californian harmonies
Nick Hasted
Monday 15 June 2015 15:05 Comments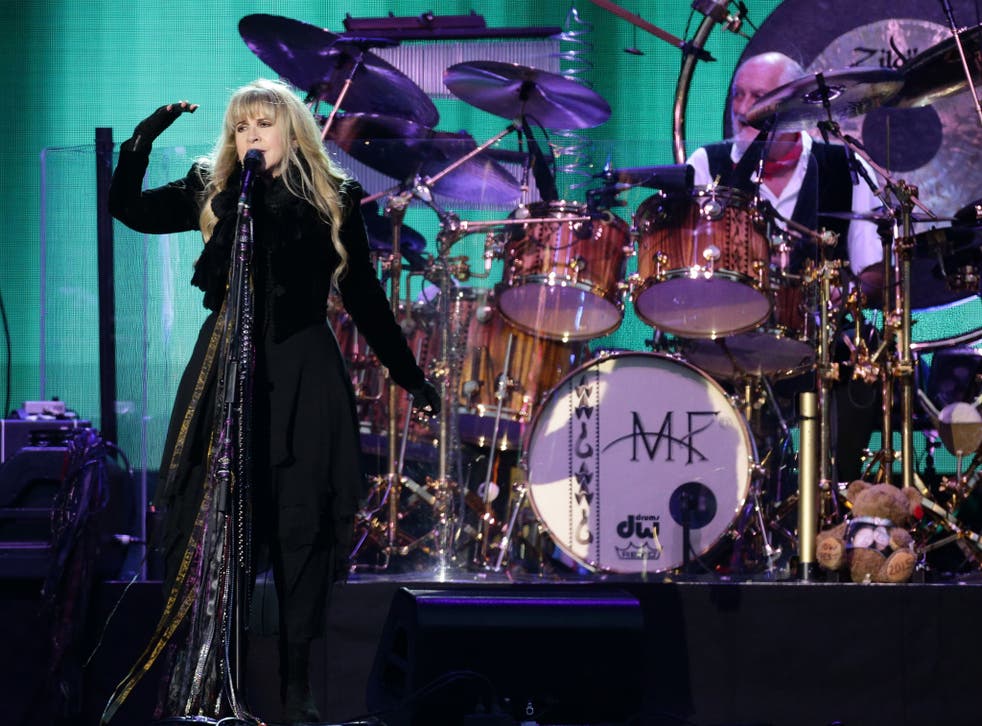 Fleetwood Mac can actually remember the idealism which spawned 1969's original Isle of Wight festival. But the catastrophic marriage collapses and cocaine mountains which catalysed the classic Rumours, an album which they no longer try to live down, meant they embodied the Seventies far more.
So while their Sunday headline set taps into this festival's founding traditions, they play the smoother, harder rock of later, and far more cynical times.
Dr Showbiz has cured the unnamed ailment which cancelled two UK shows in the nervous run-up, letting them at least make it on stage, as they were always somehow going to. A bounding Mick Fleetwood is first, arms aloft in premature triumph. He is the pounding, insistent motor, musically and personally, without which the band he co-founded in 1967 would sputter and die.
Stevie Nicks and Lindsey Buckingham, by contrast, show steely determination. Buckingham, the band's Brian Wilson-like songwriting mastermind since 1974, looks faintly above a band he has tried to put behind him many times, as if he's too old for this foolishness.
But he gruffly leads the charge with "The Chain", the charge of hearing its great, bass-heavy riff electrifying the huge crowd. Few have headed for the ferries with Fleetwood Mac in town.
The band's secret, only recently returned weapon, Christine McVie dominates the early, Anglo-Californian harmonies; the English purity of her voice raises the band above the soured innocence which spawned Rumours.
When all their voices join in hippie harmony on that album's "Dreams", for a moment the AOR sluggishness and personal battles which have dogged them fade away.
If you want a festival to mean something, though, book Saturday's headliner Blur. Even more than Fleetwood Mac, Damon Albarn has faith in the human potential of thousands listening to music in a field.
Blur's Saturday headline show on the island can't match their 2009 Glastonbury reunion gig for raw communal emotion. But in its questing spirit, grand musical thrills and huge desire to drag people together, it's close enough.
Enjoy unlimited access to 70 million ad-free songs and podcasts with Amazon Music Sign up now for a 30-day free trial
Sign up
Ice cream van tunes and pink and white neon cones set the stage with reminders of Blur's new album The Magic Whip, whose tunes bloom in what follows. "Ong Ong" is a summer miracle of a pop song, while "Thought I Was A Spaceman" offers Albarn the lone, tragic crooner, desolately nostalgic then brutally letting rip as the music explodes.
Albarn had lost his voice the day before, hoarse from chanting at a Glasgow warm-up gig. The careful seriousness which can afflict him outside of Blur falls away when he's with them, letting him do stupid things. Wearing a Fred Perry shirt and skinhead's green jacket, he capers across the stage with Phil Daniels during the crowd-bonding "Parklife" and, even on the darkly adult heroin ballad "Beetlebum", refinds Britpop's youthful fun.
During a set which digs into deep corners of a quarter-century career many in the crowd barely remember, "Trimm Trabb" leave him lost in the moment, eyes wide. His childhood friend and right-hand man Graham Coxon wrings new, exploratory sounds with his guitar from the most familiar tunes. The Britpop-catalysing orgy of "Girls and Boys" is massively great, "The Universal" a blissful finale.
Friday's headliner The Prodigy offer equally welcome unruliness. When the brittle snare-drum cracks of "Breathe" announce their arrival, fans run towards the stage, faces lit with the expectation of chaos. Sleaford Mods' singer Jason Williamson guests on the thuggish "Ibiza", where the guitars feel like close in, relentless Manny Pacquiao punches.
James are another highlight, singer Tim Booth acting as if they should be headlining. The lyrics of this floppy-limbed, carelessly manic dancer with an actor's sense of drama are an uptight Northerner's songs of freedom. Dozens are on the stage dancing by the end, as James insist on a sense of occasion. Pharrell Williams brings dancers too, including a middle-aged woman with strip-club technique. It's a glorified club personal appearance, with much charisma and itchy beats, but no musical spontaneity.
Isle of Wight Festival 2015

Show all 28
James Bay, the latest in a generation of British singer-songwriters who sound like they've been anaesthetised, could do with the charisma. When such mainstream dullness intrudes, it's time for the intimate Kharma Cafe's often local bands, or the blessed, art-punk weirdness of Chicks On Speed.
As Sunday's sun bakes the last of the mud from Friday night's sodden downpour, Suzanne Vega gently pierces the just-waking crowd with her cool, pure voice, preparation for Fleetwood Mac's finale to a strong, diverse weekend.
Register for free to continue reading
Registration is a free and easy way to support our truly independent journalism
By registering, you will also enjoy limited access to Premium articles, exclusive newsletters, commenting, and virtual events with our leading journalists
Already have an account? sign in
Join our new commenting forum
Join thought-provoking conversations, follow other Independent readers and see their replies