Frightened Rabbit and Aaron Dessner (The National) interview: Band release new track 'Die Like A Rich Boy'
The track is the closer for upcoming album Painting of a Panic Attack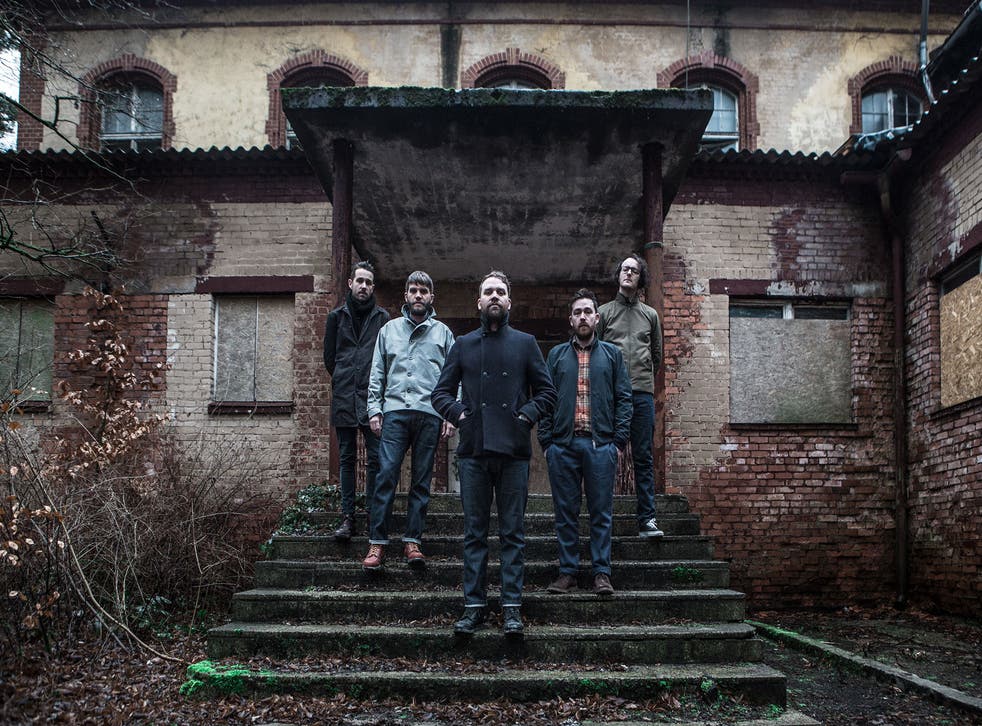 Frightened Rabbit have been releasing tasters of their upcoming album over the past two months, and their latest is something particularly special.
"Die Like A Rich Boy" is the closing track from Painting of a Panic Attack. The album is the band's fifth; produced by The National's Aaron Dessner and recorded at his studio in Brooklyn.
It's a personal favourite for this writer: listen out for the elaborate, imaginative deaths by the protagonist that contrasts beautifully with the stark, stripped-down sound.
Q&A with Frightened Rabbit frontman Scott Hutchinson
Did you find the experience of writing music in LA to be challenging/different in any particular way to writing in Scotland?
It was different in many obvious ways, though I'm still not sure exactly how the city influenced the sound of the album. I found myself feeling quite isolated out there, it's a far cry from Glasgow or Edinburgh where there was always someone on hand to go for a pint and discuss the issues of the day.
As such I kept a lot of my frustrations to myself, I didn't have many sounding boards for my thoughts and ideas aside from my girlfriend in LA and the rest of the fellows in the band, but they were back in Scotland.
That said, I had some wonderful writing trips to the area around Big Bear Lake, about 2 hours north east of LA. It's tucked away in the mountains and provided me with the focus I needed to write. Los Angeles feels quite... anxious.
It's a subtle anxiety, not like that of New York which tends to wear its neuroses on its sleeve. The need to escape that tension is definitely a theme that's touched upon throughout this album.
You say the concept of an overarching landscape for the album was "short-lived" but you can definitely still hear those protagonists here and there – do you think you'll be exploring those stories in future work or are you leaving it after Painting?
I'm not sure. They may well be revisited at some point, though perhaps a Frightened Rabbit album isn't the best place for them to be explored in any detail.
I would love to pursue one of these "concepts" to a more conclusive place, but it's about choosing the right platform to do so. Maybe I could tackle it in a stage musical or something. Ha!
I really love the idea you explore in the song of going out with a bang with these elaborate deaths – and that this is the track that closes the album so you've got a very stark, intimate song that resonates – how much thought went into its placement on the album and how do you hope the listener will respond to it?
It was either going to be "Rich Boy" or "Death Dream" to close the album. We initially had the two of them sitting together at the end but it felt overbearingly morbid.
The wonderful thing about Rich Boy bringing the whole thing to a close is that it does so with very little sonic fanfare. I hadn't thought of the lyrical fanfare until now, but that is very appropriate.
The two characters go out with a bang but the album doesn't, musically speaking. I hope that this song will be a little surprise for the listener, the kind of song that stops people in their tracks and forces them to listen more intently.
One thing we learned on this album is that bluster and noise can actually be much easier to ignore than subtlety and intimacy, and Rich Boy provides the ultimate example of this on Painting Of A Panic Attack.
Q&A with The National's Aaron Dessner
What about 'Die Like A Rich Boy' makes it your personal favourite?
Die Like a Rich Boy has, for me, some of the strongest lyrical content I've heard in many years; an epic love song laced with dark imagery and acerbic social criticism.
On the surface it's a simple folk song, but its structure, arc and dynamics, and the long "Die Like a Rich Boy" chorus, capture so much with so little. It's the last song on the record but to me the most moving and without a doubt one of the best songs I've been fortunate enough to play a part in capturing.
Can you talk a bit about what it was like working with Frightened Rabbit on the new album, and also how you approached the production on this particular song?
It is easy in a way to work with a band that has so much natural chemistry and an incredibly strong songwriter. I was mainly trying to push the band musically in places, to alter or deepen harmony, and also to distill the elements of songs that I found important. With "Die Like a Rich Boy" I really only added emphasis in places and tried not to mess it up. The demo was really already almost this good.
When was it decided that the song would conclude the album, and what kind of impact do you hope it will have on the listener?
I hope people will be as moved as I am and then immediately listen to the entire record again! Also it's a gift whenever anyone manages to write something this good — I hope people will share it with others and spread the word.
Frightened Rabbit's fifth studio album Painting of a Panic Attack is out on 8 April - pre-order here
Join our new commenting forum
Join thought-provoking conversations, follow other Independent readers and see their replies