Jennifer Lopez interview: How American Idol has relaunched her career with TV drama Shade of Blue and Vegas show
Jennifer Lopez is booked solid for the first six months of the year and will likely be busy well into 2017 thanks to a career rejuvenation, she tells Mark Ellwood
Mark Ellwood
Friday 22 January 2016 10:01 Comments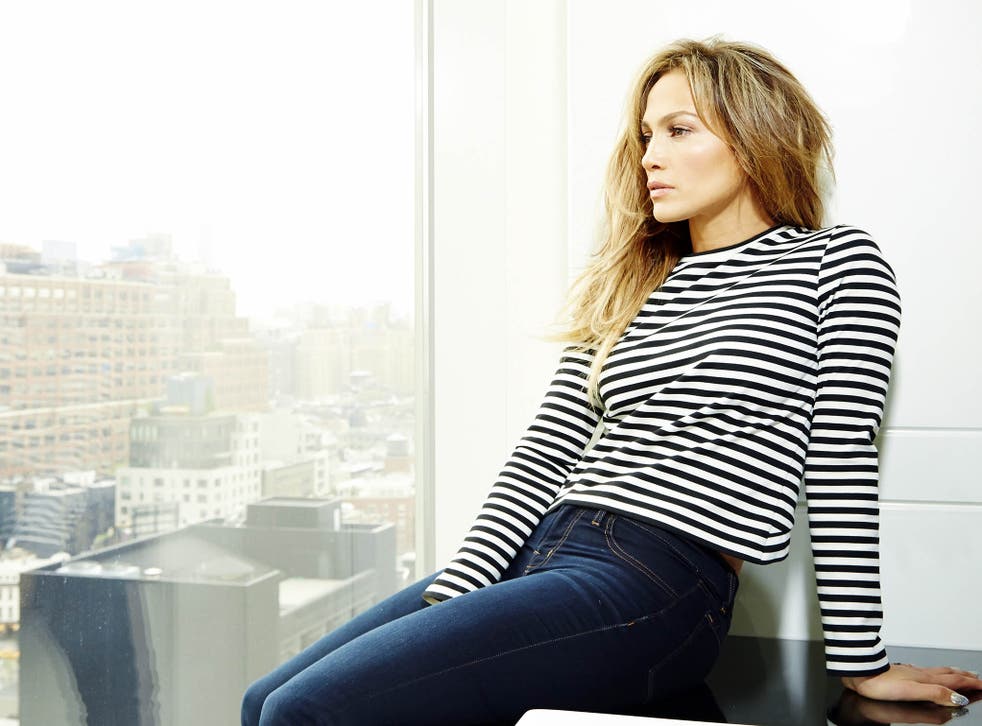 Actress-singer-dancer Jennifer Lopez will redefine her status as a triple attraction this year – in this case, juggling three different shows simultaneously as 2016 begins: one a drama, another a reality show, and the last a sequin-spangled live concert series. She seems characteristically unfazed by the workload: "I can tell you – we've got a million ideas."
The first Lopez show is on TV, her debut as the lead of a prime-time drama, NBC's Shades of Blue (think Prime Suspect with a dash of the conflicted loyalties of Olivia Pope in Scandal).
Co-starring Ray Liotta and erstwhile Sopranos moll Drea de Matteo, the 13-episode series is one of those gritty, moral-quandary-type shows, where she plays a single-mother NYPD detective who struggles with the obligations of her job.
"It's set in the world of cops, but it's really about human nature – how we're always riding a line of what's right and what's wrong, that slippery slope," Lopez explains, her Bronx twang gloriously intact.
She'll compete with herself as American Idol returns on rival network Fox in the same week. It's her fifth turn as a judge on this Pop Idol progeny that produced Kelly Clarkson and Carrie Underwood. The singing juggernaut is slowing – the most recent finale was down three million viewers Stateside compared with the previous year – so it's concluding with this, its 15th season.
Lopez owes much to Idol – and not just in terms of the enormous pay packet, reportedly around $20m (£14m), that she receives for her opinions. Five years ago, when she first sat behind the Cowell-approved desk, her career was in the doldrums, with flop films (The Back-up Plan) and singles ("Louboutins" and "Fresh Out of the Oven", which also led to her departure from longtime label, Epic Records).
Joining the panel offered Lopez the chance to become the firm-but-fair, tough-loving judge – she even rushed onstage impromptu and grabbed the microphone from a contestant who was in danger of elimination and declared the singer safe.
Idol is a show for which she admits she would have auditioned in her teens, and one that has formed the bulwark for her career rejuvenation. "When they announce the winner, and you see that person's dream come true? It's such a human thing," she says, softly.
Don't expect her to be so touchy-feely when it comes to the other auditions she's overseeing now – for dancers to be part of her back-up troupe in the Vegas show she's set to launch later in January. There's no-one pickier, and little wonder given that she started as a booty-shaking background artiste for a slew of big stars from New Kids on the Block, then the world's biggest group, to Janet Jackson (look for J. Lo in a black dress in the video for "That's the Way Love Goes").
Enjoy unlimited access to 70 million ad-free songs and podcasts with Amazon Music Sign up now for a 30-day free trial
Sign up
"I started as a dancer, so I have an eye for it. I've done it my whole life," she explains, "Sometimes other people – the music department, or my management – might like a person, but I'm, like, 'oh, they're a little bit weak in this part, there's not enough technique'." Her uncompromising attitude is typical of the girl born and bred in the Bronx. "I liked my upbringing there and it gave me incentive. Just the street smarts and the savvy."
Both skills have been vital over the past few days while she has been whittling down a huge pool of hopefuls via sweat-inducing auditions. Jen (never call her J. Lo) isn't just assessing their footwork, either. "They're bringing the story to life, so they're an integral part of the show, acting a little bit, even."
This live gig, which started this week, is arguably the biggest single undertaking for Lopez this year, one she's expected to shoulder almost solo (well, except for those exhaustively rehearsed chorus kids) Forty-six-year-old Lopez will be an intermittent presence for 20 shows over several months at Planet Hollywood's Axis Theatre in All I Have.
The Vegas residency has become a rite of passage for pop princesses ever since Celine Dion's camp-tastic A New Day at Caesar's Palace premiered in 2003. Veterans of a greatest-hits-strewn show on the Strip now include Britney Spears, who has been offering Pieces of Me for the last two years, and Mariah Carey, whose Infinity began last summer.
These shows have boomed, Teflon-coated against caustic reviews; The New York Times likened the latter's concert to a can't-look-away car crash as Carey's signature high notes proved more monochrome than coloratura.
Typically, Lopez is determined to beat them both. "I want [the show] to be a high-energy, Bronx kind of block-party," she says, "The most exciting shows make you dance, and scream and jump up and down. I want people to really let loose. It's always been my approach to performing, to work, to everything I do in life: I give it all I have," she continues, "That's why it's the name of my show." It sounds as much like a threat as a promise.
One of her former dance teachers, the late Phil Black, singled Lopez out as the most memorable pupil he'd ever schooled and someone who worked hardest in the most competitive environment – no mean feat, given that he also taught Madonna and John Travolta and was himself an alumnus of Alvin Ailey and Martha Graham's schools.
"He said that twenty-something years ago," she says, laughing at the memory, momentarily caught off-guard. Yet the famously clean-living Lopez – "I don't drink. Don't like the taste. It would be a waste of money. Never done drugs either" – is an unlikely Sin City resident.
The residency wasn't part of her plan until she sang in a sold-out New Year's Eve show in 2014 and in the process realised how a residency allowed greater creative freedom compared to touring across the world: "All your creative ideas get pared back, little by little, because it gets very expensive to put everything on a boat to China or Australia. In Vegas, though, you're in one place, so I get to dream – the ideas I have [for sets] can come to life in a way they never have before. That's why some of the best shows are in Vegas."
Doubtless her mother, Guadalupe, was a factor, too: the ferocious former schoolteacher, who nurtured her daughter's ambition – "my mother said I could do anything with my life, I could even be President of the United States" said Lopez of her greatest supporter – is an avid gambler.
It didn't hurt, either, that Lopez could also channel her inner Sinatra on the Strip. "I'm not as gifted a vocalist as some of the girls out there, but I know I communicate," she says. "It's a much more intimate experience, and it's about real performers. Not everybody can really do that." (Indeed, Mariah). Lopez plans to switch the set list constantly so each evening will be a unique experience, whether covering Diana Ross or Selena, the Tejano singer shot dead by a fan whom Lopez portrayed in her first major acting role.
She's also going to take inspiration from whatever she's humming in the kitchen at home; right now, that's ballads by Sam Smith. "That song 'Lay Me Down'? I really, really love it." Lopez, forever the pragmatist, though, knows why fans flock to those Vegas shows. "I'm going to perform all my chart hits, not a bunch of album cuts no one knows."
Celebrities who have hinted at entering politics

Show all 8
All I Have may be a musical retrospective, but she won't be revisiting other aspects of her past – like the deeply slashed Versace dress she wore as P Diddy's date to the Grammys in 2000 and with which she ensured herself a place on magazine covers across the planet.
"Oh, I still have it, but we're going to do all kinds of new stuff – I redid the Versace dress for my Bronx homecoming show [in 2014], so I don't think I'll repeat myself." Donatella Versace, though, is one of the talents likely to provide costumes for Las Vegas, alongside Balmain and red carpet favourite Zuhair Murad.
Lopez brightens when she talks about clothes and glamour. This is a woman with an entire drawer at home devoted to yellow diamonds, and who has called flicking through fashion magazines and flagging the outfits she wants to buy "my favourite thing to do".
"It's like a fantasy," she coos. "When you think of Diana Ross, Cher or Barbra Streisand, it's their costumes that became their signature." Indeed, she has cited Streisand as an icon before, telling of how she wanted to work with the perfectionist diva on a movie. Lopez sent her a pair of scripts to review.
When Streisand phoned to give feedback, Lopez was too nervous to take the call so instead her manager answered. "And you know what she told him? 'Jennifer's too good for these.'" Will Streisand's style be a template for her onstage wardrobe, perhaps? There's a flinty laugh, tamping down the bristles from any comparison. "Oh, I'm just looking to do the best Jennifer Lopez show anyone has ever seen."
Even for a steely diva like Lopez, a stint in Las Vegas can be gruelling. Another workaholic performer, Dolly Parton, only managed one night of her seven-day residency in 1981 after suffering an attack of Vegas Throat. The dry desert air, combined with omnipresent air conditioning, is brutal on performers' vocal cords (maybe that's why Spears seems to lip-sync much of her show). "Oh, I've run into that trouble in Vegas before. It's super-dry so you have to take care of yourself and have tons of humidifiers," Lopez says, wryly. "I also use masks to replenish [skin] moisture. They look like bandages."
However hectic her professional workload might be in 2016, Lopez has managed to manoeuvre her personal life out of the headlines in recent months. Max and Emme, the twins she had with ex-husband No 3, Marc Anthony (he followed restaurateur Ojani Noa and dancer Cris Judd), will turn eight in February. Since her divorce from singer Anthony she has been reportedly dating twentysomething back-up dancer Casper Smart, though the relationship has waxed and waned over the last four years.
Her only recent flutter with tabloid notoriety came in the wake of her ex-boyfriend Ben Affleck's divorce announcement: magazines touted a possible reunion between the one-time couple (known collectively as Bennifer), rumours fuelled by the timely leak of decade-old home videos of the pair. Unfortunately for symmetry-loving editors everywhere, the rumours seem to have been baseless.
Perhaps it's because Lopez had little time for anything other than work in recent months – she is booked solid for the first six months of the year (and will likely be busy well into 2017, since it's expected the Vegas residency will be extended).
Her schedule should ease once the final victor of American Idol sings his or her final chorus. Will she miss the show that has been such a major part of the last five years of her life? "I have mixed feelings to it ending – it's a big celebration, but it's melancholy at the same time." She catches herself, and her signature steely optimism returns. "But something else will come up."
Register for free to continue reading
Registration is a free and easy way to support our truly independent journalism
By registering, you will also enjoy limited access to Premium articles, exclusive newsletters, commenting, and virtual events with our leading journalists
Already have an account? sign in
Join our new commenting forum
Join thought-provoking conversations, follow other Independent readers and see their replies