Joe Mount interview: 'Metronomy hasn't really got in anyone's faces so much that they're going to get pissed off'
Elisa Bray
Thursday 30 June 2016 15:26 Comments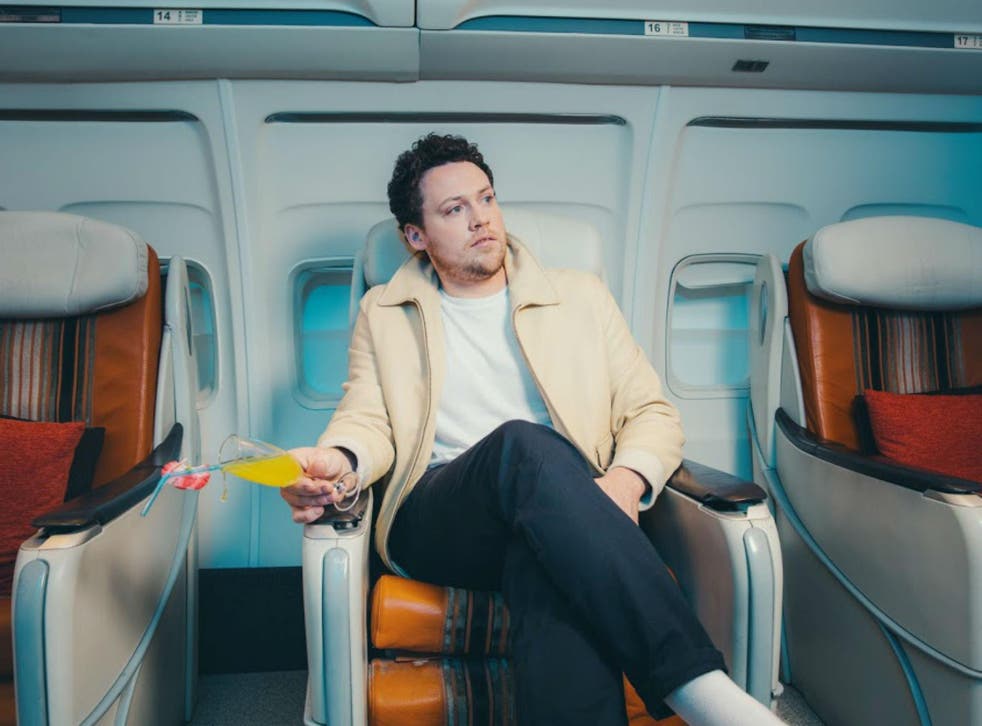 Joseph Mount is not a nostalgic person. You might think the mastermind of Metronomy is, given that his latest album is entitled Summer 08. Certainly French journalists do, since their press release states it's a "nostalgic" album, and resulting interview questions have been vexing him.
"It does a bad service to my family if I say 'things were better a few years ago before you were there'", he says in good humour. "I'm not nostalgic at all. There's something about having children where everything starts again." We have met at Field Day festival in Londonb's Victoria Park, where Metronomy headlined in 2014 and where Mount, 33, is today DJing to promote their new dance-oriented record.
With each album that Metronomy release, Mount captures a moment in time. Take their Mercury-nominated 2011 album The English Riviera, which encapsulated summer in Mount's former hometown of Totnes in Devon (he'd already moved to Paris to live with his girlfriend Marianne, who he met through the band's label). Summer 08 harks back to Metronomy's springboard year: the year that their debut album Nights Out came out and the band's world touring adventures began.
"I was thinking 'I'm going to try and write like I was writing when I was 25 years old', which is impossible." He casts his mind back to the things on his mind back then. "I was trying to make dance music, and trying to make it a bit emotional, but any kind of emotional currency I had at that point was a failed relationship and jealousy of anyone else doing better than me making music. It's kind of pathetic now, you know, living in east London feeling like 'why doesn't everyone understand how good I am at what I do? Why aren't I at the coolest place, why aren't I being invited to that?'" He laughs. "I remember when we played with Klaxons and they were staying in a Travelodge and we were staying at the YHA. 'Why aren't we in a Travelodge?' It's the petty stuff which I guess in a strange way ends up driving you to being successful."
But being the hottest band of the moment doesn't usually lead to longevity. Where Klaxons' hype fizzled out, their star burning too bright too soon, Metronomy, with their biggest chart success not arriving until their fourth album (Love Letters went Top 10), continue on their steady climb. And as a concession for not touring this album, so that he can spend more time with his one-year-old and three-year-old sons, Mount agreed to sign a contract for a further album, meaning there are another two to come after Summer 08, news to delight their fans.
"I feel lucky every time there's a release because we've never been a massive group; there's still the potential to go mainstream coupled with the fact that we probably won't. I remember when we started and we did a tour with CSS and Justice and they were super hyped everywhere. I'm sure it's part of the reason why CSS lost members. It puts a lot of pressure on you. There's probably something a little unusual with Metronomy in that it has been very gradual and hasn't really got in anyone's faces so much that they're going to get pissed off."
He points out that they only stopped touring Love Letters in September (on that tour they sold out the 10,000-capacity Alexandra Palace in London), and it's already impacted on family life for him and his bandmates. Bassist Gbenga Adelekan missed the birth of his child because of a Metronomy gig. "I think it will be something that he always will find difficult", says Mount. "And I've already missed quite large chunks of my children's early years."
Given that Metronomy are known for taking twists and turns with every release, it will be of no surprise to fans that the new album sounds nothing like the Motown and psych-influenced Love Letters, which was made entirely in analogue, or the US West Coast-inspired pop of The English Riviera. Summer 08 is a return to the electro-pop of their debut.
"The English Riviera and Love Letters I stepped up in different directions to try and learn. I wanted [Love Letters] to be a breather from upbeat, fun music. So having done that I had this immediate desire to go back into making much more dancey records. Some people found Love Letters quite a difficult record and will consider this a return to form."
Enjoy unlimited access to 70 million ad-free songs and podcasts with Amazon Music Sign up now for a 30-day free trial
Sign up
Writing from gut instinct rather than an agenda to learn, he found it happened far more quickly, a clear benefit with two small children to look after.
"Being lucky enough to afford myself the time to do those last two albums, now I feel much more sure of what I'm good at. I can't imagine that I will approach a record in the same way that I did The English Riviera and Love Letters again… 'I'm going to make this masterpiece!'" he snorts with laughter. "All these records which become the best records in the world happen by mistake, and that's the magic. With The English Riviera I tried to manufacture this masterpiece. And I think on some levels it can work, but then I always feel like Nights Out, which is my favourite, wasn't as lofty as anything else. Definitely for the next few records I'll chill out."
Where Love Letters was about songs and melodies, this record focuses on uptempo rhythms. He soaked up the dance music of the late 90s: Daft Punk, Fatboy Slim, The All Seeing I, Beastie Boys' Hello Nasty period. "These weird dance beaty records were around that were quite fun, quite interesting and very popular." Midway through our interview, Mount tunes into the rumble from a nearby tent and pauses. "This is a song I wrote with Roots Manuva. And produced!" he exclaims, delighted. "That was probably not long after 2008."
It's a reminder of just how many stars Mount has worked with, songwriting, producing or remixing. He can now add Robyn to the list; the Swedish popstar features on Summer 08 song "Hang Me Out To Dry", Mount's current favourite on the record. The pair have written a lot together, as Robyn is gearing up for another album.
Metronomy can also count Kanye West, Tyler The Creator, Lady Gaga, Daft Punk and Josh Homme as fans. So it's no surprise that it's been suggested by his publisher that he writes hits for the likes of Rihanna.
"That's not really where I'm at at the moment. I want to use all of my best ideas for me. I think about people like Hudson Mohawke, Ariel Pink or Dev Hynes who have let their relationship with other musicians overshadow their own output. But I definitely will write for other people. It's inevitable," he laughs. Right now, Metronomy can do exactly what they want.
'Summer 08' is out 1 July
Register for free to continue reading
Registration is a free and easy way to support our truly independent journalism
By registering, you will also enjoy limited access to Premium articles, exclusive newsletters, commenting, and virtual events with our leading journalists
Already have an account? sign in
Join our new commenting forum
Join thought-provoking conversations, follow other Independent readers and see their replies