John & Jacob music video premiere for 'I'd Go Back'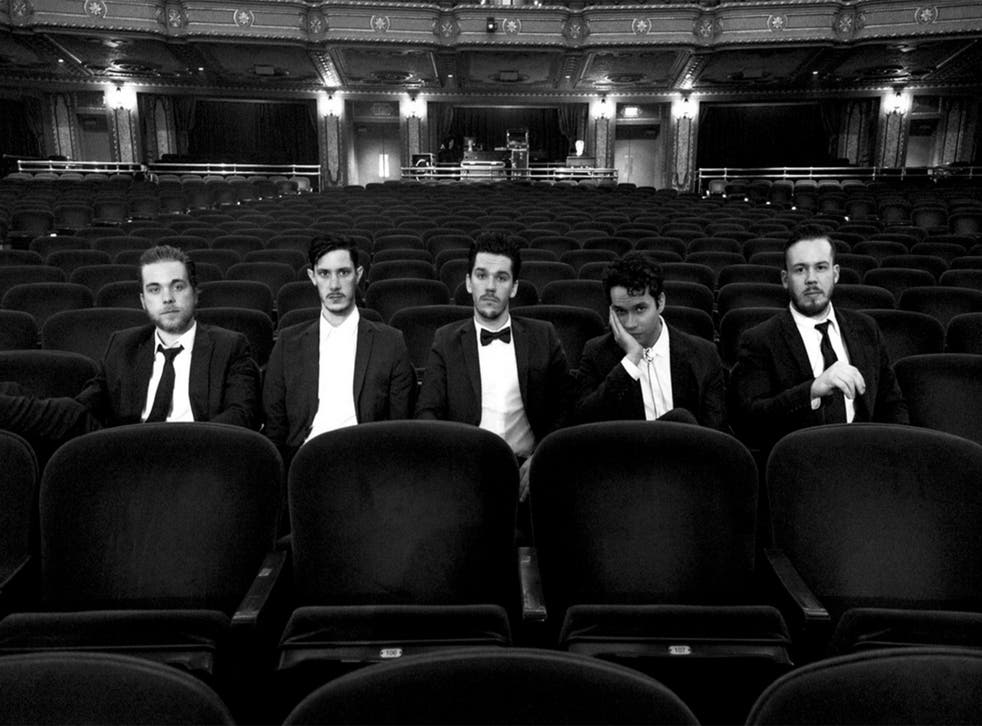 A confession before we get into this: I'm a huge Nashville fan and a long-time listener of country, Americana, folk, you name it.
Now that's out of the way: The Independent is hosting the video premiere for "I'd Go Back" by American roots rock band John & Jacob.
They've been hanging out with The Shires during their UK tour, had a song featured on HBO series Nashville ("Be My Girl"), and a second single from their self-titled debut recently aired on BBC Radio 2.
The video, which was produced and directed by Chase Lauer, showcases a natural acoustic sound in a very intimate studio setting. Take a look and let us know what you think.
Q&A with John & Jacob
Which artists have you been listening to recently?
Recently we've been listening to Kacey Musgraves, Chris Stapleton, Tame Impala and a bunch of other stuff. We are always travelling around and all 5 of us in the band have our own things we enjoy, so we are constantly listening to different things.
What was it like making your debut at the Grand Ole Opry?
I think we can all agree that the Grand Ole Opry was definitely a milestone for us. You really can't prepare for it. You can practice all you want but once you step onto that stage and the lights are on you it's very surreal.
Do you think the TV show Nashville has something to do with an increasing appetite for Americana/rock/Country music in the UK?
I think it's had a major impact on the growing scene of the Americana/Rock/country music in the UK. It's created exposure. The music has always been around, but now it has a platform. Our biggest song in the UK has to be "Be My Girl" which was featured on the show Nashville.(2nd season, Ep. 5... But who's keeping up? Haha). Another platform that keeps it growing is the radio. When pioneers like Bob Harris and Mark Hagen finding music they love, they share it with the whole country on Radio 2. The response seems to be going well so, hey Bob and Mark... We love you!
What was your first gig, and what's been the best so far?
Our first gig with the 5 of us playing together was in Nashville for the local radio station. It was on a nice stage with a professional system. This one was Austin Taylor Smith's first show with the rest of us and I want to point out that he got to skip some of the shoddy gigs that we've played. We tease him that he got to hop in and live the dream right off the bat. We're still paying our dues so we may get him to chip in a little more. Maybe he will make the rest of us some peanut butter and jelly sandwiches!
Our best gig has got to be one we haven't played yet. So it could happen at any time. That means everyone needs to come to our show or like us on Facebook for tour dates. Shameless plug! We will entertain you and that's a promise. Plus we have new songs that we are about to start playing. Our bassist, Jake Thrasher may or may not be toying with the idea of entertaining through the form of nude art. Show up to find out.
John & Jacob are touring at the following UK venues:
13 November: Oxford O2 Academy 2
14 November: Brighton Concorde 2
15 November: Norwich Waterfront
17 November: Gateshead Sage 2
18 November: Glasgow Oran Mor
19 November: Edinburgh Voodoo Rooms
20 November: Manchester Academy 2
21 November: Birmingham Library
22 November: London O2 Shepherd Bush
Check out John & Jacob on their website
Join our new commenting forum
Join thought-provoking conversations, follow other Independent readers and see their replies