Lakha Khan - Mast Qalandar - Live in New York City
Lakha Khan: Meet the Indian musician fighting to save Rajasthan's traditional folk music
Lakha Khan says he is inspired to perform for everyone
Lakha Khan strongly believes his duty as a musician is not simply to perform and entertain, but to act as an historian - a maintainer and teacher of traditions. Furthermore, he believes he owes that duty to both Hindus and Muslims
"I'm known in the community as someone who teaches not just the Muslims about the Hindu gods, but the Hindus as well," he said. "I have the knowledge, and an ability to share it."
The charming, joke-cracking 76-year-old hails from Rajasthan in northern India and is celebrated as a master of the Sindhi sarangi, a bowed instrument that has similarities to the violin. Lovers of Rajasthani and Sufi music, say the instrument, with 26 strings, has a rare ability to imitate the human voice.
Many Indian folk musicians complain that they're ignored in their own country by promoters and the government, and looked down on by classically trained performers. Yet, some of them tour internationally, from Japan to the US, where they perform before before sell-out audiences.
Khan is on his latest tour of the US, along with his son, Dane Khan, who accompanies him on the dholak, a double-headed drum.
In a recent gig at the City of New York University's Elebash Recital Hall, he and his son earned a standing ovation for a two-hour set that included Sufi poetry, Hindu religious songs, or bhajans, folk tunes and classical ragas. He also threw in a couple of jokes.
The next day, at an apartment in the city's Chinatown district, he said that he and his son were fighting to preserve a tradition he believed was threatened. Indeed, he has long struggled to persuade his son to drop the drum and take up the sarangi.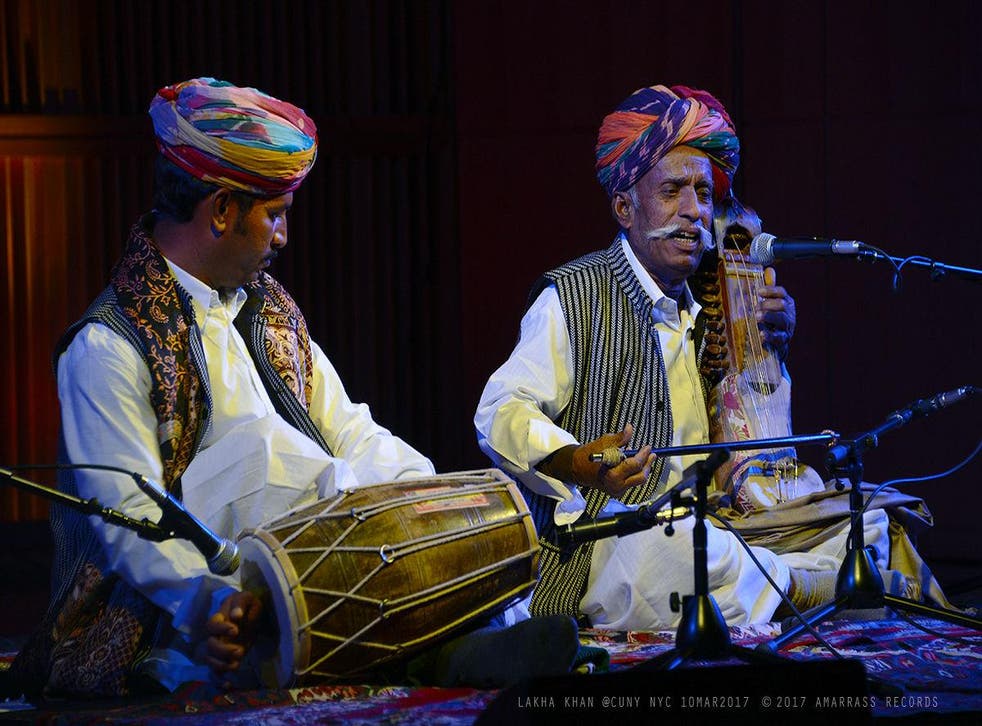 "A lot of the old masters have passed away. Others have got old," he said. "The younger generation is playing, but there is not the same experience. [Sometimes] they deviate."
He added: "And the sarangi is a difficult instrument."
Khan has said he is ready and willing to travel across Rajasthan to teach young people who are interested in learning the instrument. And that includes teaching it to girls, as well as boys.
"When God asks you what you've done, you have to give a report card and explain yourself," he said. "It's not just about the money, you have to play for people who understand."
Khan belongs to a Muslim musicians' caste in western Rajasthan known as the Manganiyars. Traditionally, they have performed music for a community of "patrons", a word that imperfectly refers to a relationship in which the musicians receive sponsorship, money and often payment in kind, from the more dominant group.
While a second Muslim musicians' caste, the Langas, have always performed for Muslim patrons, Manganiyars perform for the Hindu rajput caste.
Khan's first public performances, in the late 1960s and 1970s, took place with the support and backing of the late ethnomusicologist Komal Kothari.
Nowadays, he and other traditional musicians are being supported by Amarrass Records, a label set up a few years ago by two former Delhi schoolfriends, Ashu Sharma and Ankur Malhotra.
Like Cecil Sharp and Alan Lomax before them, the two have scoured the countryside for musicians and artists who have often been overlooked, and then set about recording their work - frequently in the field, amid sandstorms and the blistering heat of the Rajasthan summer.
"Our inspiration is the music of the great blues legends, and the efforts that went into capturing and presenting that music, that has inspired countless musicians and music lovers around the world, and helped spawned new musical genres," said Malhotra.
"We hope our efforts to capture, preserve and promote the great folk and roots music of India - and beyond - will create new enthusiasm and inspire generations to come."
Join our new commenting forum
Join thought-provoking conversations, follow other Independent readers and see their replies