Led Zeppelin playlist: a staircase to a whole lotta riffs
They were the unrivalled titans of Seventies rock, and their range, invention and above all heaviness live on. Graeme Ross picks the best of their oeuvre
Graeme Ross
Sunday 03 December 2017 20:28 Comments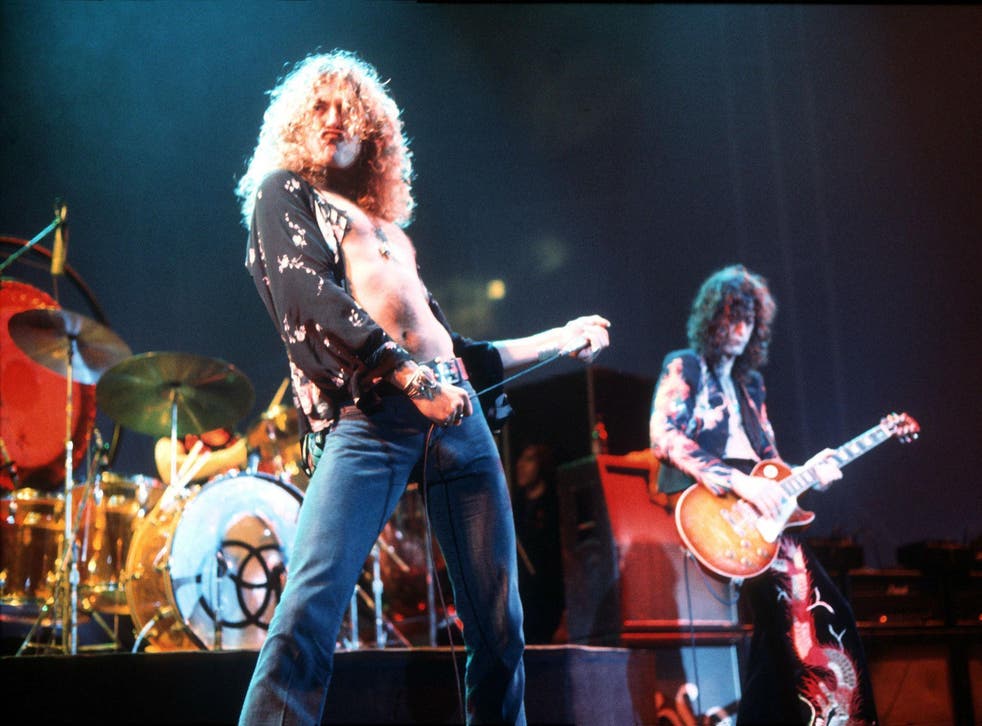 On 4 December 1980, a statement was issued on behalf of Led Zeppelin that was short, to the point and heartfelt. It read: "We wish it to be known that the loss of our dear friend, and the deep sense of undivided harmony felt by ourselves and our manager, have led us to decide that we cannot continue as we were."
The statement was signed, simply, Led Zeppelin. In September of that year, their legendary drummer John Bonham had died after a marathon drinking session, and the band had decided that as it couldn't be Led Zeppelin anymore without their friend, it wouldn't be. And so, after just a dozen years and eight studio albums in which Led Zeppelin redefined the boundaries of rock music time and time again, they were no more.
A ninth album consisting of leftover material from their career was released in 1982, and the ensuing decades would see brief one-off reunions for live performances resulting in a live album featuring Bonham's son Jason on drums, but true to their word, there has been no new Led Zeppelin recordings. But what a legacy of diverse and magnificent music they left behind.
Rising from the ashes of seminal Sixties R&B band the Yardbirds, lore has it that Led Zeppelin took their name from a throwaway remark by the Who drummer Keith Moon, who quipped that the new group would go down like a lead balloon.
The "a" was dropped lest "Lead" was pronounced "Leed" and "Zeppelin" substituted for "Balloon". Zeppelin was the classic four-piece rock band: Robert Plant, the epitome of the ringlet-haired Adonis-like front man and possessor of the most sensuous banshee wail in rock; powerhouse drummer John Bonham, the archetypal work-hard-play-hard musician; multi-instrumentalist and bass player John Paul Jones ("the quiet one"); and guitar virtuoso Jimmy Page, whose vision, mastery of the studio and musical ambition drove the band to incredible creative achievements and worldwide success.
Peter Grant, their astute and notoriously combative manager played a key role in the success of Led Zeppelin, terrorising record label executives, promoters and bootleggers throughout the world and ensuring that the band received what was due to them in record sales and gate money from their concerts.
Grant also devised the brilliantly successful marketing policy whereby there were no Led Zeppelin television appearances or singles releases, at least not in the UK. This ensured maximum sales and interest in their albums and gigs and helped make Led Zeppelin the biggest and most successful rock band of the Seventies, with their tours must-see events amid the gaudy extracurricular excesses of life on the road for a successful rock band.
They are credited with virtually inventing the heavy metal genre, which they did, but to pigeonhole Zeppelin as mere progenitors of ear-bleeding musical blitzkriegs is to do them a great disservice. From their earliest recordings, Zeppelin forged a hitherto uncharted path. Underneath the bombast lay gentle acoustic and folky meanderings and, as their career progressed, they would embrace roots and world music long before it became fashionable as they incorporated funk, country and reggae into their increasingly adventurous recordings.
However, one troubling facet of the Led Zeppelin legend is the controversy surrounding their "borrowing" key elements of a number of songs and incorporating them into their own.
Enjoy unlimited access to 70 million ad-free songs and podcasts with Amazon Music Sign up now for a 30-day free trial
Sign up
No less than four songs on this playlist have been subject to these accusations, the most recent of which resulted in a court case alleging the plagiarism of "Taurus", an instrumental by cult Sixties band Spirit, for Zeppelin's famous anthem "Stairway to Heaven". The jury found in favour of Page and Plant but, to these ears at least, the two songs have remarkable similarities. Zeppelin did tour with Spirit in the 1960s and must have heard the song. And Zeppelin did have previous, having belatedly settled with some of the old blues masters such as Willie Dixon, whose "You Need Love" was the basis for "Whole Lotta Love".
It's not so much the fact that Zeppelin borrowed other artists' work, which has always happened and will continue; it's their cavalier attitude to crediting the artists that doesn't sit easy with even their most ardent fans. Be that as it may, what is indisputable is that the reimagining of these songs resulted in some of Zeppelin's greatest recordings, as evidenced in this playlist made up of 11 songs – because if any band deserves the amp turned up to 11, it has to be Led Zeppelin. Their status as one of the most important and innovative bands of the rock era stands unopposed.
11. Communication Breakdown from Led Zeppelin (1969) It takes a special song to evoke 1950s rock'n'roll and anticipate punk while simultaneously helping to birth heavy metal, and all in just two-and-a-half minutes. And "Communication Breakdown" is that song. Now if only Led Zeppelin did singles...
10. Babe I'm Gonna Leave You from Led Zeppelin (1969) Originally a folk song recorded by Joan Baez, and ample proof that Zeppelin were into acoustic sounds long before the pastoral feel of much of Led Zeppelin III. Probably best described as heavy metal folk with some frantic acoustic strumming from Jimmy Page, but interspersed with gentle, flamenco-like finger picking and the first classic example of Robert Plant's uninhibited roar.
9. No Quarter from Houses of the Holy (1973) By now the biggest band on the planet, Zeppelin experimented with various styles on their fifth album, but the standout track was this ambitious and atmospheric mood piece. John Paul Jones contributes a shimmering electric piano, which, along with Page's fuzzy guitar and some psychedelic warbling from Plant makes for a dreamy, trippy and mesmerising experience.
8. Immigrant Song from Led Zeppelin III (1970) The absolute essence of Led Zeppelin distilled in under three minutes with signature tropes front and centre. The best rhythm section in the business in perfect accord, Plant's trademark banshee wail, the song powered by Page's irresistible driving guitar, and some nonsense lyrics. In this case, it's all about Vikings – apt given that Zeppelin spent much of their career laying waste to the rock landscape. Hammer of the Gods indeed.
7. Dazed and Confused from Led Zeppelin (1969) A direct linear descendant of the latter-day Jimmy Page Yardbirds who often performed the song live, "Dazed and Confused", a sensational example of the individual members alchemy, became the centrepiece of Zeppelin's debut album. A simmering psychedelic blues, the song took on a new life as a live staple stretching as long as 45 minutes with Page famously attacking his 12-string with a bow – grist to the mill evidence of the mid 1970s rock dinosaurs' self-indulgence that punk sought to eviscerate but, to aficionados of the band, all part of the Led Zeppelin experience.
6. Ramble On from Led Zeppelin II (1969) John Bonham beats out an innovative percussion track on the back of a guitar case and Plant's rather hokey Tolkien inspired lyrics only add to the charm. Page's wonderfully fluid and melodic licks take the song to greater heights and it's yet another Zeppelin classic.
5. When the Levee Breaks from Led Zeppelin IV (1971) An homage to, and Zeppelin's own most authentic example of, the muddy delta blues that inspired their earliest work as they place the listener in the centre of an apocalyptic flood in Mississippi. Ironically, given the band's history of borrowing from other artists, including the original version of this song, John Bonham's peerless drum track ("the drum intro of the Gods", according to his son Jason), has been extensively sampled through the years.
4. Black Dog from Led Zeppelin IV (1971) Any suspicions that Zeppelin had been transformed overnight into Crosby Stills and Nash after the pastoral feel to much of Led Zeppelin III were quickly dispelled by the dazzling one-two thrust of the first two tracks of their fourth album. "Rock and Roll" reasserted Zeppelin's status as the most dynamic four-piece in all of rock, and was preceded by "Black Dog", with the unforgettable opening salvo of Plant's a cappella vocal followed by Page's blistering call and response riff. With multiple overdubbed guitars and an arresting stop-start structure, not to mention sexual metaphors that the group's revered old bluesmen influences would have sold their souls for, "Black Dog" was an incredibly bold and complex song for Zeppelin to attempt. The finished product merely confirms the band's greatness.
3. Stairway to Heaven from Led Zeppelin IV (1971) Zeppelin's most famous song is in danger of being grouped alongside the likes of "Brown Eyed Girl" and "Bohemian Rhapsody" for the title of the most overplayed rock song, but "Stairway to Heaven" still lives up to the legend and the hype. Zeppelin at their most mythical and mystical and proof indeed of their unparalleled gift for seamlessly shifting from the gentle folk balladry of the bulk of the song into full on guitar God heroics as Page creates one of the most iconic solos ever laid down.
2. Kashmir from Physical Graffiti (1975) A simply astonishing eight-and-a-half minute epic with a relentless, doom-laden chord progression built on a signature Jimmy Page riff, and boasting exotic horn and string arrangements, all embellished with a mystical Eastern flavour, "Kashmir" still astounds with its majestic sweep and grandeur. The definitive Led Zeppelin song according to Robert Plant, and he offers one of his greatest, most controlled vocals. But as a group ensemble piece "Kashmir" is Led Zeppelin at their most ambitious – daring to reach and succeeding.
1. Whole Lotta Love from Led Zeppelin II (1969) Producer Jimmy Page took full advantage of new studio techniques and the latitude afforded to hot new acts like Zeppelin to produce the band's defining and most influential song. Page's relentlessly hypnotic riff leads into a stream-of-consciousness middle eight with Plant sounding as if he might self-combust in the midst of his orgasmic moans and wails as Bonham and John Paul Jones back them to the hilt. Like most of Led Zeppelin II, "Whole Lotta Love" is brutal and direct. And in case you hadn't noticed, like a great many Led Zeppelin songs it's about sex. Lots of it. A visceral assault on the senses that bypasses the brain and goes straight to the loins, "Whole Lotta Love" fully deserves its legendary status and stands tall in the pantheon of classic heavy rock songs.
Register for free to continue reading
Registration is a free and easy way to support our truly independent journalism
By registering, you will also enjoy limited access to Premium articles, exclusive newsletters, commenting, and virtual events with our leading journalists
Already have an account? sign in
Join our new commenting forum
Join thought-provoking conversations, follow other Independent readers and see their replies