'Stairway to Heaven' trial: did Led Zeppelin borrow their biggest hit?
In a Los Angeles courtroom, the representatives of a forgotten rival band are disputing the provenance of the most famous riff in rock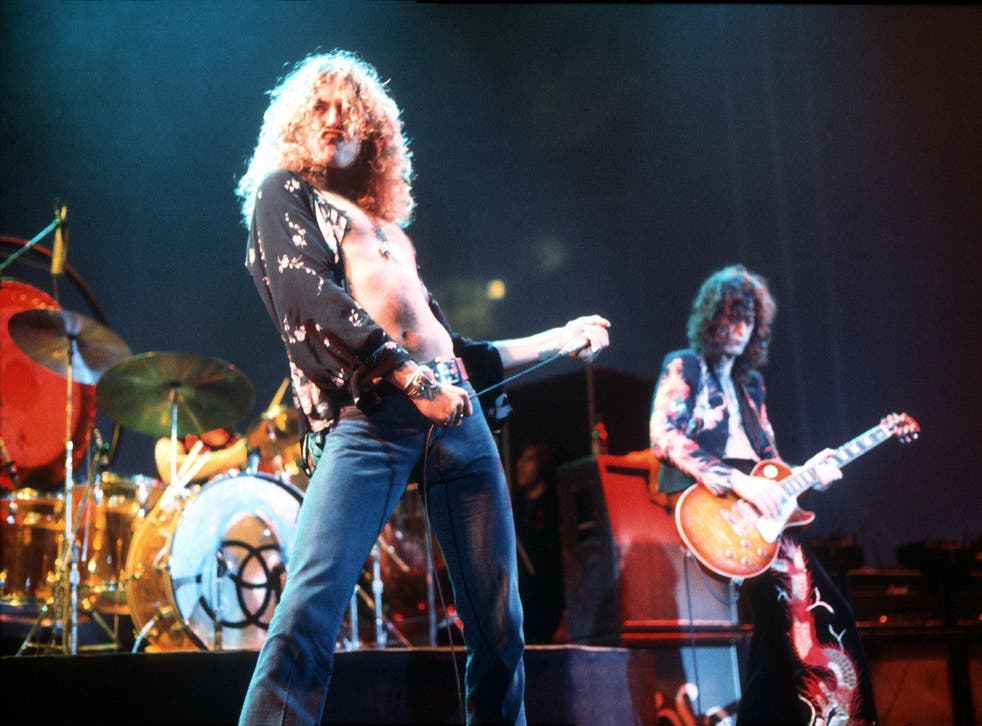 In their 1970s pomp, Led Zeppelin regularly played "Stairway to Heaven" to stadiums filled with screaming fans. Back then, guitarist Jimmy Page and singer Robert Plant could hardly have imagined that, four decades later, they'd be forced to listen to their greatest hit accompanied only by the sound of lawyers shuffling papers in a Los Angeles courtroom.
But that's precisely what happened this week, with the iconic rock duo facing a copyright infringement lawsuit which claims the opening bars from "Stairway to Heaven" – a sequence plucked with wildly varying degrees of skill by generations of rock wannabes – was in fact ripped off from an instrumental track by Spirit, a largely forgotten rival band from the same era.
Led Zeppelin have a longstanding reputation as musical magpies, and this is far from their first such dispute. They settled out of court after several similar legal actions were brought by other songwriters, over tracks including "Whole Lotta Love", "Bring it On Home", "Babe, I'm Gonna Leave You" and "Dazed and Confused".
But with their signature hit under the spotlight, Messrs Page and Plant have chosen to fight the case in court. Francis Malifoy, the lawyer behind the lawsuit, claims Mr Page pinched his song's celebrated intro from the track "Taurus", by Spirit's late guitarist Randy Wolfe, who went by the stage name Randy California.
"Led Zeppelin's the greatest cover band of all time. They lifted people's music, they never gave credit, and now… it comes back to haunt them," said Mr Malifoy, who first filed the complaint in 2014, writing the document partially in the so-called "Kashmir" font from the cover artwork to Led Zeppelin's 1973 LP, Houses of the Holy.
Mr Page, now 72, and Mr Plant, 67, have sat impassively through most of the proceedings, their still-long hair pulled back into ponytails, in Court 850 of Downtown LA's federal court building. A small crowd of devotees files in faithfully each day to see the two rock gods share a stage once more. After all, this may be the most time they've spent together in public in decades.
Mr Wolfe wrote "Taurus" in 1967. The following year, the track appeared on his band's first, self-titled LP. In December 1968, Led Zeppelin played their debut US show in Denver, on a bill that also featured Spirit. Whether or not they performed "Taurus" that night, Mr Page claims he and his bandmates had to leave for Seattle straight after their set and never saw Spirit play.
"Stairway to Heaven" was released in 1971 on the mega-selling Led Zeppelin IV. Mr Wolfe noted its similarities to his own song, but never took legal action. He drowned in 1997, aged 45, rescuing his young son from a riptide in Hawaii. Mr Malifoy is representing Michael Skidmore, the British-born former rock journalist who runs the trust managing Mr Wolfe's royalties.
Should Mr Skidmore win the civil trial, the money would go to the Randy California Project, a music education programme for underprivileged primary school children in Ventura County, near LA. And there is a lot of money at stake. In 2008, Conde Nast Portfolio magazine estimated that "Stairway to Heaven" had earned more than half a billion dollars in its lifetime.
Enjoy unlimited access to 70 million ad-free songs and podcasts with Amazon Music Sign up now for a 30-day free trial
Sign up
Under current US copyright law, the plaintiffs would only be able to claim a share of the song's earnings from the three years leading up to the lawsuit. On Friday Michael Einhorn, an expert in music economics, told the court that the amount in question would still be somewhere over $60m, taking in royalties from digital and physical sales, streaming and ringtones.
Mr Malifoy must convince the eight-member jury not only that Mr Page was familiar with "Taurus" before he wrote "Stairway to Heaven", but also that there is a "substantial similarity" between Spirit's song and the first two or so minutes of his six-minute classic. The case began on Tuesday and is expected to conclude sometime next week.
During two hours of testimony on Wednesday, Mr Page said he had only heard "Taurus" for the first time a couple of years ago, after his son-in-law alerted him to online speculation about the similarities between the songs. "I don't do the Internet, so he played it for me," Mr Page said, adding: "I was confused by the comparison."
Mr Page admitted that there were a handful of Spirit albums in his vast record collection, and that Led Zeppelin had even played a cover of another Spirit track, "Fresh Garbage", during a 1969 US tour. But he maintained there was no direct link between the tracks. "The chord sequences are very similar because that chord sequence has been around forever," he said.
Lawrence Ferrara, a professor of musicology at New York University, testified for the defence that the chord sequence, known as a "descending chromatic minor line progression" had "been around for 300 years," citing historic examples such as "Dido's Lament", by the 17th Century English composer Henry Purcell, and the song "Chim Chim Cher-ee" from Mary Poppins.
The same basic progression can also be found in several other celebrated pop recordings from the era, including The Beatles' "Michelle", Eagles' "Hotel California", Bob Dylan's "Ballad of a Thin Man" and "Music to Watch Girls By" by Andy Williams. "A chromatic scale is a musical building block," Dr Ferrara testified, "something that nobody can possibly own."
Judge Gary Klausner told the jury that they should consider the similarities only between the sheet music versions of the songs, not their recorded versions. The original records, played side by side, do sound remarkably similar to the average listener, but when Dr Ferrara played them in the courtroom on a specially provided piano, the differences become clearer.
The two tracks share their generic descending bass line, but their melodies are audibly divergent. And while it may not be at all relevant to the case, there is also an obvious reason why "Stairway to Heaven" is a classic and "Taurus" has languished in obscurity: Led Zeppelin's is indisputably the better song.
The trial takes place in a climate formed by last year's "Blurred Lines" lawsuit, which saw Robin Thicke and Pharrell Williams ordered to pay $7.4m to the estate of singer Marvin Gaye, over the similarities between their hit 2013 single and Gaye's 1977 song, "Got to Give It Up". The case is currently on appeal.
That verdict divided the music industry, said Jennifer Jenkins, an intellectual property expert who heads Duke University's Centre for the Study of the Public Domain. "Copyright draws a line between creative control and artistic freedom," she said. "But if you pull that line too far, then no one can write music without worrying that it's too similar to something else."
California falls under the jurisdiction of the federal court system's ninth circuit, which has "very unusual" rules in such cases, Ms Jenkins explained. "The jury is asked to compare the 'total concept and feel' of both songs, which is completely misguided. If you listen to any two songs in the same genre, you could say, 'These two songs share the same concept and feel.'"
However the jury decides the case, it has already produced one revelation that left Led Zeppelin obsessives reeling. Page has always said he composed "Stairway to Heaven" by the fireside at Bron-Yr-Aur, a remote stone cottage in the Welsh mountains, to which fans have trekked for decades from across the globe to pay homage.
The band did write their previous album, Led Zeppelin III, at Bron-Yr-Aur, without running water or electricity. But in court this week, Page admitted that "Stairway to Heaven" was actually written elsewhere, and that he first played it to his bandmates in the rather less romantic environs of the Headley Grange recording studio in Hampshire.
Register for free to continue reading
Registration is a free and easy way to support our truly independent journalism
By registering, you will also enjoy limited access to Premium articles, exclusive newsletters, commenting, and virtual events with our leading journalists
Already have an account? sign in
Register for free to continue reading
Registration is a free and easy way to support our truly independent journalism
By registering, you will also enjoy limited access to Premium articles, exclusive newsletters, commenting, and virtual events with our leading journalists
Already have an account? sign in
Join our new commenting forum
Join thought-provoking conversations, follow other Independent readers and see their replies