London's clubbing scene is suffering closures, but what can promoters do to be creative in the face of tough times?
The new arts and events space The Pickle Factory in Bethnal Green is one example of a venue adapting to challenging circumstances and there are a number of promoters getting creative, bypassing traditional club models, says Shaun Curran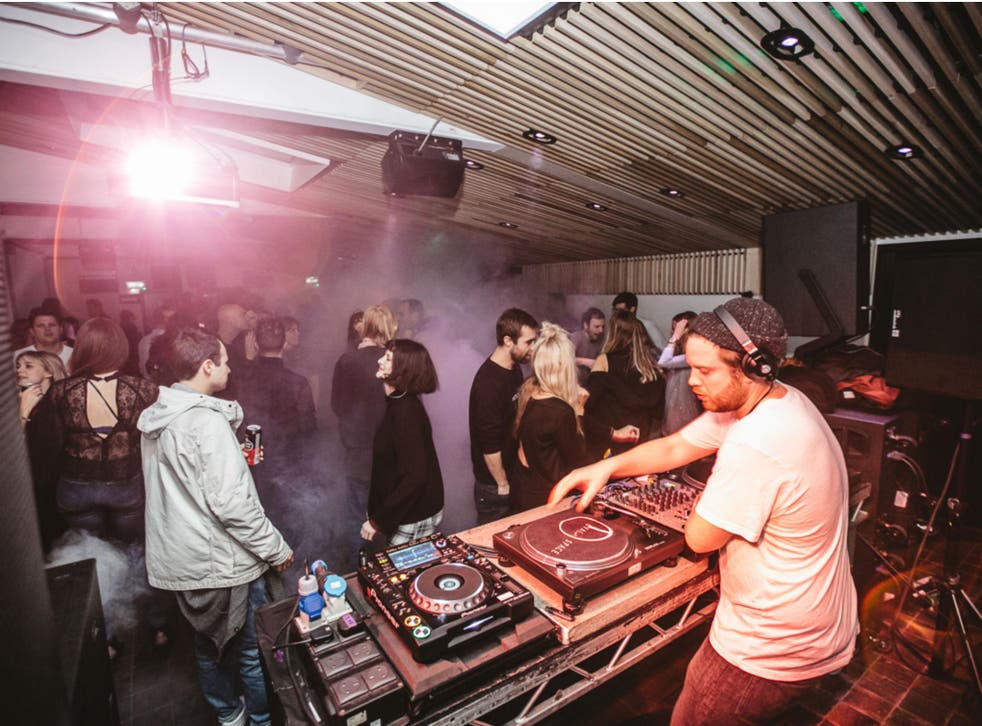 It hasn't been an easy couple of years for the London clubbing scene.
The evidence of its decline seems overwhelming: from 2005-2015 over half of clubs shut nationwide, a reduction from 3,144 to 1,732. In London, that has meant the high profile closure of much loved institutions Plastic People, the Shoreditch club DJs such as Four Tet and Theo Parrish held residencies at and, more recently, Dalston's Dance Tunnel. Fabric, one of the capital's super clubs, has the threat of permanent closure hanging over it following two recent drug related deaths.
The incessant march of the property developers onto London's urban areas continues to take clubs like Passing Clouds. Licensing laws have been tightened in boroughs across the city as gentrification takes hold, forcing owners to admit defeat and putting off would-be proprietors.
But despite what Mixmag digital editor Seb Wheeler calls "a period of hit after hit", there is agreement that the picture of doom may not be all it seems. "On one hand a lot of clubs have closed in the last two years, but on the other hand it's as strong as it's ever been," says Matthew Francey, managing editor at Ministry of Sound. "On any given weekend half the world is performing here. Not another city except Berlin has as strong line ups throughout he world. Internationally, people do come here specifically for clubbing."
Statistics certainly back up that view – according to Ticketmaster research, one in six people in the UK have attended a dance event since 2012. So why the apparent paradox between a thriving scene and the domino-effect of clubs closing?
As Wheeler points out, there are "still great clubs and a buzzing scene", and significantly even in these trying times there are entrepreneurs adapting to the challenging circumstances and forging new ways forward. One example is the one-year-old arts and events space The Pickle Factory in Bethnal Green.
"It was important to open a great small venue in London, as there's not many left," says owner Jordan Gross, who also runs nearby Oval Space. "It's important for bands to have small 150 to 200 capacity venues to start out in. We ensured the venue was well specced and well soundproofed, which is problematic for existing clubs. We've worked hard to be forward thinking which gives us peace of mind we have a future."
But if The Pickle Factory is a rare case, there are a number of promoters getting creative, bypassing traditional club models to navigate the choppy waters. Paul Jack, Alice Favre and Will Harold run LWE, promoters making use of unusual locations – most notably Grade I listed warehouse Tobacco Dock in Wapping – to throw diverse parties both day and night.
"We spend a lot of our time venue hunting and have found lots of amazing spaces in London but time and time again we came up against the same issue – securing a licence for a venue where there are residents nearby," the trio told me. "We realised the only way to get round this was to think outside the box. It's harder work, but it gives us creative freedom. Sometimes we're no longer able to use a space and we have to move on. This is a great shame but also means that we're not faced with losing our whole business; just so long as we can find the next space."
The search for new, unique spaces – something which Rhythm Section at Peckham's Pool Club "pioneered" according to Wheeler – is essential for the club scene's ongoing health. DJ Jane Fitz runs Night Moves, a quarterly warehouse party in an "unfashionable part of north west London". She urges promoters to look beyond their immediate surroundings. "I know lots of promoters who want to leave the east end but they don't know how," she says. "At Night Moves we've had the venue for three years and we get 300 people a time. People will travel if they know it's worth travelling for."
Enjoy unlimited access to 70 million ad-free songs and podcasts with Amazon Music Sign up now for a 30-day free trial
Sign up
The long-awaited opening of the night tube is set to make getting about afterhours a whole lot easier (and without the sting of an Uber surge charge). It could also have an invigorating effect on the club scene if entrepreneurs realise the potential.
"Other parts of capital can be used," Fitz says, "where there's no hassle and you can make loads of noise. They're there if you look for them." Wheeler agrees. "In terms of throwing parties, the night tube will make people think outside of the box, maybe outside the law too, force people to throw raves in disused locations or green spaces and do stuff in unconventional terms."
With London Mayor Sadiq Khan also making good on his promise to appoint a night czar, a position which helped revive Amsterdam's nightlife, there is also hope that the relentless selling off of property could slow down and a better relationship between clubland and government could emerge. With the UK's night time economy worth an estimated £66bn a year, official recognition of clubbing's importance to the cultural landscape could follow.
"Cultural institutions need support from the cities they inhabit," Gross says. "Barbican and Southbank benefit from soft support from the city and benefit from cash. Clubbing should be the same. Look at (super club) Berghain in Berlin – it's a cultural institution. There's no difference between watching a string quartet at Barbican or an artist at The Pickle Factory take you on a journey for eight hours from psych-rock to hard techno."
Obstacles certainly remain, then, but scope for London's night scene to reinvent itself and emerge anew seems tangible – especially for those willing to innovate.
"If you'd told me that we would be selling out the vast Tobacco Dock for a Halloween event in the day time I would have laughed at you a few years ago," Paul from LWE says. "But yet now it's an established part of the London calendar. So be adventurous. Challenge preconception. It's a risk – but it can be very rewarding."
Join our new commenting forum
Join thought-provoking conversations, follow other Independent readers and see their replies