Meet Camille O'Sullivan, the eccentric and dramatic Irish singer people can't stop talking about
Exclusive: The self-professed 'uninhibited child' on stage tells 'The Independent' about Ireland, inspiration and the lingering shadow of David Bowie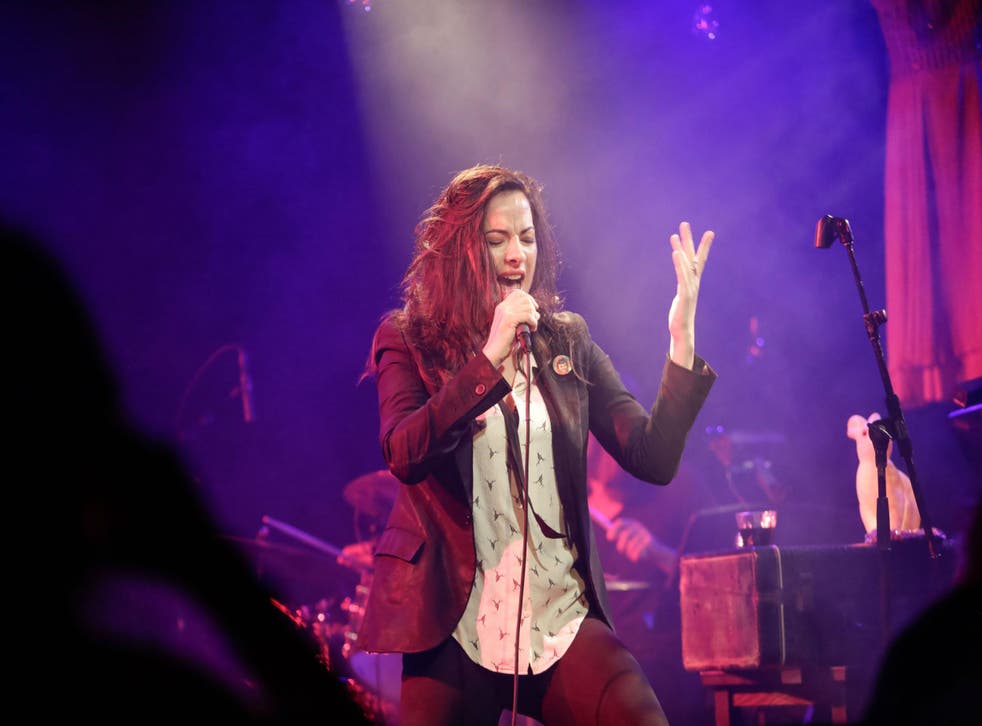 The Irish chameleon performer that is Camille O'Sullivan is back in New York, wooing more Americans with her eccentric and brilliant mix of rock, cabaret and ballads.
Ms O'Sullivan, with smoky vocals and Irish charm abounding, is performing in one of the smallest venues and intimate venues she has played in years, a decade after her first performance in the city.
"It's a very vulnerable thing," she said. "When you're at a festival you learn how important a ballad is to connect with the audience and you have to rock it out like an animal. But here at the Irish Arts Center it's more about intimacy. You have to learn how to not be such a big creature. Be less of a big tiger."
A big tiger is right – along, very often, with high heels and fishnet stockings, the Irish singer laughs and plays with her audience as if she is the cat and they the mouse. Her performance ranges from the sad, child-like Dillie Keane's "Look Mummy, No Hands" to "rolling around on the floor with a donkey hat" singing a Tom Waits cover of "God's Away On Business".
"It's a bonkers song. Even my partner doesn't like how I look in it," she said.
As well as her own songs, Ms O'Sullivan also performs clever twists of classics from the likes of Jacques Brel, Nick Cave, David Bowie and Radiohead.
"I think I'm going to turn people away who aren't into this stuff," she said. "But someone said to me: 'you're dark and light, you can't just always try to please people'."
The rollercoaster of emotion during her shows come with moments of silence and laughter, and a slight edge of craziness – it's not unusual for Ms O'Sullivan to pretend to be a cat, meowing into the microphone.
"I liken it to being a child. Joyous, that's how I feel on stage. I don't feel like a woman, more like the uninhibited child that I can't be in my own life," she said.
Her stage set comes with black and white film reels, fairy lights, vintage dresses, an illuminated rabbit; she described it as a "kind of dark, vintage, Wizard of Oz bedroom".
Enjoy unlimited access to 70 million ad-free songs and podcasts with Amazon Music Sign up now for a 30-day free trial
Sign up
"Your home is on stage," she said. "And I like to have gorgeous things around me."
The architect turned international performer remains incredibly modest, despite commanding large crowds at gigs and festivals across the world, performing on shows like "Later… with Jools Holland" and the film "Mrs Henderson Presents" alongside Judy Dench.
She has also become a longstanding and popular performer at the Edinburgh Fringe since 2004, and will be returning to the festival this year between 4 and 22 August. She is also performing at the Brighton Fringe Festival in May and at the Sam Wanamaker Shakespeare Globe on 11 July.
"It's a good place to get a gage on your audience," she said. "If the show is bad, they'll let you know."
Every year countless artists come to the Scottish arts and music festival, the largest in the world, to make it or break it.
What advice would the 45-year-old give to performers starting out?
"Pick 10 of your favourite songs, get a really good piano player, and don't try to be anyone else," she said.
And what about New York crowds?
"They let rip and shout back at you - I'm more scared of them, never mind them being scared of me," she said. "But they're also so sweet and enthusiastic and emotional, that's a New York thing."
Ms O'Sullivan mentioned her Nick Cave cover in her New York show which, at first impression, would seem she is making some kind of religious or political statement during a time of political upheaval in the US – but she said she is not.
"It's elusive, enigmatic and quiet, it's not a crowd pleaser. I think maybe I should do some more crowd pleasers to save my heart as I get older," she said.
For our sake, let's hope not.
Camille O'Sullivan is performing at the Irish Arts Center through 16 April. She then performs at The Kennedy Center in Washington on 22 May and at the Fisher Center for the Performing Arts in Rhinebeck on 8 July.
Join our new commenting forum
Join thought-provoking conversations, follow other Independent readers and see their replies