Palm Honey interview: psychedelic four-piece creating a fuzz-fueled buzz
This Reading band have delved into the depths of hazy guitars and fuzz pedal perfection, blanketing their gig-goers in psychedelic euphoria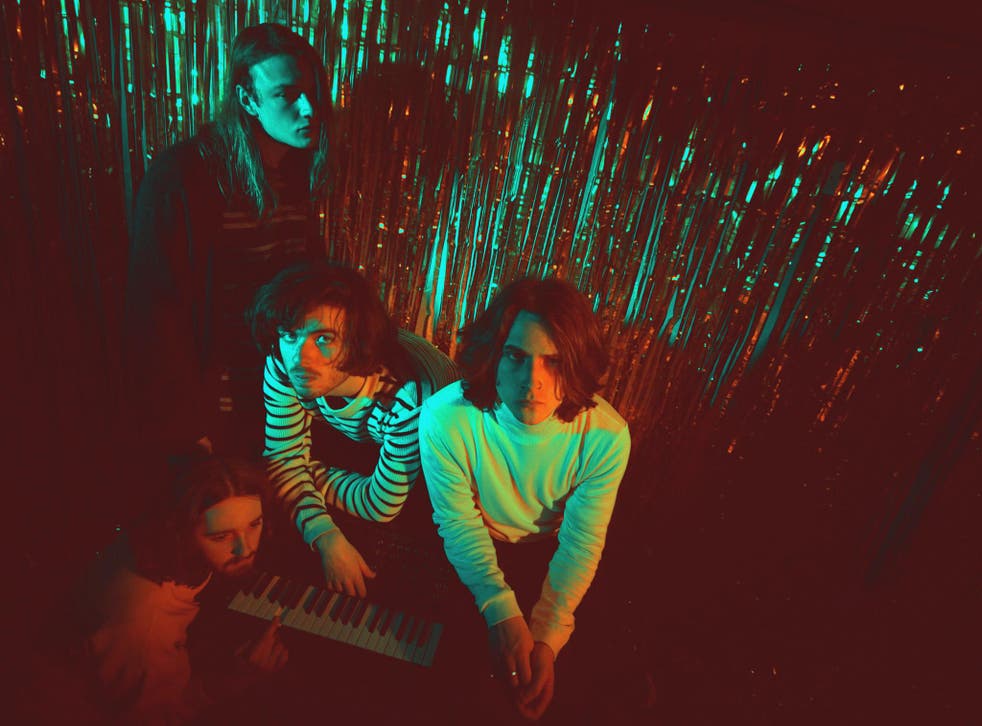 Palm Honey are the latest group to emerge through the seemingly quiet shoegaze scene whilst creating a fuzz-fuelled buzz. Amidst the slump in golden guitar music over the past year, Palm Honey are a reason to keep your ears peeled. Emerging from London's quieter neighbour, Reading, Palm Honey are causing a stir amongst critics who are hailing their efforts to make guitar music exciting again.
Describing their sound as "Experimental alternative noisy psych-gaze pop", the raring-to-go revellers from Reading have also toured the country with other artists urging the world to keep guitar music alive. With Yak, The Vryll Society and Mild High Club as just a few of the great bands they've supported, Palm Honey are still yet to unleash their sound on a headline tour. "It's nice that we actually have some demand for headline shows now. With the way that we like to improvise and jam when we play live, it probably suits us a bit better as we get more time to indulge ourselves in that kinda thing. It can be such a nightmare to only have a 30 minute set when you wanna play everything you've ever written, and go off on 20 minute tangents in every song," says frontman Joseph Mumford.
With things just kicking off for Palm Honey, the Reading quartet are getting fully involved with the growing music scene in their home town. "There are new bands starting up everyday. My favourite band that play around the area are called Vinyl Staircase, a psych band with an amazing EP. They've come to a lot of our most recent shows which makes me feel terrible since I've not been able to catch them live in ages," says Mumford. The importance of supporting local music scenes is undoubtedly growing, and is becoming a fundamental part of why bands are being noticed. With the support of their hometown bands, Palm Honey are sure to bring some exciting acts to light when they gear up for their own tour.
With their psychedelic, shoegaze sound taking influence from the likes of My Bloody Valentine and The Flaming Lips, the favour for old sounds in a modern time is something Palm Honey are great at fermenting. "Well they [The Flaming Lips] were one of the first sort of psychedelic acts I got into. I like the fact that they're not afraid to do what they feel like doing, and I like the fact that they've always been a legitimately interesting band who've developed and challenged their listeners," says Mumford. When taking inspiration from Wayne Coyne and the enigmatic energy surrounding The Flaming Lips, it's unsurprising that Palm Honey are causing a stir by embracing the psychedelic prowess that their inspirations once coined.
But who would Palm Honey really want as their three top-headliners at a dream festival? "I'd definitely have to say Radiohead because they're my favourite band of all time. Then My Bloody Valentine, because I've never been able to see them live and their shows are legendary for being ear piercingly loud. If anybody is going to ruin my hearing, I want it to be them. Then maybe Ornette Coleman doing a completely improvised set with an octet on the last night to round things off".
Having just unveiled their punchy new single "Bones", Palm Honey are plunging into the infectious psychedelic haze that Britain has been missing over the past year. Although the track is one of the first they ever wrote, Palm Honey describe it's transformation as a natural one, that when played live, eventually morphed into "a bit more of an in-your-face kinda dream pop track". Dipping in and out of elongated, shoegaze vocals and distorted warps of twangy guitars and euphoric synths, "Bones" is sure to cause a commotion, and is only the start of Palm Honey's stimulating sound. If "Bones" is anything to go by, their debut EP is sure to be an exciting one. Keep your eyes peeled.
Register for free to continue reading
Registration is a free and easy way to support our truly independent journalism
By registering, you will also enjoy limited access to Premium articles, exclusive newsletters, commenting, and virtual events with our leading journalists
Already have an account? sign in
Register for free to continue reading
Registration is a free and easy way to support our truly independent journalism
By registering, you will also enjoy limited access to Premium articles, exclusive newsletters, commenting, and virtual events with our leading journalists
Already have an account? sign in
Join our new commenting forum
Join thought-provoking conversations, follow other Independent readers and see their replies