Flow Festival review: You sashay then you sauna at Helsinki's Kendrick Lamar-headlined fest
Now in its fifteenth year, Flow brings world-class international acts to a Finnish audience fiercely loyal to homegrown talent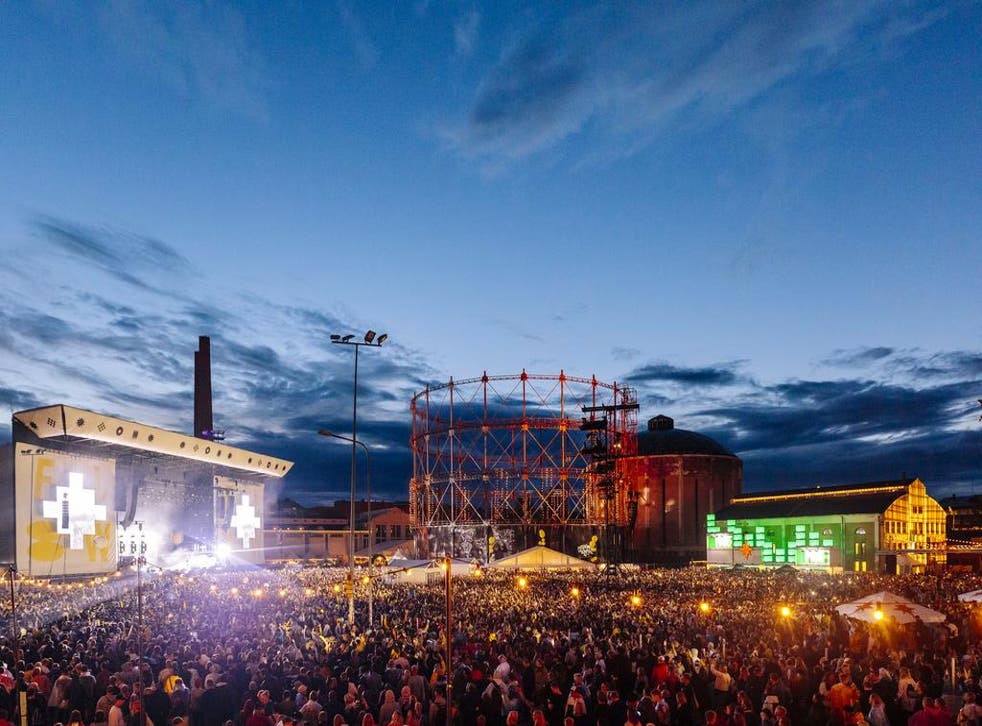 It's been five long years since Kendrick Lamar came to Helsinki. He gets a hero 's welcome at Flow Festival in an industrial district of the Finnish capital, looking out on the redbrick chimneys of a nearby power station and a gas holder lit up by giant fairy lights.
This is the final festival leg of the Damn tour that started a summer and more than 60 shows ago. Kendrick mostly stays faithful to the tour set, starting with 'DNA', 'Element' and 'King Kunta', losing some of the deep cuts off untitled unmastered, and ending with the triple hit of 'Bitch Don't Kill My Vibe', 'Alright' and 'Humble'.
The biggest festival addition comes in the encore with 'All the Stars', the closing track on the Black Panther soundtrack which has gone top ten in Scandinavia since the tour began. The Finns know every word. The moment doesn't appear to be lost on Kendrick, who singles out crowd members and thanks them for their support: "You've been waiting a long time for this. I made you a promise, and we're going to make that same promise again tonight. Repeat after me: 'I will be back!'"
Kendrick can't be the only one plotting his return to Flow Festival before he's even left the site. Now in its fifteenth year, Flow brings world-class international acts to a Finnish audience fiercely loyal to homegrown talent. On the European festival circuit it stands out for its commitment to diversity: only one of the headline acts this year is white and male (Arctic Monkeys), while lower down the bill young, female artists and artists of colour abound.
Helena Hauff, Peggy Gou and Yaeji are among a lineup of champion DJs on a Resident Advisor stage. The former brings her record boxes for two and a half hours of acid techno played solely on vinyl, ending the set with a massive grin at the packed-out crowd and a 12 inch raised aloft.
On the Sunday before Kendrick, Kamasi Washington plays not one but two sets in a circular theatre stage beneath a giant balloon. In the red tent, Fever Ray performs in a bodysuit and Joker-style smeared makeup in support of her latest album Plunge, grinding up against other female dancers in a fantastical celebration of queerness. Later on that same stage, St Vincent closes the festival in an orange latex dress and stilettos, the male members of her three-piece band wearing faceless masks. It is a surprisingly smiley festival set for someone who started her tour playing solo with her back to the audience.
It's not only diversity that sets Flow apart. The site is home to 40 food vendors for the weekend, including the Michelin-starred Grön and an extensive Lanson champagne bar (€80 for a bottle, with a side of Balearic house and beanbags). I settle down to eat a cauliflower ramen on a picnic table one night to find the people next to me tucking into bamboo plates of steak tartare and rib-eye with perfectly seared vegetables. Fancy.
All festivals aim for sustainability but not all offer a deposit for returned cans, rank food vendors based on the sustainability of their meals (points for locally-sourced and seasonal ingredients) or manage to be carbon neutral.
Flow is also dotted with art. A collaboration with art students from nearby Aalto University yields installations with platforms and arches to hide in, plus corners brightened with video-work in a blacked-out aircraft hangar. This cavernous warehouse is laid out with concert seating for experimental artists like Terry Riley, who turns from his Steinway grand piano to play the melodica on Indian raga-influenced tracks. At 83, he leaves the stage talking to his son Gyan on guitar, but the energetic jazz solos speak for themselves.
Enjoy unlimited access to 70 million ad-free songs and podcasts with Amazon Music Sign up now for a 30-day free trial
Sign up
Other festival highlights include both first and second-day headliners Ms. Lauryn Hill and Arctic Monkeys. This is Hill's only European date of the summer. Her attendance seems less likely when, earlier in the summer, she cancels the entire US tour. It's still a toss-up that she'll show even as the hour approaches.
A hypeman with a military approach to waving keeps us waiting far too long. Then, all at once, she is there in voluminous red skirts and a massive denim jacket, commanding her 13-piece band with an iron fist through renditions of 'Lost Ones', 'Everything is Everything', 'Ex-Factor' and 'When It Hurts So Bad'. This year marks 20 years since the release of The Miseducation of Lauryn Hill, an anniversary not lost on the band. "Hills and valleys but we here," Hill tells the audience. Closer 'Doo Wop (That Thing)' is played almost double time and double volume, while images of Hill through her career flash dizzyingly on the big screens.
Arctic Monkeys, by contrast, are taking every big festival of the summer in their stride. Alex Turner is newly shaven, wearing yellow Bono sunglasses that keep slipping off his head. He stalks around, skipping between piano, guitar and snake-hipped dancing. Tranquility Base Hotel & Casino gets a good airing, but it's the songs off previous album AM that get the biggest cheers, phones whipped from pockets at the opening riff to 'Do I Wanna Know'.
This is a rock band so well-oiled that Turner's instruction to guitarist Jamie Cook to "bring us home, Cook" before closer 'R U Mine' comes with a whiff of complacency. Perhaps not ideal, weeks before the start of a stadium tour that will see them grace the biggest stages in the UK and US through to the end of the year.
Nonetheless, it's the Finnish acts who get the biggest crowds at Flow, testament to the fact that the radio and most festivals here are dominated by home-grown acts. An afternoon set from Vesta attracts a massive audience for her synth folk-pop on the main stage, while fellow Finnish act Alma is billed as a headliner alongside international acts ten times her size.
No one is checking wristbands at an infamous afterparty on the edge of a building site outside the festival walls. Drum & bass blares out from a DJ just visible behind a graffitied stone ship, lit with green disco lights. Just a little further on through a car park, we hear the sound of someone sawing wood. It's Finland's favourite cultural activity, barely visible in the pitch blackness. Not Scandi Noir - though no one would hear you scream out here - but Finnish sauna in a wooden shed by the water. Squint and you can just make out bare bottoms dashing from the steam-filled shed into the sea.
Register for free to continue reading
Registration is a free and easy way to support our truly independent journalism
By registering, you will also enjoy limited access to Premium articles, exclusive newsletters, commenting, and virtual events with our leading journalists
Already have an account? sign in
Register for free to continue reading
Registration is a free and easy way to support our truly independent journalism
By registering, you will also enjoy limited access to Premium articles, exclusive newsletters, commenting, and virtual events with our leading journalists
Already have an account? sign in
Join our new commenting forum
Join thought-provoking conversations, follow other Independent readers and see their replies