Music & Me: Emmy the Great
Wednesday 31 August 2011 16:14 BST
Comments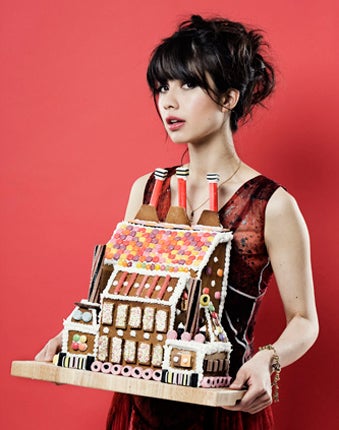 Emmy The Great, aka 27-year-old Emma Lee-Moss, grew up in Hong Kong and the Home Counties. Now based in London, the singer-songwriter sang with Noah and the Whale before making two solo albums, First Love (2009) and Virtue (released this June).
The first record I bought was...
"Metallica" by Metallica, which is how I discovered the 'c' word. I took it to my parents and asked them to confiscate it but they said it was too late. My first single was a few years later, Alanis Morissette's "Ironic". I had to ask my cool ex-babysitter what the difference between an album and a single was.
The first gig I went to was...
Kylie Minogue at a stadium in Hong Kong. It was during her 'big hats' phase - Enjoy Yourself. I also saw David Copperfield at the same stadium, which was slightly more impressive, because he could fly.
My favourite album is...
"Pinkerton" by Weezer. Their debut, "The Blue Album", came out just as I was forming my own music tastes that were separate from my parents' tastes. Weezer was one of the first bands that actually defined my generation as it was happening. "Pinkerton" came out in 1996. I still think of it as a perfect album, especially because the song "Across The Sea" is about fan mail from schoolgirls in East Asia, and mentions the kind of stationery that you have to have lived there to picture. I still love Weezer. I'm literally going to Japan just to watch them play a festival this year.
But my parents always liked...
Genesis, Peter Gabriel, Crosby, Stills, Nash & Young, James Taylor. These days my dad buys a lot of Beyonce albums for the cover photo. Eventually I'm going to show him how to use Google.
I couldn't marry someone who liked...
Drive time. Or the kind of music that I'd describe as 'a disgrace to Ibiza'. My neighbours love to play that kind of music on Bank Holidays.
On stage I like to wear...
Apparently my old look was '12-year-old librarian'. I found that funny, because I was always copying my bandmate Euan. These days our band's style is 'grunge-lite'. I recently found an Issey Miyake top with a picture of the moon landing on it. I will be wearing that every day until I die and then one more time at my funeral.
I'd love to perform with...
The cast of Sesame Street. I'm not frighteningly ambitious but the things I'd do to duet with a Muppet are chilling.
One thing that must change in the music industry is...
In the British music industry: not allowing bands to develop before major success is required of them. There is a better culture of a long game in US indie music.

Enjoy unlimited access to 70 million ad-free songs and podcasts with Amazon Music
Sign up now for a 30-day free trial
Sign up

Enjoy unlimited access to 70 million ad-free songs and podcasts with Amazon Music
Sign up now for a 30-day free trial
Sign up
A great album cover is...
Little Wings' "Soft Pow'r". We used to stay at a musicians' guest house in Manchester, and we'd often meet other bands in the family room over breakfast. Kyle from Little Wings, who is also an artist, was there a lot and one time I bought this album from him. I've framed it, but it gets taken down and listened to as well.
On my iPod I listen most to...
"Heaven or Las Vegas" by Cocteau Twins.
If I could have written any song it would have been...
"Don't Forget Me" by Harry Nilsson. He was the most incredibly versatile and creative songwriter. When I discovered him it was like finding a consolidated file for everything I love in pop music. My boyfriend likes to joke that Nilsson ripped off Rufus Wainwright before he was born. To go back to the Muppets, it blew my mind when I first heard Nilsson and discovered that the song "[The Lime In The] Coconut", as sung by Kermit, was by him.
The worst song I have heard is...
"Champion" by British rapper Chipmunk. It has the lyric "There's a higher level than the top/ You gotta make more, don't do with what you got/ Go get it, sonny/ Not everybody gets a second chance of making money." It's a crap sentiment. Someone needs to sit Chipmunk down and talk him through the rampant capitalism that started the financial crisis. It also comes with some of most boring music you'll ever hear. To make it worse, it features Chris Brown. And there's a vanity helicopter in the video. If he really was a champion, his helicopter would be more awesome. He's obviously never seen "Coming Home" by Diddy, where Diddy rides his helicopter side-saddle.
Emmy is currently on an extensive UK tour, and releases her new single "Paper Forest" on 19 September on Close Harbour Records.
Join our commenting forum
Join thought-provoking conversations, follow other Independent readers and see their replies